Image 7.5m Fishfinder Open Hardtop
---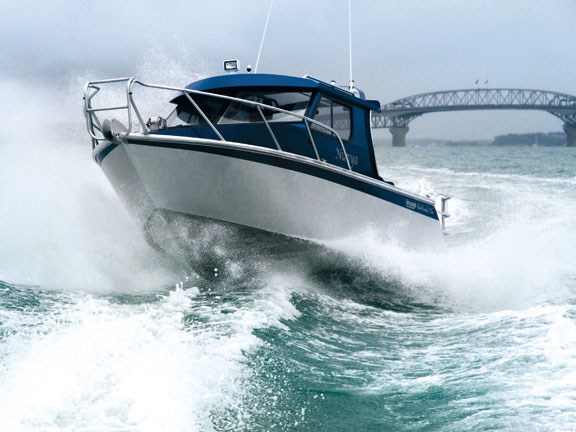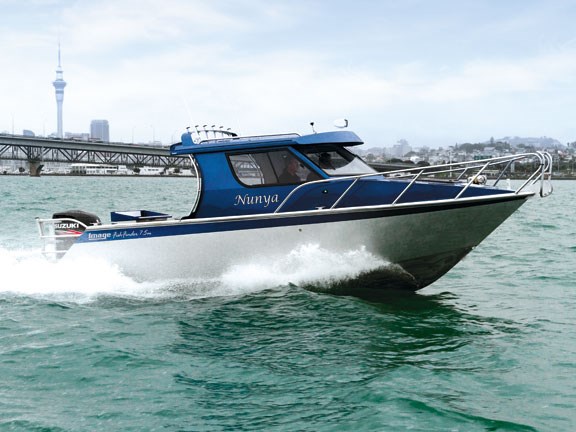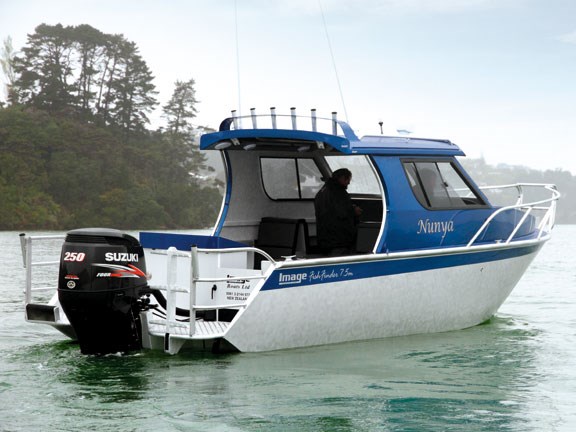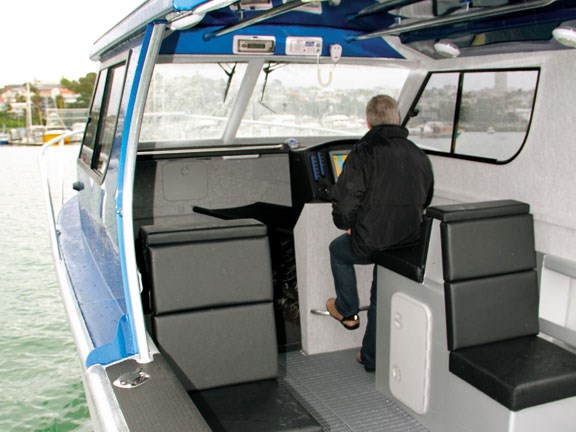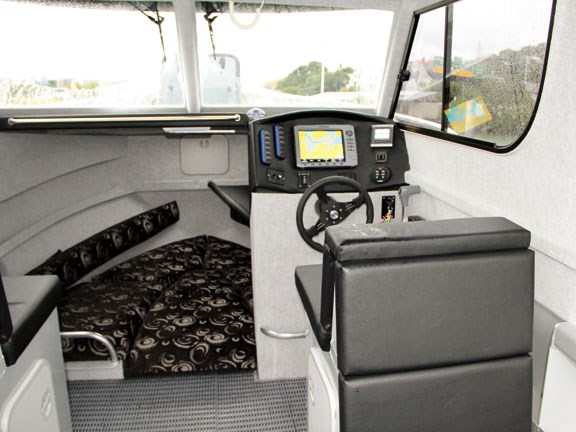 Destined for Australia, the latest 7.5m Fishfinder from Southland's Image Boats reinforces the quality of Kiwi-built aluminium trailer boats and demonstrates an increasing demand for our robust craft across the Tasman.
Until recently, aluminium was seen as fibreglass's poor cousin in the Australian trailer boat market. That's changing rapidly with increasing buyer demand for tough, New Zealand-built alloy rigs. Awareness of New Zealand boats has been fueled in no small way by positive media reports and excellent, award-winning showings at Australian boat shows.
In fact, New Zealand-built aluminium trailer boats have been judged 'best in class' and 'best overall' in Australian trailer boat awards for the last two years running. This has given rise to predictable yet valuable headlines on both sides of the Tasman that read: 'The best boats in Oz are Kiwi'.
Australia is a valuable export market for some of our largest aluminium boatbuilders, thanks in part to export pioneers the likes of Surtees, Stabicraft, and others that were among the first to expand across the Tasman and blaze an export trail for other New Zealand manufacturers.
Image Boats does not have a large export base but that is changing with two turn-key boats — a 7.5m Fishfinder and an 8.5m Fishmaster — exported to Australia in the last few months. This is encouraging for the Image brand and for builder Dean Wilkes, who relies on word of mouth rather than paid marketing to attract offshore business.
The latest Image to cross the ditch was displayed by Wilkes at the recent Auckland On Water Boat Show. Custom-built for an Australian client, the Fishfinder is essentially a standard 7.5m open Fishfinder, save for upgraded trailer brakes to meet Australian regulations.
Sea-kindly design
We've reported in previous issues that Image Boats' Fishfinders share very similar design traits across the range, and even today, 13 years after Wilkes launched the first Image Fishfinder, hull design has not changed.
Wilkes says that change for change's sake makes little sense; he can see no valid reason to meddle with a hull shape that has proven to be strong, reliable, and sea kindly. With over 150 Fishfinder hulls on the water, the word would be out if there were any inherent design faults. The Image owners I've spoken to over the years rate their Fishfinders highly. Many are repeat Image Boats customers and there is keen demand for second-hand boats with prices remaining firm.
Key features across the Fishfinder range include a single variable chine, strake-less hull, and 17-degree transom deadrise — a compromise between stability at rest and ride quality.
The Fishfinder is a handsome boat with big shoulders to muscle through chop, yet it's relatively fine in the bow to enhance the boat's tracking ability in a swell. The 7.5m is offered as standard with a 2.5m beam but can be widened depending on the boat's application.
Wilkes also offers clients an option to raise topside height at the bow and, conversely, reduce height at the transom. This introduces a variable 'classic' sheer and also serves to increase volume in the forward cabin. Another option available and selected by the Australian client is an 1850mm extension of the hardtop. This provides valuable overhang in the cockpit and ensures any water shipped drains well aft. It further creates dry seating/storage options against the aft cabin bulkhead.
Open hardtop
A notable difference on this 7.5m Fishfinder is the open hardtop design. Gone is the aft cockpit bulkhead and central cabin door that is generally preferred and specified by New Zealand customers. This change gives the boat an airy openness and accentuates cockpit space. The downside, of course, is losing the security of a lockable cabin. In Australia, the open cockpit makes sense given the warmer and more favourable boating climate.
Wilkes says his boats are most comfortable and efficient cruising between 20 and 28 knots, so they're not overly quick but they are easily driven and don't require excessive horsepower. Fuel economy is also important given the fact that many Image Boats are put into charter and commercial operations.
This Australian-bound Fishfinder is powered by a single DF250TX Suzuki four-stroke outboard, which provides adequate horsepower and is Wilkes' preferred single outboard option for boats under 8m. He likes to see his larger boats fitted with twin counter-rotating outboards, which he says deliver better power and the redundancy that many customers prefer for offshore voyaging.
"The key advantage with twin outboards, and particularly with the Suzukis, is the bigger prop area which works very well on this hull. The boat lifts onto the plane at about 13 knots and is actually very efficient for its weight."
He says the single 250hp works fine too, and is a cheaper option with less servicing costs but lacks the torque of two props biting the water. The boat takes a little longer to lift out of the hole but top end speed is remarkably similar.
Construction
At the heart of an Image hull is a fabricated triangular cross-section formed by a fully-welded internal keel bar and seam-welded transverse stringers. These in turn are capped with a seam-welded alloy plate for additional stiffness and rigidity.
Four full-length bearers are checked and seam-welded to support the cabin and cockpit sole, while five alloy bulkheads, internal horizontal keel strip, aft cabin bulkhead, and transom construction provide lateral support to prevent wracking and twisting in heavy conditions.
All metal is 5083 marine-grade aluminium. The 7.5 utilises 6mm plate from the keel to the waterline, 4mm plate for the topsides, and 3mm plate for the cabin sides and cabin top. The cockpit sole and boarding platform is fabricated from 4mm aluminium checker-plate.
To read the rest of this article, pick up a copy of March's issue of Trade A Boat, on sale now!
Keep up to date with news from Trade-A-boat or like us on Facebook!