Mustang 43
---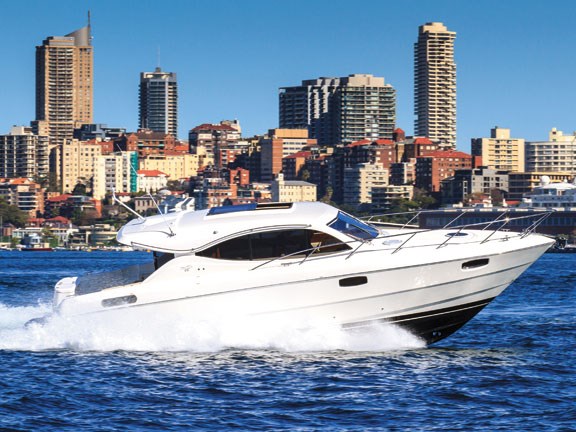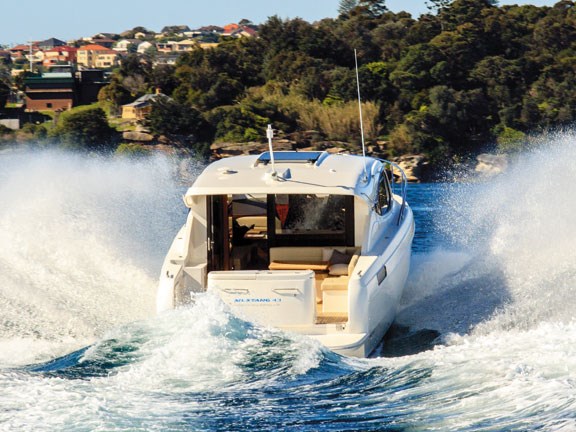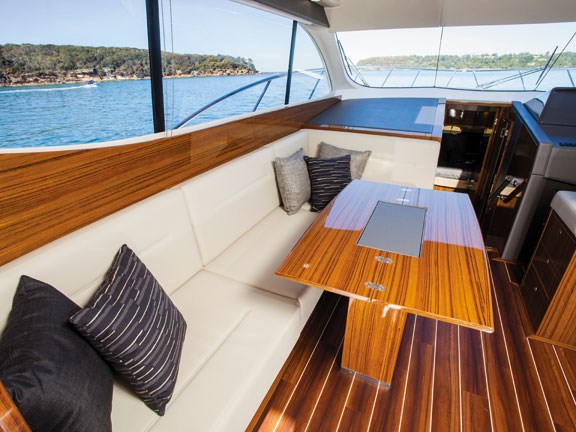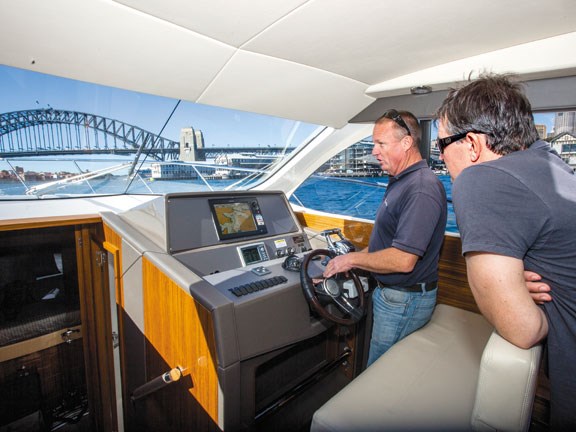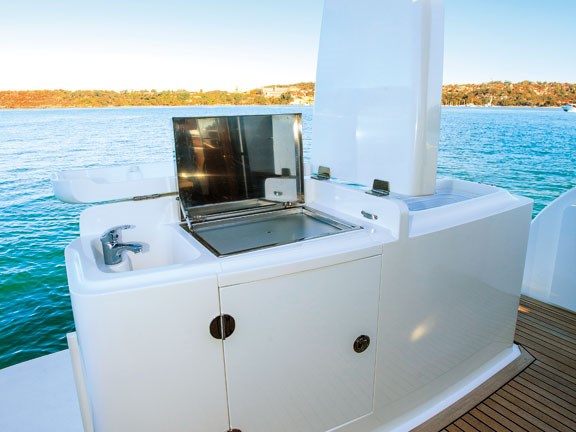 The Mustang 43 has been in the market for the best part of a year now, but if ever a boat deserved extended coverage beyond the first gratuitous fanfare, then this is it.
Maritimo's Mustang 43 was a project legendary boatbuilder Bill Barry-Cotter took very personally. Said to have been developed to precisely deliver on market expectations extracted from a vast pool of customer feedback, the Mustang 43 design was subject to exhaustive reviews involving both the internal Maritimo production team and the company's extensive global dealer network.
It would be easy to assume, then, that this boat is the result of a melting pot of ideas, all mixed together to produce the maritime equivalent of a blended whisky. But that's not necessarily the case – it's just too good; after all, everyone knows that single malt whiskies are the best. So I'm prepared to offer an alternative argument, one that suggests the Mustang 43 is actually a boat Barry-Cotter has had banging around in his head for years, one for which he did a masterly job of getting stakeholder buy-in from concept.
It's been suggested that this is one of Barry-Cotter's all-time favourite boats, and one he would like to revisit. Its reliable and simple approach to engineering, its fuel-efficient hull that allows it to eat sea miles without biting chunks out your wallet and, of course, its length (the Mustang is only 34cm longer than the Mariner) suggest the principles of the Mustang 43 were jotted in Barry-Cotter's notepad long before any glass was laid.
Internally, the Mustang 43 differs entirely from the Mariner, and clearly it doesn't have a flybridge, but I think it's a good bet Barry-Cotter didn't need to go trawling through screeds of supplied data to know what would work.
On the helm
The 43 is available in three entirely different propulsion options to suit varying budgets and personal preferences. The base boat is offered with twin 330hp Volvo Penta diesel-driving sterndrives. An extra A$20,000 will get you Volvo Penta IPS 400 pod drives; double that and you get the twin 480hp Cummins QSB shaftdrives that graced our test model.
As expected, the Mustang 43 is in love with the water and is a very pleasurable driving experience. For some reason I always feel I need to pull on a pair of leather driving gloves when I step behind one of these sporty helm stations with its comfortable, NSS12-dominated, low-profile dash.
I was lucky enough to be out with Maritimo's go-to man, Ross Williton) who knows exactly how to balance ride with speed in any sea conditions. To the uninitiated, the tabs can seem overly sensitive. However, incremental adjustments are all that are required — rather than the more heavy-handed approach employed once I took over. I soon found the twin 480hp shafts result in a thrilling experience — the 43 explodes out of the hole and just keeps on going like its muscle car namesake.
Like the Mustang IPS 500, the 43 has a sleek, hardtop, sports-boat-look built around a single-level concept, consistent with the current trend for lifestyle-orientated craft.
Boarding is easiest via the huge, rear swim platform, and from there it's painless getting up into the teak cockpit via walkways to port or starboard of the centrally-located amenities island. Impressive as this fixed swim platform is, it's also available in a hydraulically-lowered version, ideal for easy water access and the launching and retrieval of tenders.
The cockpit itself is inviting and sun-drenched, complete with a comfy rear-facing lounger surrounding an equally generous timber table — it's easy to picture yourself sipping a beer or two in the late afternoon sun. At least three could be catered for as is, and, with a couple of portable chairs that could be stored in the voluminous lazarette, it could comfortably cater for up to five.
Barbecue island
A full range of amenities is available in the cockpit, all within easy reach, including a standard marine drinks fridge to port, an electric barbecue plate in the aft island, a large-volume freezer next to that, a sink with hot and cold water, a very handy Whale shower nozzle accessed from the swim platform, and good-sized rope lockers to keep everything out of sight.
The retractable shorepower leads also find a permanent home in the starboard side. If this sounds like a busy space it really isn't, such is the level of organisation inherent in the design.
The aft-facing couch and al fresco dining table are located next to the electrically-operated rear window and adjacent galley. Visually it separates the dining area from the wet areas — a simple thing but really effective at ensuring everyone on board feels comfortable and part of the action.
Shelter is provided by the fixed roof overhang, which extends at least a third of the length of the cockpit. It also acts as a fixing point for a nicely curved stainless steel grab rail running all the way to the front of the windscreen — this is certainly needed to add assuredness to anyone negotiating their way to the bow, which is one of the few quibbles I have with the Mustang 43. Personally, I found this handle slightly low and the gunwales a bit narrow for complete comfort. An additional handrail at the right place on the roof would make all the difference.
One short step on the same level brings you into the combined saloon, galley and helm station space, again on a single level.
The large windows are at the right height to prevent the feeling of claustrophobia sometimes experienced in the cabins of smaller-volume boats. Refreshingly light-filled and airy, especially with the manual sunroof open, this is a space designed to bring the world inside. High-gloss natural timber and leather is in abundance throughout, adding a touch of timeless style to the atmosphere.
That's entertainment
The galley is located aft, keeping both the cockpit and the internal dining table within easy reach, and it was nice to see a lip around the contemporary Corian bench tops. A home-style, vertically-standing fridge-freezer unit and pull-out pantry will make most feel at home and happy to employ the four-burner cooktop. A microwave/convection oven and a dishwasher are also to hand.
Next to the cooktop sits a lift-top entertainment centre featuring a high grade of electronics. This unit also provides a home for the drinks cabinet and pulls double duty as a servery with the lid closed. The whole unit is a little too close to the cooktop but it would be difficult to shift it without compromising something else.
Facing the entertainment centre is a long and appealing settee around a cleverly-hinged dining table. A pop-top lid reveals the wine storage rack — perfectly placed to keep the party rolling on. Step across the cabin from here and you're in the captain's domain.
Below decks
In the last couple of years the industry has seen a significant overhaul in the approach production boatbuilders take to sleeping cabin configurations. Inspired by the space initially created by pod-drive installations, now applied consistently in conjunction with most propulsion systems, designers have rethought the opportunity a large central cabin presents. A wide range of innovative solutions can be seen in any number of this year's new releases and the Mustang 43 is no exception.
Presented in two cabins — a traditional master cabin forward and an innovative guest cabin central — the Mustang 43 provides refined quarters for as many as four adults and two children. Think of it as capable of catering to three generations — grandparents in the master cabin, and mum, dad and the kids in the central cabin. This is by virtue of that central cabin having a queen-size berth laid laterally and adjacent to the engine room bulkhead and a settee that converts to twin singles, Pullman-style. Due to this, the kids no longer have to toss their sleeping bags on the couch in the saloon.Both cabins are serviced by a single, large bathroom and head.
The last word
This is a clever boat designed to provide value, comfort and reliability to a market the builder knows intimately; actually the word 'simple' is appropriate. A major plus is the front cabin configuration — a boating lifestyle should be shared with as many loved ones as possible, so full marks there.
After a decent look around we went back to blasting easily and comfortably across the water at around 25 knots.Soon we found ourselves rocketing up the harbour at 32.5 knots consuming a comparatively economical 190L/hr. Frankly, I didn't want to hand the wheel over.
For more information visit maritimo.com.au.
Feel free to make a comment or ask us a question about this story on the Trade A Boat
page.
For the latest reviews, subscribe to our Trade A Boat magazine here.
Keep up to date with news from Trade-A-boat or like us on Facebook!