Regency Monaco 580 Limited Edition
---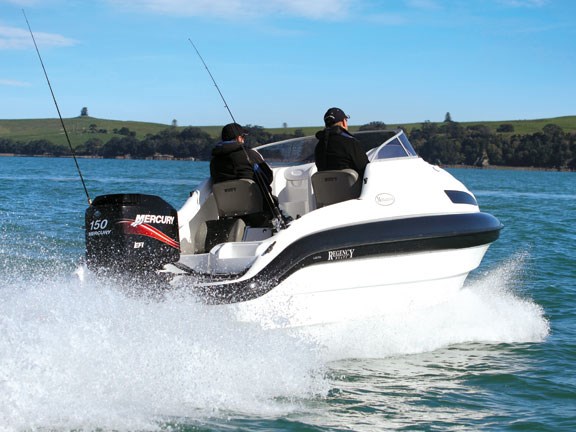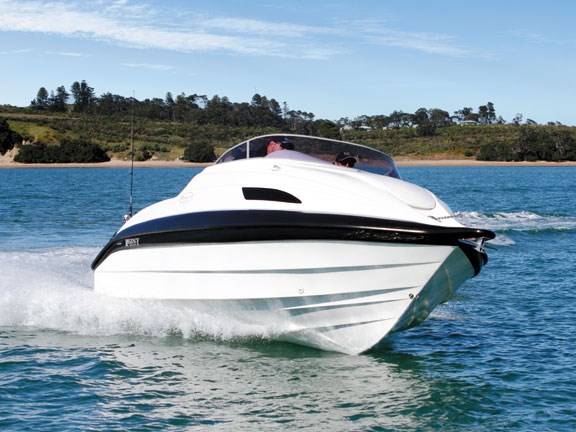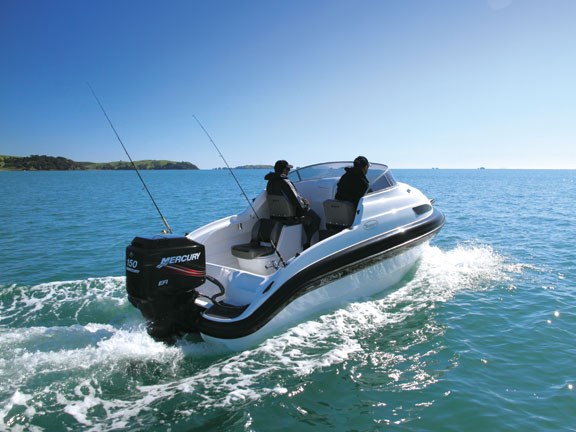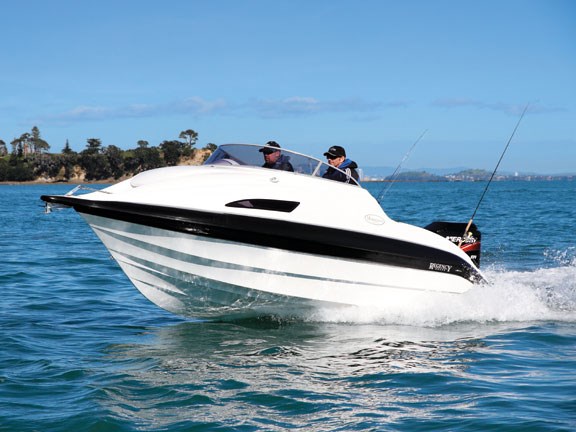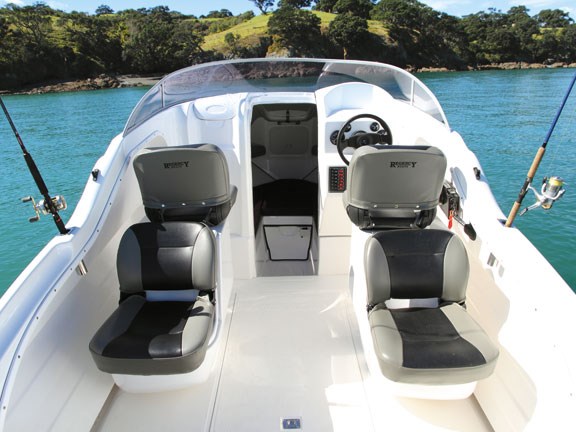 The new Regency Monaco 580 Limited Edition combines smart lines, a glossy finish and plenty of comfort in an easily handled and budget-friendly package. Matthew Jones puts one to the test to see how it measures up.
In today's world time is precious and quality time spent on the water with family is akin to liquid gold. Keeping this in mind, Regency Boats has designed its new Regency Monaco 580 Limited Edition as a family-friendly addition to its fleet. Treating the wife and kids to an enjoyable day on the boat becomes a breeze with an automatic anchor winch and an electric toilet on board.
Regency Boat's founder and managing director Shane Vickery says the Regency range is easily recognised as being from the same design family. Limited Edition models offer a couple of luxury features to make sure your entire family is comfortable on the water.
"We specifically designed the Regency Monaco 580 to give the feel of being in a bigger boat. We've built in good headroom and long cabin berths so you can actually overnight in it if you choose. There's also the option of adding an electric toilet, plus the automatic anchor winch is standard for a little bit of luxury out on the water."
Ever-rising fuel costs and their impact on our leisure activities have also been considered at the design stage.
"Our whole range has been designed so that they're easy to push. It's a fuel economy thing that people are really concerned about these days," says Vickery.
"We also keep our overheads low and sell direct from our showroom in Karaka so customers get the best price possible."
Regency Boats has gone to extra lengths creating additional moulds so that their range is fully composite-constructed.
"We've designed and built the Monaco 580 to be a dry and strong boat. It's intended to cater for the full ambit of recreational boating whether it's towing biscuits or skis or fishing."
"The boats are also an attractive option for older couples looking to downsize without going too small and compromising comfort," says Vickery.
Family time
When the weekend finally rolls around the king/queen helm and passenger seats provide comfortable seating for four in the cockpit. There's plenty of storage beneath for water toys with further storage beneath the front bunks. A moulded fibreglass glove-box will keep the keys and cellphones safe and close at hand. Footrests have been stylishly fashioned into the glossy fibreglass and while a passenger grab rail wasn't fitted to the demonstrator, it is a standard feature.
There are a few sun/rain protection options with the choice of a bimini or fibreglass top with open sides. Side and front clear screens are also offered. The gunnels and transom wall have been kept reasonably high for added cockpit safety, adding to the family appeal.
Over the back the Portofino-style duckboards aren't overly large but provide a useful boarding platform when taking a dip. A boarding ladder and transom grab rails are offered as options.
Up front the fully-lined cabin has ample headroom. Featuring full-length bunks and an optional infill squab it also provides cosy accommodation for a couple. The front hatch has been crafted from fibreglass to blend into the glossy exterior and keep the cabin cool and shaded. LED cabin lights are included.
The demonstrator only had a single start battery fitted which isn't ideal considering the electric anchor winch and optional electric toilet. A twin battery bank is available.
Catch your own
There are few experiences that satisfy the hunter-gatherer instinct and attract praise quite as much as serving up freshly caught seafood for family and friends. But serving up fresh fish that your children have caught themselves, and seeing the look of pride on their faces, is second to none. This boat is well suited to teaching children the art of fishing.
While it's far from a serious fishing boat, as tested, the Regency Monaco 580 can fish two adults in comfort and would cope with one or two more at a squeeze. The boat is fitted with four stainless steel rod holders located within comfortable reach and an optional stainless steel bait board that mounts in front of the outboard. This also doubles as a ski-pole and can be fitted with a BBQ for those long summer nights.
LED navigation lights and a removable LED anchor light are included in the basic package. Underseat fish bins are on hand to keep the catch cool and a small underfloor bin will come in handy for keeping refreshments on ice. Soft-bait containers or tackle can be kept close to hand in recessed transom compartments.
Moulded fibreglass grip-tread flooring provides surefooting and is easily cleaned at the end of the day. The cockpit walls are contoured to provide maximum space but a gap between the bottom and the floor could trap fishy bits during clean-up.
Our test boat was devoid of any electronics but Vickery says the dash is capable of accommodating a flush-mounted seven-inch screen while larger units could be bracket-mounted in front of the flat panel dash.
Essentially a prototype design, there were a few finishing details on Vickery's 'to do' list which he says will be sorted on factory finished boats. Absent on the review boat was flowcoat underneath the seat lids while the 200L underfloor fuel tank hadn't been installed.
Easy rider
While it's easier and more social to take a crew, the 580 is small enough to be managed on your own and a Monaco 580 owner does just that on a regular basis, says Vickery.
"He regularly makes the trip from Whangaparoa to Great Barrier Island and he's been catching plenty."
For comparison purposes Regency Boats kindly supplied its larger Regency Legacy 700 (see November 2012's issue for the full review) as a photo boat and after a brisk early morning start, we launched from Auckland's Half Moon Bay heading towards the Hauraki Gulf under stunning blue skies.
After putting the boats through their paces, and briefly dropping a line in the water, I left the Regency team to continue fishing made the trip back from Waiheke Island in the Regency Monaco 580 alone. As my luck would have it I left the team just before a workup developed that had the bins brimming with snapper.
A building south-easterly whipped up a short sharp chop on the nose but this didn't trouble the slippery hull which cut through comfortably and quietly at 32-knots.
With the 150hp outboard on the back, the transition onto the plane was smooth and efficient. The hull lifted onto the plane quickly and easily even with the leg trimmed out. There was little by way of prop cavitation in tight, looping turns and the multitude of hull chines delivered a dry and precise ride. While conditions were far from rough, the Monaco was both comfortable and pleasant to drive.
The helm position was cushy with the controls in easy reach although some of the engine gauges were obscured by the wheel. Being tall, and without any seat adjustment, I found the top of the windscreen to be at eye level when seated. Adjustable soft-rider pedestal seats are an option and could benefit taller drivers while providing a more cockpit space.
Docking and retrieving 5.8m of sparkling fibreglass at one of Auckland's busiest boat ramps was straightforward and scratch-free thanks to this boat's easily-handled nature. Had an inconsiderate boatie not blocked me in, requiring the trailer to be unhitched and re-hitched before backing down the ramp with a queue of boats forming, I wouldn't have broken a sweat.
Weighing in at 1500kg lightly-loaded, the Monaco is still beyond the capability of the average family wagon unless optional brakes are fitted to the trailer. However, it was a straightforward tow back to the Karaka showroom with a Mitsubishi Pajero.
The last word
If you like to be comfortable while enjoying quality time on the water in an easily-handled and affordable package then the Regency Monaco 580 presents a strong case for further consideration. The electric toilet option, comfortable cabin and automatic anchor winch will surely win over the wife and kids while providing all the ingredients for a summer of fun on the water.
For more information contact Shane Vickery at Regency Boats, ph 021 749 076 or email regencygroup@xtra.co.nz.
Feel free to make a comment or ask us a question about this story on the Trade A Boat
page.
For the latest reviews, subscribe to our Trade A Boat magazine here.
Keep up to date with news from Trade-A-boat or like us on Facebook!