Sea Ray 300 SLX Bowrider
---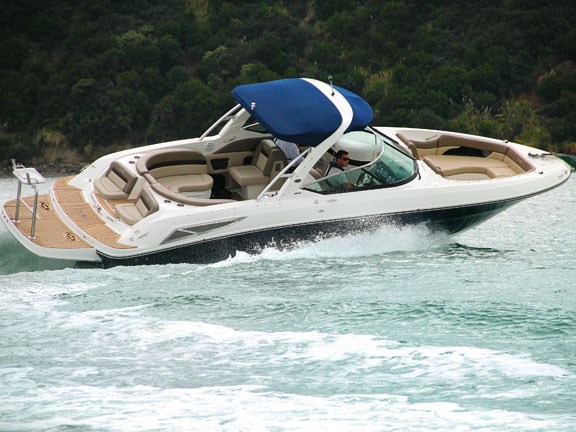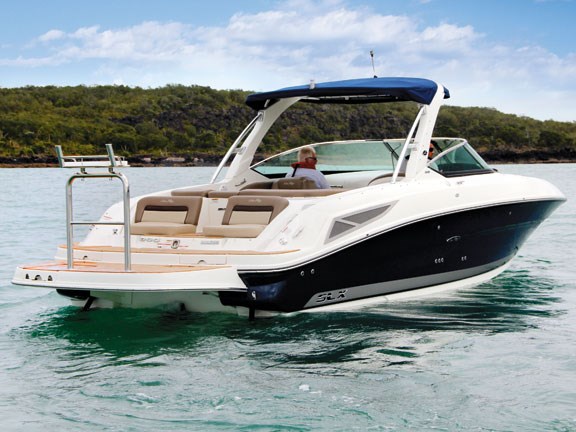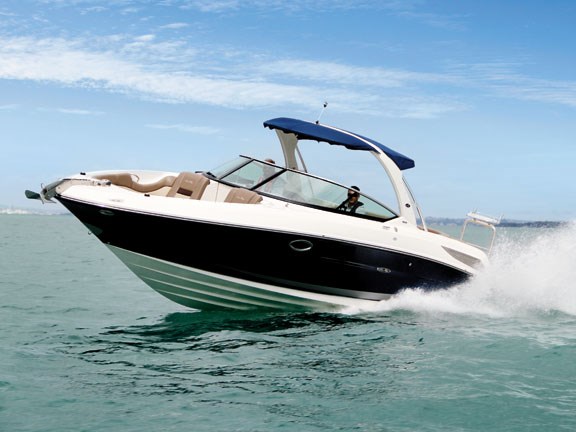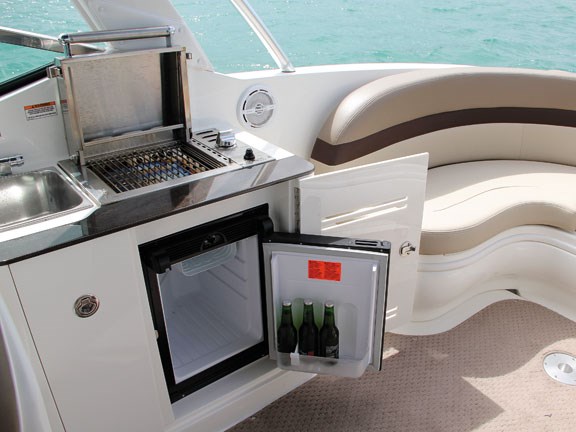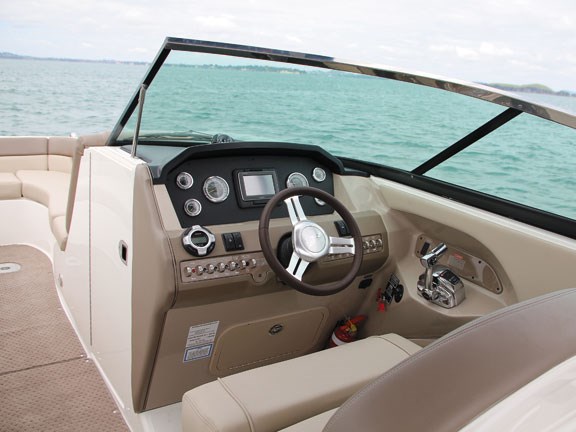 The new, top of the line 300 SLX Bowrider, from US boating giant Sea Ray, puts fun first with a seriously seductive sports platform, primed for summer. Lounge in luxury in the bow and you'll never look back
Growing up in New Zealand, most of us have experienced the thrill of white knuckles gripped around the bow rail of a speeding boat or sailing yacht hurtling across the water.
It was iconised in the movie 'Titanic' when Rose and Jack stood at the bow of the ship, arms outstretched in a move that has become a common sight on thousands of much smaller boats. The lure of bow-riding proved irresistible until it was banned in the late '80s. But riding on the bow and riding in a bowrider are two very different things.
In the US, where many waterways are sheltered, the bowrider has evolved into a true marine adventure playground and the new Sea Ray 300 SLX is leader of the pack.
American boat manufacturing giant Sea Ray has built a reputation for quality construction and design over 50-years and every Sea Ray model exceeds US Coast Guard safety regulations. SLX denotes the highest level of sports luxury in the Sea Ray range and it doesn't disappoint.
Being American, everything is nicely exaggerated. Therefore, it seems natural the 300 SLX is equipped with a thumping 8.2-litre V8 MerCruiser petrol engine that delivers serious output. Given the spectacular seating arrangements, it is one of few boats that gives passengers more enjoyment than the pilot while underway – especially if he's paying for the gas.
First look
'Wow' instantly comes to mind when standing dockside beside the long, sleek hull. In fact, that's all it really is — a long bewitchingly-shaped hull, hiding a beast of a motor under a luxurious curved array of seating that extends past the pilots throne through to the bow.
At first glance, the most outstanding feature is the extended rear boarding platform that is like an extra veranda. It's an optional extra, although the standard platform is superb in its own right. Both are beautifully finished in teak and elevate the boats sense of taste and luxury.
Each of the rear decks make an incredibly easy platform to step on and off. The rear edge of the extended deck discreetly houses a sliding boarding ladder for swimmers and we can only imagine the effect of underwater lights emanating from the stern after dark.
Both sides of the transom are equipped with underseat storage bins, the rear-most fitted with drain holes for icing the refreshments (or bait if you're really keen). But don't be under any illusion, the Sea Ray 300 is not a fishing boat. The abundance of carpet sees to that. Even the cavernous storage areas under the floor are carpeted.
The cockpit is accessed from the rear deck through a hinged panel in the rear lounger which sits on the one-piece engine cover. The engine cover rises silently on a mechanical strut at the flick of a switch.
Inspection of the engine bay reveals a lot of sound dampening insulation. All inside surfaces are flowcoated for a nice, smooth finish inside and out. If full-engine access is required, the cover can be removed in its entirety. Twin batteries serve house-power and start-power needs separately but battery banks can be linked with the dual battery switch located amidships in the engine room.
There's an automatic fire suppression system from a dedicated, heat-controlled fire extinguisher mounted over the engine and remote carbon monoxide monitoring.
Back in the cockpit, the full size of the boat becomes apparent. There's room for Texas and a big sky to boot.
Arched above the cockpit is Sea Ray's trademark forward-raking tower fitted to the deck by oversize aluminium tubing. The tower carries a useful canvas bimini while providing a gorilla-strength attachment for wakeboard racks, skis and water toys.
The boat is fitted with a plethora of cup holders and handy lockers that fall to hand for personal items. You'll also find stereo speakers discretely fitted throughout the boat for those who enjoy their tunes.
The boat's fore and aft seating configuration is such that they lend themselves to two distinct focal points — one in the cockpit and one in the bow. Not surprisingly, there's a floor attachment in both areas for a small pedestal table. Each area is further catered with subtle courtesy lights set at floor level.
The middle of the boat is where all the domestic bliss occurs. First up there's an enclosed toilet that's remarkably well concealed behind a curved fiberglass fascia immediately in front of the co-pilot. It looks like an igloo but it's the real deal with a vacuum-flush head, 75-litre holding tank and a small hand basin — with freshwater! — all ventilated via a small opening port.
The clever use of space and design carries through to the 300 SLX's seating arrangements. The captain's and first mate's seats are a feature in their own right. The helm seat has a flip up bolster that allows you to stand and brace at the wheel. Whether seated or standing, the helm position is comfortable without giving anything away in terms of sports-boat feel and appeal.
The adjacent passenger seat has a wonderful sliding backrest that transforms the seat into a sunbed facing forward or aft. Set in the middle, you have two very comfortable fore and aft facing seats. It's another example of Sea Ray's clever yet simple solutions for transforming any given area into something much greater than the sum of its parts.
Behind the helm seat is a small but functional galley with a covered two-burner gas hob barbeque, a reasonably-sized fridge with a small icebox, cupboard storage and a sink. This is no weekender but as a day boat it provides everything required to cater for a fun day out on the water.
Stowage is a feature with a large enclosed locker space built into the helm fascia which provides ample stowage for life jackets, fenders, and other bulky items, as well as a waterproof enclosure for the boats stereo and CD stacker — operated from a remote switch on the dash.
There's a large under-floor locker amidships that will happily swallow up bags, skis, rods and dive tanks. Being carpeted, you're not going to want to put bait and burley down there but there's plenty of space for fish bins. Beneath the locker floor you'll find the bilge which is completely sealed from the engine bay.
The crowning glory of this boat is its sexy open bow beckoning athletic, well-toned, bodies like those featured in Sea Ray's product brochures.
First-class traveller
For the short ride out to our testing grounds on Auckland's Waitemata Harbour, I parked myself in the bow where, even at restricted harbour speeds, it lifted like a magic carpet, carving aside a small harbour chop.
With the hammer down the ride took on a sense of flight as the speedo flicked over to 45mph and I felt like a first class passenger on a Boeing-747 with the top down. With childlike enthusiasm I involuntarily exclaimed, "This is AWESOME!"
At this point I realised something very rare in a speedboat — no matter how much fun the driver was having, I was having more. Curiously, the aggressive 8.2-litre growler out the back was just a purr from the front.
Impertinent chop was smoothed and riotous wakes from passing ferries were crushed without a hint of hesitation. Regardless of where I sat in the bow, there was no change to the boats stance or stability.
While borne to the lakes and rivers of the US, the 300 SLX is surprisingly dry and comfortable on the briny and didn't complain at being pushed across a short chop at 30-knots. At 30ft and nearly 3500kg there's a lot of hull on the water and while not exactly soft riding it's no worse than a lot of trailer boats I've tested.
The bow configuration provides seating for six but is ultimately designed for a couple with a pair of sumptuous sun loungers equipped with cup holders, handrails and a nifty icebox located just behind the anchor locker.
Again, storage abounds up front with both loungers hinging open to reveal cavernous underseat lockers.
The anchor locker, while not large, is adequate for anchoring off the beach and is fitted with an electric winch remotely operated from the helm. The primary Danforth anchor is kept in check by a self-launching stainless steel fairlead and flanked by a pair of stainless steel bollards.
Moving aft, the bow quarters are separated from the cockpit by a half door and centre windscreen panel that hinges open forward and locates into a self-locating latch. With both the windscreen and door open, access through the boat is wide and tidy although there's no escaping the wind rushing aft at speed. However, close the windscreen and the boat is instantly transformed.
The tempered and tinted windscreen is beautifully sculptured and wrapped in a polished stainless steel frame that fits the boats bodywork like a glove. It's also highly effective at deflecting wind over the head of the pilot and co-pilot. Largely unnecessary for summer boating, full clip-on clears are offered as an option.
At speed, engine noise is minimal and certainly doesn't disrupt conversation. Even with a wind-against-tide chop there wasn't a hint of backwash or a drop of spray on the windscreen. Sea Ray makes no secret of its desire to emulate the modern sports car and that's just what this boat feels like, albeit an open top muscle car.
The 300 SLX's dash is dotted with the usual array of white-faced, retro-style SmartCraft gauges and diagnostic instruments. Switches are stylishly and individually partitioned and labeled and the power-assisted steering is positive and firm.
The hydraulic trim tabs on the hull and stern leg quickly bring the boat onto a flat and level attitude for performance and economy. The only disappointing feature was the horn which sounded like something out of a Disney jalopy — I was expecting the roar of a Kenworth.
The sublime digital throttle and shift (DTS) requires only the gentlest of touches to the point that selecting neutral between reverse and slow-forward is easily overrun if you're not paying attention.
The last word
The Sea Ray 300 SLX is an ergonomic feast of curves which accentuates its sports mode but there is a price to pay. The topside edges are significantly wider than the hull at the waterline so placing fenders on a low dock will be challenging.
This is a dedicated top down, summer sports boat but you'll need reasonably deep pockets to run it; the 8.2-litre MAG Mercruiser burns through fuel, but there more efficient inboard engine options should you choose.
For all that, Sea Ray stats tell of improved efficiency over similar-sized boats and drives due to the Bravo III stern leg providing for significant adjustment of attitude through trim.
But if you want economy over comfort and style, then shop elsewhere. This boat oozes sex appeal and is proud of it. If you're on the water to fish then you'll have some work to do but if you're happy with soft-baits and a snapper for lunch then you've got a great platform to work from.
Sea Ray has been around for over half a century and has earned a reputation for impeccable quality down to the smallest detail. In the immortal words of its founder, "It's not the one big thing but the thousand little things that make Sea Ray the best."
Take a bow, Sea Ray. With the 300 SLX Bowrider, there's no looking back.
Feel free to make a comment or ask us a question about this story on the Trade A Boat
page.
For the latest reviews, subscribe to our Trade A Boat magazine here.
Keep up to date with news from Trade-A-boat or like us on Facebook!