Senator CCs
---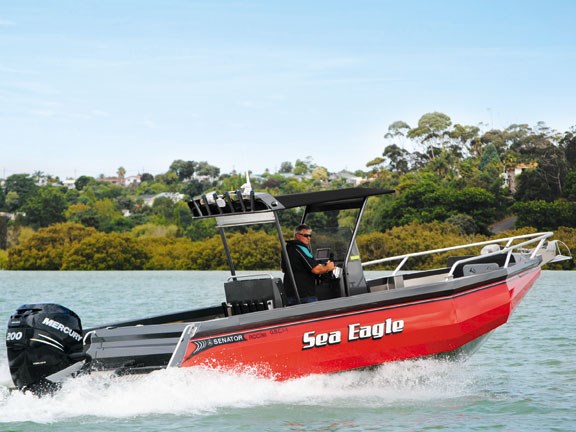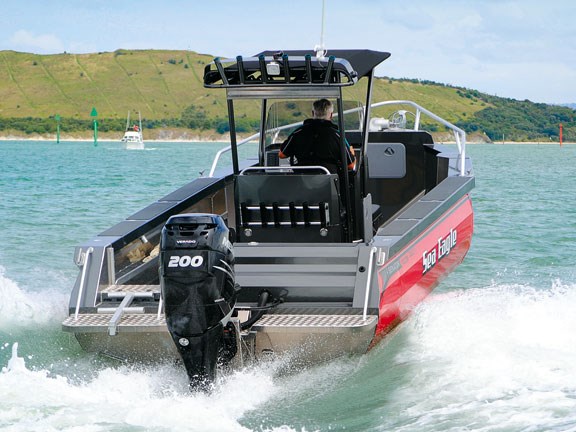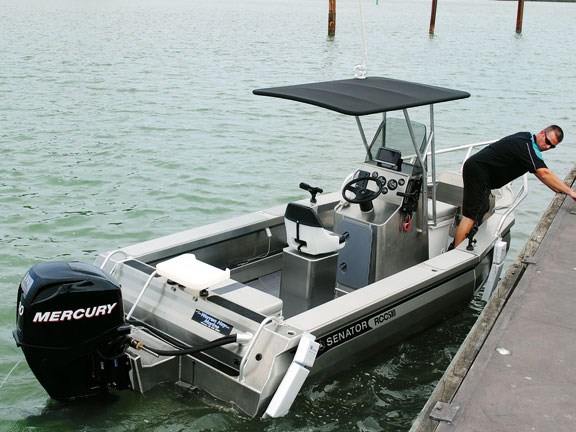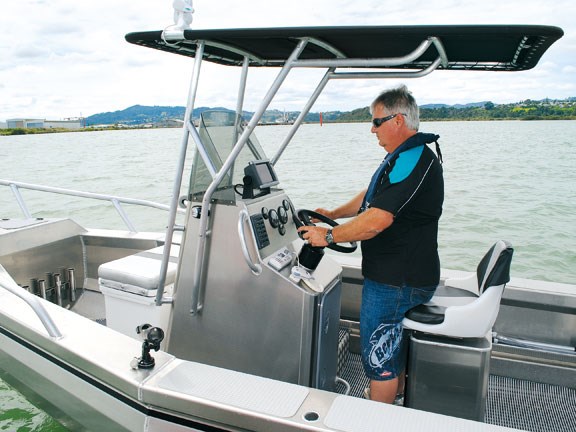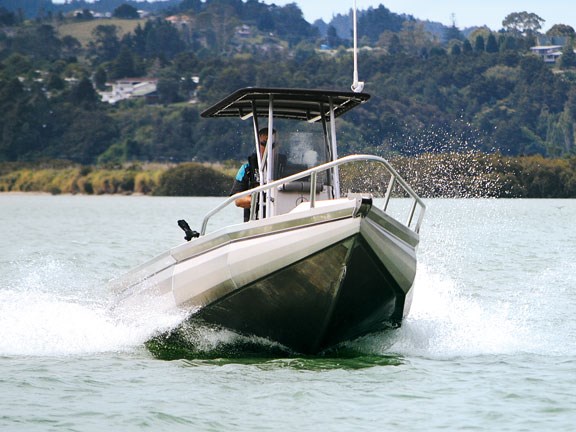 Everyone has an idea of their dream boat but few set out to achieve it. Bruce Duncan puts Senator's RCC510N and RCC780W custom centre consoles through their paces, and discovers two very different boats built with personal design in mind.
The team at Warren Hay Marine has a reputation for listening to customers' needs and wants, guiding them through the process of making their dreams a reality. This requires a lot of mutual trust, respect and understanding, which not only leads to happy customers but also lifelong friendships.
Warren Hay has an enviable reputation, built up over a lifetime of working in the sports fishing industry in Northland. His dream was to create a marine dealership and tackle shop that was second to none. Established in 2000, it wasn't long before Warren Hay Marine outgrew its premises, paving the way for a custom-built boat showroom, tackle shop and workshop to cater for all levels of boaties and fishos.
Senator RCC510N
Approached by an existing customer whose personal circumstances had changed, Hay was set the objective of building a 510 Senator but set up as a centre console – a first for this model. It needed to be launched and retrieved singlehandedly from both ramps and beaches and the owner, being an avid soft-bait fisherman, wanted an uncluttered layout but with a Bimini T-top for sun protection.
First impressions
The 510 Senator Centre Console certainly looks smart on its Voyager trailer; with well-balanced lines and subtle graphics, it has all the appeal of a boat that's designed for a good day's fishing. Inside the cockpit, the floor is slightly curved upwards towards the chine on each side of the hull. This gives a solid footing for the crew while underway or fishing at rest. It has a perfect gunwale height against which to brace yourself should things get choppy, and forward of the centre console the floor steps up slightly to account for the sealed buoyancy chamber.
With four recessed rod holders in the deck, two Rail Blazer removable holders forward of the console and an additional vertical stainless steel holder to accommodate four further rods, storage for your arsenal is more than adequate. Side trays on either side provide space for even more rods and, at 2.6m long by 180mm wide, would be suitable for dive bottles, too.
Take a seat
Sit behind the centre console at the helm and all the instruments plus depth sounder/chartplotter are within easy sight and reach, situated below the helm dry storage. Access to the wiring (all neatly installed and cable tied) is provided by way of an access hatch.
The Bimini T-top was custom built locally to the client's requirements. Neatly laced to the frame, the canvas cover gives adequate sun protection, with a cleverly thought-out pouch for chart storage. However, personally, I would like to see the navigation lights relocated for better visibility.
Aft across the transom and set well above the deck (giving easy access to the fuel filter and bilge pump) are two batteries, neatly wired to a three-way isolating switch. A domed down-cover provides protection from rain and spray. Below the sealed floor, forward towards the helm for stability, is a 100-litre fuel tank, with the filler cap below the bait station in the middle of the transom.
Sailing solo
Easily launched by one person, it is immediately apparent just how stable and manoeuvrable the Senator is when tied alongside the wharf. Stepping on board, all-round visibility from the helm is good and as the power is applied, it easily comes up on the plane, leaving minimal wake behind.
Wind against tide made for relatively calm sea conditions on the test day, yet despite putting the 510 through tight turns and bouncing off other boats' wakes, there was surprisingly little spray coming on board, due to the high chine forward. I had a sense of control, even when backing up and manoeuvring in sloppy conditions – an important factor considering the boat will be fished close to exposed rocks and reefs as well as open water.
The Mercury 60hp SEFI four-stroke is ideally suited to the 510. Not only is it very quiet but it gives all the power needed for efficient running with a couple of crew, while being economical on fuel. Depending on loading wind and sea conditions, the 510 tops out at approximately 45mph, burning 80 litres per hour, and sits comfortably at a cruising speed of 30mph, burning 30 litres per hour.
Overall, the RCC510 is a well-thought-out and balanced boat, right down to the carefully cut tubular deck mats to fore. It certainly fulfils the happy owner's needs. Most centre consoles are a trade-off, but between the owner and Warren Hay Marine they have put together a boat that is perfectly matched with its purpose.
Senator RCC780W
Upon seeing the Senator 510, an existing client of Warren Hay Marine commented that it was exactly the concept he had been dreaming of, but he wanted his boat to be a lot bigger to cater for his kids and grandchildren as they were all soft-bait fishing enthusiasts.
After many meetings, getting an in-depth understanding of the client's specific needs, and working with the Senator factory, the bare hull and console arrived at Warren Hay Marine. Only after the entire layout was finalised and the Bimini T-top built, then all the holes were cut and drilled ready for installation of instruments, rod holders and so on. The boat was then sent away for painting.
Family friendly
The Senator 780W is the first 780 to be built as a centre console and it more than meets the need for a large out-and-out fishing machine, with room for all the extended family. Guaranteed to turn heads, the 780W looks awesome and imposing, standing head and shoulders above all others, both on the trailer and in the water.
Rod storage is not an issue, with four rod holders recessed in the decks, six vertical holders behind the helm seat and another six in the rocket launcher. The Bimini top has been well used, providing additional storage for six of the more delicate soft-bait rods. And if that's not enough, massive side pockets either side of the hull will take any overflow, while adding heaps of space for tackle boxes, gaffs and dive bottles.
Custom comfort
With generous bench seating for two adults, the cavity below is used for stowing flares and life jackets. The back of the seat and Bimini top supports offer plenty of handholds for those crew members that are standing.
Such a large centre console allows the placement of engine instruments, VHF, anchor and other switches and depth sounder to be specifically positioned for the owner. The slightly tinted windscreen is at the right height to deflect spray. Access into the console is via hatches on either side or by removing the panel below the helm. Forward on the console is another upholstered seat designed to hold a large chilly bin underneath. A further large chilly bin can also be positioned aft when required for added seating. For night fishing, there are two LED cockpit lights aft and two on the console, with a floodlight mount on the rocket launcher.
Being lighter without the added weight of a cabin superstructure, the 200hp Mercury four-stroke with electric-hydraulic steering is a nice match, as it offers all the power to get offshore quickly but also gives good fuel efficiency at a comfortable noise level.
Below the floor, which is covered with removable tubular deck tread, there is a storage locker for ropes and a sea anchor, while aft of the helm is a 400-litre fuel tank. Mounted on the bow is a Maxwell HR6 auto winch, with a large access hatch below to the huge anchor well.
Mounted midships on the stern is the bait station. When removed, this can be used for further rod holders when trolling. The transom step also doubles as a live-bait tank that is within easy reach of the bait station.
Backed down the ramp, the motor is lowered and, once warmed up, it is simply a matter of releasing the safety chain and winch wire, giving a touch of reverse and the big red Senator glides effortlessly off the trailer.
Catering for taste
A centre console of this magnitude may not be everyone's choice. One only truly gets the feeling of its size, power and fishing potential as the 780 so effortlessly comes up on the plane – this really is a pocket rocket of a sports fishing boat.
Tight high-speed turns failed to produce any capitation, while giving the feeling of security – not what you would normally do when going fishing but it would give the grand kids the ride of their lives when towed in a ski tube!
Despite the relatively calm conditions, only the lightest mist of spray could be felt at times after leaping off wakes. That's not to say it won't be the case once in open water with a fresh breeze – this is the one downside to open centre consoles.
Subject to weather, sea state and the number of crew, the 780W has a top speed of around 45mph, burning around 80 litres per hour. At a fast cruise speed of 30mph, fuel burn drops to approximately 30 litres per hour.
The Senator 780W centre console got me dreaming: this is one boat that just screams "let's go fishing" as it has the ability to fish close inshore, target more remote offshore islands or go trolling out wide for marlin in most weather conditions.
It is great to see that, even today, one man's dream of fishing together with family and friends is now a reality, with the help of Hay who's built his life's dream in Warren Hay Marine.
For more information, ph 09 430 2666 or visit warrenhaymarine.co.nz.
Keep up to date with news from Trade-A-boat or like us on Facebook!