Surtees 7.3 Gamefisher
---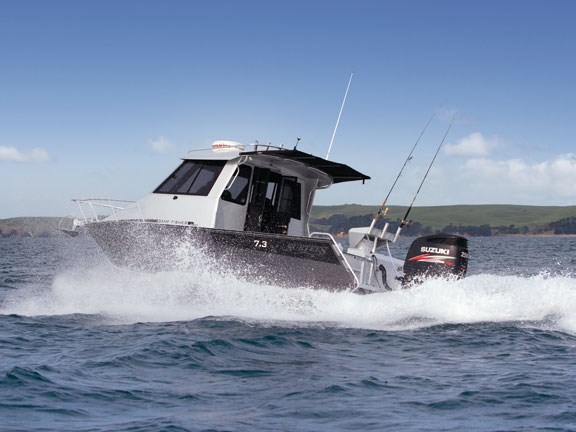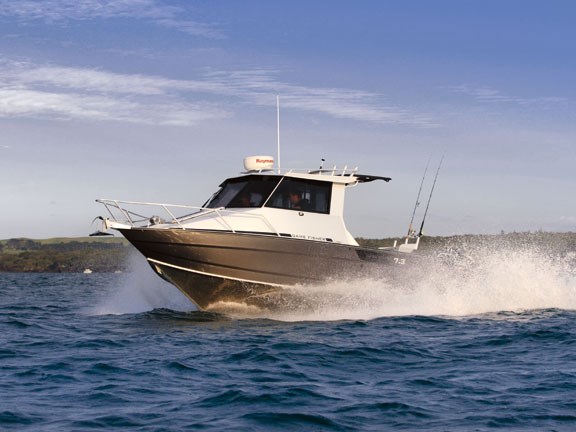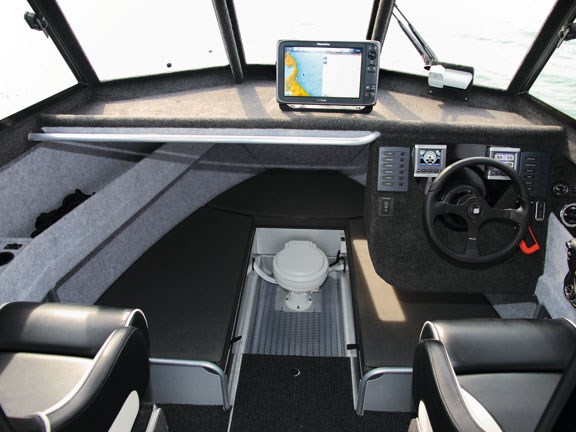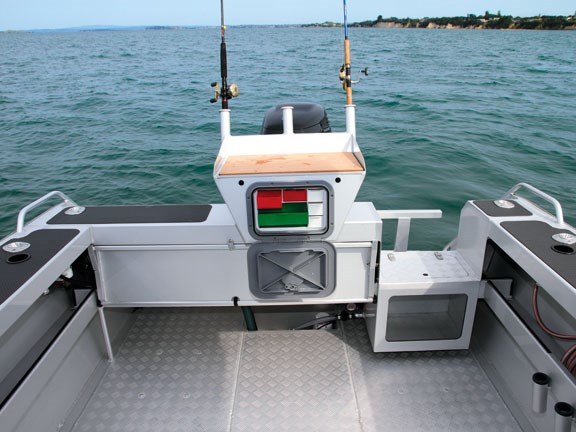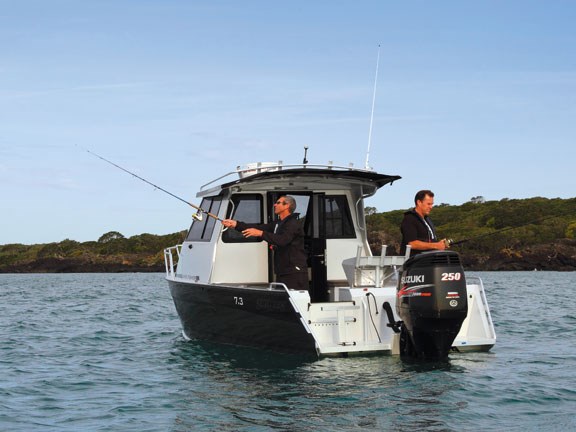 Surtees Boats' 7.3 Gamefisher is quite simply 7.3m of pure, adrenaline-charged machine that's just begging to be unleashed on fishing, diving or overnight adventures.
Award-winning aluminium manufacturer Surtees Boats clearly had its thinking cap on when it designed the 7.3 Gamefisher - no space has been wasted and it's absolutely brimming with clever features. Surtees sales manager Cliff Schick says it was - as the name attests - specifically designed with game fishing in mind. "Our customers were constantly asking us to go bigger so they could venture further out to sea, and since they were asking for it, we met the market and the 7.3 Gamefisher has been really well received," he says.
Launched in 2008, the 7.3 Gamefisher took out the Hutchwilco Boat Show - Aluminium Fishing Boat of the Show (Open) the same year. Since then, its popularity has shown no signs of waning. "We're constantly building three or four per month and have been since we launched it. The 7.3m is a really, really popular size and a lot of guys are trading in their older Surtees boats on it," says Schick.
It's not just the New Zealand market that has taken to 7.3 Gamefishers, either - they've also been exported to Australia and Noumea. "We've done a few in Tasmania with dive compressors up on the roof. These are fully kitted-out dive machines that their owners take away for a week," he says.
All Surtees boats are CE-certified so they can be exported to Europe and the US without any drama. In fact, Surtees is one of the only New Zealand companies that meets the stringent CE certification requirements.
Damn near bullet-proof
All Surtees across the entire range feature the lockable flooding keel, 'Non-Pounding, Deep-V Hull' and an easy-loading trailer catch for a stress-free launch and retrieve, even single-handedly. Structural staunchness on the 7.3 Gamefisher is provided by the 5mm bottom, 4mm sides and 3mm top decks with six fully-welded stringers, full-length, sealed underfloor buoyancy and a fully-welded treadplate floor. The 300 litre underfloor fuel tank is also fully-welded into the structure, completing the non-flexing 'Ultra-Strengthened Deck System' - which translates to 'damn near bullet-proof'.
Nothing is done by halves in the Surtees factory, and the entire range is built to meet survey standards, requiring a mere windscreen swap to 6mm clear glass to get approval. They're also built exceptionally tough - next year Surtees will be celebrating its 20 year anniversary and Schick says it's never had a hull failure. Due to its focus on quality, Surtees is also able to offer an above-average, six year, worldwide hull warranty.
Encased in comfort
Shutting the lockable hard top doors makes the enclosed cabin a happy hideaway whatever the weather. The sliding side windows can open both forward and back - whichever direction suits the occasion. Deluxe helm and passenger seats are adjustable and feature a fold-down leg support for extra comfort while standing. They're exceptionally comfy while seated, and an optional bench infill can be added in between to increase the cosy cabin seating to four.
For the taller passenger, 1.9 metre bunk bases with infills allow for a stretched-out and comfortable night's sleep. An optional electric toilet fits neatly below for extra comfort on extended fishing trips. Gear storage space is available under the squabs and beneath the underfloor bin.
Maximised space
To maximise the internal cabin volume, walk-around access to the bow has been kept fairly narrow but can be navigated, or you're able to go through the large, shield-like, aluminium front hatch. Rubber non-skid has been included on the bow section for safe footing while docking.
Surtees is very good at making use of every available nook and cranny. The 7.3 Gamefisher has a few features that have been cleverly and discreetly incorporated, which might otherwise go unnoticed - beneath the helm and passenger seats, slide-out shelving and handy drawers will keep the utensils and cutlery organised; a fridge tucks neatly below; a fold-out gas cooker and freshwater sink are hidden beneath the portside cockpit seat, but having the cooking facilities in the open may limit all weather usability; a shower head and extendable hose hides within a rubber cover on the gunnel, with the soothing hot water provided by the gas califont concealed behind the hatch below.
Tucked away beneath the bait board is a handy tackle box with removable trays to keep a small selection of terminal tackle organised and floor clutter to a minimum.
Fishing weapon
With all the clever, fishing-orientated features on this boat, it will be hard to come up with a viable excuse if you don't come home with a bin full. Wide, thigh-height gunnels with three alloy rod holders per side and rubber non-skid make it easy, with refreshment, or sinker, holders close at hand. Two rear-facing seats allow the crew to enjoy the view while keeping an eye on the lures out the back, and the sliding rear window will enable the skipper to keep tabs on the action.
The through-duckboard burley dispenser provides an easy option to bring the fish on the bite without having to remember to haul in the burley pot when changing spots. Fresh livies can be offered up from the 40 litre live bait tank, and the optional sliding, side-mounted rod holder is handy while rigging up - it can also keep up to four rods out of harm's way while towing to or from the ramp.
If your mouth waters at the thought of fresh crayfish or succulent scallops, the fold-down rear seat will provide a comfortable perch while gearing up. The underfloor cockpit locker is also big enough to store the dive tanks. The walk-through transom door unlatches and folds down out of the way, and the boarding ladder has been specifically designed to cater for dive fins. Rather than just welding hand rails to the transom (on which a wet hand can easily go for a slide), Surtees has cleverly incorporated hand holds for a solid grip. A crayfish pot hauler is also an option if you prefer to take the easy route.
Once safely back on board via the Portofino transom, a pull-out shower head, gas califont and 80 litres of freshwater will afford an instant hot water rinse while keeping all the wet gear confined to the cockpit. The crays can be brought to the boil on the gas cooker while the easy-clean, treadplate floor can be hosed out with the optional saltwater wash-down kit. A 14,000L/hr bilge pump will quickly remove any unwanted water.
Our test boat was also fitted with the latest Raymarine E127 HybridTouch with bird watch radar, so there really are no excuses for coming home empty-handed.
Chop surgery
I met top bloke and Surtees specialist Andrew Carlson, managing director of Fishing Boats NZ, at his yard where we hooked up the 7.3 Gamefisher and our capable photo boat, the Surtees 5.8 Gamefisher (reviewed in December 2012). After a brief tow to Auckland's Takapuna boat ramp, I was handed the keys and given free rein while Carlson attended to a few errands.
While it's a sizeable trailer boat, the 7.3 Gamefisher is surprisingly easy to handle and manoeuvre. Launching was as simple as driving forward to unlock the self-loading catch before shifting to neutral to allow the boat to roll back off the trailer. With minimum effort, I was off for an enjoyable play in the choppy channel.
After my unsupervised joyride, I returned for Carlson so we could give both boats a thorough workout. While we only had three blokes between two boats, there were no problems docking alongside in breezy conditions to swap over repeatedly for the photo shoot.
The smooth, strake-less hull cut through the chop with surgical precision and felt at ease riding over half a metre of sharp chop at 28 knots; she was easily pushed to almost 38 knots at WOT.
There was no need to pull the cord to lock in the 550 litres of ballast within the flooding keel, as it sliced through the choppy sea and boat wakes admirably without it. Locking in the extra half-tonne of ballast weight provides a better ride into a head sea - the drawback being increased fuel consumption - or you can lock it out for beach launching. With the flap left open, the chamber floods at rest and empties quickly underway. When combined with this boat's maximum road legal 2.5m beam, it makes for a very stable fishing or diving platform.
Excellent weather protection and a comfortable helm made for a pleasant and rewarding driving experience. At the helm, the intuitive, joystick-controlled trim tabs required a lot less brain strain than the conventional button up and down models, which can often be confusingly configured - just push the joystick toward the side that you want to push down and let the tabs do the rest.
Suzuki's new generation 250hp V6 four-stroke outboard propelled us along smoothly and quietly up to 37.7 knots at 6000rpm (WOT) with two people on board. Easing back to a more economical 19.6 knots at 3500rpm would give an approximate range of 239Nms from the 300-litre underfloor fuel tank - depending on load and conditions.
While we took some spray across the toughened glass screens at times, the treated windows and a driver's wiper maintained good visibility while we stayed warm and dry inside. There's also provision to add an optional passenger and centre wiper for better visibility in foul weather.
With the sun disappearing behind the horizon we headed in to a chaotic Takapuna boat ramp. Carlson backed the trailer down while I drove the boat on and the self-loading trailer catch and multi-roller trailer did the rest. The Surtees 7.3 Gamefisher tips the scales at around 2.3 tonnes on the trailer so, while it will require a capable tow vehicle, it's within the braked towing weight of many 4WD SUVs.
The last word
At 7.3 metres, this clever Gamefisher is not too big that it's challenging to handle, yet it strikes a great balance between useable fishing space and a comfy, secure cabin; overnight facilities extend your on-water enjoyment. I thoroughly enjoyed my time on board this boat - with one of these rigs your boating adventures will know few limitations.
For more information contact Fishing Boats NZ, ph 09 410 4369, email andrew@fishingboatsnz.co.nz or visit fishingboatsnz.co.nz.
Feel free to make a comment or ask us a question about this story on the Trade A Boat
page.
For the latest reviews, subscribe to our Trade A Boat magazine here .
Keep up to date with news from Trade-A-boat or like us on Facebook!