Bluefin 665 HT D review
---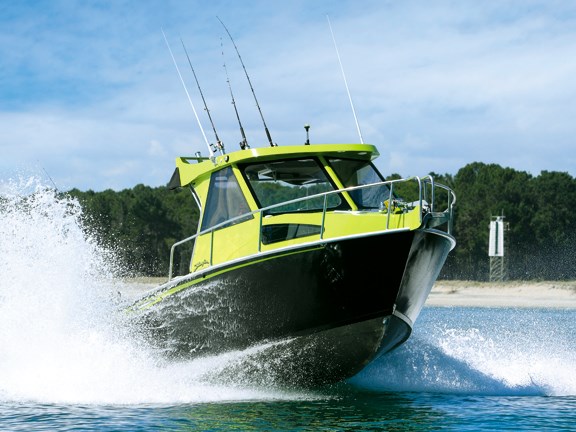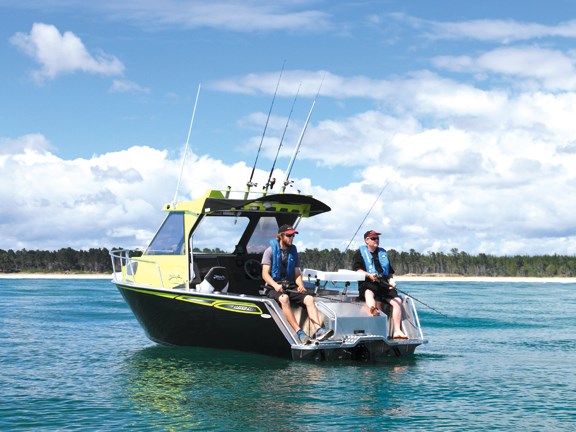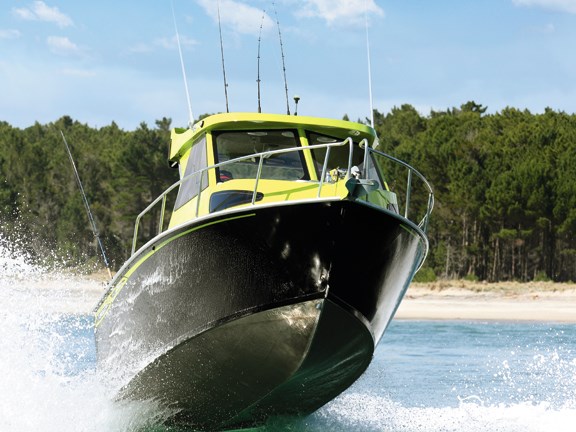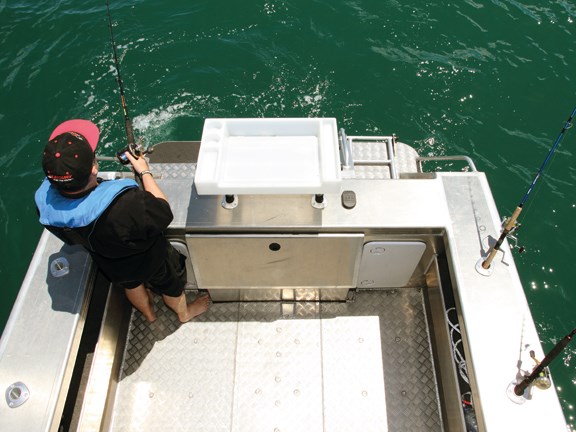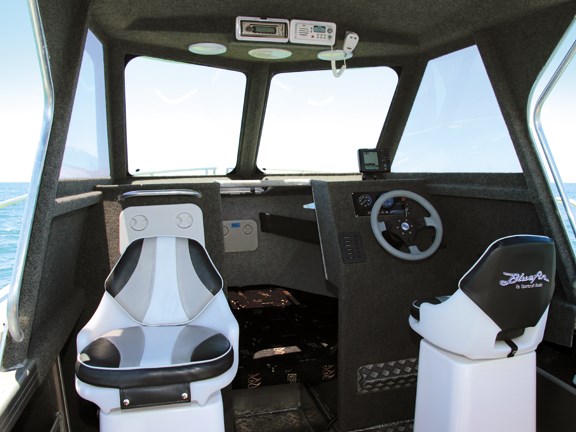 Bluefin's 665 HT is one of Sportcraft Boats' most popular models and, while it's been around since June 2009, this is the first time it's been offered with an economical diesel engine. We're told the game fish find it irresistible too…
Having a trophy wife may be something a lot of us aspire to, but good looks don't last forever and quite often equate to high maintenance. Sportcraft Boats prides itself on producing practical, useable designs; and while it probably won't be collecting first prize in a beauty pageant anytime soon, practicality wins hands down when cost and usability are concerned.
Sportcraft Boats' managing director, Jamie Black, outlines the benefits that they're practical approach brings: "We design our own boats and actually use them ourselves. We go for practicality above all else, and we've made our gunnels really wide so you can sit on them and use them as a table. Rather than manufacturing features that have pretty lines, we incorporate features that are useable and workable - thin, rounded coamings may look nice but they're not practical and you can't do anything with them."
Sportcraft Boats manufactures both the Scorpion and Bluefin range, which covers 2.7-metre dinghies through to the largest Scorpion built to date - a 10m commercial crayfish boat operating out of the Chatham Islands. It sells direct and manufactures its larger models in production runs to keep the price tag as attractive as possible. With its designs being made exclusively from aluminium, customisation is also available.
Diesel driven
The Bluefin 665 is one of Sportcraft Boats' most popular models, with 36 hulls produced to date. It's the smallest hull in what Black refers to as its 'bluewater' series: "It's been designed off our bigger boats and features the same 2.5m beam. It gives our customers a big enough boat that they can go everywhere but it's still small enough that they can handle and tow it without feeling daunted."
So what prompted the release of the Bluefin 665 HT with a diesel engine? Black explains, "It was about putting a package together with a diesel engine that's both economical and affordable, and which wouldn't take up too much cockpit space." The Sportcraft team has done an excellent job, as it hardly takes up any cockpit space at all.
Diesel also has a higher safety factor for over-nighting and is more readily available at wharves and marinas. "A lot of people that stay out on their boats don't like having petrol on board," says Black. One consideration, though, is that the visible fuel breather hose running over the edge of the cabin storage recess could potentially get damaged. The forward and aft engine covers provide excellent access for servicing, and the larger MerCruiser 2-litre 170hp diesel option can also be fitted with only a slight loss of cockpit space.
Apparently, swordfish are fond of the MerCruiser diesel's soothing reverberations as well. "We've run this type of diesel engine in some of our bigger boats and found that it really pulls the game fish in," says Black.
A quick once over
Speaking of fishing, the cockpit is easy-clean treadplate with super-wide gunnels that would make a comfortable seat with the addition of some non-skid for safe boarding. There are three aluminium rod holders per side with another two on the transom for the plastic bait board. A rocket launcher overhead has space for a further five rods. The canvas hardtop extension provides protection from the elements but obstructs access to the rocket launcher when extended. It slides back into the roof out of the way, but keep some CRC handy to give the tubes a good lube first.
With no transom doors on the demonstrator you can actually sit on the transom with your legs dangling over the back and a line in the water. Adding some optional rubber non-skid panels here would increase both the safety factor and backside comfort level. To maximise cockpit space the rear engine cover extends out onto the duckboard with walk-around room still available. A duckboard cage and single walk-through transom can also be fitted.
The cabin features good headroom with full-length bunks, and even tall adults will be able to sit inside without banging their head. To maximise space, extra bunk length has been afforded by creating recesses beneath both port and starboard dashboards - just remember that fact before lifting your head too quickly in the morning, though, or sleep with your head at the bow.
Black says this boat is offered in a 'Weekender' option, with a lockable hardtop that doesn't encroach on the useable cockpit space for fishing. A freshwater sink, gas cooker, and portaloo or electric toilet are options too.
A handy waterproof glovebox will keep all the pocket-dwelling items safe and dry. The batteries are also housed safely up off the floor with extra storage in the transom lockers either side of the engine bay. Also in the interests of safety are the sealed underfloor and upper level buoyancy in the bow and stern, which Black says is of a higher level than normal. The trade off, of course, is that there's no space for underfloor storage bins in the cockpit.
Sting in the swell
I drove down to Mt Maunganui on the back of the deadly tornado-inducing low that hit West Auckland in December 2012. Thankfully, all that was left by the time I arrived was a remnant 1m swell and a few showers, which departed just prior to putting the boat in the water.
While it became a beautiful, calm day, there was still enough sting left in the swell for Black to get the Bluefin 665 HT D almost completely airborne for the photos - and I didn't even have to ask! The modest 120hp diesel has a surprising amount of torque.
We headed out past the Mount into open water, comfortably taking the swell on the front quarter with no pounding, even when running her at WOT (30kts). While 30 knots flat out isn't overly quick for a trailer boat, it's only using 26.5 litres of diesel per hour at this speed. Easing back to 18 knots at 3000rpm sees consumption drop to approximately 10 litres per hour. At 7-8 knots, 2000 rpm, the frugal MerCruiser is only sipping around 3.8 litres per hour.
The 1.7L Mercruiser diesel's torque curve rises sharply above 1500rpm, producing its peak output of 264Nm (194ft-lb) at 2400rpm, so this Bluefin gets on the plane very easily. With its 2.5m beam and 17-degree deadrise, this boat exhibits good stability, but, as with any hardtop, the optional trim tabs do come in handy.
Vision at the helm is good with only a slight intrusion from the support beams. While we didn't take any spray over the windscreen on the calm test day, wipers are available as options in case it gets snotty. With the very basic analogue MerCruiser gauges on the dash there's no room left to flush-mount a fishfinder, but there's no shortage of space on offer beneath the safety glass windscreens.
With a bit of a twist, the upholstered helm seats swivel to become rear-facing fishing seats. Hydraulic steering makes the 665 HT D a breeze to drive and the hull grips well in tight, high-speed turns.
This game fish magnet is supplied on a Sportline tandem-axle, multi-roller, un-braked trailer with submersible LED lights - also manufactured by Sportcraft Boats. With a dry towing weight of around 1650kg, it's well within the braked towing weight of many SUVs, even when you add the weight of fishing gear and a full tank of diesel. Of course, a towable bluewater boat also opens up plenty of boating opportunities.
The last word
Sportcraft Boats' practical approach has resulted in a user-friendly, bluewater-capable boat that's delivered at an attractive price. Despite the laws of physics, this boat goes surprisingly well with the clever MerCruiser 120hp diesel inboard installation, which means there's plenty of cockpit space to be put to good use targeting unsuspecting marlin without having to worry about the price of petrol.
For more information on the Bluefin 665 HT D contact Jamie Black at Sportcraft Boats, ph 07 928 7193, email jamieblack@sportcraftboats.co.nz or visit sportcraftboats.co.nz.
For the latest reviews, subscribe to our Trade A Boat magazine here .
Keep up to date with news from Trade-A-boat or like us on Facebook!