Product review: Flyboard
---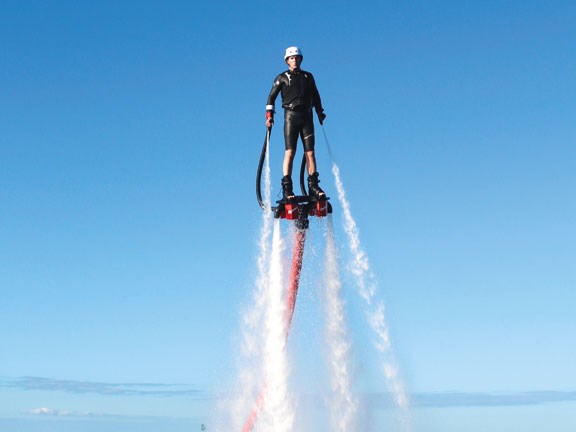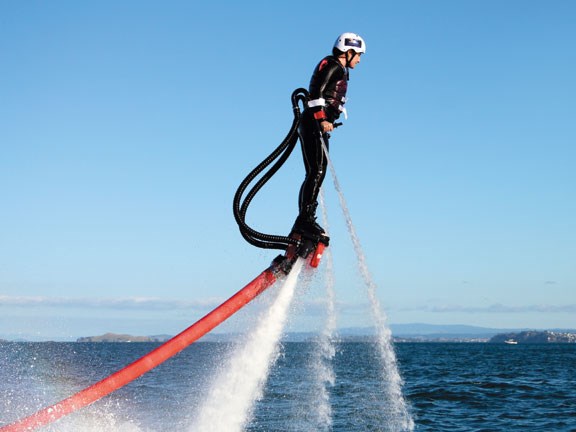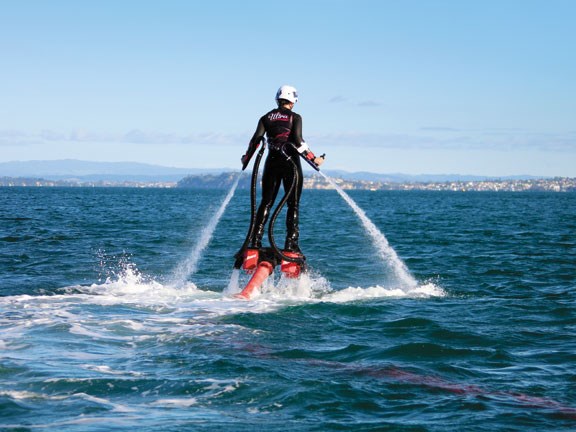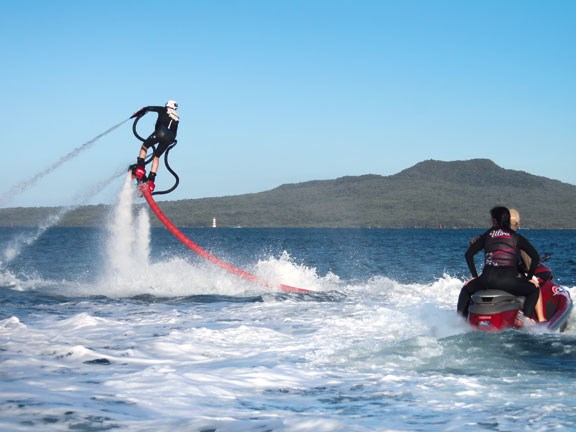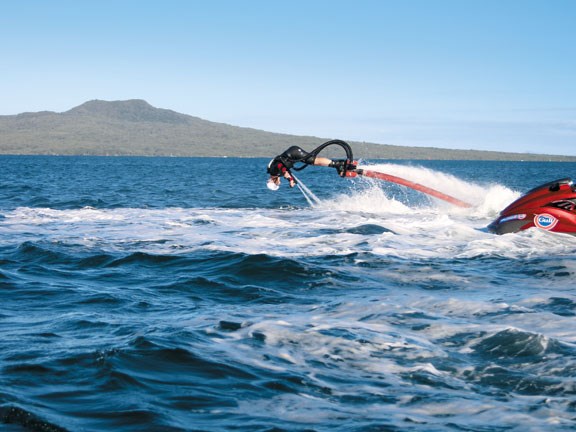 One of the more interesting items displayed at last November's Big Boys Toys was a very cool new water toy in the form of the Flyboard. We had a go on this funky thing and think it's the coolest way to play in the water since the surfboard…
The Flyboard became a worldwide sensation after the posting of a YouTube video in December of 2011 and in just 15 days there were over 2.5 million views globally.
Created by jetski racer Franky Zapata, the Frenchman's experience in the engineering and manufacturing of racing jetskis allowed for the quick production from design to prototype. "After trying out several Flyboard prototypes we finally succeeded in getting ourselves out of water," says Zapata. "Once we were able to stabilise ourselves in the air, we focused our efforts on making the Flyboard more intuitive."
So how does it work, you ask? Well, to start with you'll need a PWC in order to get the thing up and running — at least an 100hp. Then, all you do is unbolt the steering nozzle and bolt on the supplied adapter plate. Next bolt on the 180 degree metal elbow that reverses the PWC's water outlet. All the thrust that was coming from the PWC is now directed through the attached hose and out the two nozzles attached to the snowboard-like platform you're standing on. The position of two nozzles under the platform ensures 90 percent of the propulsion and allows for movement controlled by tilting your feet. The nozzles on the hands are used to ensure stabilisation, just as ski poles would.
After viewing the YouTube vid (which has over 8.2 million views so far) and seeing one in action at last year's Big Boys Toys, the opinion round the Trade A Boat office was unanimous – we want one. Luckily, the local distributor, Jamie Anderson, was more than happy to let us have a go in the warm waters off Takapuna just before Xmas. Says Anderson, "Even just getting two or three metres off the water is an exhilarating feeling for anyone."
The Flyboard combines the physical attributes of an array of popular sports activities including jetskiing, waterskiing and wakeboarding, skiing and snowboarding and acrobatic diving. While it can take a substantial amount of time to become good at many of these activities, the Flyboard is pretty intuitive and, best of all, it holds no limits to a person's fitness level, so it doesn't matter how much of that Christmas ham you've consumed over the holidays.
It generally takes 20 minutes with an instructor to find your balance and start flying freely. Lying face down in the water (something that's not all that easy to get a feel for as your natural instinct is to roll over on your back) all you need to do is bend your knees as the instructor throttles their PWC forward allowing propulsion for you to fly straight up. After a bit of practise you will be able to swim like a dolphin and challenge gravity like Iron Man!
If you're a fan of any sort of watersport then you just have to try a Flyboard out this summer. If you're in the northern regions then you can, as the Takapuna-based company Luxury Toys has them to rent for $190 for a 30 minute flight. If that whets your appetite for more you can buy your very own Flyboard, which comes with all the attachments you need for $13,995 and you've got the option of purchasing a remote control device that lets you operate the machine on your own. To get this though, you'll need to demonstrate a proficiency with the Flyboard. But once you're up and away you can and will have hours of fun. Just be warned, you'll probably be inundated with requests from all your mates to let them have a go too!
If you're keen to try it or buy your own Flyboard, contact general sales manager Jamie Anderson on 0222111647 or visit their website at luxurytoys.co.nz. If you want to know more about this super cool invention. hop onto flyboardx.co.nz. Plus check out the video that started it all here.
Marnie's impressions
With visions of flying like Ironman, and a niggle in the back of my brain telling me I may look more like The Greatest American Hero, I was all in!
I was assured by Aaron of Luxury Toys that I would be flying in no time — all that was required was a little bit of balance. The idea of having my feet and arms strapped in and no control over thrust, which is controlled by the person on the jetski, was a little disconcerting at first. This quickly became a non-issue. In fact, once underway it was reassuring and their control over the thrust helps you master flying in record time.
After a few false starts and ungainly falls back to 'earth' I was, to mix analogies, up, up and away. It really was a case of stand up and fly. The jets from the arms acted as stabilisers and the power under foot literally propelled me in to the air. Feeling the thrust of the jets under my feet was exhilarating! With A LOT of whooping and hollering, I was flying!
Aaron was right. It is achievable for anyone. You don't need to be an athlete to master the Flyboard. In under 10-15 minutes of practising, you can be hovering and flying. There really is nothing quite like it.
Will I do it again? Hell yes! Next time I'll be duck diving!
Stand back Iron Man, Iron Woman is here!
Feel free to make a comment or ask us a question about this story on the Trade A Boat
page.
For the latest reviews, subscribe to our Trade A Boat magazine here.
Keep up to date with news from Trade-A-boat or like us on Facebook!