Video: Blackdog Cat 500SS Cuddy
---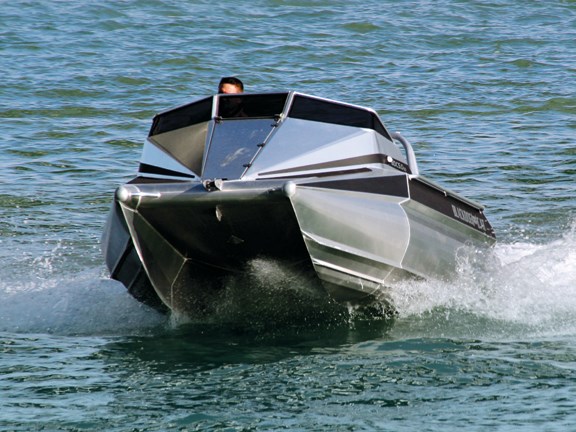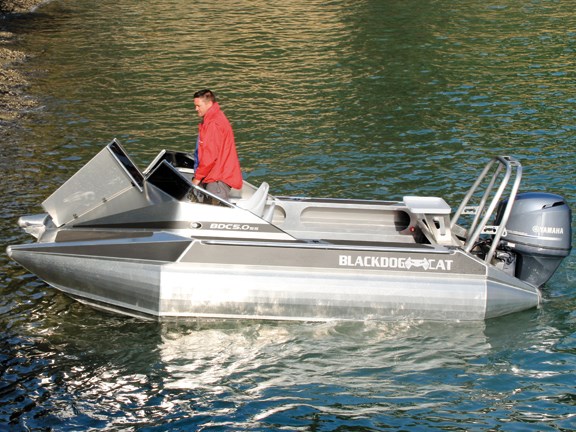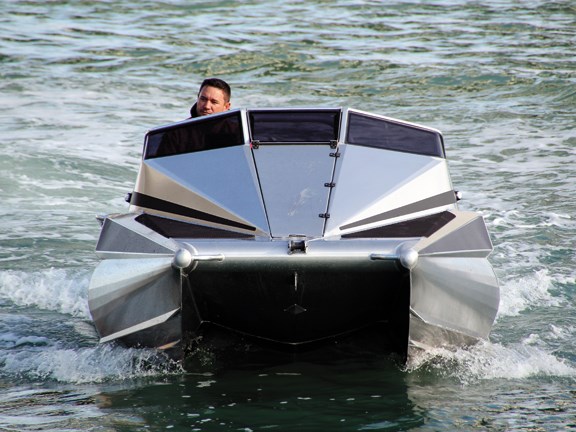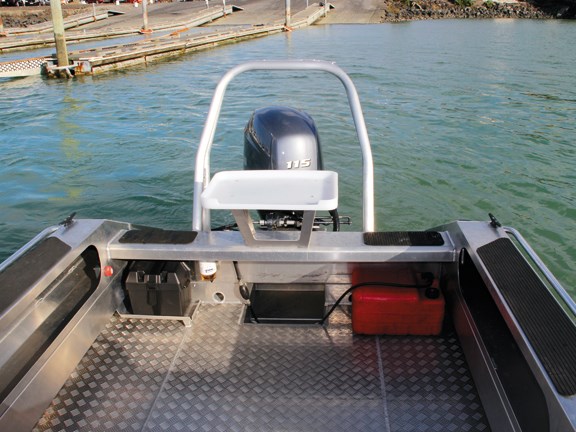 Luke Seuren has not been out fishing for several months. This sad state of affairs is because he's been flat out keeping up with demand for his Blackdog Cat aluminum pontoon catamarans, and this latest model is only likely to extend his fishing drought.
The 5m Blackdog catamaran hull has been well proven, with a centre console layout being first off the rank. Trade-A-Boat reviewed this in 2010 and found it to be stable, smooth-riding, fuel-efficient and simply heaps of fun. Although that layout suits soft-bait fishing, as well as being a perfect diving platform, the lack of protection from the elements meant it didn't satisfy the needs of conventional fishing methods or serious offshore expeditions quite as well.
Luke Seuren therefore developed a cuddy cabin solution, initially on the 4.5m hull. They recently expanded this option to their bigger 5m, producing a boat that should satisfy the most hard-core fisherman. With the space and capability of the bigger 5m hull, and the protection provided by the cabin (a bimini top can also be added), they now have a boat that is a serious contender for bigger trips.
Strangely enough, catamaran hulls have never really entered the mainstream in New Zealand, which is something of a mystery given the benefits of this style of boat. The twin narrow hull sections reduce drag, creating a boat able to be efficiently powered by a smaller motor. At the same time, the stability is unequalled by a monohull, even by some pontoon-style boats. Plus, the square bow section provides interior space that would require extra length on a monohull. All these are reasons why many commercial vessels are cats, since space and economy equals money for those operators.
Seriously unsinkable
Cats are certainly popular in markets like Australia, South Africa and the USA, and if the busy production schedule of Blackdog is any measure we'll be seeing more and more of them in New Zealand as well.
Although this latest model from Blackdog is 5m in overall length, it has usable space exceeding most 5.5m conventional hulls. Seuren has made good use of this space, with helm seats mounted on welded aluminum pods inclining at their base, taking up minimal deck area. Although only two seats are fitted, there is plenty of space for further seating options or for passengers to simply perch on the gunwales.
Seen from a distance, the gleaming alloy hull with distinctive black graphic stands out in the sun, although paint or vinyl-wrap options are also available. Six separate floatation chambers give an estimated 1445 litres of sealed buoyancy, meaning this is a seriously unsinkable boat. Plus, the cockpit is self-draining. A box section on top of the pontoon provides a broad, flat gunwale topped with a soft foam pad to make it comfortable to sit on. The underside of the same box section provides a broad, full-length parcel shelf. Seuren has cleverly built a grab-rail extending the full length of the cockpit, but has positioned this outside the hull where it doesn't get in the way of someone sitting on the gunwale. Passengers who choose to sit there have something to hold on to.
This boat does not have a forward cabin, but the cuddy provides sheltered storage for gear bags and so on. The dash area is split to allow a walk-through to the bow, and a hinged bow door and windscreen (supported by a gas strut) allows easy access. On each side of the bow is a flat deck area with a non-slip pad, and this can be used for boarding from the bow or even fishing from in calm conditions.
The gunwales have several rod holders fitted, and a fixed bait board is mounted on the transom, raised to a comfortable height. A sturdy arch around the motor has multiple uses, including towing skiers or water toys.
The stern has a boarding platform stretching the whole width of the transom, with a T-style boarding ladder fitted to the port side. Although there are no specific grab handles, the base of the ski arch is perfectly positioned to serve this purpose. The combination of the non-slip pads on the boarding platform and the position of the ski arch makes this area a suitable fishing platform as well, with the arch providing something to lean against.
Seuren fitted a Yamaha 115hp four-stroke motor to the review boat. This is one of Yamaha's top-selling models with, arguably, unequalled reliability and economy. However, this is at the top end of the range for this hull, and other options are obviously available. Tote tanks provide fuel, with space for up to three to be tucked below the transom.
Flying cats
It was a brilliant summer afternoon when we got a chance to take the BDC 500SS out for a spin, and Seuren met us down at the Westhaven ramp. The boat slipped easily off its custom trailer, and the Yamaha was soon purring quietly. We headed out through the chop towards the harbour bridge, passing another famous catamaran, namely the team Prada AC72 with its immense wing sail. Their support vessels are also cats, attesting to the speed and stability of this style of boat. As coincidence would have it, we passed another catamaran sailboat out in the harbour, flying along with one hull out of the water.
The helm seats were comfortable enough as we scooted through the nasty inner harbour chop. As with the 5m center console model, the hull proved stable and comfortable even as we blasted out at top speed. Whereas a vee hull would probably be banging and crashing, the twin Thunder Cat-style pontoons easily skipped along the top of the chop and swell, and in short choppy conditions this type of boat is often best driven at speed. We were soon ready to have a play.
Many misconceptions abound about the handling of cats. One of these is they're dangerous when making high-speed turns. While it's true a cat can't heel over into a turn, only a very badly balanced hull would lean significantly outwards. If you picture a car turning at speed, in a cat there's a similar centrifugal force so if it feels uncomfortable, you're turning too fast. On the other hand, in extreme turns the Blackdog stays almost perfectly level, behaving like the racing Thunder Cats that formed the basis of its design. We were able to make 180-degree turns while at speeds few 5m boats would handle, but we did need to hold on securely.
Super stable
The stability of the boat, both while underway and at rest, goes without saying. Forget the phrase 'tender at rest' - this boat would not lean over even if all the passengers were on the same side. The Blackdog website has some photos of people doing extreme things to demonstrate the hull stability on some of the smaller models. The volume inherent in each pontoon ensures this stability and with each side having separate compartments, this boat would be almost impossible to sink even if a catastrophic collision were to occur.
We were going to be taking photos from Auckland's Birkenhead wharf, and the only way to get there was by hopping off onto the rocks. I would not dare attempt this on anything but a catamaran. Seuren simply nosed the boat into the breakwater so I was able to step from the non-slip surface on the bow directly onto a suitable rock. I didn't even get my feet wet, and despite the swell there was no need for the boat to get close enough to risk touching the rocks.
Getting back on board after completing the shoot was just as easy, and the split windscreen and folding hatch meant I simply stepped from rock to bow, then onto the deck with no trouble.
We had a go at getting the boat airborne a few times, which was fun and totally different from expectations. Instead of coming down with a bang, the hull kisses the water as the trapped air cushions the blow. While scooting along the top of the chop, it would be fair to say the hull was fairly noisy. There's no carpet or any other sound dampening, and although the hull didn't crash and bang, it does tend to act as a big soundboard. Of course, the fact you can get to your destination quicker would mitigate the extra noise somewhat.
The verdict
This boat is certainly a contender for anyone looking for a fishing boat around 5.5m. The shorter length of the cat, for the same usable space, makes transport and storage slightly easier, with the trailer fitting into a standard-length garage. The ride and stability are fantastic, and the build quality is very good.
Blackdog has also recently launched a bigger brother to this model, the 5.5m. For more details, or to arrange a test ride, call 0800 262 876 or visit blackdogcat.co.nz.
SPECIFICATIONS

BLACKDOG CAT 500SS CUDDY

Construction:

Aluminium pontoon catamaran hull

LOA:

5m

Beam:

2.35m

Deadrise:

n/a

Engine:

Yamaha 115hp

Fuel:

Tote tanks

Towing weight:

900kg

Price as tested:

$56,900, with F115 Yamaha

Base boat with F100 Yamaha:

$49,900
For the latest reviews, subscribe to our Trade-A-Boat magazine here .
Keep up to date with news from Trade-A-boat or like us on Facebook!