Boat test: Chaparral 257SSX Bowrider
---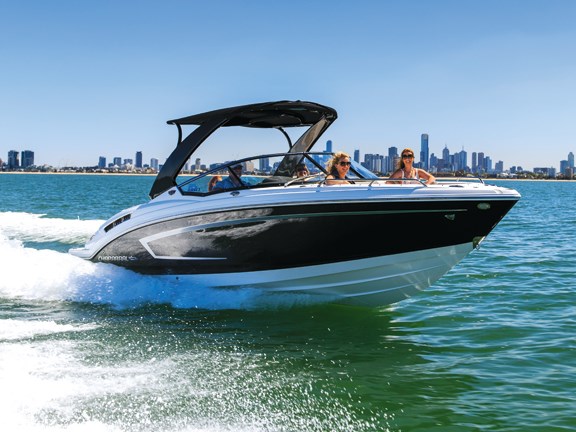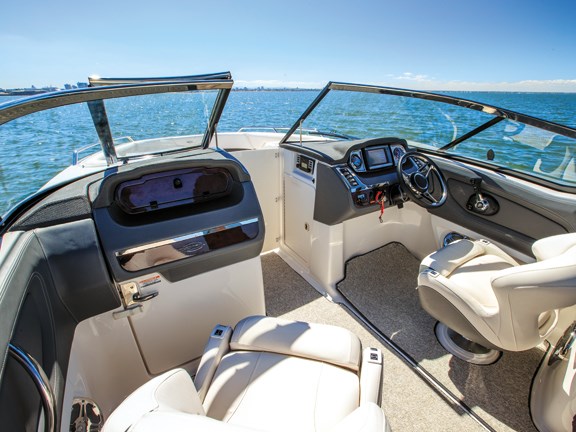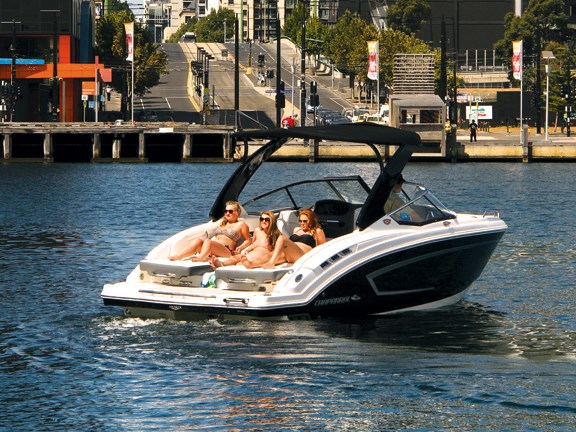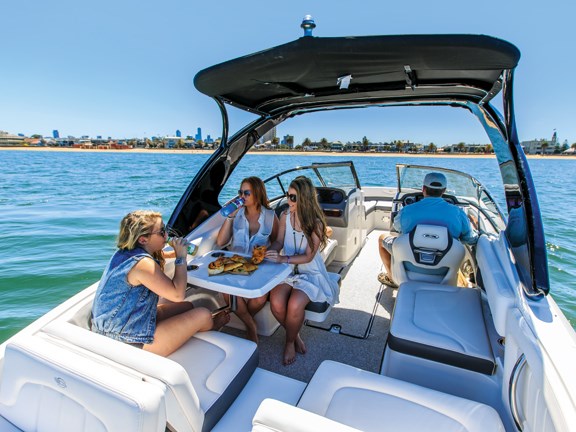 The exciting new Chaparral 257SSX Bowrider is a luxury sports boat that's built to party, and with 380hp she'll rock your world.
Chaparral's motto, 'The boats are the stars', rings true with the new 257SSX Bowrider, with its big 8.2L MerCruiser MAG DTS V8 pushing 380 horses for thumping acceleration and exhilaration.
The 257SSX hails from one of America's largest and most successful boat manufacturers, boasting a career spanning nearly five decades. This boat is the first of the new Chaparral models to make it downunder, and it certainly won't be the last.
The new Chaparral is a big social entertainer born to party, and on the water she'll rock your world. The boat has a strong and very attractive moulded Targa arch/wakeboard tower, accentuating the flowing lines of the deep and soft-riding, yet extremely stable, SSX hull. Deep shoulders mean the boat can carry a load of revellers safely in the bow, while a number of seating options allows room for the rest of the gang in the cockpit.
There's a fresh, clean feel to the upholstered layout, with some very innovative convertible ideas, including a surprisingly spacious toilet below the passenger console, touch-button layback rear lounges and the new woven graphite-look vinyl dash.
The 257SSX is an on-water freedom machine with comfort, style and grace. But she turns into an unleashed vixen when you pump the throttle and let her fly. She'll fill you with confidence on the water, whether in the slop or the glass. The big MerCruiser has a very pleasing rumble with a deep, throaty note that's still low enough to allow a normal conversation in the cockpit.
The boat drives through the Bravo 3X duo-prop drive with instantaneous power, a very torquey mid-range and an exhilarating top end. It also offers precise low-speed manoeuvring and easily-controlled reversing.
Flying over the surface is quiet due to the strength and efficiency of the Chaparral construction and foam-filled hull. The 257SSX is very nimble for a big hull and should carry the maximum capacity of up to 14 passengers with ease. There was no prop slip from a standing start or when my passengers started screaming with delight as I threw her into some tight manoeuvres.
We boaties can sometimes forget people need facilities when spending long hours on the water, but the 257SSX's hidden toilet is just the thing to keep everyone happy. It's tucked very neatly under the passenger console, with a large pivoting doorway providing easy access. The roof is a little low for big blokes, but my 6ft frame could still use it if necessary. A pressurised freshwater system is standard and feeds the small handbasin. Our test boat had the optional VHT vacuflush unit with macerator.
Behind the wheel
The console lives up to Chaparral's premium standards. The company has used a new woven graphite-look vinyl for the dash, and I must say it presents beautifully with the walnut wood grain accents. The integrated digital and analogue instruments - Garmin 720s GPS/sounder/plotter - and all operating controls are right where they should be. The adjustable-tilt sports steering wheel is gorgeous.
The dash has twin six-gang waterproof switch panels and controls for the optional Lenco trim tabs. I generally try to use trim tabs as little as possible in boat tests so I can properly evaluate the hull characteristics, but with the weight and load capacity of the big bowrider, as well as a crew, I found a quick touch on the tabs levelled the ride instantly.
Driver and passenger are treated to some of the best bolster seats in the industry. These babies have quick swivel and length adjustment levers actuated from the armrests - no more fiddling around looking for levers under seats. The driver's position allows terrific vision through the windscreen, or just over it when up on the bolster. While most would love the ergonomics of this boat, I was previously spoiled by the comfort of the armrest on the smaller 216SSi, and once spoilt it's hard to go back.
The head unit for the up-spec Clarion six-speaker sound system is mounted behind the two-way door separating the cockpit and the bow. There are remote repeaters on the dash and the stern.
There is a storage area under the driver's dash and this thing is seriously big - a real advantage in open bowriders. There is another so-called ski locker under the floor, which can allegedly fit five people (although they might complain a bit).
Riding in comfort
Up front, there is a reasonably large anchor locker with plenty of room for rope and chain, as well as a retainer for the sand anchor. I really liked the fold-out stainless boarding ladder and the small reversible navigation light rotating to a flush mount and popping out when needed.
The bowrider seating is richly upholstered and features sloping backrests and a fold-out armrest for each side. These armrests, along with suitably placed hand rails, make your passengers feel more secure in the bounciest part of the boat. A small insulated wet box under the forward cushion helps keep the bow revellers refreshed.
The centre-opening safety glass windscreen is of the highest standard, and back in the cockpit the party really gets going with the convertible seating options. Behind the driver, a console box with a hinged upholstered lid houses a lift-out 35-litre cooler.
On the passenger's side is another 'transition lounge' that swivels into a number of lockable positions to provide sideways seating, or when rotated 90 degrees actually becomes the second seat for a dinette. This is a unique combination coming together with the rear lounge to make a face-to-face dinette for four people. The removable tabletop is stored in its own drawer under the floor and can also be used in the bow.
The rear lounge and centre walkway setup really appeals to me. It's great to be able to walk all the way through the middle of the seats from the rear platform, eliminating wet and dirty feet all over the upholstery - this is a sports boat, after all, so people are supposed to get wet and dirty.
There's still more. Not only do the back-to-back rear lounges provide seating for rear and forward-facing passengers, but they convert into full-length sun loungers with adjustable head rests at the touch of a button.
The back is home to a well-proportioned deck that is a terrific staging area for watersports, as well as an easy access route for dockside boarding. It houses a folding four-step telescopic ladder in an enclosed compartment and a long stainless grab handle with tow point. The platform has a non-slip finish and is beautifully moulded into the attractive transom.
Horses for courses
Chaparral has included many big-boat features in its 257SSX. Access to the huge engine bay is via the touch of a button, where hydraulic rams lift the entire rear lounge to reveal the MerCruiser. It's a mechanic's dream for easy servicing and all of the electrical components are high above the bilge.
A quick scan reveals the water tank and pressure pump, in-built fire extinguisher system, twin batteries and a terrific display of plumbing and electrical circuitry.
The big MerCruiser and Bravo 3X duo-prop drive pushes out 380hp. It features multi-point fuel injection with digital throttle and shift, and combo analogue/digital SmartCraft gauges. For saltwater applications it has an enclosed cooling system as standard, and brass housing for the water pump.
The engine and drive are a well-matched selection for a package that would be caught short with anything less, although the optional 5.7L (or maybe 6.2L) engine would still be suitable for fewer passengers in a cruising environment.
But for confirmed petrol heads, Chaparral also offers a whopping MerCruiser MAG HO punching out 430hp, or if you prefer a Volvo there is an equivalent range from 300-380hp.
To finish, Chaparral has moulded one of the most attractive Targa arches on the market. The arch is optional for those who have a boat storage (height) problem, but in my opinion you should either get it, or get yourself a bigger shed. The beautiful black arch provides the framework for overhead lighting and a strong Sunbrella bimini. On a sunny summer's day we remained unbaked.
There's a long list of other features and options like clip-in carpet and cup holders in all the right places, plus some awesome blue feature lighting around the cockpit, in the arch, under the engine vents and on the stern quarter.
Our test boat had underwater lights and was finished in high-gloss ebony and ivory gel coat, featuring a moulded powerline with a silver accent. Tasteful decals and badges enhanced its premium demeanour and sophisticated feel.
The verdict
I've got to stop taking my family on these Chaparral boat tests, it's going to cost me a fortune one day. They've been spoilt and now expect no less for our own boating exploits.
For more information contact Ownaship on 0800 696 7447.
SPECIFICATIONS

Chaparral 257SSX Bowrider

Construction:

Fibreglass

Length:

7.77m

Beam:

2.59m

Weight:

2132kg dry (boat only)

Deadrise:

22.5°

Rec. hp:

380

Max. hp:

430

Fuel:

273L

Water:

51L

Engine:

MerCruiser MAG 8.2L

Type:

Multi-point electronic fuel injection (EFI) 8.2L V8 with digital throttle and shift (DTS), enclosed cooling and Bravo 3X duo-prop stern drive

Gear ratio:

2:1

Propeller:

26in

Price as tested:

$138,000

Priced from:

$98,000

Options fitted:

Bravo 3X; Garmin 720S; Clarion sound system with amp and sub-woofer; Targa arch with bimini and front clears; fire extinguisher; Magic Tilt aluminium tandem trailer; dual batteries; trim tabs; 12V air pump; underwater lights; cockpit and bow cover; vacuflush head with macerator; snap-in carpet; swim platform mat; transom tilt switch and stereo remote; powerline; safety pack; mooring pack; oversize towing kit.
For the latest reviews, subscribe to our Trade-A-Boat magazine here .
Keep up to date with news from Trade-A-boat or like us on Facebook!