Boat test: Osprey 565 HT
---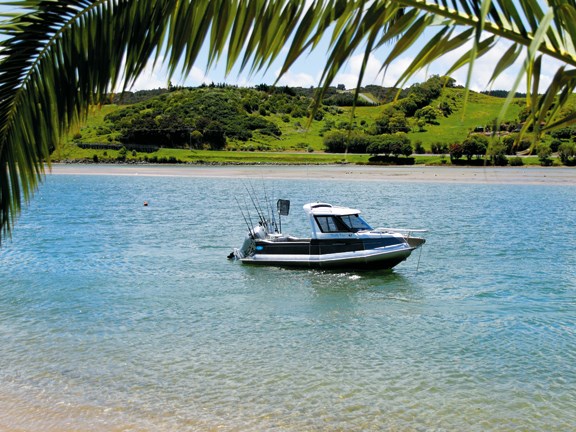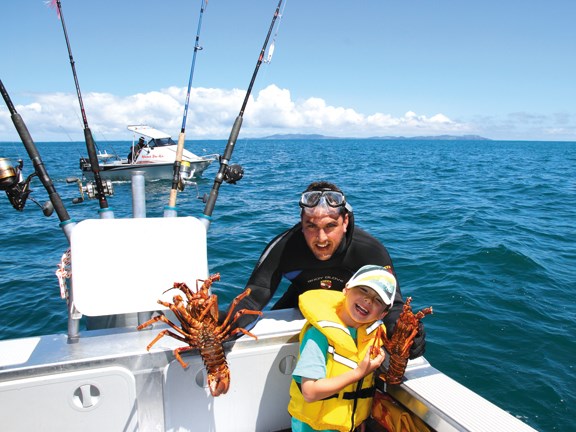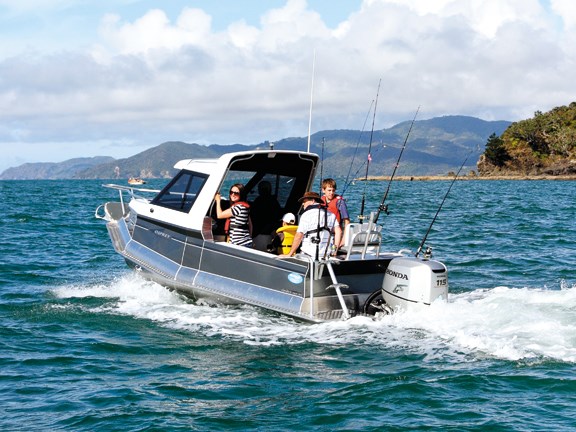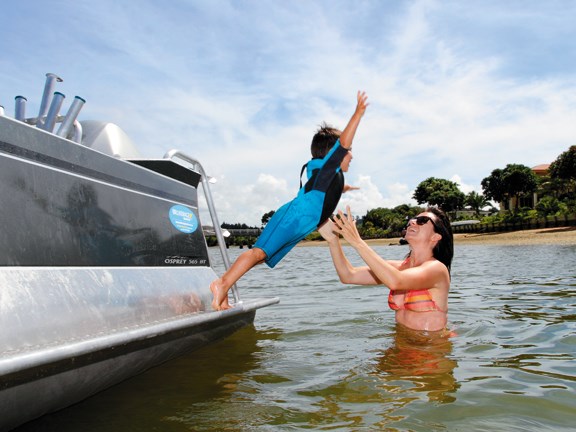 When Matthew Jones' in-laws took delivery of their new Osprey 565 HT just in time for Christmas, it laid a solid foundation for a superb family summer holiday.
Well, it's fair to say my in-laws are a decent sort. Not only supplying a family bach a stone's throw from the water in the boating paradise that is Doubtless Bay, they've gone one step further and purchased the boat as well. Some might say it's almost as good as winning Big Wednesday, but somewhat more meaningful for John and Lorna as the toys have been well and truly earned the hard way.
The boat in question is a 565 HT from Osprey Boats in Nelson, christened the Maddy Rose after one of John and Lorna's eleven grandchildren. That's right, eleven grandchildren. A very good reason to own a boat: for some much needed peace and quiet, but also to teach the grandkids about the true joys of Kiwi life, which can't be found sitting in front of a TV or computer game.
Ultimately, it was keeping the younger grandchildren safe that, after months of research, led John to the Osprey 565 HT. He says the safety factor of the pontoons, the high-sided cockpit, protection of the hardtop, and the full-length bunks were the main reasons he chose it and he's very happy with his decision.
Osprey Boats is renowned for its load carrying and dependable qualities in commercial and recreational circles both in New Zealand and overseas. While the 565 HT is the smallest in its hardtop range, it's still built to MSA Survey standards. Underneath it features a variable deadrise deep-V (23 degrees at the transom), a fine entry, rear-planing strakes, and buoyant pontoons to provide a safe, stable, and comfortable ride in the rough. The sealed, pressure-tested pontoons also extend underneath the duckboard for additional stability at rest and double as built-in trim tabs.
Instead of the usual paintjob or Nyalic coating that many aluminium boats exhibit, Osprey uses a durable vinyl wrap for the topsides. It not only looks good but also has the added advantage of being easily repaired by a sign writer if damaged.
Fishing and family fun
There was quite a show of hands to partake in the maiden voyage, so after smashing a bottle of champagne over the fairlead, our first fishing trip consisted of John, Wayne, Barry, Jamie, Cale, and myself. Fishing space was tight, but there were few tangles and we managed to catch enough snapper and kahawai to feed six families for dinner. One angler can also fish out the front hatch or even sit across the solid U-shaped bow rail in calm conditions.
John opted for a flush-mounted Lowrance HDS8, which is easily viewed from the cockpit, and the dash could even handle a slightly bigger unit. The helm seats are comfortable, although non-adjustable, and can be swivelled to face the stern to drop a line. Two gunwale-mounted rod holders, another four on the bait station, four on the transom, and 1.72m-long parcel shelves take care of the rod storage. A rocket launcher is also an option.
The bait board tilts up to drain with a solid towing eye above. While the bait board's not suitable for filleting, a plywood board can easily mount over the 18cm-wide gunwales, and we've also added rubber non-skid for safety and backside comfort.
Most days saw the Osprey out on the water for fishing, diving, and towing the kids on the biscuit - all of which were enjoyed in ease and comfort.
Garlic-butter crayfish
We found this boat really useful as a stable, easy-entry dive platform. The crayfish collectors consisted of Rhys and yours truly, and there was plenty of room to gear up with two divers plus John and Pete on watch. In fact, the 2.7sqm cockpit could cope with four divers plus two crew members.
Due to the abundant sealed buoyancy and 120-litre underfloor fuel tank there's no underfloor storage, but a dive tank per side can be securely stowed under the front squabs - although with the removable full-length bunks being the go-to place for everyone's gear, it can be a hassle getting them out again. Removable dive bottle holders will be installed in the cockpit for easier access in the future.
We enjoyed a couple of successful dives with great visibility, and after returning with fresh crayfish for dinner we were even allowed back on-board. This was easy with the T-style boarding ladder, and although there was only one grab rail, you can use the outboard bracket for additional up-lift or a second hand rail can be added.
Changing dive spots was painless thanks to the Quick automatic capstan and Rocna anchor, which did the job well. The bow design allows you to look through the staunch bowsprit to track the warp being deployed or retrieved, although the actual angle of the anchor warp is obscured from view.
Many good rides
Over the course of the week, Doubtless Bay provided a multitude of different sea conditions to assess the ride while enjoying some quality time amidst the stunning scenery. On a scheduled photoshoot, conditions turned rougher than expected. The original plan of running alongside with a similar-sized and reputable aluminium photo boat had to be canned as it couldn't keep up with the Osprey's smooth rough-water ride.
With hydraulic steering and the quiet and economical Honda 115hp four-stroke on the stern, this boat is easy and reassuring to helm. It's capable of extremely tight turns with no cavitation or side slip in case you need to get away in a hurry, but in these sorts of manoeuvres the boat does lean hard into the turn. Depending on your boating pedigree, this can either be thrilling or slightly nerve-wracking. I actually quite enjoyed it - my wife not so much - so best keep this kind of behaviour to just the boys. Under 'normal' use the 565 HT rides and turns on the level.
Visibility through the curved 8mm toughened glass windscreen is excellent. John didn't opt for wipers, and while the side sliding windows provide ample ventilation they only open part way, which isn't enough to get your arm around to wipe any condensation off the windscreen on early morning fishing missions. This isn't a problem with a willing crew, as they can be sent around the side to give it a wipe. We treated the windows, but wipers would be useful for the type of year-round use that the protective hardtop and excellent rough water ride allows.
The boat itself is pretty dry, with minimal spray landing on the glass; she gains an extra-dry boost from the extended 135mm-wide walk-around side rails. Those same side rails effectively turn away any rising spray like a 'roid-riddled bouncer at a packed pub, keeping the cockpit bone dry while underway and saltwater from pelting the rods and reels.
If it seems like I'm rattling on about those side rails it's because they're just so practical. They also provide an all-round protective barrier in case of any misjudgements while docking, and a handy step while boarding and departing. When coming into a beach a crew member can safely walk around to the bow and simply step off when the water's shallow enough.
This capable battler was supplied on an un-braked Watercraft multi-roller trailer and tips the scales at around 1200kg, so a dedicated tow vehicle isn't a necessity.
The last word
With its exemplary build quality, Osprey's 565 HT is one tough customer. It's safe, stable, and great for the kids. It's little wonder why Osprey boats are held in such high-regard; and what a summer holiday to test/enjoy it in! Sunshine was in abundance, the ride was good, and the hunter-gatherers enjoyed good success from a good boat. Sure the in-laws don't own a brewery, but an Osprey 565 HT is a superb compromise in my book.
Osprey 565 HT purchased from Brokerage Marine. For more information phone 0800 386 235, email gary@brokeragemarine.co.nz or visit brokeragemarine.co.nz.
For the latest reviews, subscribe to our Trade A Boat magazine here .
Keep up to date with news from Trade-A-boat or like us on Facebook!