Boat test: Palm Beach 55
---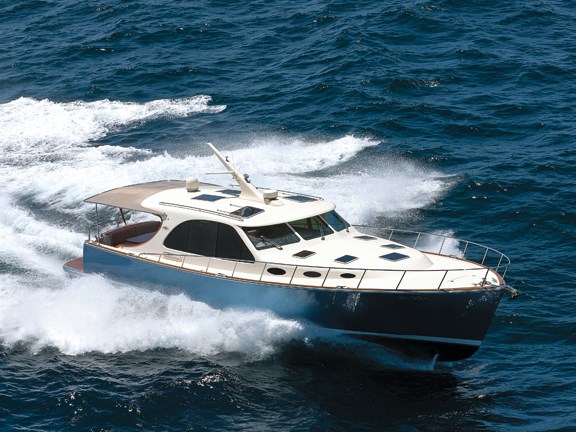 Powering head-on into the sea at 30 knots.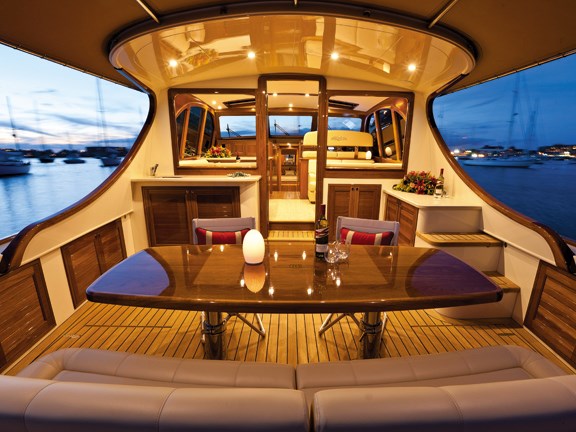 Graceful curves and solid timber trim.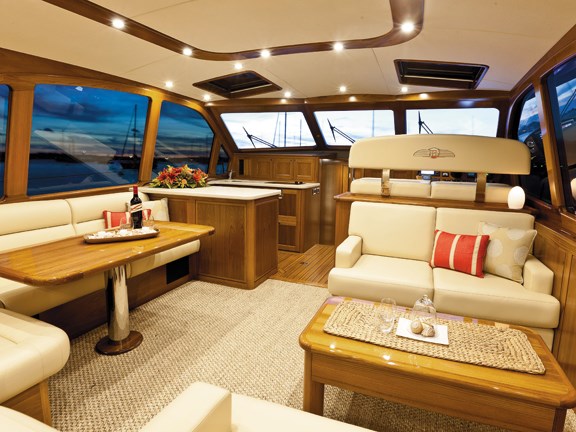 Drawing-room style saloon is sumptuous.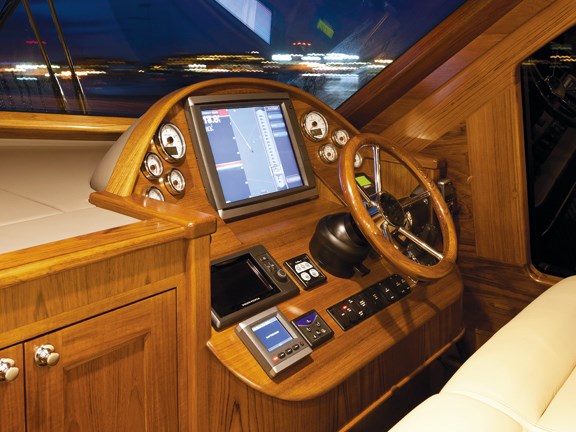 Arguably one of the world's finest motor yachts, the beautiful Palm Beach 55 is as close to faultless as could be expected.
In an industry of increasing competitiveness spawning more than a handful of bitter rivals, all acknowledge the impressive work Mark Richards and his Palm Beach Motor Yacht team produce in Pittwater, just north of Sydney.
The Palm Beach 55 recently added to the company's already bursting trophy cabinet, claiming victory as Best in Show at the prestigious 2011 Newport International Boat Show in Rhode Island, USA, for the second year in succession. The previous honour went to its smaller sibling, the Palm Beach 50.
Richards is arguably Australia's most famous modern sailor. With World Match Racing successes and America's Cup experience, the enigmatic talisman of Palm Beach Motor Yachts now skippers the legendary Wild Oats XI, helming it to victory in the Sydney to Hobart six times.
My first look at the Palm Beach 55, as she lay next to the dock under the mansions of Sydney's Point Piper, was breathtaking. If ever there was a scene to inspire and motivate this was it: one of the world's most desirable craft moored in front of one of the city's most impressive properties. Richards was there, along with a few invited guests, chamois in hand preening his beauty, ready to extract all the perfect morning had to offer.
That this is a pretty boat is a given. The perfectly-drawn lines are from an era when coolness and class were inseparable. If ever a boat warranted a well-tailored suit, this is it. Yet even tied to the dock it's clear the Palm Beach 55 doesn't trade on good looks alone - where many boats strain and buck at their mooring lines at the slightest passing wash, this lady seems so relaxed she doesn't need lines at all.
Defining craftsmanship
Stepping aboard it's immediately apparent Palm Beach has set about defining a new age of craftsmanship. Ultra-modern materials and construction techniques, mostly drawn from Richards' racing yacht background - E-glass, vinylester, epoxy resins and stitched multi-axial fabric over Corecell linear foam - are utilised to build a lightweight yet extremely strong hull, providing the perfect canvas on which the craftsmen can weave their magic.
The entire boat, save for a few minor fittings, is built on site. All the solid timber (and it is solid - no glued-on veneers here) is shaped and fitted by Richards' team, right down to the hand-lathed snack holders on the tables.
CNC-design techniques have allowed Palm Beach to customise to millimetre-perfectaccuracy almost every aspect of each new vessel to exactly match the client's needs, without the requirement for expensive tooling. Richards says each boat is a process of evolution, learning a little from the previous project and merging this knowledge with the owner's thoughts. To be fair, many of his clients have a history with Palm Beach and know to leave things in the hands of this expert. Even so, I have heard him in consultation and his mind is open to any and all suggestions.
Making hard look easy
The Palm Beach 55 is available in a range of configurations. Today's boat, Maluka, is presented with a stateroom forward and its en suite to port, a VIP guest cabin to starboard with twin singles able to be rolled together, and another single cabin opposite to port. A separate bathroom/dayhead services these two cabins. If the cabins lack anything it would be natural light, the low-profile hull lines making portholes quite a tricky proposition. Oversized hatches are in place and this is a small price to pay for looking hot.
As the photos show, the level of furnishing is exceptional, but it is the detail and precision on display warranting the most praise from me. There is neither a thread of fabric nor a hint of glue out of place, even in those hard-to-reach places well out of sight. Little tricks like the foldaway shower doors open up space most people would never have realised was there. These are the touches only thought of by those who have spent thousands of hours on boats.
Climbing a single set of stairs brings you to the main saloon area, where natural lighting floods the scene through panoramic tinted windows, some of which are electrically lowered. Maluka's galley is situated amidships on the port side, but it could easily have been located aft servicing the cockpit or forward and down a level.
A beautifully-styled helm station and solid timber dash set the scene to starboard, blending yesteryear's style with the age of the touchscreen and the computer-powered joystick controller. Where some may have opted for custom bucket seats, for Palm Beach a custom bench seat provides a comfortable and cosy place for the skipper and his navigator to enjoy the drive.
The rest of the saloon is all sumptuously-tailored, off-white leather sofas and solid timber tables. While one of these sofas is traditionally U-shaped, the other two settees face each other, more like what you may find in a drawing room. Richards says guests naturally gravitate to this option, suggesting it has an easier, more social feel.
Again the workmanship throughout is to the highest standard imaginable. The people delivering this quality clearly have immense pride in the product and are encouraged to stretch themselves in the pursuit of perfection.
In the detail
Much of what I love about the Palm Beach 55 can be seen in its cockpit. Again it is beautifully finished, with graceful curves and lashings of timber and teak. Yet it is delightfully simple and understated. Yes, there is a barbecue, fridge, bar, table, sofa and room for anything else you could think of, but everything is in its rightful place leaving the whole look pleasingly uncluttered.
Very nice, I hear you say, but where is the tender? Well, stroll around onto the aft swim platform and you'll find the tender garage. Nothing unusual about here, except this one comes with a little extra Mark Richards genius. Built from high-tech durable plastics for longevity, this tender-launching system is designed around a simple but very effective rope-and-pulley system. It's easy, it works and it won't break down.
As a quick look under the floorboards will prove, great boats don't finish with the trimmings. The engine room and other bilge spaces are as impressive as everything else. No uncomfortable checkerplate flooring down here, just more teak, of course.
Good bilge spaces help the skipper find issues early and, with this in mind, the 'wet' spaces are painted black to show the salt, while the engine beds are painted white to show any oil. This engine room is slightly tighter than ideal, thanks to the location of the generator, but not enough to cause any servicing issues.
Even though this vessel is IPS-powered, the temptation to move the engines further aft has been resisted, with jackshafts employed to deliver the power to the pod units. What this means in practice is the proper balance of the boat has been maintained with the weight where it should be, close to both the longitudinal and lateral centrelines, and as low as is practical. It also allows this hull to easily accept conventional shaftdrives, which will be found in the next Palm Beach 55.
On the plane
Last time we tested a Palm Beach, we commented on how yacht-like it was in the water. The 55 proved very similar on its super-slippery warped hull. The acceleration is virtually transition-free, suggesting superior efficiency. The correctly trimmed IPS configuration allows the vessel to make the most of its waterline and ultrafine entry, delivering a top speed of almost 32 knots on a miserly 231.5L/h. Pull the levers back to a more refined 20 knots and the boat will be drinking only 100L/h. If these sound like big numbers to you, be assured they are not: many similar vessels we test could easily add 50 percent fuel consumption to those figures.
If the weather was perfect inside the harbour it was certainly more challenging outside, so we did the right thing and headed out for a blast. As if to prove a point, we sent the guests outside while we steamed head-on into the sea at 30 knots. Was it perfectly dry? Not quite, but no one got wet enough to complain. Even standing in the front cabin I was more than able to maintain my footing without holding on, thanks to the way the fine entry takes the sting out of the waves. My notes read "super soft and reasonably dry".
So, in summary, the Palm Beach 55 might look like a champagne daycruiser, but she's an ocean lover at heart. Maluka's owner loves his fishing, although personally I shudder at the thought of a sinker coming into contact with the pristine Glasurit-painted finish. The most recent Palm Beach 55 was driven on its own bottom all the way to Nelson.
The verdict
With the Palm Beach 55 you will find a vessel as close to faultless as could ever be expected. The quality presented at every turn is in full view - hard to define yet very apparent. This really is a boat that's as good as it looks. Could it be improved on? Not easily, yet you know the team behind this superb vessel will strive to do so.
We have no hesitation suggesting you will find one of the world's finest motor yachts in Palm Beach. Anyone considering such a vessel should give Mark Richards a call.
For more information contact Mark Richards, Palm Beach Motor Yachts on 0061 (02) 4389 1244 or 0061 0404 333 378, email mr@pbmy.com.au or visit phmotoryachts.com.
PERFORMANCE DATA

Twin 600hp Volvo Penta IPS 800
* Performance data supplied by Volvo Penta. Fuel burn is for both engines combined

RPM

Knots

Fuel Burn

600

6.84

7.7L/h

800

10.79

27.15L/h

1000

11.79

36.6L/h

1300

14.13

57.5L/h

1500

17.43

79.3L/h

1700

20.53

107.1L/h

1900

24

132.5L/h

2000

25.65

149.1L/h

2100

27.42

169.2L/h

2200

29.11

193.1L/h

2370

31.8

231.5L/h
SPECIFICATIONS

Palm Beach 55

Material:

E-glass over wrapped foam

Type:

Warped monohull

Length:

18.29m (overall); 16.7m (deck)

Beam:

5.24m

Draft:

1.06m

Weight:

18,000kg (dry)

Fuel:

2600L

Water:

1300L

Holding tank:

250L

Engine:

2 x Volvo Penta IPS 800

Type:

Turbo-diesel

Rated hp:

600 (each) at 2300rpm

Displacement:

10.8L (each)

Price as tested:

AU$2,600,000

Priced from:

AU$2,500,000
For the latest reviews, subscribe to our Trade-A-Boat magazine here .
Keep up to date with news from Trade-A-boat or like us on Facebook!