Video: Rayglass Legend 2500
---
Matt Jones gets up close and personal with the Rayglass Legend 2500.
In an epic battle of ocean versus road, we put Rayglass's Legend 2500 and Volkswagen's Touareg (both powered by the same VW engine) head to head in a glorious race to the finish. It was 95km of tarmac versus 78km of saltwater. There could be only one winner. Pity one team's mind was on other things…
The rules were simple: take one seriously comfortable, capable and stunning Rayglass Legend 2500 and one equally comfortable and capable Volkswagen Touareg with the same 180kW V6 TDI engine, leave Auckland's Half Moon Bay at the same time and see who can travel the 95km north to Omaha the quickest. Chris Lorigan a.k.a. 'The Ed' got the keys to the VW Touareg after I scrambled for the keys to the Rayglass.
On board I had Jo Lomax (Trade-A-Boat advertising manager), Scott Little (Rayglass sales and marketing manager) and Graham Ralphs (cameraman extraordinaire). We weren't even sure what the prize at the end would be, but given our comfortable vessel and the sultry saltwater air we didn't care for such minor details.
Instead, Team Legend was much more interested in throwing off the lines and heading the long way past The Noises, hoping to come across a work-up or two along the way. And what a day it was for a boat test/joyride with stunning blue skies, slight seas and a 265hp Volkswagen TDI-powered Rayglass at our disposal. Both the boat and engine possess class-leading prowess and are quite simply a match made in heaven.
While the land lubbers had four wheels, hardly any traffic, eight gears and a highly-spec'd towing weapon, all they had for a view was a few trees, the odd cattle truck, a glimmer of the coast and a whole lot of asphalt. Sure, they could stop for coffee along the way, but we could make our own if we wanted. Furthermore, we had a toilet, kitchen, amazing views and hot and cold running water. Time for a quick look around the boat while we're steaming to Omaha.
Legend by nature
Rayglass has been faultlessly producing Legend 2500s since the model's launch in May 2006. It's a multi-award winning, well-received design with a cult-like following, and is arguably New Zealand's most popular 25-foot fibreglass trailer boat. It's certainly Rayglass's bestselling model to date and it's not hard to see why. It's at the top of its game, providing all-round comfort, versatility, fishability and style. The fully-moulded fibreglass cockpit liner not only looks great but is also easy to keep clean when the hunting/gathering's in full swing. The stylish and functional transom design is both appealing and very functional.
A large self-draining bait board complete with cup/tackle holders and four rod holders will make baiting up while quenching your thirst trouble-free. A live-bait tank is close to hand and you can even wash your hands in the hot and cold water sink (with shower head) discreetly housed in the transom locker. When the job's done it's a simple task to hose off the drainable cockpit with the wash-down system. The resulting catch can be kept fresh and tasty in the super-sized removable underfloor bins.
The substantial Portofino transom is the perfect platform for effortless access to the water, whether entertaining or just enjoying the view. The luxurious seats offer a stylish, comfortable and social seating arrangement with storage underneath. Classy teak-capped gunwales and teak trimmings throughout cement this vessel's elegant appeal.
All the essentials for a comfortable stay lie below. To port lies the kitchen, complete with a gas cooker, fridge and sink. To starboard a cosy bathroom features an electric toilet. At day's end a restful night's sleep is afforded by the large, comfortable bed and foam-filled hull.
Once you take a seat at the sporty helm and grasp the controls, you'll find it very hard to let go. A wealth of information is available from the well-laid-out electronics, including the clever Raymarine HybridTouch screen. Expansive views abound, and ergonomics and overall comfort at the helm is excellent.
Scott Little says Rayglass's customers are never left wanting. "Our boats are sold fully kitted-out, which is customer driven. Rather than starting at entry-level and going up, we spec them up so they've got everything you'd want. They're all fully turn-key packages raring to go, each with a full five-year warranty," he says.
Volkswagen's three-litre common rail turbodiesel produces huge amounts of torque — just ask Graham the cameraman, who I almost threw off the back at the start of the race. I did say to hang on... The wheel-spinning Touareg version pumps out 241hp, while Mercury Marine's prop-spinning version belts out 265hp as tested. (The difference in horsepower outputs is due to tighter emissions regulations on road vehicles and different tunings to suit road/marine use). Its installation into the Legend 2500 is a seamless one thanks to clever design and engineering. The compact-yet-potent powerplant blends neatly into the transom without encroaching into the cockpit. In fact, you could be forgiven for asking where the engine actually is. A moulded seat blends into the Portofino transom, which doubles as the aft engine cover.
Race? What race?
While it was officially meant to be a race, all that went out the window as soon as we saw the chance for a decent fish, and the truth is there were way too many distractions for our crew to give a damn about who got to Omaha first.
I'm sure race car drivers have plenty of hot chicks to distract them while racing around the track, but we found hot birds of a different kind, which just couldn't be ignored – gannets raining down from the heavens with dolphins rounding up the doomed anchovies into an adrenaline-inducing work-up, causing a complete off-course diversion.
We managed to get a legal kingfish to the boat on light soft-bait gear, but with no net or gaff in sight it seized the opportunity to promptly excuse itself from coming along for the ride. A few minutes later a large kahawai was landed before the phone rang. It was Chris gloating that they'd arrived at Omaha first. "Yeah, yeah. Congratulations," was all I needed to say before putting the reel into free spool for another drop.
The Touareg also came first in the fuel economy stakes due to the fact it had an eight-speed gearbox, an all up weight of 2.1 tonnes, one bloke sitting in the driver's seat and only wind for resistance. We, on the other hand, only had one forward gear, three tonnes of boat and engine, four people, two sets of camera equipment and water for resistance — lucky we had the proven Rayglass deep-vee hull to cut through the waves. Now, I'm not going to bore you with the nitty gritty mathematical calculations of wind-versus-air resistance, but have you ever tried to run through water? Enough said.
So with that in mind, the Volkswagen Touareg (towing an empty trailer from Half Moon Bay to Omaha) averaged 10.8 litres per 100km and took 1.5 hours to travel the 94km of tarmac. Towing the Rayglass Legend 2500 home saw an average of 16.3 litres per 100km.
Taking the truly scenic route, the Rayglass Legend 2500 travelled approximately 42 nautical miles and used 45.6 litres of diesel in just over 2 hours of bliss, including chasing work-ups and fishing. A stark comparison in fuel consumption, but when you consider we were free to go wherever we wanted, had a toilet, a kitchen, plenty of fresh air, dolphins, gannets, a kingfish and a kahawai, it's not bad. There's also no getting stung with road user charges on the water, and did I mention the view, freedom and fishing?
With the current price of diesel sitting around $1.50 per litre, if we were to split the fuel bill four ways it would work out to less than $20 each for two hours of good times, good views and good company, which is much cheaper (and more fun) than most entertainment options these days. Had the kingfish stuck around for dinner we'd be truly laughing.
Despite its good looks and stunning finish, the Rayglass Legend 2500 is a very capable and feature-packed fishing boat. It's sure to excite hardcore fisherman through to families looking for a comfortable and versatile over-night capable cruiser. Sure the Touareg can take line honours, but I know which class-leading legend I'd rather ride in…
Check out the video from the race here.
Highs
Exceptional finish and ride
Easy-clean, functional cockpit
Masses of storage space
Excellent lift-out underfloor bins
Comfortable, capable and versatile
Lows
A sizeable towing prospect
Apart from not being able to afford one right now, it's very hard to dislike anything about a boat of this calibre
SPECIFICATIONS

RAYGLASS LEGEND 2500

Construction

Fibreglass

LOA

7.7m (25ft)

Ext. beam

2.45m (8ft)

Weight

2980kg (approx.)

Deadrise

23°

Engine as tested

265hp VW TDI 3.0L V6

Drive

MerCruiser Bravo 3 stern-drive twin counter-rotating 21P propellers

Recommended hp

225-600hp

Fuel capacity

300 litres

Water capacity

75 litres

Price as tested

POA
For more information contact Scott Little at Rayglass Boats on (09) 573 7979 or visit rayglass.co.nz and volkswagen.co.nz.
For the latest reviews, subscribe to our Trade-A-Boat magazine here.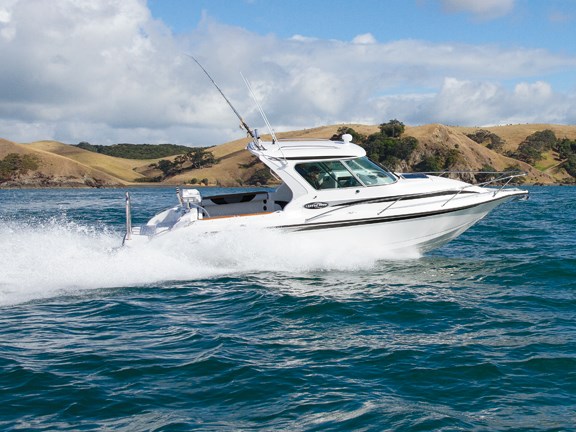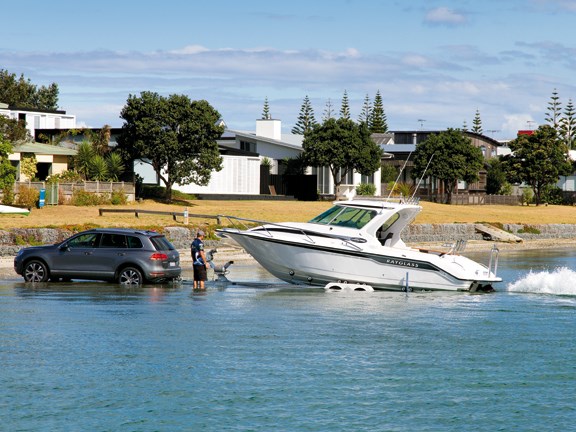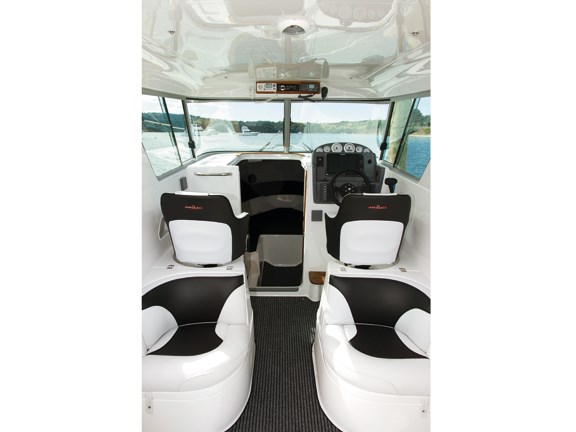 Comfortable seating in a dry, spacious, classy hardtop. Plenty of storage/sleeping room below, well-appointed helm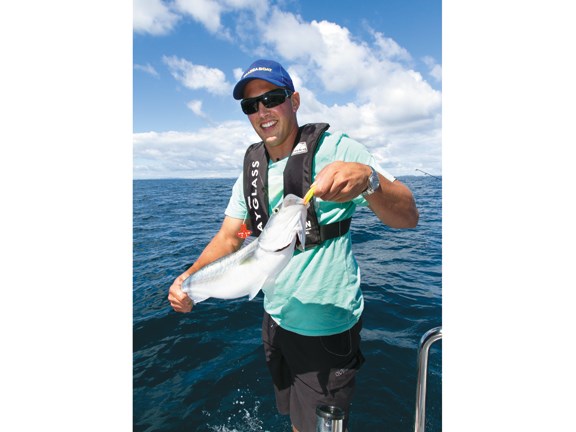 Matt Jones forgets about racing when the fish are biting. Versatile Rayglass Legend has great fishability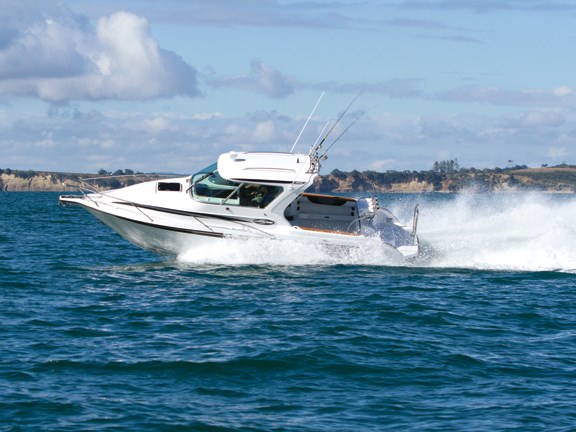 The 180kW VW TDI pushes the classy Legend 2500 along at 40 knots on its way north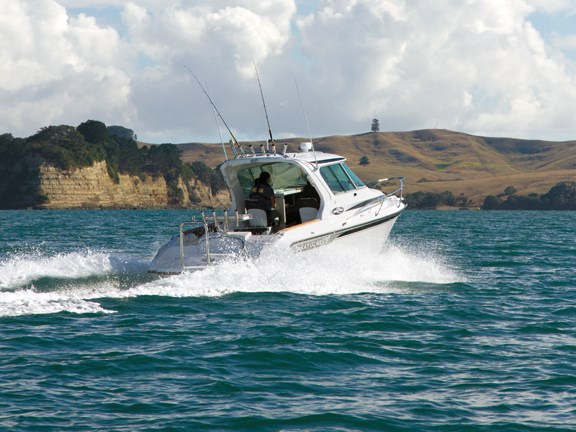 The Legend 2500 heads north in a race with VW Touareg – boat might have used more fuel but it was way more fun

Keep up to date with news from Trade-A-boat or like us on Facebook!