Boat test: Smuggler Strata 750 RIB
---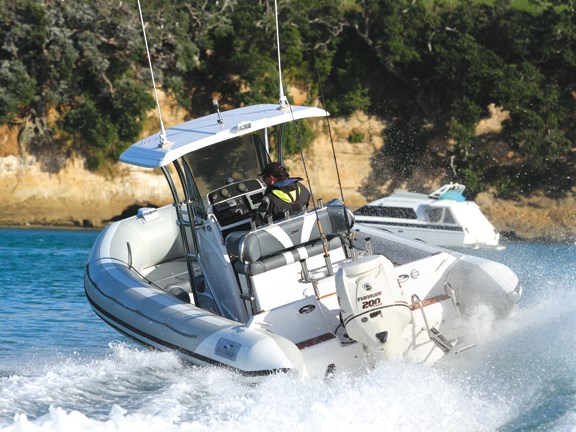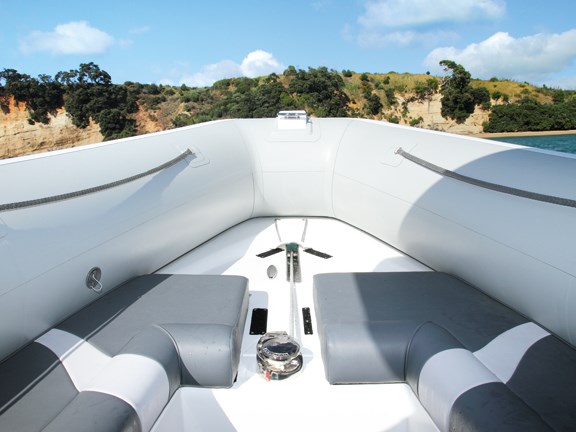 Anchoring at the dive site was very straightforward with the through-hull automatic anchoring system, requiring only removal of the front squab and the flick of a switch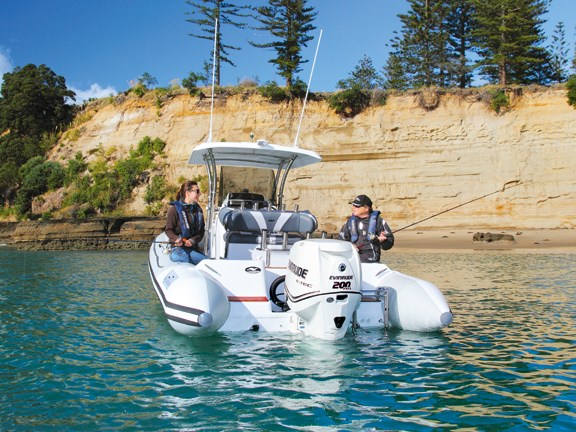 If you did manage to puncture it with a fish spine, it would take weeks to go down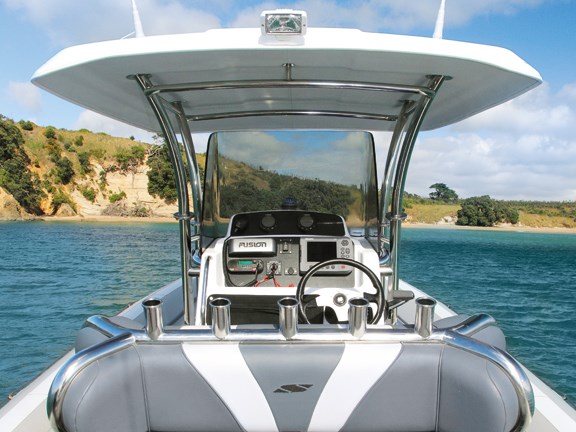 Although centre consoles are exposed to the elements, by design this one offers more protection than most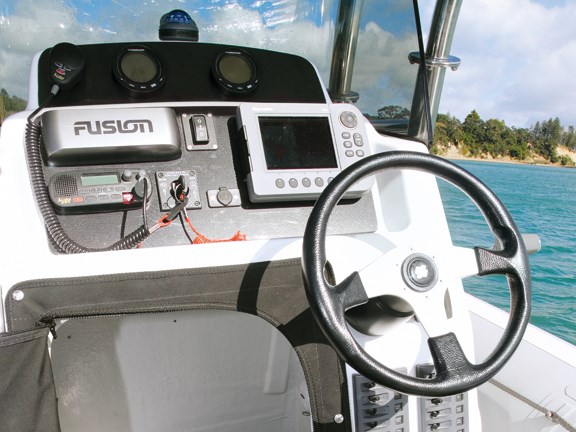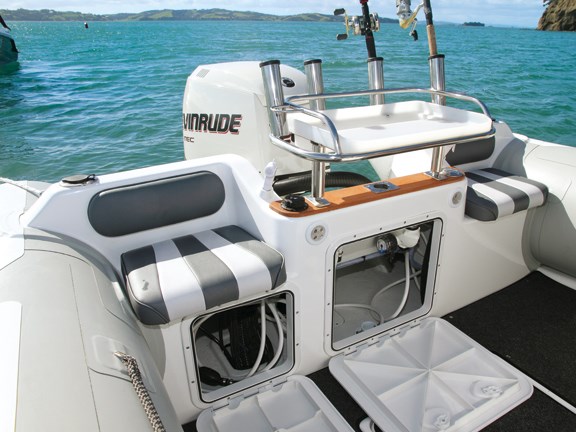 Thanks to the 11 rod holders, quality bait board, live-bait tank, twin wash-down nozzles and rear-facing spotlight, it's also very well-equipped for catching a feed of fresh fillets

Apparently, life is a journey not a destination. But if you like to enjoy the best of both worlds then the Smuggler Strata 750 RIB might be exactly what you're looking for.
Now, if I was a smuggler on the high seas, I would want a tough, fast and capable boat to outrun the authorities, should they cotton on to my activities. The Smuggler Strata 750 is all this and much more. And if I was the authorities, I'd definitely not want one of these falling into the wrong hands!
Managing director David Pringle has been building boats since he was in high school, and upon leaving he served his time at Salthouse Boats in Auckland. What Pringle doesn't know about building high-quality fibreglass boats isn't worth knowing, but it is only once you see Smuggler Marine's handiwork up close that you'll appreciate what I'm talking about.
Pringle and his wife, Pauline, were initially yachties, but after trading the yacht in on a beach house, they soon saw the benefits that fizz boating offers for quick fishing and dive trips.
"Fizz boats are my passion," says Pringle. "I used to head off into the abyss sailing, have had a number of yachts and have even sailed across the Pacific Ocean and Tasman Sea. But in comparison, fizz boating is just too easy, as you don't have to grab a bunch of people to head out and you aren't yelling and screaming at each other with sails flapping around everywhere. In a Smuggler you can go where you want, but in a yacht you're quite often travelling at 45-degree angles to get to where you actually want to go."
Pringle had spent a bit of time on mates' Smugglers and was impressed with the ride, before finally getting hold of the moulds 10 years ago. With the purchase (and subsequent fine-tuning) of the Bonito range, Smuggler Marine now offers a range of high-quality fibreglass boats (both RIB and cabin boats), from 3.5m up to 14m in length.
Why a RIB?
Pringle explains the benefits of a Rigid Inflatable Boat: "RIB's are great for anyone who wants to go a long way quickly and in comfort for a day trip. Fishing or diving further afield to The Barrier or The Mokes is easy. It's a fast fishing and diving platform with a big usable area. They're also awesome in the rough and you can basically go wherever you want to in them. We've exported a fair few of them to Perth which their owners use as tenders to hoon around Rottnest Island. It blows hard in Perth so they're in their element over there.
"They're 25 percent lighter than a standard boat but they're actually built stronger and heavier spec'd. They're easy to handle and it's easy to go boating in them. In fact, I can comfortably go boating by myself in one. The beauty about a RIB is that you're close to the water, so landing big fish is easier and they're forgiving of handling mistakes," Pringle comments.
The legendary Smuggler ride hails from the 27.5-degree deep-vee hull, which, on the Smuggler Strata RIB range, has been given a little bit of extra 'X-factor' thanks to both the large planing strakes and the inflatable tubes, which are structurally joined to the hull with a specially-designed flange.
"Above 30mph, the planing strakes lift the hull up, so there's less of the boat hitting the water. Plus all our inflatables have a flange running down each side directing the water and air down, which keeps the boat really dry and gives it that great ride," explains Pringle.
The ultimate dive buddy
The 320-litre fuel tank, coupled with the quiet and economical Evinrude E-TEC and the legendary Smuggler deep-vee, really does open up a vast playground for dive adventures. Being an avid scuba diver myself, I took the plunge to try out the diver-friendly features first hand.
One of the biggest hassles with diving is safely storing all the gear, especially heavy boat-damaging and toe-breaking dive bottles. There is no such problem on this Smuggler, thanks to the large dive bottle compartment under the helm seat, complete with adjustable holders. Wet gear is easily stored in the front and rear underfloor compartments, keeping the floor clear, and there's no need to relieve yourself in your wetsuit either as a private toilet is hidden within the centre console.
Anchoring at the dive site was very straightforward, with the through-hull automatic anchoring system requiring only removal of the front squab and the flick of a switch. A precisely engineered fit ensures water is kept out while underway. Access over the side is about as good as it gets, thanks to the inflatable tubes and centre console design, while the 150-litre flooding keel pulls the inflatable tubes down into the water, providing a very stable platform. Getting back on board is also painless, thanks to the quality boarding ladder and low transom height.
We missed the close of scallop season by a few weeks so the dive was purely for research purposes, but had there been a full catch bag, they would have been chilling out in the large bin neatly hidden beneath the forward-facing centre console seat. The comfortable front squabs would make a good place to kick back with a cold one afterwards and could easily accommodate a couple of bikini-clad sunbathers as well.
But the Smuggler Strata 750 is a lot more than a competent dive boat: the 11 rod holders, quality bait board, live-bait tank, twin wash down nozzles and rear-facing spotlight prove it's also very well-equipped for catching a feed of fresh fillets, too. The helm seat back unlocks and pivots forward, allowing you to face the action; the upholstered transom seats and inflatable tubes provide plenty of other seats to choose from - there's enough space to split the fuel bill by at least six anglers. And case you're wondering about the inherent risk of using an inflatable for fishing, as long as a bit of caution is exercised, there really isn't any.
"Common sense reigns. A landing net is a must for a RIB and if you don't take a landing net when you're fishing then you're stupid, as you'll lose a lot of fish. If you did manage to puncture one with a fish spine, it would take weeks to go down, but we haven't seen it happen with Hypalon tubes. There are seven individually sealed chambers and to get the CE rating, we actually had to drive the boat around with one side deflated," explains Pringle. The fibreglass hull itself also includes sealed buoyancy chambers and the Smuggler Strata 750 meets CE, CPC and MSA standards.
Testing conditions
The test day dawned with strong winds and a few ominous clouds on the horizon. I thought it prudent to put a last minute call to Pringle to make sure he was comfortable taking a brand-new boat out in potentially damaging conditions. Pringle's reply left me with little doubts: "It's not a soft-c*cks boat, Matt, these conditions are perfect for it." And he certainly wasn't lying…
We departed Te Atatu Boat Club a little behind schedule, and made the trip to Auckland city to pick up the photo boat at WOT (46 knots) and at varying angles into the sharp inner-harbour chop, without a single bang and all the while remaining completely dry. We proceeded to our sheltered photo shoot location through a particularly snotty wind-against-tide afflicted Motuihe Channel. Pringle again seized the opportunity to showcase the Smuggler's capabilities by running rings around our photo boat - just in case I had any residual doubts!
With the photos in the bag, so to speak, it was my turn to have a play at the helm and what fun it was! Pringle handled over the wheel with only one instruction: "The only time you need to slow down is if you manage to throw me off the back." He's brave, I thought to myself, but it didn't take long to see his point of view. Not only was it quick to get on the plane but it effortlessly sliced through the snotty conditions, which would have seen me heading straight for the chiropractor in a different hull. And with the 250hp outboard option fitted, this boat is reputed to reach a top speed of 60 knots!
After checking to see whether Pringle was still on board, I took the opportunity to throw the boat through a few tight turns. Now, having a grab rail on the dash may seem out of place, but its purpose soon becomes apparent once you put the hammer down and turn hard: your passenger may need it to stay aboard the boat! The helm set-up offers great comfort, visibility and control, and although centre consoles are exposed to the elements, by design, this one does offer more protection than most, and as Pringle mentioned earlier it's definitely not designed with 'mummys' boys' in mind.
This seriously capable machine comes on a DMW tandem-axle multi-roller trailer, with brakes fitted. At 1600kg towing weight, it requires a capable tow vehicle and is over the legal towing width with the tubes inflated. Towing with the tubes inflated requires an additional signboard/flags to be fitted and your head lights on, or the tubes can be deflated to squeeze under the 2.5m width restriction.
The last word
It's hard not to be thoroughly impressed with this boat. Perhaps it was the fact I didn't have to work the throttle in the rough, being able to simply put it down and leave it down, or maybe it was the impressive finish, innovative features and stellar ride that caught my attention the most on the test day. However, I can safely say that driving the Smuggler Strata 750 is the most fun that can be had without breaking the law. In fact, it's so good it should be illegal.
SMUGGLER STRATA 750 RIB
Designer
Smuggler Marine
Construction Fibreglass hull and liner with Hypalon tubes
LOA 7.50m
Beam 2.80m (2.40m
with tubes deflated)
Length on trailer 8.30m
Height on trailer 2.80m
Towing weight 1600kg
Deadrise 27.5o
Engine as tested Evinrude E-TEC
200hp HO
Hp range 150-250
Fuel capacity 320L
Water capacity 80L
Max persons 12
Price as reviewed $121,180
For the latest reviews, subscribe to our Trade-A-Boat magazine here .
Keep up to date with news from Trade-A-boat or like us on Facebook!