Test: Everyman 750 Sport Fisher
---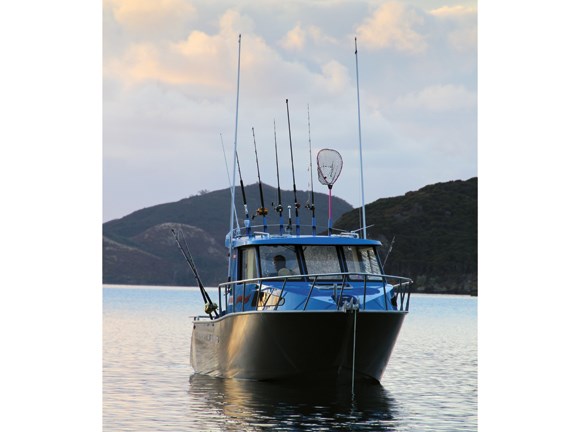 The serenity of a sheltered evening in Port Fitzroy, Great Barrier Island. The 750 offers comfortable overnight accommodation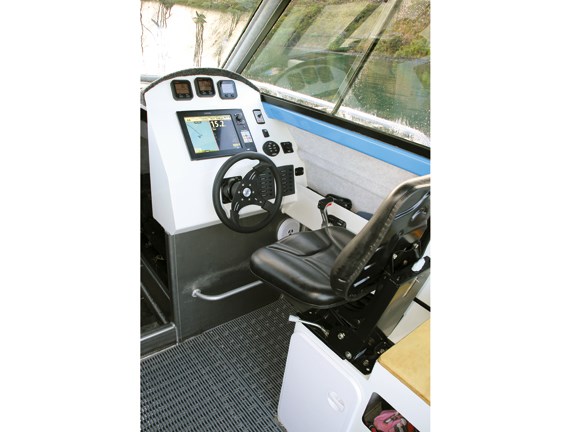 Note the use of padded, spring-mounted tractor seats to soak up the chop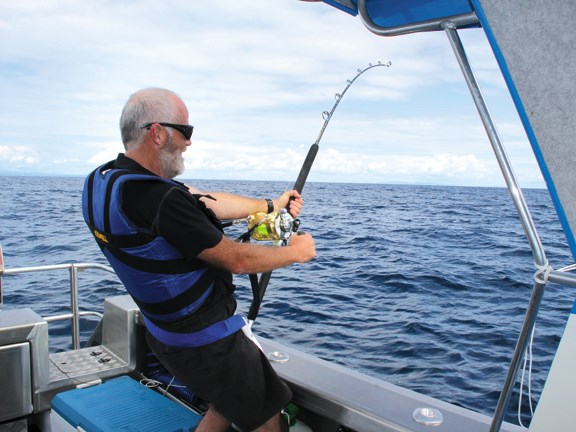 Out near Little Barrier Island, regular contributor Norman hooks up his first marlin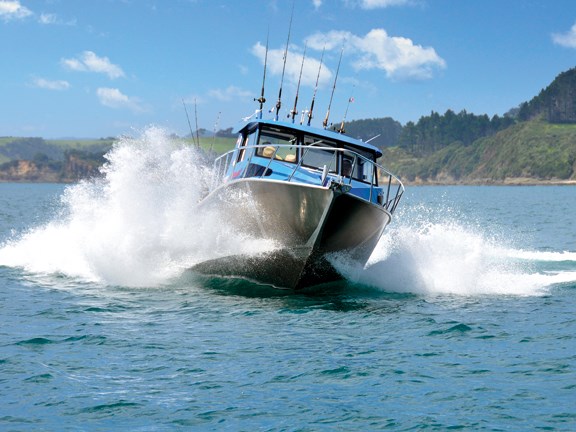 Easy to handle and comfortable in conditions far rougher than pictured here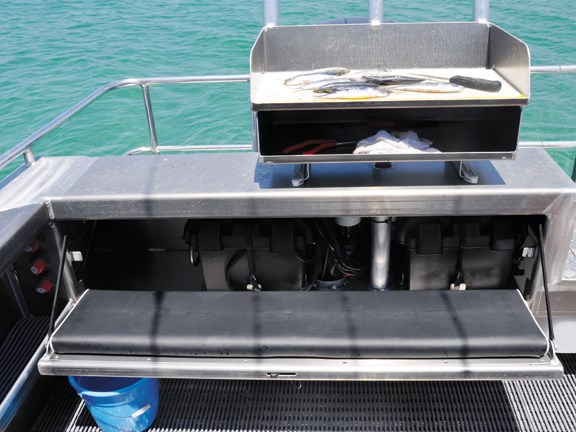 Transom opens to bench seat; separate stainless BBQ mounts into custom bait board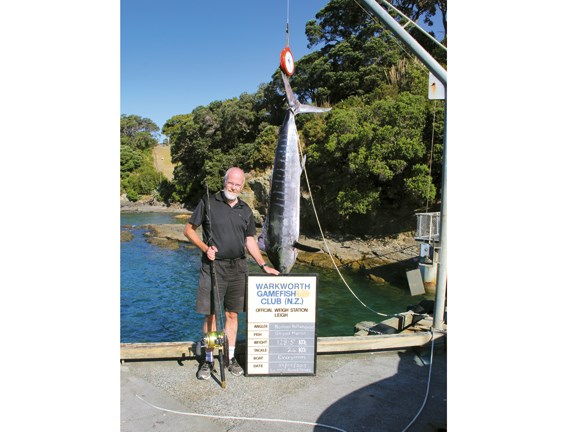 Norman's marlin comes in at 128.5kg and is ready for smoking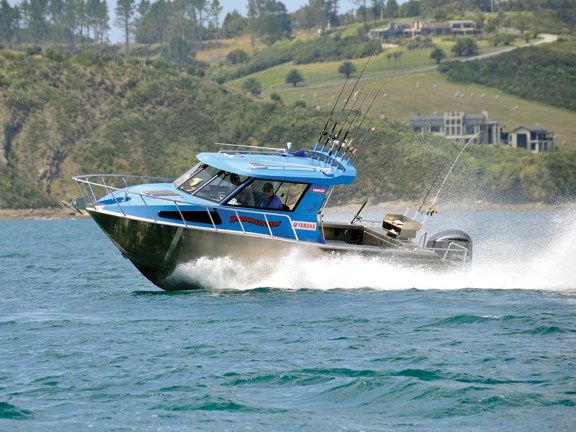 The Everyman 750 with 300hp Yamaha finds optimal cruising at 25 knots

The ultimate game-fishing experience is undoubtedly catching a marlin. They're well within the reach of most New Zealand boat fishermen, and yet relatively few people try to tackle them. This year, Norman Holtzhausen was determined he'd hook and keep one.
I've been trying on and off for more than seven years to catch a marlin. I've been out on everything from big, flash, custom game-fishing boats costing thousands of dollars a day to run, down to modest trailer boats with tote tanks and the day's fishing costing us around $100. But I've never even been on a boat when a marlin was caught, let alone caught one myself.
This year was going to be different, I promised myself, but by the middle of March I realised I'd not yet managed to get out on the water chasing these beautiful beasts. So when Russell Spiers of Everyman Boats said their newest model, the 750 Sport Fisher, was ready for review, my immediate question was whether we could make this a real-world test and organise an expedition. Luckily, Spiers concurred the best way to test a sports-fishing boat was to take it out for a decent fishing trip.
The right spot
The 750 is the smallest of Everyman's Blue Water range. Over the past five years the company has produced very successful hardtop, cuddy cabin and centre console models ranging from its 'baby' 470 up to the very capable 685 Sport Fisher. Yet, according to boatbuilder and co-owner Nigel Langdale, they see the move to bigger models as a natural extension to the range. "We have the capability to go even bigger," he says, "and now the market is improving, we're starting to see demand for the versatility offered by the larger platform."
So its new Blue Water series was designed, with the first model to roll out of production being the 750 Sport Fisher. While the smaller models have fairly standard layouts and features, these bigger boats provide far more opportunity for customisation to suit the specific requirements of the purchaser.
An extended trip calls for quite different resources from a casual overnighter, with fuel capacity being the first concern. The 750 Sport Fisher has a 345-litre underfloor tank, capable of taking us out well past the Mokohinau Islands, 13 miles northwest of Great Barrier.
Almost as important for long periods of trolling are top-of-the-range electronics to accurately report speed, fuel consumption, location and what's happening in the water. In addition to the electronic instrumentation of the Yamaha 300hp four-stroke V6 engine we had the amazing Simrad NSS-12 touchscreen chartplotter and fishfinder — all of which helped us to get to the 'right' spot as efficiently as possible and then let us see what was there.
BBQ and deck chairs
The extensive list of provisions we would need was well taken care of by the fridge located under the passenger seat. A further insulated cold locker under the deck took care of bait plus several bags of salt ice. The twin-hob gas cooker above the fridge would enable us to heat up a brew when desired, while a separate stainless steel barbecue, fitting neatly into the custom bait board mount, would take care of the main cooking duties.
Although an uncomfortable night's sleep can be tolerated on an overnight trip, a comfortable bed is essential for anything longer. The Everyman has long, well-padded bunks, and an infill squab turns this into a generous full-width bed able to sleep up to three. Under the front section is the all-important flush toilet with electric macerator.
The seating arrangement has been set up somewhat differently from most boats, with only two primary seats in the cabin and one fold-up bench seat along the transom. Although a king and queen set up is possible, Spiers says this limits the options for cooker, fridge and sink. The main seats are spring-loaded, padded tractor seats with forward-and-back adjustment, and the passenger seat swivels. As it turned out, these were extremely comfortable and easily handled conditions where most boat seats would have you standing up.
Once at Omaha Beach, north of Auckland, we loaded up the food, game gear, some lighter fishing tackle and two sets of dive tanks and equipment. Scuba gear takes up a huge amount of space, but two cavernous holds under the cabin floor easily swallowed it up, plus the barbecue, drogue, grapnel and deck chairs.
Six rod holders along the hardtop took care of the lighter fishing gear, with game rods spread among the three rod holders along the back of the bait board and the further six rod holders in the gunwales. The gunwale mounts have been correctly angled for trolling, and pins in their base hold the rods at the right angle. Stainless steel eyes are also fitted to enable safety ropes to be clipped to the reels to prevent them being ripped out by a ferocious strike.
Fish in the gear
The southeasterly was stronger than the forecast indicated and we were head-on into a 1.5m swell and a significant chop. However, the big Everyman just swallowed it up, with the spring-loaded seats absorbing the ride.
Less than an hour after setting out, just past Little Barrier Island and in 70m of water, we decided to put the gear out. The conditions had slowed us down to a maximum comfortable speed of about 17 knots. Thanks to the big Yamaha's electronic gauges we knew this was not the most fuel-efficient speed to maintain but conditions prevented us reaching the optimum cruising speed of about 25 knots. So instead we put the lures out and started trolling at six to seven knots.
Less than half an hour later Spiers yelled out "fish in the gear!" and we were on high alert. The striped marlin had a look around, then chose the Bonze 'Darter' lure Topcatch in Hamilton had recommended to him the day before. The fish did a couple of long tail walks and by the time I had my Kilwell stand-up game harness on and was ready to pick up the rod, he had stripped nearly half the line off the reel.
So began what turned out to be nearly three hours of slog. In the first hour there was the usual scenario of slowly gaining line only to lose it again in a screaming rush. When a huge squall of rain and wind came through, all we could do in the two-metre swells was tuck into the cabin and stay comfortable while maintaining pressure on the line.
Once the squall had passed we powered closer and I was able to get the fish close to the boat. It soon became clear he had died and was now sitting on the bottom in 70m of water. After trying several techniques we were forced to hand-line the fish carefully up from the bottom, praying all the time the hook wouldn't pull or the line break. Once on the surface we managed to drag him on board with the help of a friend who had been fishing in his boat nearby.
After the obligatory high-fives, the decision was easily made, since we were only about an hour away from shore, that it was viable to head back to get him weighed and smoked. By mid-afternoon we were tucked into Leigh harbour where the Warkworth Game Fishing Club weighed the fish in at 128.5kg. Mission accomplished and less than half a day of our trip had elapsed.
Mahimahi, skipjack, albacore…
Leaving the fish to be processed, and with plenty of fuel and provisions still on board, we decided to run across to Port Fitzroy on Great Barrier Island for the night. Arriving at sunset we found a sheltered anchorage and set about barbecuing dinner. An extremely comfortable night's sleep followed, with the carpet-lined cabin being one of the quietest alloy hulls I've ever experienced.
Although we were not able to raise any more marlin, we did find a sign on the Simrad that, an expert later confirmed, was consistent with a marlin chasing a school of bait. After fruitlessly trolling around in the still significant swell we decided to head back to the shelter of Fitzroy, picking up a couple of mahimahi on the way. Despite their modest size these aggressive fish tackled full-size marlin lures and, as per their reputation, went absolutely berserk when brought aboard. We consigned them to the cold locker, where they joined some skipjack and albacore we'd caught earlier.
After another comfortable night in Fitzroy we headed out to the Mokohinau Islands for an absolutely stunning dive, followed by a slow troll home. A massive pod of pilot whales, accompanied by some common dolphins, was the highlight of the return trip. Although we saw a free-jumping marlin close to where we originally hooked up, we had no more luck on that count.
Back at Omaha we easily winched the big Everyman back on the trailer before heading into Matakana to pick up the smoked marlin. Over three days we had used 320 litres of fuel, or around $250 per day. We travelled well over 200 nautical miles (370km), with about half the total distance at trolling speeds. We had caught a marlin, two mahimahi and numerous skipjack and albacore tuna.
Overall we had a fantastic time — you don't need a deep wallet and huge budget to catch the big ones. The hull and motor combination performed extremely well in adverse conditions, and the entire set up was easy to handle. A great adventure was had and a personal milestone achieved.
Highs
Unusual seating arrangement worked well
Fuel consumption was good for such a big boat
Comfortable night's sleep
Handles rough conditions well
Lows
Hardtop needs a clip-on backdrop for overnighting in adverse weather
Water capacity needs to be increased for extended trips
SPECIFICATIONS

Everyman 750 Sport Fisher

Length overall

7.65m

Beam

2.5m

Transom deadrise

18º

Recommended hp

225-300hp

Hull thickness

6mm

Side and top

4mm

Towing weight (light ship)

2500kg

Fuel capacity

345 litres

Water capacity

20 litres

Engine as tested

Yamaha 300hp four-stroke V6

Trailer

Galvanised, braked, tandem trailer

Price as tested

$156,000

Priced from

$143,000 (incl. Voyager trailer)
For the latest reviews, subscribe to our Trade-A-Boat magazine here.
Keep up to date with news from Trade-A-boat or like us on Facebook!