Test: Haines Hunter SF600 Limited Edition
---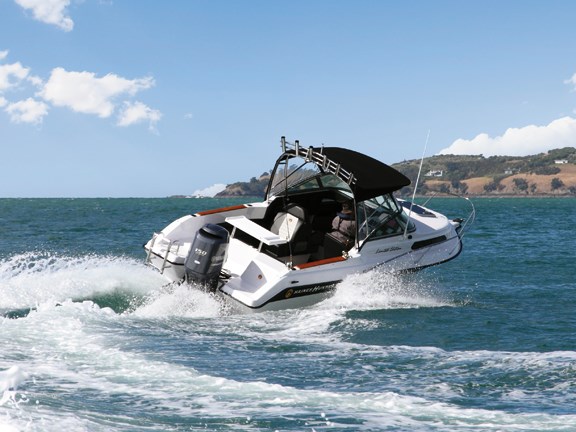 Great in hard turns. Trim tabs enable fine-tuning in strong winds during test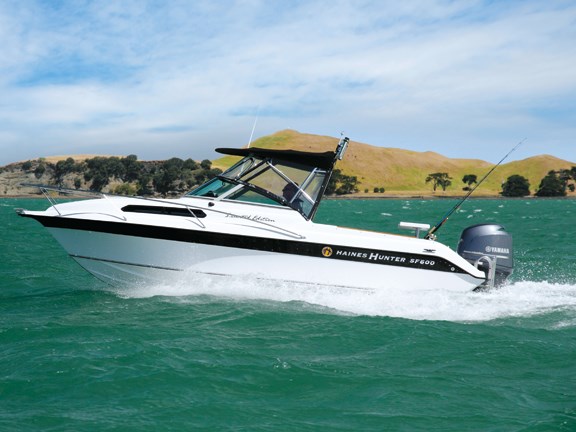 In a 27-knot wind and a sloppy following sea, SF600 easily keeps pace with the larger SE725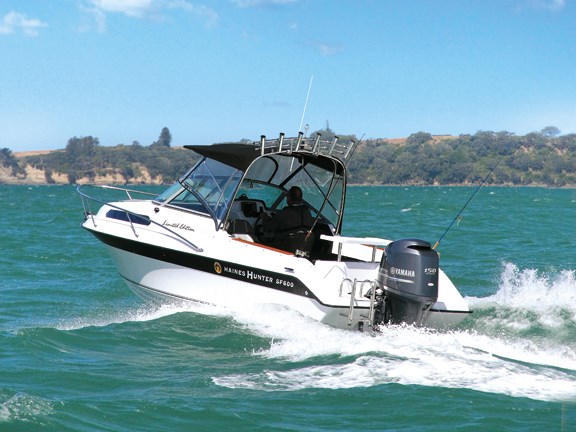 Comfortable and reliable. With prices starting at less than $82,000, it's a great value family boat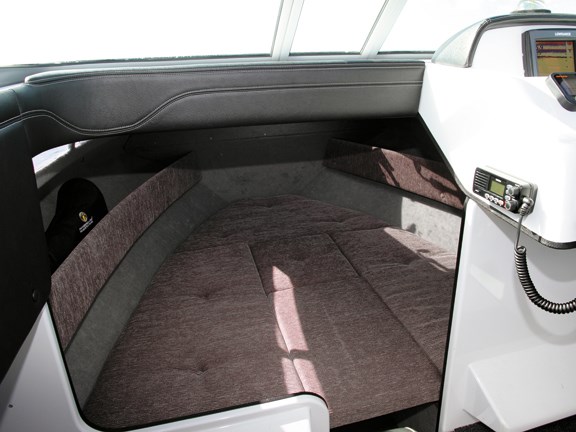 Two-metre long bunks. Toilet can be fitted; privacy screen optional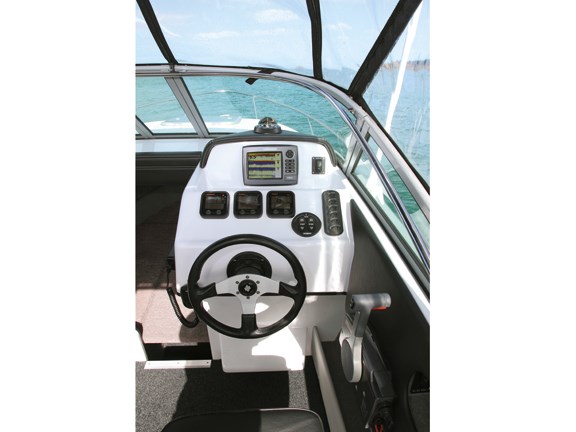 Plenty of headroom; comfortable helm seat provides good vision; ergonomic helm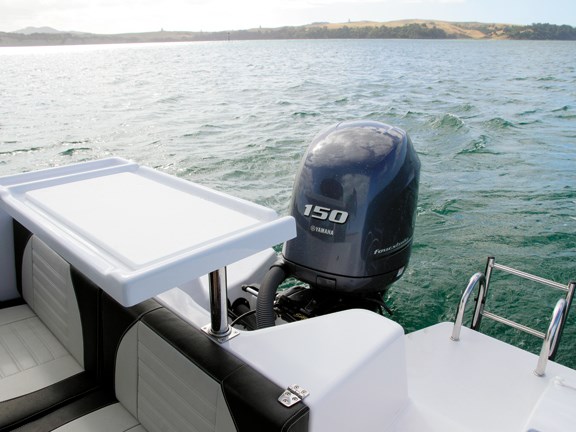 150hp Yamaha four-stroke meant acceleration was smooth, quiet and responsive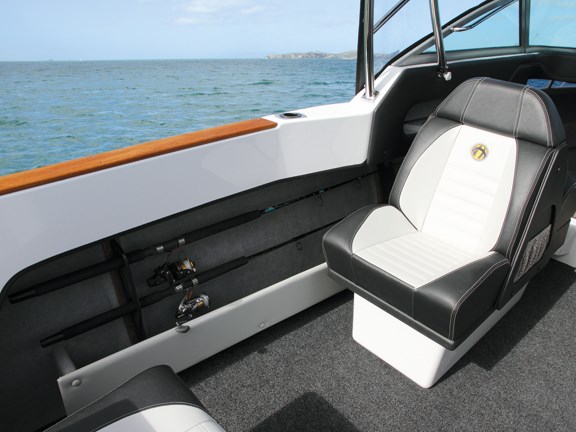 Quality is paramount for Haines Hunter, with every detail taken care of

Haines Hunter's SF600 is a popular boat enjoying an enviable reputation. Its recent re-release in the form of a revamped Limited Edition model presented us with the perfect opportunity to climb on board a high quality rig that's very hard to fault.
Over 1000 SF600 hulls have been built since its introduction in 1990, making it one of the award-winning brand's most popular models. Seacraft Miller Moyes and Haines Hunter New Zealand managing director Lionel Sands affectionately refers to it as a "thoroughbred, without any vices".
The Limited Edition upgrades are subtle but stunning, and it's not until you see it side by side with the standard SF600 that the enhancements shine through. Added features such as a classy upholstery upgrade, enhanced vinyl-adorned dashboard, folding stainless steel bimini top (with a removable rocket launcher) and a full wrap-around windscreen handrail effectively lift an already proven and popular boat to new heights.
Seacraft Ltd, the manufacturing division of Haines Hunter boats, has been in business for almost 70 years, making it the oldest boatbuilding company in New Zealand still standing, bar none. The company's longevity can be put down to an underlying passion for its product and a devotion to quality.
Built with pride
Haines Hunter utilises tanalised pine longitudinal girders and marine-grade hardwood ply (fully sealed and encapsulated in fibreglass) to create an immensely rigid and strong hull design. The deck structure is PVC-foam cored and woven rovings are used extensively to further strengthen impact zones and fitting attachment areas. Once the hull structure is complete, one man takes ownership and sees the boat through to the showroom floor to instil a sense of pride in what is a beautifully finished product.
Build quality is paramount. Sands explains: "Our boats are entirely hand-laid fibreglass in a temperature-controlled environment so we don't suffer from poor laminates in winter time. We only use isopthalic gelcoats and resins, which to the layman means nothing, but the difference is like comparing cardboard to timber. For example, the average gunstock chop-sprayed fibreglass laminate contains 70 percent resin and 30 percent fibreglass. With our hand-laid system, for the same given thickness, our hulls exceed 50 percent glass fibre content and it's the glass fibre giving a boat its guts."
Seacraft doesn't use closed-cell foam due to its tendency to absorb and trap moisture, instead relying on sealed air chambers for buoyancy requirements. All Haines Hunter boats come with a five-year structural warranty and are CPC certified.
Quality fit-out
Up front, two-metre long bunks, complete with an infill, provide overnight accommodation for two. An optional portable or electric toilet can be fitted below, with a canvas privacy screen option.
Deluxe king/queen seats with classy exposed stitching look stunning and are comfortable. Good storage is available in the large bin underneath. Cushy twin transom seats can be moved around thanks to the fibreglass fish bin bases, sliding underneath the transom to increase the cockpit space. A further underfloor bin provides extra storage for catch/cold ones.
Good out-of-the-way rod storage is available in the gunwale-mounted rod racks either side, with four gunwale-mounted stainless steel rod holders on offer. The optional rocket launcher caters for a further six rods. The rocket launcher and fiberglass bait board are both removable if fresh fish isn't required for dinner. An optional Lewmar automatic capstan takes the chore out of anchoring duties.
The carpeted floor is very comfortable and provides sure-footing, but will require a good scrub after a messy fishing trip. Clip-in carpet and other easy-clean flooring options are also available. Teak-capped gunwales (a hallmark of the Haines Hunter range) further enhance the classy finish.
Nowcasting 27 knots
I met Sands and sales manager Bob Mirabito on a sun-drenched-yet-windy summer's afternoon at Auckland's Outboard Boating Club. Haines Hunter kindly supplied a very comfortable SE725 photo boat for this test (keep an eye out for the review in the coming months).
With a lively sou'wester blowing we plotted a course for Motuihe Island in search of calm water for the photo shoot. En route the SF600 had no problems keeping pace with the larger SE725 with a sloppy following sea. The wind speed certainly seemed fresher than the forecast 15-20 knots, and Coastguard's Nowcasting service confirmed it was in fact blowing 27 knots.
With the photos wrapped up, it was time to take the reins, open the starting gates and let the SF600 loose. With a 150hp Yamaha four-stroke fitted, acceleration was smooth, quiet and responsive. At this engine/hull combination's most economical rev range of 3500rpm, this classy thoroughbred is cantering along at 20 knots using 18.5 litres of petrol per hour, equating to 0.93 litres per nautical mile. Top speed on the day was a respectable 41 knots at 6100rpm (slightly over this engine's maximum revs as tested). Sea Craft Miller Moyes will prop the boat to suit customer requirements.
The SF600 is exhilarating in hard turns and tracks beautifully with no side slip or prop cavitation, even at WOT. Trim tabs were fitted to our test boat to enable fine-tuning — handy given the strong winds on the test day.
Standing at the helm there's good headroom for my 185cm height beneath the bimini top, with full clears fitted. The clears provide a versatile, removable lightweight alternative to a hardtop and, while visibility is reduced slightly by the plastic, the skipper can simply zip open the hatch when required. Easing back into the comfortable helm seat also provides good vision with an ergonomic helm layout to hand.
On the home run through the Motuihe channel the wind-against-tide effect was in full force, dishing up a short, sharp and messy metre of chop and providing a thorough testing ground for the SF600's rough-water ride. There were no surprises — the boat comfortably tamed the snotty conditions while sitting on 22 knots, and there was no need to touch the throttle.
Once back inside Auckland's Outboard Boating Club the fuel computer displayed 23.4 litres total fuel use. That's pretty cheap fun considering an approximate 17Nm round trip in stroppy conditions, the performance test and multiple high-speed runs for the photo shoot.
A true measure
Back at the dock I sat down with Sands and Mirabito over a couple of cold beers to find out what makes a Haines Hunter go so well.
Advancing technology has seen a few subtle design changes over the years but Haines Hunter has been careful to preserve the look to keep the resale value of existing customers' boats high, and when you get something right first time around, major change simply isn't required. One feature left untouched is the revered 21-degree hull design. As Sands simply puts it, "the underwater shape hasn't changed, as the ocean hasn't changed" and you can't argue with his logic.
Sands says the legendary ride is a combination of good design and balance with the outboard motors fitted. "You can have a boat that's extremely good in a rough-head sea but can be a dog in a following sea because of the hull characteristics. It's very important to get a balance in those design features that doesn't compromise any particular aspect of boat handling."
Mirabito points out another good Haines Hunter design trait: "Too often boats are sold as six metres when they're not really six-metres long. I call it the Pinocchio effect, as it depends on how big your bowsprit is and how big the rubber is hanging out the back. The SF600 is a true six-metre boat and it punches as hard as you want it to, but it can be as docile as it is challenging — anybody can drive it." Haines Hunter measures its boats from where the engine bolts onto the transom to the bow of the boat, excluding the bowsprit, because at the end of the day there's no substitute for waterline length.
With a total towing weight of 1600kg the SF600 LE comes standard on a DMW Premier Series braked tandem axle trailer with stainless steel brake callipers, submersible LED lights, duro-torque suspension and a synthetic winch cable.
The last word
Haines Hunter's new Limited Edition model SF600 is a hard boat to fault and should provide families with a capable and well-mannered boat to enjoy. Everything's done to the highest possible standard, which shines through in the exceptional finish quality on show.
A few famous All Blacks and opera singers also own Haines Hunters — not through hard-sell tactics, but rather good old word of mouth from satisfied customers. But, unlike a thoroughbred racehorse, you don't have to be an All Black or opera singer to own one.
Highs
Exceptional finish and high-quality construction
Excellent performance and rough-water ride
Versatile family fun platform
Classy and comfortable
Lows
Slightly under-propped as tested
Carpeted flooring isn't the easiest to clean (easy-clean options are available)
SPECIFICATIONS

HAINES HUNTER SF600

Construction

Hand-laid fibreglass

LOA

6.6m

Ext. beam

2.24m

Length on trailer

7.68m (engine tilted)

Width on trailer

2.43m (engine tilted)

Height on trailer (approx.)

2.20m

Dry hull weight

870kg

Standard towing weight

1500kg (approx.)

Deadrise

21º

Engine as tested

Yamaha 150hp four-stroke

Recommended hp

115-175hp

Fuel capacity

165 litres (underfloor)

Price as tested

$94,241

Packages priced from

$81,764
PERFORMANCE DATA

HAINES HUNTER SF600 WITH YAMAHA F150 FOUR-STROKE OUTBOARD AND 17M
PROPELLER. TWO POB.

RPM

SPEED
(kts/kph)*

FUEL BURN (L/hr)

ECONOMY (L/Nm)

600

3/6

1.7

0.57

1000

4/7

3.2

0.80

1500

6/11

4.6

0.77

2000

7/13

6.5

0.93

2500

8/15

11.0

1.38

3000

15/28

15.6

1.04

3500

20/37

18.5

0.93

4000

24/44

23.1

0.96

4500

28/52

31.2

1.11

5000

32/59

36.6

1.14

5500

35/65

41.6

1.19

6100

41/76

60.3

1.47

* Figures recorded from Yamaha digital gauges
For more information on the Haines Hunter SF600 contact Bob Mirabito at Seacraft Miller Moyes on 579 9661, email sales@mmsc.co.nz or visit mmsc.co.nz.
For the latest reviews, subscribe to our Trade-A-Boat magazine here.
Keep up to date with news from Trade-A-boat or like us on Facebook!