Test: Beneteau Barracuda 7
---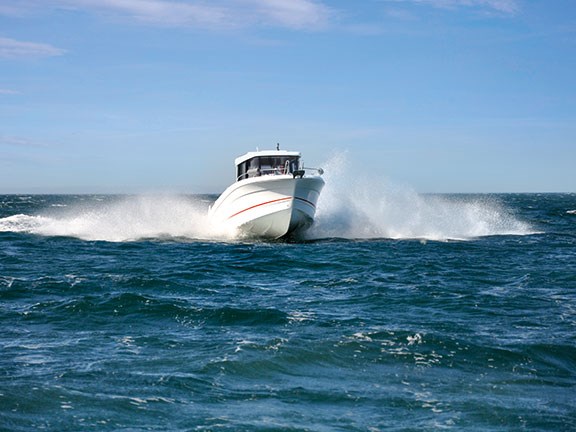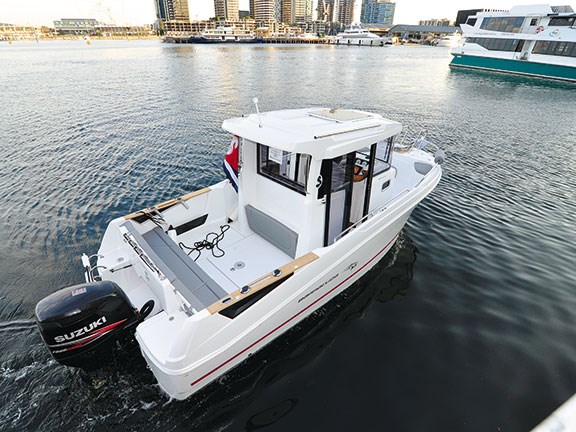 Like a hardtop and centre console in one — European styling meets traditional trawler. Walk-around wheelhouse and full-width bow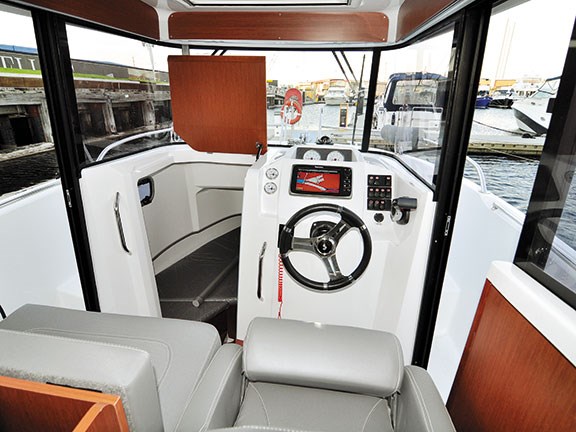 Helm is safe and protected when the weather's unfriendly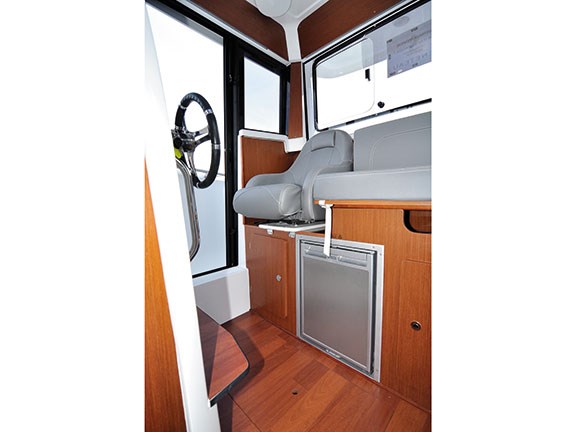 Seating is classy and comfortable; fridge close to hand; 'caf� servery' window to pass cold drinks to cockpit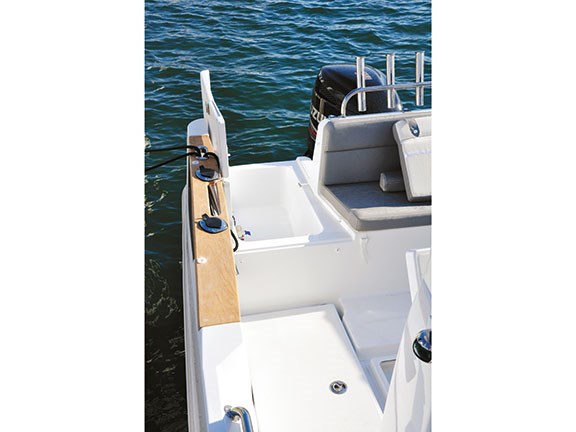 Seating is classy and comfortable; fridge close to hand; 'caf� servery' window to pass cold drinks to cockpit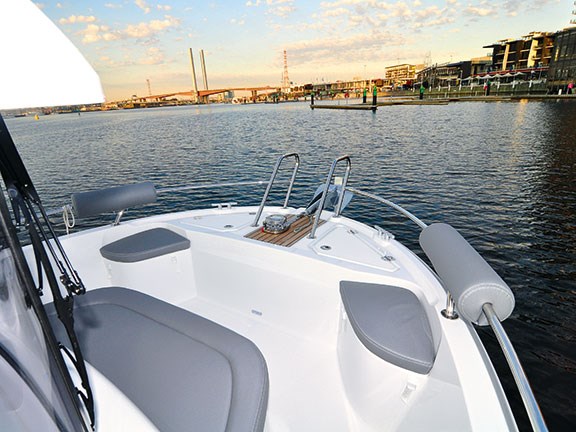 Plenty of seating and fishing space at the bow

A visitor to this year's Hutchwilco New Zealand Boat Show was overheard saying that this boat is "just a mini gin palace", which kind of writes it off — but it must have won the show's All Purpose Open award for a good reason. Plus, four were sold at the show. Here's why…
I love traditional boats. There's a certain majesty to a trawler that challenges the might of the ocean. It's a timeless strength developed by the lives of seafarers since the dawn of humanity. Yet the more modern European style lies in stark contrast with such traditions. You know the look when you see it: often minimalistic but always highly fashionable with elegance, panache and stunning contrasts.
Put these two competing ideas together and you have the new Barracuda 7 from France's huge boatbuilding stable, Beneteau.
Our first glimpse of this refreshing addition to the trailer boat market was at February's Melbourne Summer Boat Show, where it took my heart as the boat of the show. It's new, it's different, it's refreshing, it's modern, it's traditional and it's beautiful. That's pretty much the best combination I can think of.
Grand tradition
To quote directly from the company: "For more than 120 years, the succeeding Beneteau generations rivalled each other in know-how. Their single passion has always been to perpetuate the tradition, to offer stylishly elegant boats, always with a quality of finish beyond reproach."
This industry giant certainly practises what it preaches. The Barracuda 7 is a beamy fibreglass masterpiece with a proper walk-around cabin. She reaches her beam well forward in a trawler-style bow, with big, high sides and a sweeping, modern sheerline. You would likely expect such a vessel to be an inboard and probably with a shaft drive, but no: it's got an outboard, which was a surprise.
The boat goes right off the scale in terms of innovation. Its huge tulip-shaped bow has a very deep freeboard, as well as functional seating and storage that will appeal to cruisers and fishos alike. A low, split bow rail defines the curvature of the gunwale, finally giving way to a functional bow with a 700W anchor winch, deep anchor locker, stainless bowsprit and heavy ground tackle. There's even a small icebox to keep the bait or wine nice and chilled.
The companionway around each side of the cabin is reminiscent of much larger vessels, with deep sides providing terrific security. You feel perfectly safe walking around this boat even in the worst seas, as we discovered when a north wind gusted to a severe 35 knots during our test. You can tell when the wind strength reaches such a magical figure, as the sea is turned to foam from the tops blowing off the caps of every wave. It's certainly a challenge for any craft, and the Beneteau mastered it all with just a hint of Gallic haughtiness.
In the wheelhouse
Can you call a cabin a wheelhouse in a seven-metre boat? You sure can. Some will love it, others might not get it, but I found this functional space to be a melting pot of old-world charm and modern ergonomics, practicality and style.
There's room for three people to huddle at the helm in the security of the enclosed cabin. It's a little squeezy, sure, but welcome when that howling gale erupts. Just close the sliding windward side door and you're comfortably shielded from the harsh elements.
The first thing you'll notice when entering the wheelhouse is the panoramic vision through big safety-glass windscreens. There are no blind spots, and the upright nature of the wheelhouse affords loads of internal space and headroom. We had driver- and passenger-side wipers on independent switches with freshwater washers for clear vision, but I did notice a moment of vision distortion from the curved glass corner while docking.
There's also a sliding glass 'café servery' window to keep you in contact with the outside world — well, the cockpit, anyway. This servery proved great for passing drinks to the rather thirsty, windswept occupants who were braving the hot, dry wind and stinging spray raging outside.
A refined palette
The Barracuda has a bucket-style helm seat with lift-up bolster, as well as a double-cushioned seat for passengers in the same minimalistic yet premium quality PVC 'Diamante Storm' upholstery we find throughout the boat. The workmanship and materials reflect the European refinement of the entire package.
There's a chart rack behind the passenger seat with a sink underneath, as well as a front-opening 42L fridge with cabinets on both sides. The port-side cabinet has good storage and the smaller starboard-side locker contains the electrical switchgear.
The double-skinned fibreglass roof features a large sunroof with a sliding blind and insect screen. On top there's ample room with easy access for water toys, rocket launchers or even a life raft. Inside, timber laminate trims the overhead space, with perfect mounting positions for communications and entertainment systems.
The dashboard is simple yet stylish and functional, and everything's at a very workable height. I especially liked the recesses allowing you to keep your mobile phone and other odds and ends safely to hand.
The lower cabin entry is in front of the passenger and features a swing-down top hatch that doubles as a chart table. The interior of the cabin is a relatively small space, but this is not the QEII. It's not a full vee-berth because of the fully-enclosed toilet compartment, which is divided by yet another doorway. The toilet itself is small but efficient and Beneteau provides either fully-plumbed options or a mounted Porta Potti.
The berth has an infill and would be big enough for me to sleep in comfortably, but I would have to be really friendly if I were to share it. In short, the Barracuda 7 is designed as a day boat — you could easily overnight if you wanted to, but there isn't a lot of nap room for two.
In its present form it reflects the lineage of European recreational fishing boats rather than the hardcore fishing focus of US, Aussie and Kiwi machines. It's workable and, best of all, adaptable. As such, compromises have been made, for instance the transom layout.
It's terrific when used as a cruising convertible, with a three-quarter rear lounge that faces another drop-down lounge on the rear of the wheelhouse and a drop-down walkway through the starboard side. Lifting the lid on this walkway reveals a live-bait tank with aerator. Yet again, this is a good base that could be modified by a more serious fisho if that's your bent, and it will double as an extra icebox for those who don't want to bother with all the smelly fish stuff.
Beneteau has approached the outboard well with another new idea — since the seat base is moulded right across the transom, the lounge backrest impedes the tilt arc of the outboard, resulting in a unique tilting backrest that folds forward into the cockpit. Not a bad idea but, like most new things, it takes a little getting used to and it's only needed when full tilt is required for trailering or storage. A four-spot stainless vertical rod rack currently sits atop, but I'd ditch it in favour of a removable baitboard and snapper racks. I'd then install a proper rocket launcher on the spacious roof.
Access to the water is via a small moulded step on the port side with a fold-down stainless ladder for convenience.
On the water
Can the French design a solid, soft-riding yet stable seagoing vessel? The answer, happily, is yes.
During our test, the conditions were trying, to say the least, with plenty of wind and severe chop. It was comforting to have such a high bow when running downwind and the full beam lifted the nose very well.
We travelled downwind at a comfortable and fuel efficient 22.4 knots (41.5km/h) at 4600rpm. Our quiet ride was the result of four factors: the hull design and efficiency; the quality construction, including balsa core; the fully-enclosed wheelhouse; and the smooth Suzuki 200hp four-stroke engine.
The hull has hard chines running forward to the full bow and it understandably came down a little hard on occasion, throwing plenty of water off the sides, but it travelled with the confidence of a seaworthy craft – and we weren't holding back.
The Barracuda has a surprisingly shallow 12° deadrise, supplying quite a solid ride with minimal banging or crashing. We pushed the boat pretty hard and came up roses. There were no trim tabs fitted, nor were they needed, even in a side-on or quartering sea.
On our way back to shore we pushed into a solid 20-knot headwind with a cabin full of photographers and me sitting on the fold-up seat behind the cabin. The fact I travelled the full distance sitting down while we did about 25 knots (46km/h) into the head sea speaks volumes for the boat's capabilities. She certainly loves the lower and mid-range, but doesn't mind spreading her wings and flying across the swell.
The big Suzuki 200hp four-stroke is a smart engine selection for the Barracuda 7. It performs with plenty of torque right through the rev range — exactly what's needed for this style of boat. It lifts onto the plane quickly and with a minimum of noise or fuss and holds planing speeds well with the torque. Open her up to a top speed of around 30 knots (55.5km/h) at 5500rpm (not WOT, but the best we could get in the blustery conditions) and you won't be far behind some of our more commercial-style offshore weapons.
The wrap
Would I own one? Yes I would. I loved the European styling combined with the traditional trawler influence. I was also a huge fan of the walk-around wheelhouse and full-width bow. I could easily make the cockpit and transom layout work for me with some custom rod holders and cutting boards, but above all, I felt really secure with the big high sides and stability.
It's great to find this real point of difference in the trailer boat market. It may not be for everyone, but I'm sure the Beneteau Barracuda 7 will find many more admirers to join me.
SPECIFICATIONS

Beneteau Barracuda 7

Type

Walkaround wheelhouse planing hull

Material

Fibreglass

Length

7.39m

Beam

2.64m

Weight

1877kg (dry)

Deadrise

12°

People

8

Rec. hp

150-200

Max. hp

206

Fuel

200L

Water

100L

Engine

Suzuki DF200 DOHC 24-valve V6

Weight

268kg

Displacement

3614cc

Gear ratio

2.29:1

Propeller

Suzuki 15.75 x 19"

Packages from

$130,000
For more information contact Rogers Boatshop (09) 415 9456 or rogersboatshop.co.nz.
For the latest reviews, subscribe to our Trade-A-Boat magazine here.
Keep up to date with news from Trade-A-boat or like us on Facebook!