Test: Everyman 635 Hardtop
---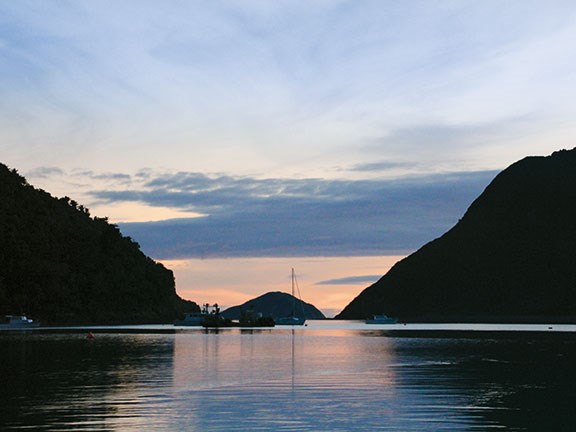 First light, Okiwi Bay. Off for a great day's hunting and gathering in a commercial-spec trailer boat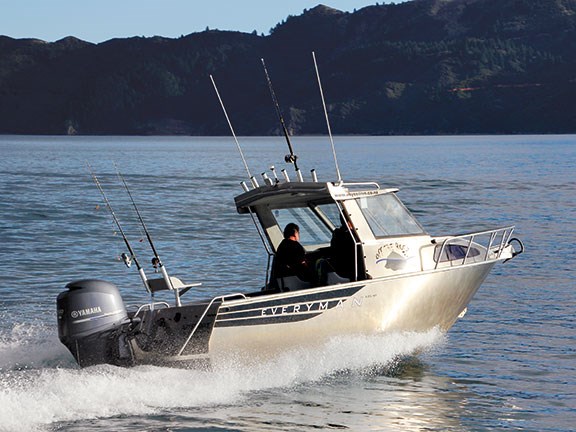 The new 635 has been set up for diving and fishing and proved itself a great tool on a successful day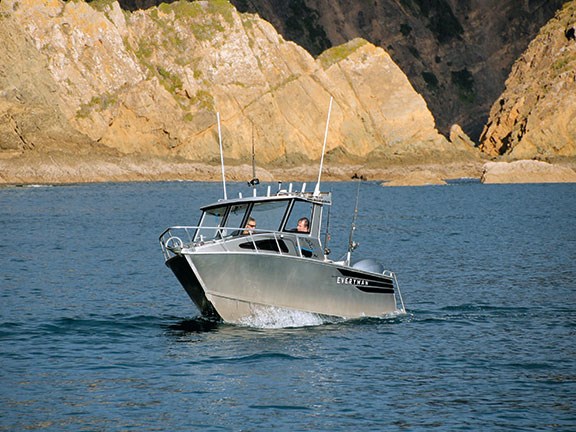 A boat Norman won't forget: it helped him take home two four-kilo crays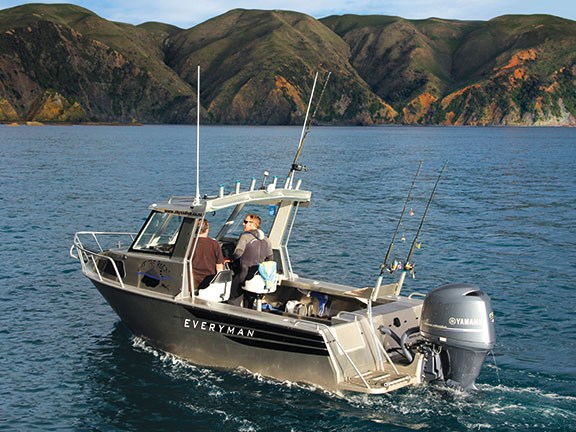 Large cockpit, wide boarding platform for fully kitted-up scuba divers, generous transom door for easy access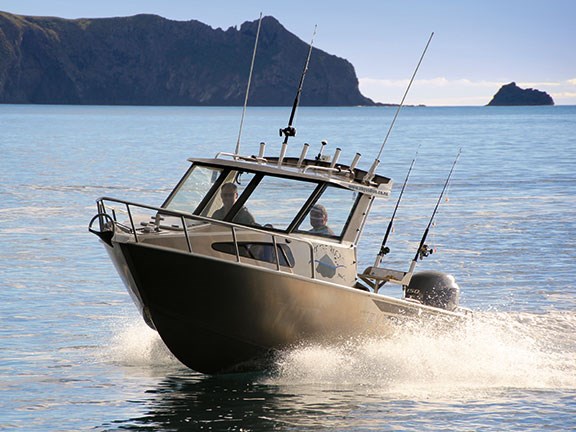 Off the Rocks, built for Abyss Dive in Nelson, is a custom version of Everyman's popular and well-priced 635 hull, starting at $68,000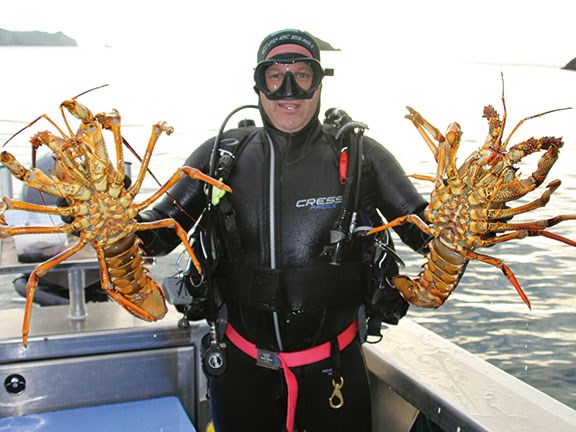 Monster Marlborough Sounds crayfish enough to make North Islanders pack up and head south

This is not your average boat test, but rather a fortunate way for a boat tester to enjoy a great new fishing and diving craft while scoring a few monster crays. It's a hard life for some…
For those of us stuck in Northland, Auckland, Waikato and other parts of the upper North Island, the bounty of the sea offered down on the mainland is mostly the stuff of dreams. We go fishing and diving up here for what we think are reasonable-sized fish, but are laughed out of the water by the size and variety of sea life those down south are lucky enough to access.
It's a couple of years since I last crossed the Cook Strait, and I've been experiencing withdrawal symptoms. Russel Spiers, marketing manager of Everyman Boats, did not help this by sending me pictures of one of their happy boat owners holding a brace of monster crayfish, as well as some equally huge kingfish. These were claimed to have been caught the previous Saturday with the usual 'you should have been here' tag line.
As it turns out, the boat in use was the latest version of one of Everyman's most popular models, the 635 Hardtop. Big enough to handle a serious offshore trip, and with a cockpit space that can handle six people, it is nevertheless economical to operate and still a reasonable towing proposition. In addition to the large cockpit space, it also has a wide boarding platform that easily handles kitted-up scuba divers, plus a generous transom door making it easy to get in and out of the cockpit. A recent design refresh has added a new helm layout, allowing for larger displays.
Measurable tilt
When Paul Gardiner of Abyss Dive in Nelson started looking for a new boat for his dive training operation, he soon narrowed his search down to the Everyman. Abyss Dive specialises in diver training and expeditions, and its typical group size is four or five people. Hence Gardiner and partner Janelle Johnson didn't need a massive charter boat that chewed fuel, but instead wanted a fast, efficient but comfortable vessel appropriately sized for their operation. They also needed something that was easy to tow, since they often launch out of either Okiwi bay or French Pass in the Marlborough Sounds. Anyone who has driven the Croisilles Road down in that part of Marlborough will understand this is no trivial proposition. The Everyman 635 ticked all the boxes.
As part of a commercial diving operation, the boat would require some specific customisation, and Nigel Langdale, boatbuilder and co-owner of Everyman Boats, was happy to oblige. Scuba cylinders can be very dangerous if not restrained, and ideally need to be stowed securely and as low as possible. Langdale engineered tank holders in all four corners of the cockpit in such a way that the cylinders go almost unnoticed. The parcel shelves running the length of each gunwale are also strong enough to support the weight of additional cylinders, enabling a full complement of air to be carried completely out of the way. A deep wet-locker under the deck similarly restrains the heavy weight belts in a low and central position.
Another requirement was for the boat to be fully certified for scuba operations. The main safety test for this is to ensure the boat will be stable with divers and gear moving around, both underway and while at rest. The specification is for the boat to heel over no more than 15 degrees with all occupants on the same side of the boat. The original intention was to get it certified for six occupants, but with all six people on the same side of the boat, all that happened was the boat settled down to the chine. Thanks to the shallow deadrise that is a feature of Everyman's hulls, this resulted in less than 10 degrees of measurable tilt. Surprised the boat didn't tip over further, the inspector added a seventh person and still could not get it to dip below 10 degrees. In the end he certified the boat for eight occupants, even though it would almost certainly never operate with that many on board.
Fishing included
And so it was that a very happy pair of owners took delivery of Off the Rocks earlier this year. Langdale personally delivered the boat, enabling him to ensure the motor and electronics were all properly set up once the boat was in operational trim.
By the time I was invited down to Nelson, the boat already had a touch over 100 hours on the Yamaha 150 four-stroke motor. These well-proven motors have bulletproof reliability, proven fuel economy and, at just over 200kg, are a reasonable weight. Although at the top end of the recommended horsepower range for the hull, this is a working boat that will regularly be fully loaded. Hence extra power will never be regretted, while the 150-litre underfloor tank would give more than enough range.
Luckily, Air New Zealand now offers a 23kg luggage allowance and although I was lightly laden on the flight down, I was hopeful I would be making full use of that limit on my return.
I was met outside Nelson airport by a smiling Gardiner and Langdale. The weather forecast for the next day was excellent, so the call was made to launch at Okiwi Bay the following morning and travel up to Stephen's Island on the northernmost tip of the South Island. One of the joys of the Marlborough Sounds is there is usually somewhere sheltered that can be fished or dived, no matter which direction the prevailing wind.
After a hurried toast and coffee at 5am, we hooked the trailer up to Gardiner's Mitsubishi Pajero, chucked in all the gear and hit the road. Despite being a relatively modest and well-loved Mitsubishi, it took absolutely no strain in towing the Everyman up and over the Whangamoa Saddle on SH6. Turning onto the Croisilles Harbour road towards Okiwi Bay, we were soon twisting and turning along a road known to turn even experienced drivers into jabbering wrecks. But the Everyman towed smoothly and we hardly noticed it behind us.
Time for crays
The sun was just lightening the horizon as we slipped the boat into the water, and we set out onto a mirror-calm Croisilles Harbour. Conditions were near perfect, albeit crisply cold, as we turned north and headed through the spectacular and dangerous French Pass. This is often an excellent spot for kingfish, but Gardiner assured us there was a better option higher up. The strakeless hull gave us a smooth and comfortable ride, even through the surging waves of French Pass.
Passing the tip of D'Urville Island, we headed to the underwater ridge just south of Stephen's Island. Along this reef the water rises from over 100m in depth to less than 10m, and in full flood tide this creates impressive standing waves and eddies. When we arrived at slack tide we had the place almost to ourselves, but it seems news of Gardiner's recent success with the kingfish had swiftly spread around Nelson. Within an hour there were well over a dozen boats drifting over the reef and trying their hand with jigs.
But it was crayfish I had come for, and once the rising tide forced us off the reef we made the call to drop under the water. A few minutes' motoring had us out of the current to a spot about 25m deep and, with Langdale remaining on board as observer, we were soon kitting up. I asked about using a cray hook, but Gardiner said he only caught crayfish that he could grab cleanly. He did not explain why, but I was soon to find out.
We dropped down to 25m in water that was actually warmer than the air and almost as clear. The proliferation of marine life was incredible, with a curious swarm of fish following us around in case we disturbed anything edible. Gardiner took us to the first of several caves, and indicated there was a cray there waiting for me to grab.
Big enough to eat me
So I went to get my first South Island crayfish, expecting to be able to show my prowess as a hunter-gather. On the North Island, crays are grabbed with one hand, with the other hand trying to prevent them from backing away. As soon as I got into the cave I realised this was a very different proposition. Firstly, this was a monster — it looked big enough to eat me, not the other way around. Even if I grabbed it with both hands, I wasn't confident I would be able to hold on to it, and, of course, with both hands occupied I had absolutely no way to get it into my catch bag — which it wouldn't actually fit into anyway.
Even more disconcerting was when I approached the beast, it advanced towards me, totally unafraid. This was wrong — crays are supposed to run and hide, not issue an aggressive challenge. At this point I decided I needed to see how an expert did it, so I withdrew and indicated Gardiner should tackle the beast. With a withering look he entered the cave and firmly grasped the cray's horns with both hands. A furious battle ensued, stirring up so much sediment I couldn't see either of them. Eventually a crayfish emerged from the murk, still held firmly by a slightly ruffled Gardiner.
Gardiner had a South Island size catch bag (i.e. extra large), and I helped to get his bag open. Unfortunately, I misjudged the speed it could move and allowed it to latch onto my hand. I could feel my hand cracking and realised I could actually lose a finger if I did not extricate myself swiftly. Luckily, Gardiner had caught on to my predicament, and between us we managed to lever the claws apart and remove my profusely bleeding hand.
A good haul
For the second dive, Gardiner moved us to an alternative spot where he said there were more (but slightly smaller) crayfish. When we went down this time I was eventually able to find and catch my own cray, which was modestly-sized compared to his but huge by my own standards. In the meantime he managed to bag a few more, having brought down two catch bags this time. When we returned to the boat we had a total catch of five crays between us, including another monster and a third one only fractionally smaller.
The sea had come up a bit by this stage so we headed home, with the Everyman eating up the rising swell. By late afternoon we were nosing the boat onto the trailer, although it was well dark by the time we reached Nelson. Luckily the boat is easy to clean, and by the time I had dealt with rinsing the dive gear, Langdale had washed the boat and Gardiner had filleted all the fish. Job done.
So I was a very happy passenger on the flight home the next day, with two crayfish of nearly four kilos each in my luggage. These, plus a couple of kilos of fresh fish fillets, compensated for the hand that by now was throbbing and swollen. All in all, it was an experience that will be remembered for a long time.
SPECIFICATIONS

Everyman 635 Hardtop

Length

6.35m

Beam

2.35m

Deadrise

15°

Rated power

115 to 150hp

Hull thickness

5mm

Side thickness

3mm

Fuel capacity

150L

Engine as tested

Yamaha 150hp four-stroke

Trailer

Galvanised voyager tandem trailer

Packages from

$68,000
For more information on Everyman Boats, contact Russell Spiers on 027 492 7079.
For the latest reviews, subscribe to our Trade-A-Boat magazine here.
Keep up to date with news from Trade-A-boat or like us on Facebook!