Test: Jeanneau Leader 8 Azure Limited Edition
---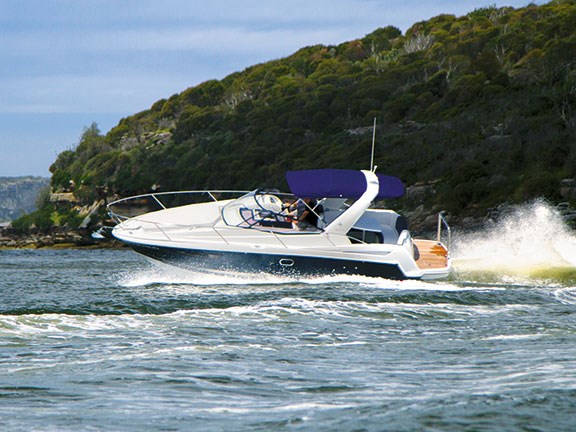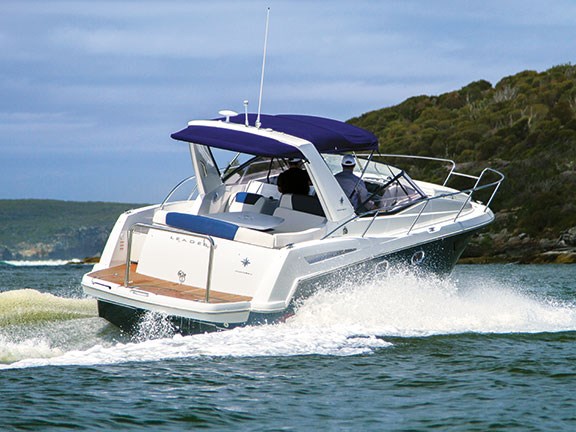 The 260hp Volvo Penta D4, with its high performance duo-prop, can pull almost 32kts — a fair clip in a three-tonner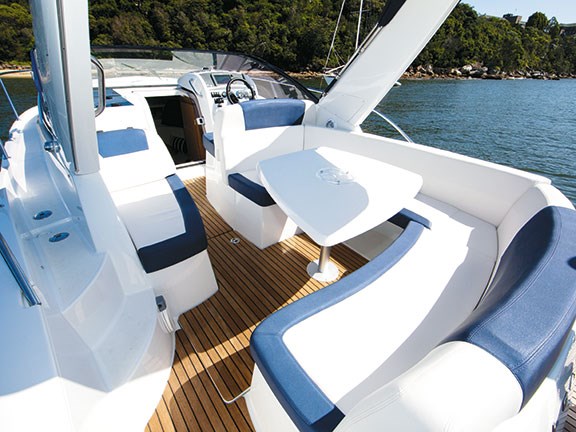 Every ounce of space is maximised for a comfortable, well-appointed weekend's cruising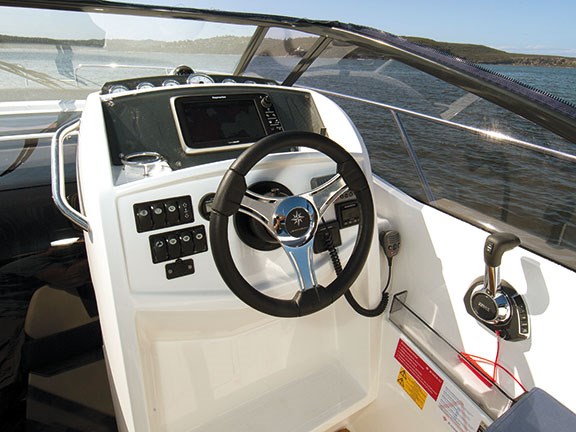 Sporty wheel is finger-touch light; good helm position and visibility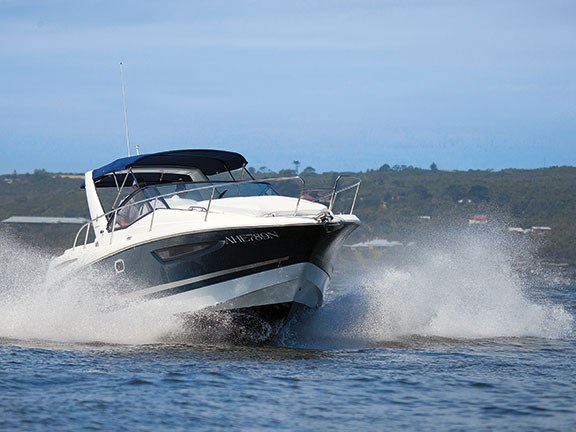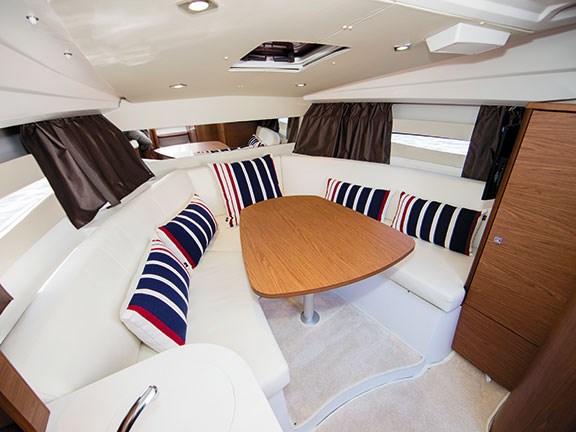 Spacious below decks: couch and table converts to second double bed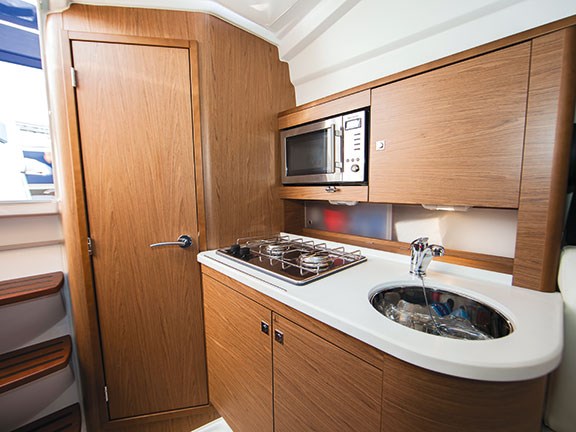 Kitchenette sits amidships opposite head; door down to cabin

After testing the Leader 10 last year, we thought we'd show you the eight-metre version, which is a heck of a lot of sportscruiser for the money. Comfortable, spacious and car-like to operate, it's well-priced family fun in the sun.
Strictly speaking it's not a convertible — a term implying the vessel is primarily a soft-top, only opened up occasionally when conditions dictate. It does close easily with a system of clears and a fold-back sun canopy, but really this is an open boat built to make the most of every glorious blue-sky opportunity.
I came to this conclusion while flipping the Leader 8 through a series of spray-throwing turns. With one hand feathering the growling Volvo Penta D4, the other resting lightly on the sporty wheel, it was easy to picture myself returning from a day of waterborne fun and frivolity. Best of all I knew the shutdown at the dock would be a straightforward affair involving not much more than a hosing and five minutes to zip the covers and clears back in place — too easy.
Effectively the smallest sportscruiser-style boat in the extensive Jeanneau range (there are at least 24 current models) the Leader 8 is seen as something of an entry-level boat in this class. Personally I don't like the term 'entry level' as it implies this is a learner's boat — somewhere to start your boating life but also a place you will quickly move on from once a few sea miles have slipped under your hull. Perhaps in Europe this is more appropriate, but given the fact many Kiwis are well-versed boaties by the time our European counterparts let go of Mum's apron strings, it doesn't really seem to fit down under.
Off the brochure
So while the Leader 8 is a perfectly good learner's boat, it's also a good match for a wide variety of experienced boat owners, considering their individual tastes and requirements. A case in point is our test boat — purchased by an individual with 18 years of boat ownership experience.
For this owner, the new Leader 8 represents an increase in size from his previous vessel, a Sea Ray 220 Sundeck bowrider. It's a familiar configuration offering overnighting space and room for the grandkids. Like the Sea Ray it also features sparky on-water performance in a hard wearing, low-maintenance package at the right price. For this customer, a shiny new Leader 8 was a no-brainer, so he went ahead and ordered it — straight off the brochure.
The Jeanneau Leader 8 is the smallest of three models in the range. The larger boats both feature hardtops and sunroofs rather than the 8's open-air approach. The flooring throughout is a timber called ayous, considered a more sustainable option than teak as it is cultivated on farms rather than being the product of continued rainforest devastation.
A reassuringly-large swim platform provides the ideal place to negotiate dockside hazards and for stepping aboard like a seasoned sailor. As usual we turned up with way too much gear, but I was pleasantly surprised with the way everything vanished below decks into a seemingly Tardis-like chasm.
Above decks, every ounce of space has been maximised. Deep and inviting cushions cover the five-seat, U-shaped aft lounger surrounding the compact dining table. These cushions, covered in a hardwearing and UV-resistant fabric called Silvertex, extend to a rear-facing three-quarter length recliner to port and the twin bench seat at the helm. Any space beneath these seats with the potential to be converted to storage has been, and, sensibly, if that space has been recessed or welled, drains have been added to ensure it doesn't hold water.
Back out on that substantial rear swim platform, Jeanneau has gone to a reasonable effort to ensure the Leader 8 has all the fundamentals required for a decent and fulfilling day on the water. This boat boasts a tender mounting frame, a stainless steel barbecue, a freshwater shower nozzle, a tow point and a nice little boarding ladder recessed under the platform's teak-covered top.
A swept-back and quite high targa arch adds to the boat's sporty lines and to its general presence. As usual it's adorned with an antennae array and could happily provide a home for a radar transmitter/receiver. Most importantly, this arch acts as a fixing point for the Sunbrella awning and cockpit cover, which can be deployed in a number of configurations to provide the optimal amount of shelter for the conditions.
Add in the sunbed on the bow and Jeanneau have done a nice job of eking the maximum potential out of a relatively compact configuration. As a day boat the Leader 8 would be a very comfortable proposition for a party of five.
More than a day boat
You might think the Leader 8 is a bit of a one-trick pony — a smart-looking, good value sportscruiser up for most things in the company of friends but keen to be back in the pen come twilight. Well, I suggest you think again.
Heading below is a bit of a head spin — it's quite disconcerting, really, as looking at the boat from the outside you really don't expect there to be so much space in the interior. It's a trick achieved by ensuring the engine is pushed all the way aft, freeing up space under the cockpit sole. Much like in a larger pod-driven vessel, the space where the engines used to be has been converted into a private double cabin complete with a small wardrobe and a low couch. You just don't expect to see this sort of thing in a boat with a hull length less than eight metres.
Outside this cabin is the usual U-shaped couch and table, which converts to another double bed, a functional kitchenette, fully-moulded toilet compartment and washdown sink. Add in the fact the saloon lounger and table upstairs also converts to a sunbed and you have sleeping room for five. In reality, five is probably too many to overnight on the Leader 8, but two adults and two children would be nice company.
Car on water
The Leader 8 is probably the most car-like boat I have driven to date. The helm position feels completely familiar and the sporty wheel is finger-touch light. I particularly liked the level of visibility available over the console — something to put novices more at ease when confronted by the randomness of boat traffic.
Power delivery comes in two options, either a single 260hp Volvo Penta D4 diesel or single 320hp Volvo Penta 5.7-litre petrol inboard, both pushed through a stern-drive unit. The Volvo diesel is more of an initial outlay but the fuel economy, reliability and longevity of the diesel far outweighs the petrol. The petrol engine does give a very slightly higher top-end speed (around 1.5kts) over the D4, but the latter, with its high performance duo-prop, can still pull almost 32kts — a fair clip in anyone's book.
For my 10 cents worth, the Volvo D4 is a hell of a good engine and one I've had quite a bit of experience with. I know builders who actually talk customers out of the slightly bigger-capacity D6 engine in favour of the D4 because the space it frees up is gold relative to the small drop in performance. In the case of the Leader 8, the D4 is putty in your hands by virtue of Volvo's superb fly-by-wire controller, and delivers a precise and smile-inducing ride that is bound to have you travelling further than intended just for the fun of it.
The verdict
In the Leader 8, the massive Jeanneau boatbuilding company has presented a craft offering few barriers to ownership. It's well put together, easily maintained and easy to handle, but the price is probably its most attractive feature.
The Leader 8 is a good boat and would suit newcomers, downsizers and time-poor water lovers equally well.
SPECIFICATIONS

Jeanneau Leader 8 Azure Ltd

Construction

Fibreglass

Type

Planing

Length overall

8.95m

Length of hull

7.94m

Beam

2.99m

Draft

0.55m

Weight

2939kg

Fuel

300L

Water

100L

Engine as tested

260hp Volvo Penta D4 diesel

Price as tested

$224,384

Priced from

$199, 000
For more information visit Jeanneau.com.
For the latest reviews, subscribe to our Trade-A-Boat magazine here.
Keep up to date with news from Trade-A-boat or like us on Facebook!