Test: McLay 591 Fisherman
---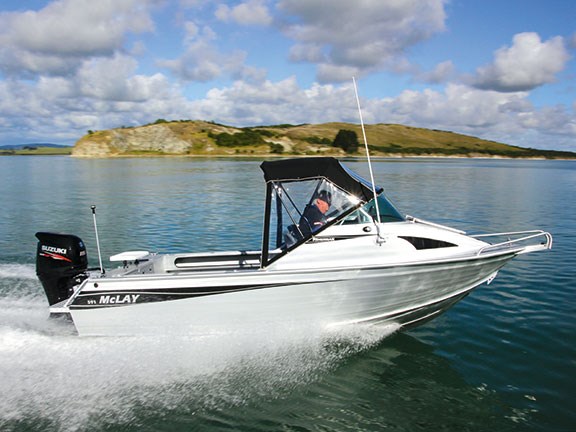 On mirror-calm waters in Whangarei Harbour we had to use our own wake for serious testing. Boat easily hits 40mph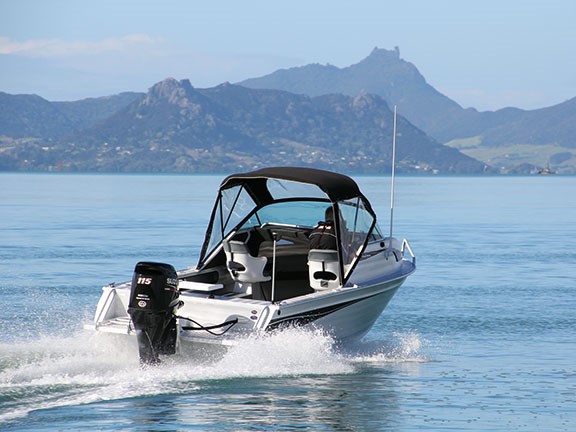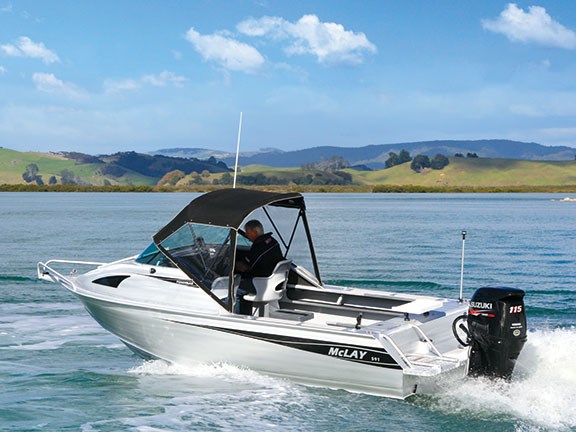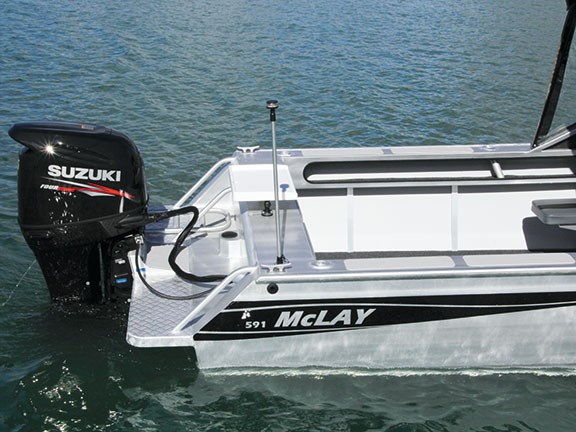 Very stable at rest: Chine simply settles into water with two occupants leaning over side. Suzuki DF155 smooth, quiet, very capable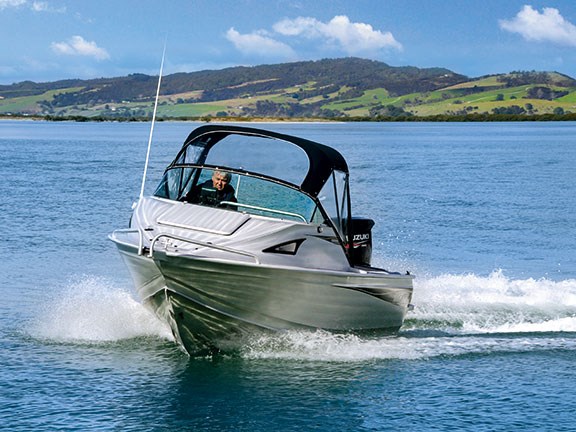 Pressed planing strakes and broad down-turned chines give stable ride. Distinctive sanded and acid-washed aluminium finish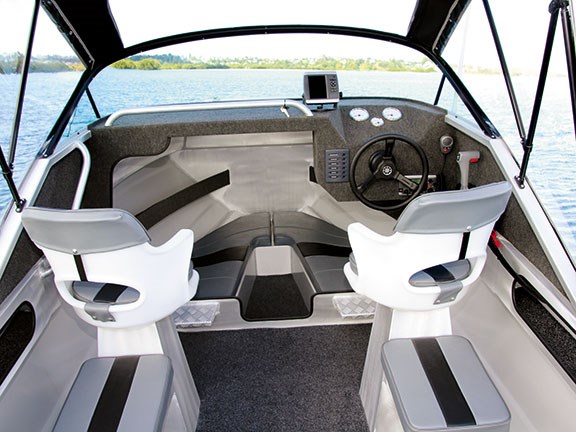 Well set-up helm. Storage in pedestals and below queen seats. Cabin offers seating and space for kids to nap. Huge aluminium hatch to foredeck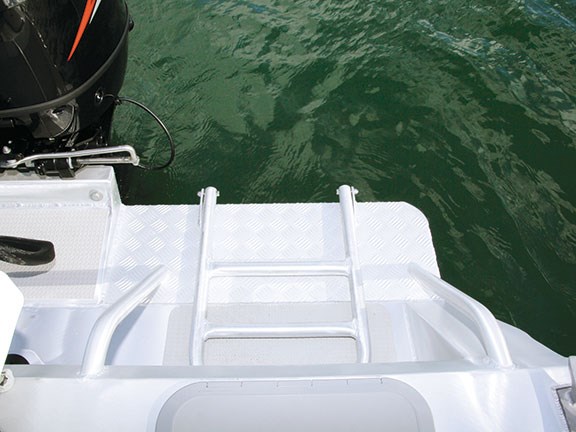 For its size, the 591 boasts a very large boarding/dive platform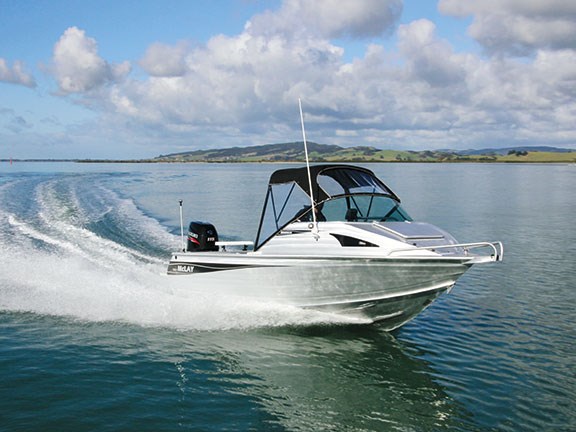 With their brushed and acid-washed aluminium finish, McLay boats stand out from the crowd in terms of looks. But it is their handling and stability that really set them apart.
Steve McLay has been building serious aluminium trailer boats since 1981, and the McLay factory in Milton, Otago, now boasts a range going from the 'baby' 461 up to the monster 1100 walk-around. Along the way, McLay has stayed true to its design criteria of safety, function and comfort.
All McLay hulls have a five-year warranty, and apart from its smallest model they all come with 5mm or thicker bottoms and fully-welded treadplate floors. These are seriously tough boats, pretty much built to last forever. McLay's cabinet full of boat show awards, as well as a booming export market in Australia and Europe, validates this winning design philosophy.
Yet despite being tough, no-nonsense workhorses, the McLay range has evolved a gentler side, with current models looking stylish and featuring the latest technology — still a serious fishing machine, but also refined enough to take the family out for the day or good enough to impress clients or colleagues.
The 591 is one of three new McLay models for 2013, although based on a modification of a proven hull. Featuring the same solid 5mm-thick hull and the same pressed planing strakes without welds to disturb the flow of water, this is another winner for the company.
Years to come
The review boat came in the now-standard McLay finish of sanded and acid-washed aluminium, resulting in a hull that is almost white in colour. A coating of Nyalic will keep it gleaming for many years to come. Of course, a full range of colour options is available, including custom graphics either painted on or applied as a vinyl wrap.
The model we tested came with the optional canopy and side curtains for additional protection from the elements. It was a calm, sunny day when we got to play with this new model, so the shelter was not needed. Hanging off the back is a gleaming black Suzuki 115hp four-stroke, which nicely offsets the canopy and black McLay graphics.
The forward cabin is a cuddy with bench seats, suited to day use or for the kids perhaps to curl up for a snooze. A huge aluminium hatch provides access to the foredeck for setting the anchor. A capstan was not fitted but a covered anchor locker provides secure stowage for the ground tackle, while a sturdy welded bollard ensures this stays attached to the boat. A split bow rail makes it easy to set and retrieve the anchor over the bowsprit.
The helm position is well set up, with moulded plastic seats for skipper and passenger. These are the type with moulded armrests and have comfortable vinyl-covered padding. The seats are on welded aluminium pedestals, which also provide a storage area underneath. A queen seat arrangement behind each holds the padded squab out on a welded extension completely clear of the floor, cleverly leaving that space available for stowing a chilly bin or something similar.
The review boat had a Garmin GPSmap 551s combination chartplotter and sounder on a swivel mounting, a flush-mounted Garmin VHF radio, and the Suzuki gauges fitted. Although the way the gauges have been located does not allow for a flush-mount chartplotter, a slight re-configuring of the dash area would accommodate up to an eight-inch screen. A curved Perspex windscreen keeps wind and spray off, while the canopy and clears provide a snug area sheltered from the elements.
Fisherman-designed
Back in the cockpit we found gunwales clearly designed by a fisherman. A carpet-lined parcel shelf, with a lip to stop items rolling out, had a rubber strip along the edge to save fingers from scratches. Horizontal rod holders with Velcro retaining straps hold items clear of the floor, and these can hold rods, boat hook, cleaning brushes or a gaff. The top of the gunwale had anti-slip pads stuck on, while flush rod holders welded into the gunwale did not get in the way of comfortable perching. The only gripe is that a few more rod holders would be welcome.
In the transom, a double locker hides the battery, main switches and fuel expansion tank. This last is a feature not often seen — when the fuel tank is filled to capacity (and let's face it, we all do this when preparing for an extended trip, especially early in the morning) the expansion tank allows the fuel contents to expand as the day warms up, without spilling petrol into the environment.
A live-bait tank is fitted into the port side of the transom. We noticed there was no hatch through the transom, but Warren Hay of Warren Hay Marine, supplier of the review boat, says that was his personal preference. "I prefer to have the live-bait tank and forgo the step-through onto the boarding platform, but other configurations are available."
A large baitboard was fitted into two Railblaza ports mounted on the transom, and Hay says he prefers to use Kiwi-made accessories as much as possible. Since the Railblaza system is well made and extremely versatile this is a no-brainer when accessorising the boat.
Tucked under the transom is a high-volume bilge pump, and for our test we also had two tote tanks hiding out of the way. However, the boat comes standard with a 130-litre underfloor fuel tank, so the space occupied by the tote tanks could be used to hold dive cylinders, fish bins or other bulky items.
The boarding platform is one of the largest I've seen on a boat this size, and could comfortably and safely accommodate an angler. McLay's description of this area as a dive platform is justified, as the treadplate surface is large enough for scuba divers to fully kit up while seated on either side of the motor. A wide boarding ladder swings down on the port side when needed, and grab rails run from the boarding platform to the top of the transom. There's also plenty of space to walk behind the motor from one side to the other.
Arrow-straight
We slipped the boat off its custom-built Toko multi-roller single-axle trailer — thanks to a Trailer Mate self-launch and self-hitch mechanism, this can be done singlehandedly. Out on the mirror-calm waters in Whangarei Harbour we had difficulty finding any rough water to put the hull through its paces. On the other hand, we were easily able to get the boat up to 40mph in the perfect conditions.
The hull tracked arrow-straight, even with hands off the wheel, and yet responded easily when the wheel was turned. Although fitted with a conventional cable mechanism, the steering was light and positive.
The behaviour of the hull in turns was interesting, with the hull tracking far more horizontally than most monohull boats. Trying to get it to heel over for photos proved nigh on impossible, and this hull is definitely the most stable while underway I have ever seen. In addition to the pressed planing strakes, the hull has broad down-turned chines, and these no doubt work together to give the stable ride. Their perfect smoothness, impossible to achieve with a welded strake, also results in almost no spray.
We eventually managed to create our own waves by turning a few tight donuts, and, while hardly a heavy sea, the hull tracked well through these. There was very little hull noise, despite the unlined cabin, and this is a reflection of how solid the boat's frame is. With virtually no flex there is no opportunity for panels to bang and create a racket, resulting in a quiet and assured ride.
The Suzuki DF155 motor was smooth, quiet and extremely capable, and I suspect this boat would be well powered, even with a greater number of people and a full load of gear on board. McLay says the hull is rated for between 90 and 150hp, and while the lower end would be an option for those who are cost-sensitive, there may be little justification in going much above the 115hp of the review boat.
On one side
At rest the boat was stable, although we were very lightly loaded and it sat higher in the water than it might normally. When two of us leaned over the same side the chine simply settled down onto the water, and it looks like further weight over the side would make little difference to the overall lean.
We were not able to test fuel efficiency, but the economical four-stroke Suzuki should be capable of well over 100 nautical miles from the underfloor fuel tank. These big-displacement motors (at 2044cc, bigger cubic capacity than the same competitor versions, although at almost exactly the same weight) provide lots of low-end grunt for healthy acceleration. The Suzuki offset driveshaft is also said to provide good balance, and we found the motor lived up to these claims.
This is an extremely well-made boat with a beautiful finish. The ride is exceptional, and the boat has a number of features that show the designers are true fisherman with years of experience in what works and what doesn't. The towing weight is moderate and launching is easy, even by one person.
SPECIFICATIONS

McLay 591 Fisherman

Material

Aluminium

Length LOA

5.95m

Beam

2.20m

Hull thickness

5mm

Sides and top

3mm

Fuel capacity

130L underfloor

Power range

90 – 150hp

Motor fitted

Suzuki DF115 four-stroke

Towing weight

1300kg dry weight (approx)

Trailer

Toko galvanised multi-roller with Trailer Mate self-hitching mechanism

Electronics

Garmin GPSmap 551c colour chartplotter/fishfinder Garmin VHF

Price as tested

$59,995
For more details contact Warren Hay Marine in Whangarei on (09) 430 2666 or visit mclayboats.co.nz.
For the latest reviews, subscribe to our Trade-A-Boat magazine here.
Keep up to date with news from Trade-A-boat or like us on Facebook!