Test: Stabicraft 2100 Supercab
---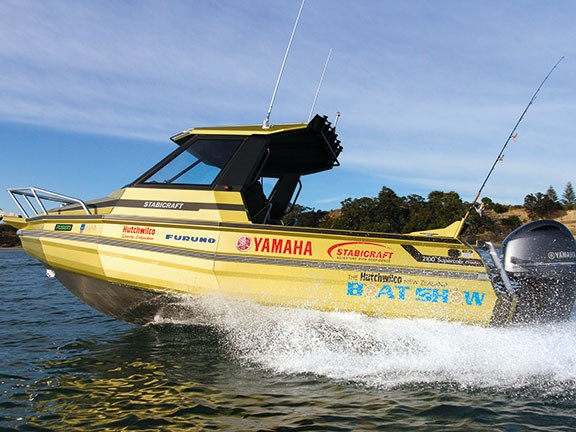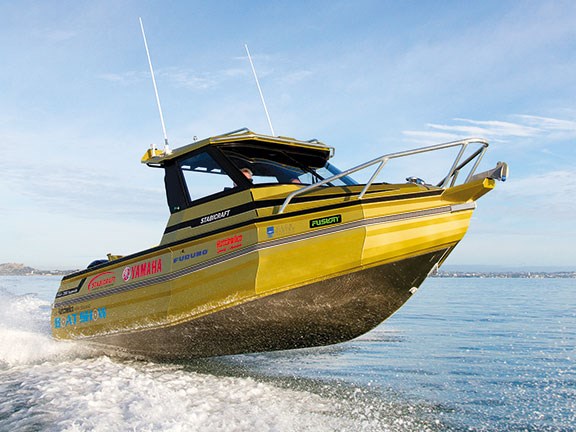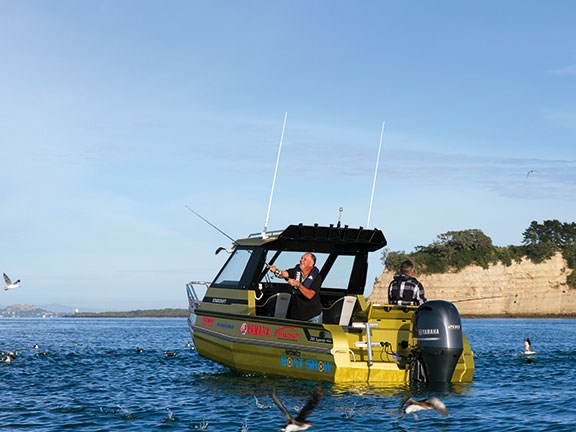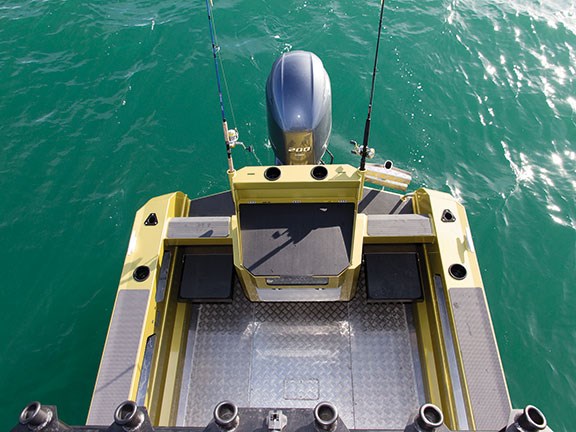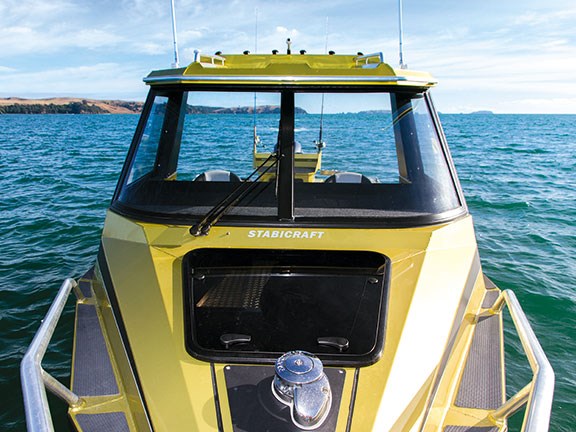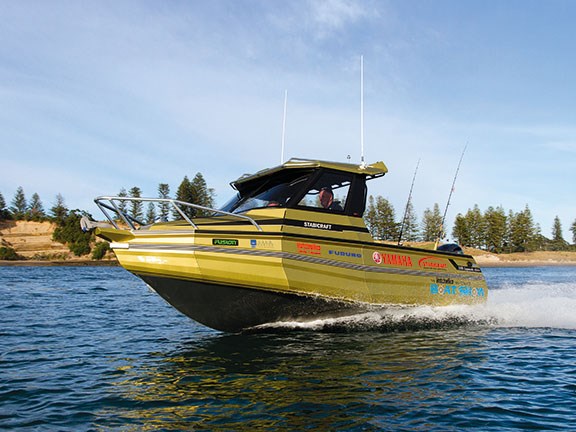 Not only is Stabicraft's 2100 Supercab safe, stable and a fisherman's dream, it was also the gate prize at this year's Hutchwilco Boat Show. Matthew Jones managed to sneak on board before the lucky ticket draw and had to be pulled off kicking and screaming.
One in 3,838,380. According to the Lotteries Commission that's the odds of winning first division in Lotto — pretty grim. The odds of winning Big Wednesday with the bach, boat and tow vehicle are even worse: one in 31,781,400!
Thanks to the generosity of Stabicraft, Yamaha, Mudgway Trailers, Furuno, Fusion, Uniden, Hutchwilco and Club Marine Insurance a golden opportunity was on offer to win a tricked out Stabicraft 2100 Supercab at this year's Hutchwilco Boat Show. If you went to the show and entered the draw, the odds of winning were significantly better than those for Lotto: around 1 in 18,000 as, surprisingly, only half of the 36,000-odd people who walk through the gate actually enter. I guess there's no helping some people.
Hunt, gather, enjoy
Fishermen and fisherwomen who crave the sweet sound of line peeling off a reel will find plenty to love about the 2100 Supercab, starting with the large and very accessible live-bait tank taking pride of place in the well-designed business end. A large filleting-friendly bait board doubles as the lid and a couple of rod holders, knife slots and drink/tackle holders are close to hand. The wide, non-skid-covered gunwales make good perches and provide four additional rod holders (with matching refreshment/sinker holders).
There's plenty of uncluttered fishing space inside the secure cockpit, with storage for a further six rod holders in the overhead rocket launcher. The hardtop roof itself features a full wrap-around grab rail and roof rails, so dive gear can be securely strapped down out of the way. While the hardtop does encroach on casting space amidships there's still plenty of room aft, and the extra protection it affords is valuable in Stabicraft's home waters down in Foveaux Strait.
Anchoring's as simple as flicking the switch to awaken the Maxwell RC6 Capstan — it's standard so there shouldn't be any crew complaints when shifting spots. If you do have to send a crewmember forward there's excellent access through the large front hatch, non-skid all round and a rock solid bow-rail.
Cantilever seat bases provide easy-access storage below and allow the entire cockpit floor to be easily hosed out at the end of a successful fishing trip. With that in mind, all 2100 Supercabs have provision for a saltwater wash-down pump as standard (our prize boat had one fitted).
In the interests of safety there's no transom walk-through, but the rear seats with non-skid act as a secure step down into the cockpit — plus they fold up to maximise available cockpit space.
With Yamaha's brilliant new 200hp four-stroke and 200-litre fuel capacity you can happily troll for days at five to seven knots using under five litres per hour. If you do hook up then the Game Chaser Transom comes into play: the clever new design increases displacement aft while sharpening the entry for more precise reverse manoeuvres, allowing the boat to be turned on a length.
If the fishing or weather's too good to head for home then overnighting is possible on the 1.8-metre double berth. All the stylish vinyl squabs lift out to access good storage below and a toilet can be added if required.
Potent performer
I was privileged enough to get on board this boat prior to the Hutchwilco Boat Show. Conditions on the test day were nothing short of glassy, and the impending grey clouds stayed away just long enough to showcase the metallic-gold paint job. We even stumbled across a few hungry birds feeding on anchovies, but unfortunately nothing of substance was lurking below for lunch in the time we had available.
At the helm the oversized dash provides plenty of space to fit one or even two big screen displays with room to spare. A further full-length dash pod above provides more than enough room to mount the Yamaha digital gauges, Uniden VHF and Fusion stereo. The volume knob was given a good twist, belting out great sounds thanks to the four speakers encased in aluminium. Taking care of business just happened to be playing on the radio — and you certainly could with this boat at your disposal.
Speaking of pleasing sounds, Yamaha's new 200hp four-stroke produces throaty tones that can only be described as wicked and certainly excited my inner petrolhead. Its responsive torque launched the 6.4m Stabi onto the plane and up to 45 knots in neck muscle-tweaking fashion. The performance figures speak for themselves, and at idle this frugal yet feisty outboard purrs away nicely in the background — which I think is better than the dead-silent types.
Thanks to the Game Chaser Transom, the full trim range can be used to allow precise control. The downside is that, to avoid prop cavitation, you need to remember to trim down before throwing her into the types of hard turns these hulls eat for breakfast. Classy and comfortable helm seats combined with great vision through the curved glass windscreen, 1.9m headroom and the super-responsive outboard make helm-time a lot of fun.
While our review day didn't present much of an opportunity to really test the ride, after being in Foveaux Strait twice in smaller open Stabis in rough conditions I can personally vouch for these boats' superior rough-water capabilities. Given this golden boat has the added protection of the hardtop, the new Arrow Pontoons (which soften the ride), and Game Chaser Transom — plus the fact it's the slightly smaller brother to Trade-A-Boat's Boat of the Decade, the 2150 Supercab — I'd have no reservations recommending its rough-weather ability.
Innovative excellence
Stabicraft has over 26 years' experience in building tough, safe, stable and exceptionally capable pontoon boats from its state-of-the-art factory in Invercargill — gateway to Bluff and the treacherous waters of Foveaux Strait. Proving grounds don't come much more challenging than that.
The design team's latest round of innovations includes the new Arrow Pontoons. They've softened the ride by moving the shoulders — where the side pontoons meet the water — further aft, while maintaining excellent stability. Very clever indeed.
This work hasn't gone unnoticed by overseas markets, and over the past quarter-century Stabicraft's customer base has grown to include not only Kiwi adventure-seekers but also a healthy fan-base in both Australia and North America. It's for this reason a full-time compliance person is employed to ensure all current models meet New Zealand CPC, Australian Builders Plate and American Coastguard standards.
The last word
With its clever innovations, Stabicraft's 2100 Supercab boasts excellent fishability, safety and all-round usability. Sure this one's gold in colour, but it's also gold in nature. With the new 200hp Yamaha four-stroke on the back it's a potent performer boasting a great pedigree. It's certainly one hell of a prize for one very lucky winner.
Lightweight powerhouse
Yamaha's all-new F200F is currently the world's lightest 200hp four-stroke outboard, weighing in at just 227kg. This gives the clever new engine the best power-to-weight ratio of any 200hp four-stroke on the market.
The F200F features a brand new powerful 2.8-litre, four-cylinder, double-overhead camshaft engine, variable camshaft timing (for increased torque and fuel efficiency), Yamaha's Variable Trolling RPM Switch (VTS), a 50-amp alternator and Yamaha's patented Shift Dampener System (SDS) for smooth gear changes. Partnered with Yamaha's new Reliance series of stainless steel propellers it's a potent combination sure to impress.
The F200G is due soon, which will have all the same great features of the F200F but will be further enhanced with Yamaha's digital electronic controls (drive by wire) and the ability to connect to Yamaha's high definition colour display.
SPECIFICATIONS

Stabicraft 2100 Supercab

Construction

Aluminium pontoon

LOA

6.4m (21ft)

Ext. beam

2.3m

Int. Beam

1.8m

Maximum adults

Seven

Length on trailer

7.35m

Height on trailer (approx)

2.8m

Pontoon thickness

3mm

Hull plate thickness

5mm

Dry hull weight

800kg (approx)

Towing weight

1900kg (approx)

Transom deadrise

20˚

Leg length

25"

Engine as tested

Yamaha 200hp four-stroke (F200F)

Recommended hp

130hp (200hp max)

Fuel capacity

200L (under-floor)

Price as reviewed

$110,000 (including freight to Auckland)

Packages priced from

$89,000 with Yamaha 150hp four-stroke (including freight to Auckland)
For more information contact your nearest dealer on 0800 4 STABI (0800 478 224) or visit stabicraft.com.
For the latest reviews, subscribe to our Trade-A-Boat magazine here.
Keep up to date with news from Trade-A-boat or like us on Facebook!