Test: Fish City FC640
---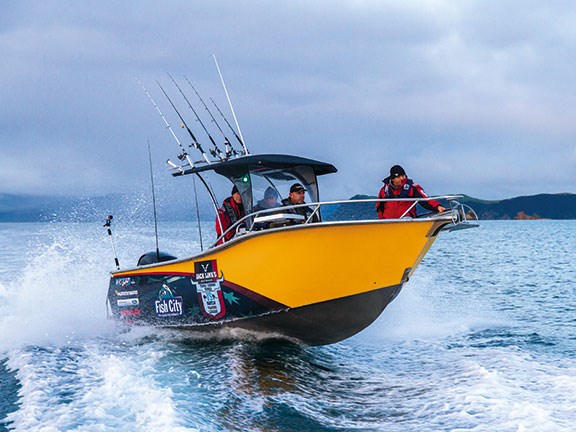 Ride is well behaved and impressively smooth when boat is thrown around and meets wake at speed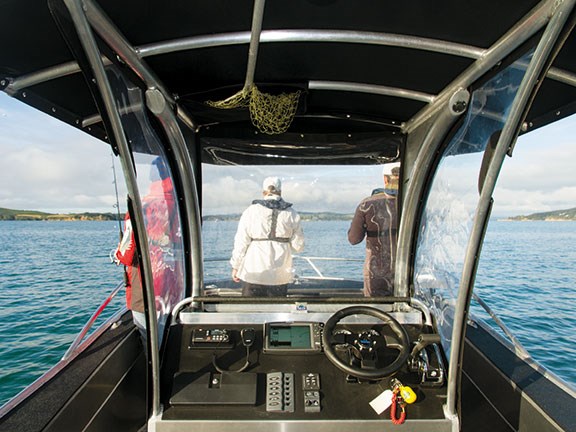 Extra-large dash provides ample space for lockable glove-box, VHF, Humminbird 958c HD Di 8-inch screen, gauges, multiple switches. Clears provide good protection for four.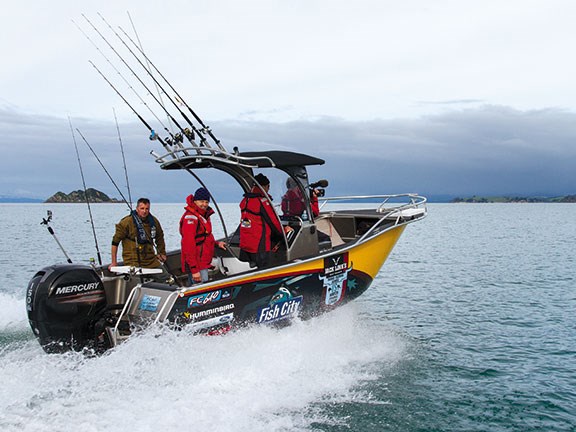 Even with five blokes, heaps of gear and 200kg of ballast on board she gets along at 21 knots at 4000rpm and 30 knots at 5500rpm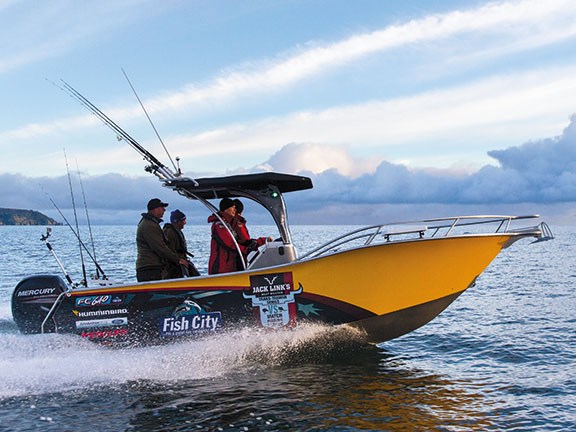 200-litre ballast tank keeps bow down, forcing fine entry to pierce through slop — a more comfortable ride in the rough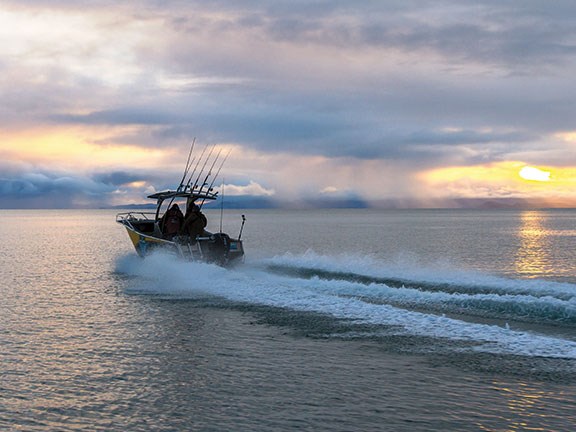 Into the dawn: FC640's first ever outing showed us an extremely capable and practical fishing machine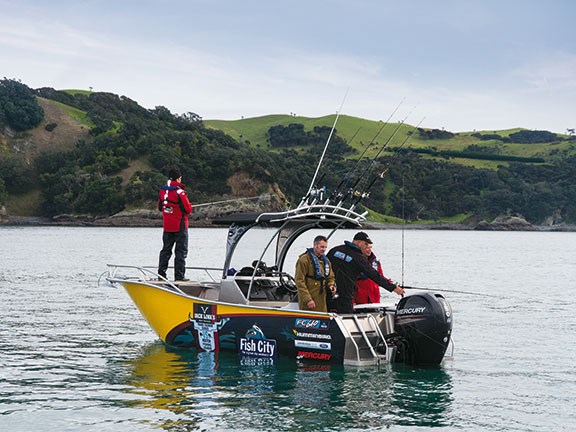 Flooding keel and gullwing hull design provide impressive stability at rest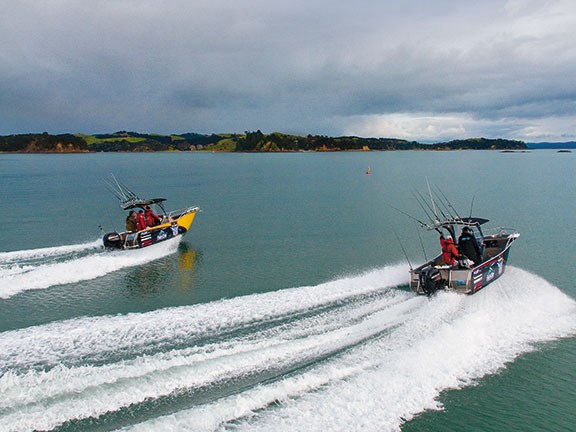 Two purpose-built fishing boats give us a taste of the upcoming Match Fishing League and trans-Tasman Series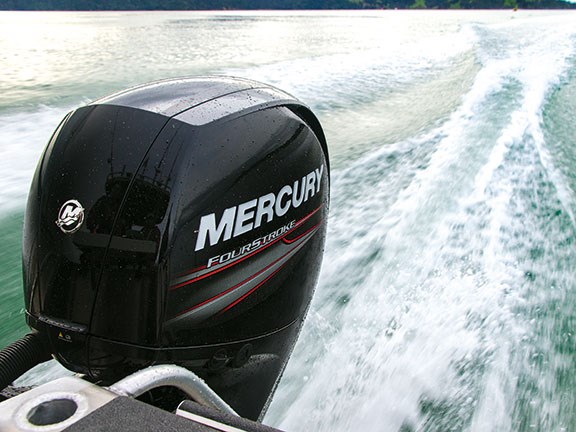 Mercury 150hp four-stroke provides plenty of torque when we need it, getting on the plane quickly even with a full load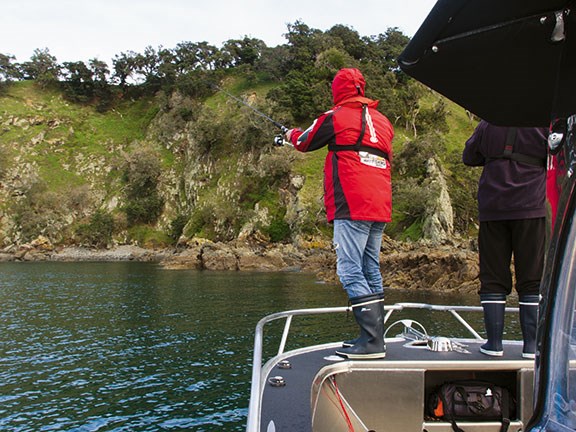 Great stability and non-slip makes bow a great work spot on this dedicated fishing platform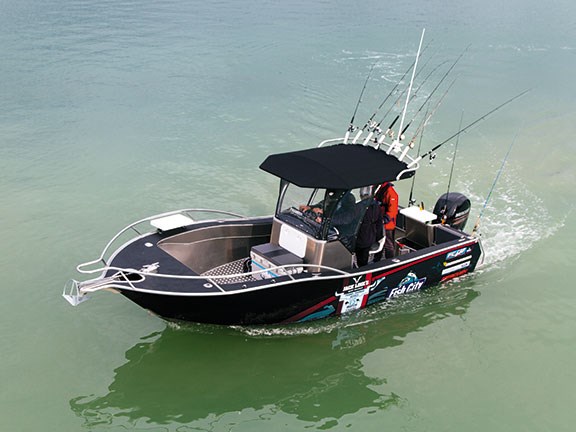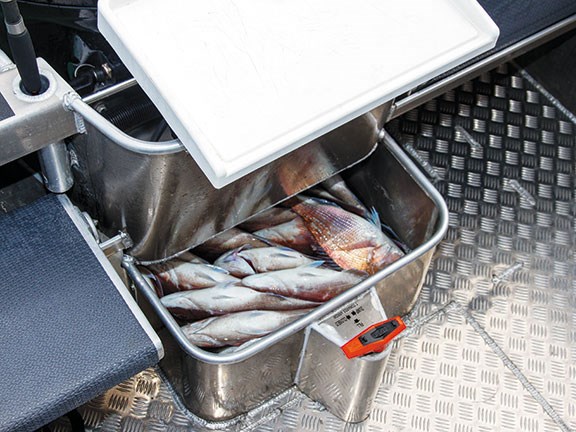 The opposition won the match 27 to four; catch kept in live-bait tank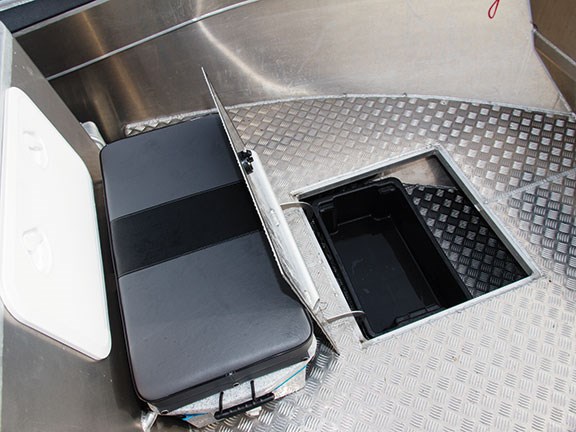 80-litre chilly bin seat with comfy squab in front of console. Storage space ample for five.

With two of Fish City's new FC640s being appointed the official boats for the 2013 series of Match Fishing League, a warm-up match/boat test was in order. But would team Trade-A-Boat come home gloating or beaten to a pulp?
Serious fishing requires serious boats, and they don't come much more resolute or innovative than the new FC640 from Fish City. In fact, a boat this deadly serious about fishing requires a fitting test, so a warm-up match was scheduled to experience these boats as they'll be used in combat for both the Jack Links trans-Tasman Match Fishing Test Series and the 2013 Match Fishing League.
The Match Fishing format puts two competing teams (of three anglers per boat) in a time-restricted battle of wits, skill and sometimes luck, all the while being filmed for TV. A pressure cooker of sorts, with multiple fishing disciplines and production deadlines requiring a tough, capable and versatile boat — and they couldn't be happier with their new FC640s.
With regular Match Fishing League team captain Terry Williams King stuck at work and Trade-A-Boat editor Chris Lorigan off gallivanting around Europe, I called for reinforcements in the form of our former editor, Jeff Strang (now editor of Trade-A-Boat Australia). We were joined by actor/presenter Bruce Hopkins, cameraman Graham Ralphs and another boating journo/expert fisho whose name I'm not allowed to mention as he works for the opposition — top bloke, though.
A stupid o'clock start was required to out-smart Auckland's rush hour traffic and meet the other anglers at Kawakawa Bay for a 7am kick-off. The weather wasn't tropical, with persistent drizzle, patchy fog and pitch black country roads bringing out that wonderful 'where the hell am I' feeling whilst cursing my GPS for its lack of direction.
Once all crew members had found their way, and with the rain and fog clearing, both boats were launched at sunrise and we headed off in search of some elusive point-scoring fish.
The Match Fishing test
Mid-winter combined with a full moon meant the fishing was never going to be easy, but we were hopeful of coming across a work-up to increase our chances. The adrenaline certainly kicked in when we spotted not one, but two work-ups to choose from — how could we go wrong? Hmm…
While the sound and spectacle of gannets dive-bombing all around is always breathtaking to behold, it appeared we'd gone to the wrong party, as the VIP guests never showed up. Feeling a little rejected we had to leave the birds to their lunch and resort to wash fishing. This is where the raised casting platform was invaluable: with the all-round non-skid, two anglers can enjoy the prime position while casting soft baits as we drifted precariously amongst the rocks.
This was also where the Mercury 150hp four-stroke with its stress-free starting and quiet running was vital, as we didn't spook the resident targets. It also provided plenty of torque when we needed it, getting on the plane quickly, even with a full load. With five blokes, heaps of gear and 200kg of ballast on board we were getting along at 21 knots at 4000rpm and 30 knots at 5500rpm.
At the helm, the extra-large dash provided ample space for a lockable glove-box, VHF, Humminbird 958c HD Di 8" screen, gauges, multiple switches, the adjustable steering wheel and throttle with room to spare. While the clears reduce visibility slightly when up, they provide good protection from the elements and a safe haven for four fishos to shelter behind.
With our crew of five on board, storage was well and truly tested by five tackle boxes, about 15 rods (wasn't there some rule about two rods each...), backpacks, a couple of thermos flasks and a few packets of Toffee Pops, all stashed away within the large centre console, front storage compartment and 17 rod holders.
A fine haul
These great new boats have plenty of features to keep fishos happy. An 80-litre chilly bin seat with a comfy squab secures to the front of the console. Railblaza ports allow the bait board to be mounted either side and a handy net holder is ready for action under the big bimini top. The front corners of the bimini have been removed to reduce the likelihood of taller blokes collecting their foreheads on the way past.
With a saltwater washdown hose neatly housed within the console and enough length to hose out the whole boat, keeping the deck clean was easy. All FC boats have passive live-bait tanks operated by the natural motion on the water, so you don't need to worry about running a pump all day long. Unfortunately, we didn't have much use for ours on the day but the other team almost filled theirs to capacity and used it as a slurry tank for their 27-snapper haul.
The transom seats fold out of the way when not in use, allowing you to get right into the corners and brace yourself against the thigh-height gunwales. The boarding platforms have been purposely kept as small as possible to allow a rampaging kingie to be pursued right around the boat.
This was the first proper outing for the FC640. As tested, the angle of the rod holders on the rocket launcher meant they impacted on casting space from the stern, while an incorrectly-installed handle meant we couldn't discharge our ballast (the other boat didn't have this issue). The day after our test, Fish City boss Ross Christensen towed the boats back to base and addressed these issues, which leaves little to complain about and is testament to the company's commitment to offering the best fishing boat possible.
Innovative thinking
When it came to designing the ultimate weapon, Christensen started with the concept of having a centre console big enough for four people to shelter behind while still remaining within the maximum road legal 2.5-metre beam. This required some innovative thinking and is where the large flared bow and raised sheerline came to fruition, giving this battleship an impressive presence and an impressive amount of working space.
Within the bow is a 200-litre ballast tank, which can be filled or emptied when underway by simply twisting the handle. This adds an additional 200kg of weight where it counts, keeping the bow down and forcing the fine entry to pierce through slop to provide a more comfortable ride in the rough. It can be locked off to seal the ballast in, or on calm days can be kept closed for better performance and fuel economy. There's also an underfloor compartment that can safely store the fattest 15-litre steel dive tanks.
Unlike the FC600 (tested in July 2013), the FC640 doesn't have clear piping to indicate when it's full. Apart from feel, the only way you know it's at capacity is by the unusual spray coming over the bow from the overflow outlets — great for playing tricks on unsuspecting mates enjoying the view up front, but some sort of gauge would be nice.
With the centre console design allowing multiple anglers to move where they please, stability at rest is very important. On the FC640 this is bolstered by the two-thirds-length flooding keel with its innovative seat pedestal air vents, which allow for quick ejection when the power comes on. When combined with the gullwing hull design, this gives the FC640 impressive stability at rest (we had four fully-grown anglers on one side at times with little discernible lean) while not hindering the boat's ability to quickly get on the plane. Not to be confused, the rear flooding keel and front ballast tank perform different jobs but both complement each other very nicely.
Tough as it gets
There's tough, there's Jake the Muss and then there's the FC640. Everything on board is titanium solid (including the bimini top frame and fully-welded rod holders) with a 5mm bottom, 4mm sides and fully-welded treadplate floor, stringers and ribs ­— effectively it's built like a tank but rides like a Roll-Royce. In the interests of safety there's also underfloor buoyancy, and Christensen says the six-metre waterline length allows the FC640 to be put into 'under six-metre survey' for commercial use.
The optional vinyl hull wraps look great and can be decorated to your taste. Like paint, you can still chip or scratch it, but it can be easily repaired by a signwriter. Of course, black definitely looks better than gold for a trans-Tasman match fishing boat.
With time called on the fishing and team Trade-A-Boat graciously admitting defeat, it was time to get the cameras out to capture the FC640s in action. Christensen took the helm while we all took a seat and hung on, the FC640's hull displaying impressive grip as Christensen skilfully threw the big centre console around like a man possessed. While conditions were calm the ride was well behaved and impressively smooth when we met with wake at speed. While occupying one of the transom seats I could see a face full of spray coming on a few occasions but the external gunwale stepped in and knocked it for six.
If you're looking for a serious boat capable of extremely serious fishing, then the FC640 is bound to impress. All the match-hardened fishos, TV presenters, camera crew and picky boating journalists on both boats were thrilled with its capabilities. Sure, centre consoles are exposed to the elements by design, but this one with its big double console, full wrap-around clears and plus-sized bimini top offers the best of both worlds.
Oh, and by the way... congratulations to team Fish City — Ross Christensen, Peter Elliott, Mal Williams and Jon Hewson — for finding a work-up that worked and for well and truly kicking our arse — 27 snapper to four.
For more information contact Ross Christensen on (07) 846 6675, email ross@fishcity.co.nz or visit fishcity.co.nz.
For the latest reviews, subscribe to our Trade-A-Boat magazine here.
Keep up to date with news from Trade-A-boat or like us on Facebook!