Fi-Glass Warrior Outboard Hardtop
---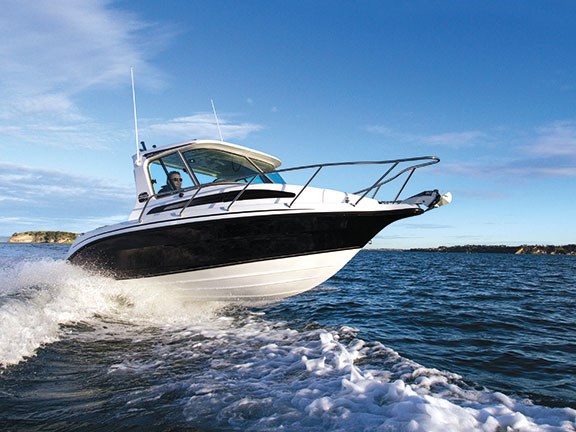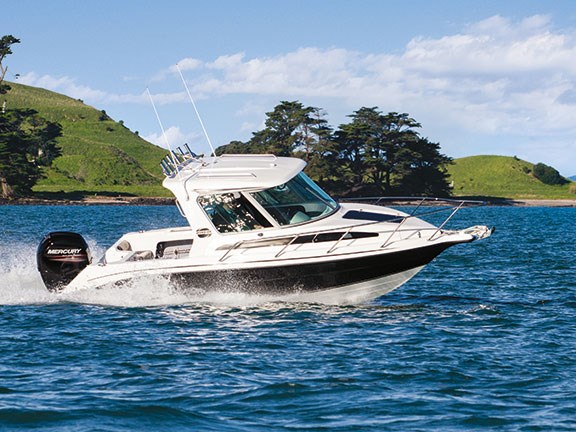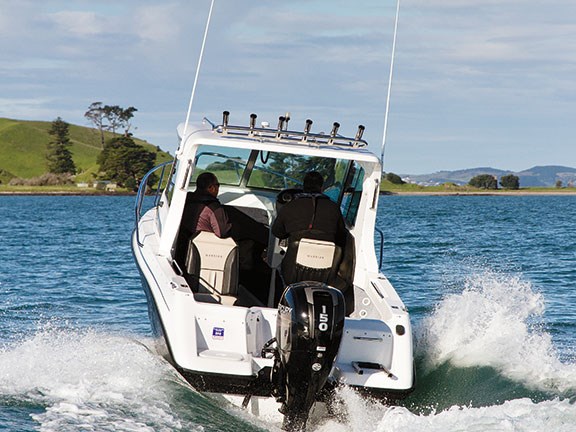 Generous headroom, great comfort and excellent all-round visibility; hardtop perfect for all-weather boating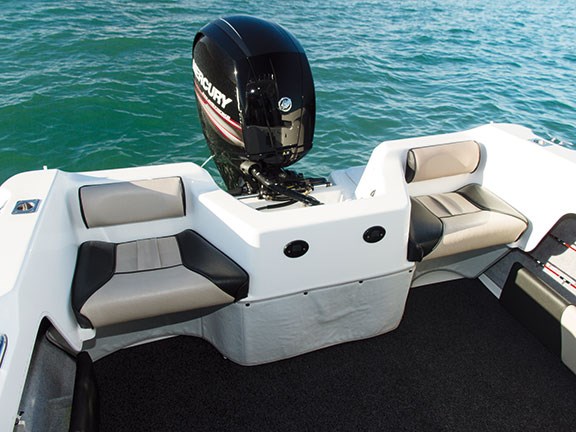 Comfortable seating throughout; Portofino transom with boarding ladder and live-bait tank; factory ski-pole an option and attaches to the bait board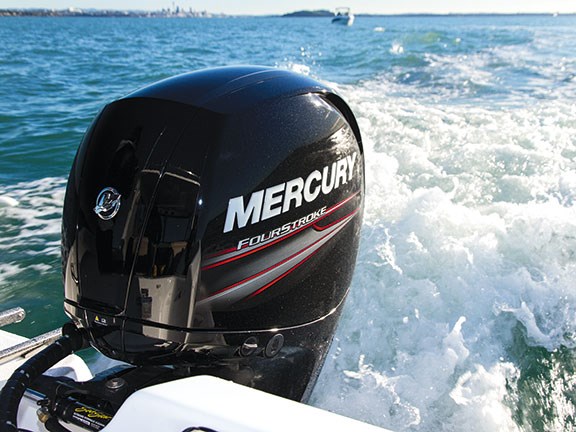 Mercury 150hp four-stroke provides plenty of power with good fuel economy (0.86 litres per NM@3500 for 22 knots) with three POB. Top speed on the day: 40 knots at WOT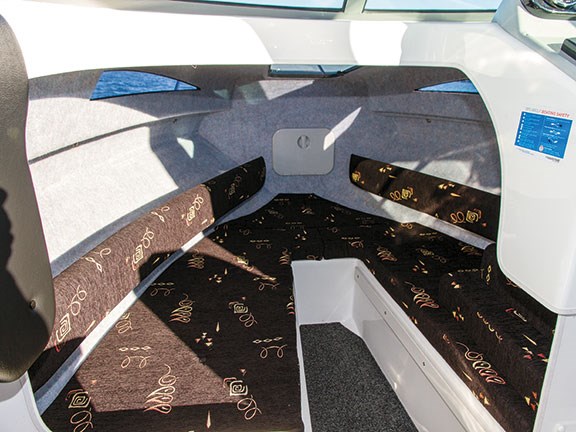 Extra-long berths with infill; good cabin storage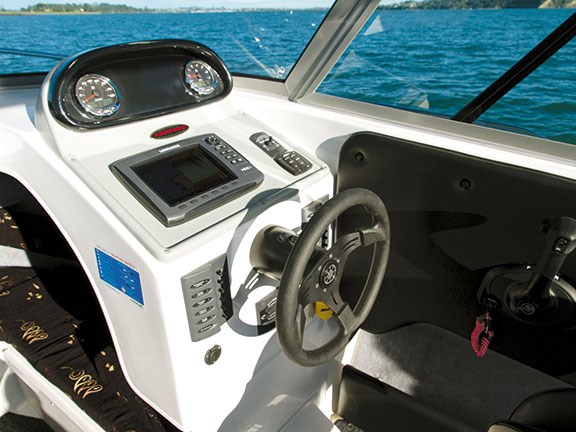 Seastar hydraulic steering. Lowrance HDS8 GPS/fishfinder with room to go bigger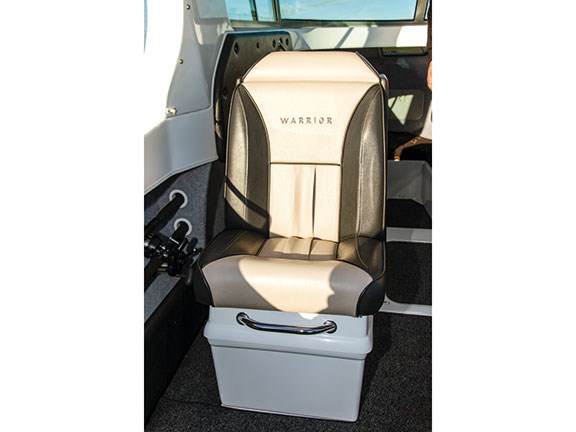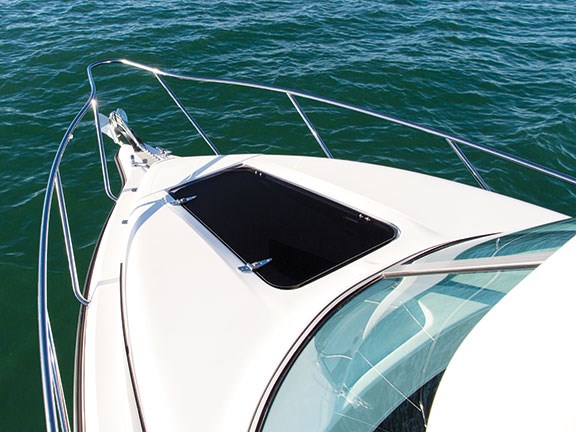 Winter getting you down? Longing to get away from it all? Been too long since you wet a line? This Kiwi classic might be just the ride you need to beat off the winter blues.
Let's face it, winter's depressing enough without having to stare longingly at your boat sitting in the driveway, cover flapping in the wind, as you pray for warmer weather so you can load up the rods and hit the water again. But it certainly doesn't have to be this way, especially when you can enjoy winter boating without wind chill.
It's for this very reason Fi-Glass released a hardtop version of its popular Warrior model in 2010, so loyal customers could enjoy year-round boating pleasure, even in the cooler climates experienced around the 'mainland'. Proudly New Zealand made in Christchurch for over 50 years, the Fi-Glass range offers Kiwis value-for-money boating without having to compromise on quality.
The legendary Fi-Glass Warrior hull remains unchanged, while they've cleverly designed a hardtop addition that gives the benefit of superior weather protection without the drawback of added weight up high where it's least wanted on a boat. It's lightweight, fully composite constructed, filled with Divinycell foam and seamlessly joined. Of course, with a hardtop there's always increased windage, which is why trim tabs are standard on all Fi-Glass Warrior Hardtops.
Full composite construction means zero chance of rot and allows Fi-Glass to offer an industry-leading six-year hull warranty. "We're the only manufacturer in the country running a Divinycell foam-cored transom, which means there's no wood used in our boats at all," adds Fi-Glass managing director Griff Simpson. The hull is foam-filled for buoyancy and a quiet ride, and all Fi-Glass boats are also CPC rated.
Being an addition rather than a complete redesign, the hardtop can look proportionally large from some angles, but that's quickly forgotten once enjoying the generous headroom, great comfort and excellent all-round visibility while giving the weather gods the one-fingered salute. The windscreen is manufactured in the US with a special curved design resulting in just a single mullion down the centre for great visibility. It also allows either a single or dual wiper setup to be easily fitted.
A Campa seat is optional, which is proving very popular across the ditch. This functional add-on includes a sink, two-burner gas hob and 50 litres of freshwater in a tidy all-in-one unit that incorporates the passenger seat. A fully-enclosed canvas cover is standard, which turns the Warrior Hardtop into a cosy getaway machine for two.
Knife edge
Fi-Glass boats use a variable longitudinal deadrise, which allows for a very fine entry that quickly flares out, moving aft to cut through the chop while maintaining good stability. Simpson flew up from Christchurch to give us the rundown on how their specially-designed hull divides and conquers.
"Our hull design does three things," he says. "Number one: it allows a very low planing speed (8kt on the test day). Number two: from a new boat buyer's perspective, the power trim is the hardest part of boat driving to master, so we can easily show them how to set the trim and away they go."
The hull is very responsive to trim so you don't need to make major adjustments. A trim setting of around two and a half on the Mercury Smart Craft gauges provides an effortless planing transition with a only a couple of taps on the trim switch required to tilt the outboard to three on the trim gauge for economical cruising, which coincidentally brings us to number three on Simpson's list. "Number three: you burn less fuel at cruise."
Fi-Glass's innovative hull design requires a slightly different driving style than most Kiwis are used to. Simpson explains: "With a traditionally-designed boat in the rough, you would have the motor trimmed in to use the hull as a barge, but in this boat you want it trimmed out so you're using the part of the hull that's varied the most to cut through the waves like a knife."
Cold snap
Suffering from a relentless flu and with a bitterly cold southerly blowing on the test day, it was with a sigh of relief that I stepped off our open photo boat into the shelter of the Fi-Glass Warrior's hardtop. After a quick run-through on how to get the best out of the variable longitudinal deadrise hull, and a demonstration in fast and furious manoeuvres, I had absolutely no reservations as to this boat's ability when Simpson handed me the keys for a play.
This easy-riding hull design lived up to expectations, providing a comfortable ride and slicing through chop rather than bouncing over it, and once I accepted the fact major trim adjustments simply aren't necessary and just kicked back and enjoyed the ride, it proved an easy, pleasurable boat to drive. Standard Seastar hydraulic steering and this hull's vice-like grip further complemented the enjoyable driving experience. The trim tabs were only called on for minor adjustments with the 10-knot breeze in attendance.
Mercury's 150hp four-stroke provided plenty of power with good fuel economy (using only 0.86 litres per NM at 3500 for 22 knots) with three people on board, and offers plenty of range with the 140-litre underfloor tank. Top speed on the day was a respectable 40 knots at WOT, so it's a great match for general use.
At the helm a Lowrance HDS8 GPS/fishfinder took pride of place. The dash is large so there's room to go bigger if required, but it's also fairly horizontal so you'll need to be standing at the helm to see what the fish are doing. Of course, that could be easily solved with the right electronics package and a tablet/iPad mounted on the transom with a dual display setup.
Versatility plus
Storage aids versatility and on-board comfort, and the Warrior Hardtop is no slouch in either aspect. Rod storage racks each side of the cockpit and an overhead rocket launcher will keep the rods out of the way, yet ready for action at a moment's notice. The king/queen passenger seat not only looks and feels great but also provides a large wet locker beneath for all the water toys/dive gear. This is further complemented by a large underfloor bin — complete with a helpful gas stay — and under-transom fishbins.
Various seating options are available — pedestal, king/queen, the clever Campa seat or a combination. Removable cockpit carpets and a fully-moulded fibreglass cockpit liner mean this rig can be used for both bait and burley fishing sessions and for taking the family for a comfortable picnic/scenic cruise. Comfortable transom seats mean there's plenty of cushy spots on offer, and squabs are available to turn the transom storage bins into additional seating.
The stylish Portofino transom features a boarding ladder and live-bait tank. A factory ski-pole is an option and attaches to the bait board. Handy Tallon receivers allow a table/cup holders/iPad/additional rod rack or any number of useful items to be securely added or removed.
There are extra-long berths and an infill with storage beneath (and above) in the comfortable cabin. A large front hatch allows easy bow access with a new, upgraded bowrail design for extra security. Our review boat had the Maxwell automatic capstan option fitted, so anchoring can be done by one finger from the helm.
I can't say enough about how good hardtops are in winter, but they also provide excellent sun protection in the harsh heat of summer. The side-sliding windows open either way, providing good ventilation on a hot summer's day — which is hopefully not too far away (excuse the bad rhyme).
This versatile rig is supplied on a Fi-Glass tandem-axle braked trailer. Fi-Glass lists the towing weight at 1400kg without the outboard (approx 206kg with Mercury 150hp four-stroke), so add in a tank of fuel (140kg) and you're looking at around 1750kg (without gear) — well within the braked towing rating of most SUVs.
The last word
Built on a great hull, the Fi-Glass Warrior Hardtop offers year-round boating with all-weather protection, a great ride, comfort, versatility, overnight-options, a classy finish, good performance and value for money — what more could a family ask for in a 6.4m boat?
Fi-Glass Warrior Outboard Hardtop supplied by Auckland Marine Centre. For more information phone (09) 579 7981.
For the latest reviews, subscribe to our Trade-A-Boat magazine here.
Keep up to date with news from Trade-A-boat or like us on Facebook!