Haines Hunter SE725
---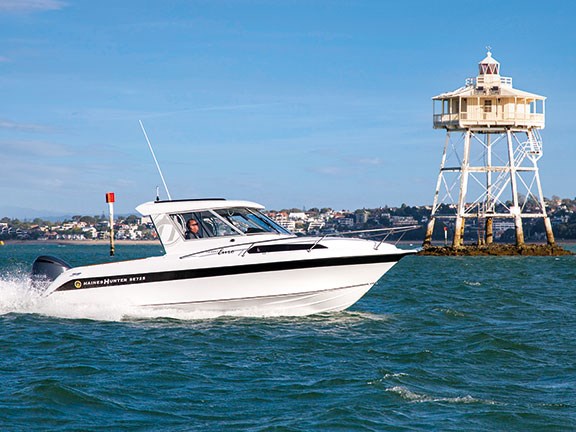 Heading out into a blustery 27-knot afternoon with wind against tide — perfect for testing a boat of this quality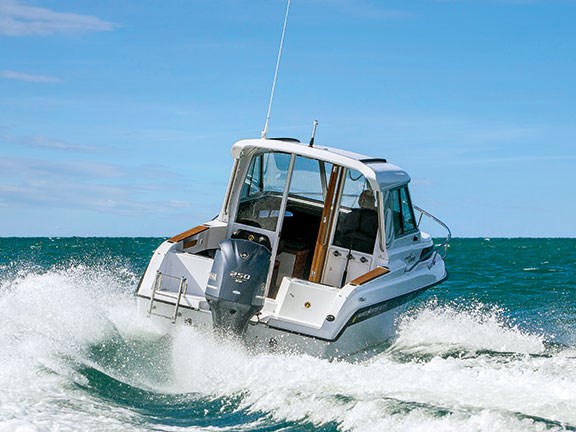 Well-mannered and responsive, great handling even in full-speed turns. Refined Yamaha 250hp four-stroke belts out the grunt to hit 46kt at WOT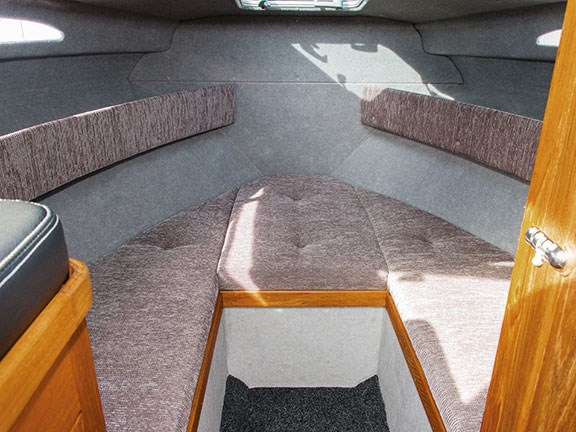 Good headroom in comfortable vee-berth; infill for spacious double; plenty of storage; toilet or extra storage space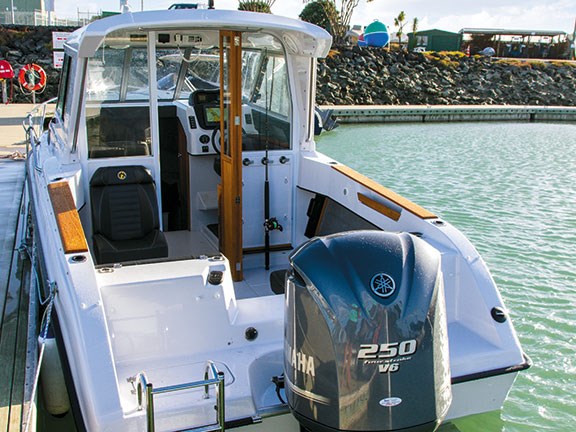 Stylish Portofino transom allows easy water access; spacious, versatile cockpit; quality teak finishing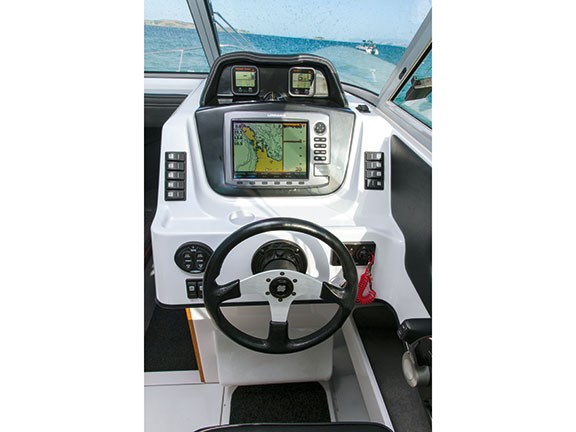 Fantastic to helm: pure performance, great visibility, well-appointed dash layout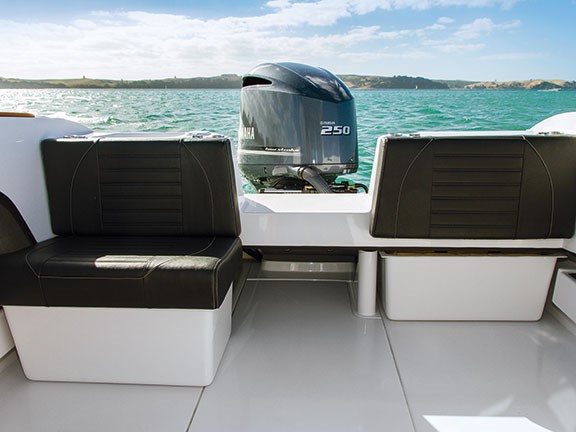 Both transom seats hide catch bins; seat lifts to create cockpit space, bin slides aft out of the way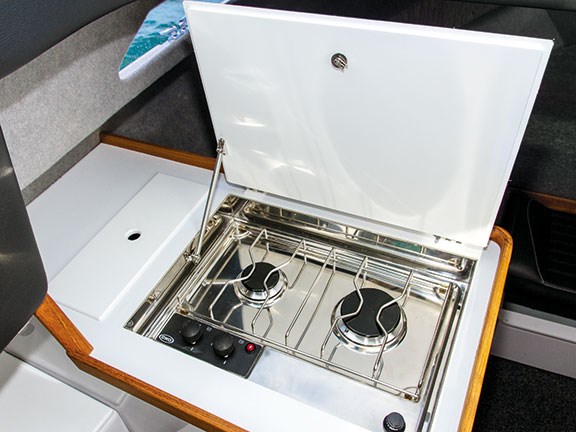 Optional twin-burner gas hob — bottle stored in self-contained locker. Wine rack also present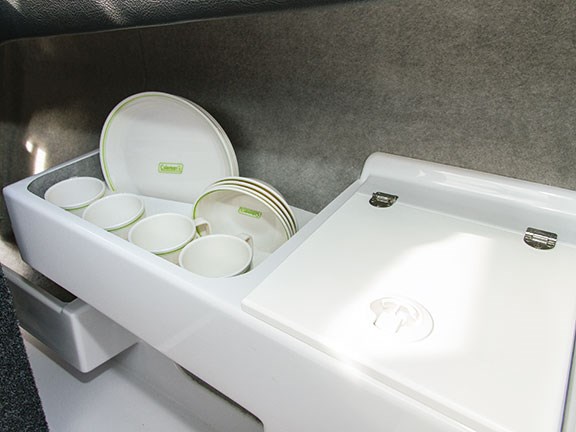 All inclusive: two teak pantries, clever cut-out plate and cup holder, 12V fridge, large underfloor bin for chilled refreshments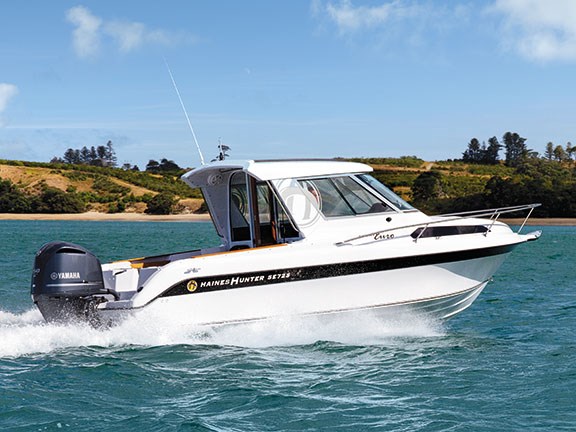 A smooth ride in the rough: easily soaks up the messy chop in a strong southwesterly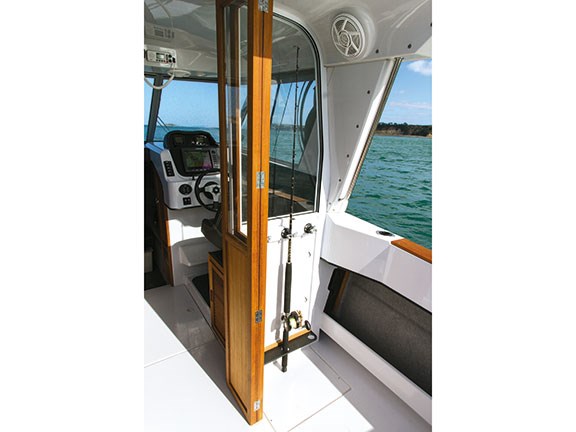 Lockable teak bi-fold doors for safe, quiet and fully-sheltered hardtop boating; rear electric windows; excellent rod storage throughout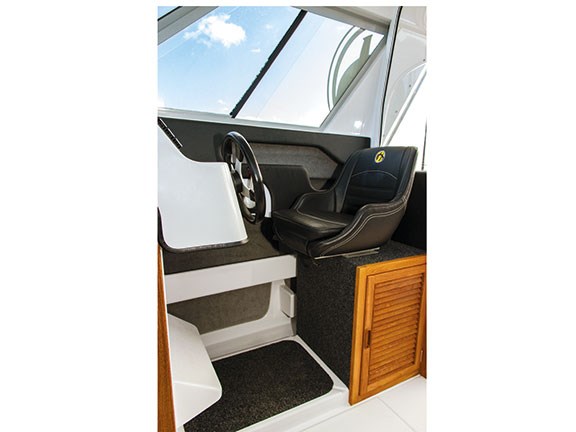 Comfortable helm in a light, airy cabin with plenty of headroom

When marine industry legend Lionel Sands calls the SE725 'the best boat Haines Hunter has ever designed', it's got to be good. But at Trade-A-Boat we can't simply take a manufacturer's word for it, so we sent Matthew Jones out when it was blowing a gale to see for ourselves.
It's no secret Haines Hunters are renowned for a great ride in the rough, so I certainly didn't want to be reviewing the biggest and most comfortable model in the fleet on a glassy day. Had that been the case, I would have been able to lounge about on an exceptional boat, and the photography would be straightforward, but it certainly wouldn't be a test befitting a Haines Hunter hull.
So with that in mind, the ideal conditions were sought out: copious amounts of wind and bone-jarring seas to challenge the revered 21-degree hull's credentials, and brilliant sunshine to do the SE725's classy finish justice. This is a tall order with Auckland's four-seasons-in-one-day weather, and even more of a pipe-dream when you throw deadlines and logistics into the mix.
Despite the odds, the jackpot was well and truly struck this time around — perhaps paying out more than expected — with Coastguard's Nowcasting service reporting 27-knot winds on the blustery test day. But the sun was shining and it would certainly be a fitting review.
I joined Lionel Sands and Bob Mirabito from Seacraft Miller Moyes at Auckland's Outboard Boating Club where both the SE725 and our outstanding photo boat — the SF600 Limited Edition (see May 2013 issue for the review) were tied up ready for action, their pristine finishes glistening in the afternoon sunlight, just begging to be let loose for a play. Sands joked that maybe the 15-knot SW wind forecast I'd quoted on the phone the day before was a little light, but I could tell by his smile that he was rather pleased.
The strong southwesterly meant the only picturesque place to hide for the photo shoot would be the back of Motuihe Island. Getting there, however, would mean a slog through the Motuihe Channel which, for the uninitiated, turns rather nasty with a strong sou'wester funnelling through. Throw in an opposing incoming tide (another jackpot struck) and you'd better hope your dentist has done a good job of your fillings or you're aboard a capable boat — some of my fillings are pretty dodgy but I can assure you this boat's certainly not.
Normally, taking photos boat to boat while getting along at 25 knots in such snotty conditions would result in a memory card full of blurry pictures, but with the SE725 easily taming the nasty chop en route and remaining dry, we were able to start a successful photo shoot in the thick of it.
Pure performance
The sporty black steering wheel and matching leather helm seat hints at what awaits the helmsman: pure performance combined with great visibility and a well-appointed dash layout. With Yamaha's 250hp four-stroke belting out an abundance of refined grunt, the SE725 gets along at an exhilarating 46 knots at WOT.
It was smooth, well-mannered and responsive at this speed and Mirabito casually suggested I throw her into a hard turn without buttoning off — which seemed a tad ludicrous. "Are you sure?" I asked, to which he answered "You can push it as hard as you like." And so I did, and was not only impressed by the hull's astounding grip but also how fluent, poised and responsive the big Haines Hunter was, regardless of how hard it was driven. Handing over the helm at the end of the test was no easy feat.
A happy marriage
Apparently the key to a happy marriage is give and take (the ratio of which will largely depend on which hormones and chromosomes you're endowed with — amongst other factors). By innovatively making all the seats, table and rod rack interchangeable, with the practicatility of clip-in carpets, Sands has cleverly made the cockpit versatile enough to handle 'champagne cruising' one trip and 'blood-and-guts fishing' the next.
Hypothetically, the cockpit could be divided so your better half could relax on the comfortable seating and enjoy reading a magazine while sipping a wine at the table, as you casually drop a line and enjoy a beer with the removable rod stand, removable bait board and sink at your disposal — a happy marriage indeed. Just don't get cheeky and ask her to hand you live-baits from the Portofino transom live-well — unless she really is a keeper.
The transom seat bases are movable and the squabs simply lift off to reveal catch bins below (which can be stored beneath the transom out of the way). The seat backs then become thigh supports (with toe space) for tussling with rod benders. You can choose seating for four in the cockpit or swap either of the rear-facing seats for a stand-up rod rack — very clever.
Speaking of rod racks, there's three per side, four in the gunwales, four on the transom (allowing the bait board to mount either side) and a further six in the overhead rocket launcher. When you're done, a saltwater wash-down system and fully-moulded cockpit liner should make clean up less of a chore.
The stylish Portofino transom allows easy water access, with its central walk-through/step-down into the cockpit allowing storage below and extra security with little ones on board. A removable door could also be fitted for extra peace of mind. Quality teak finishing throughout combines old school charm with a classy, modern feel.
Comfort zone
This SE (Sports Euro) model is a versatile extension of Haines Hunter's SP (Sports Pursuit) and SS (Sports Sedan) models, offering the benefit of the fully-enclosed hardtop for year-round, all-weather use. Inside the lockable cabin the feeling is light and airy with good room and a comfortable and social layout.
It feels safe and quiet with the classy teak bi-fold doors closed, and with the press of a button you can enjoy the luxury and added ventilation of the rear electric windows. With the doors open and windows down there's a near seamless flow between the cockpit and cabin for entertaining or keeping the skipper in touch with the action out back.
Both the helm and passenger seats are adjustable with a third seat being provided by the vinyl squab atop the optional twin-burner gas hob. The gas bottle is stored in a fully self-contained locker, which is drained to comply with gas regulations. There's also a handy upright wine-rack/liquor cabinet for securing a selection of four bottles of your finest.
Two teak pantries are available to stash the sustenance and pots, while a clever cut-out plate and cup holder keeps the crockery in check. A 12V fridge neatly fits beneath the passenger seat, and a large draining underfloor bin (with gas stay) is the perfect place for keeping the refreshments chilled.
It's a bit of a stoop down into the front cabin, but there's good headroom while seated on the comfortable vee berth. An infill is available to turn it into a spacious double, and there's plenty of storage either beneath or above on the extra-large shelves. Additional pipe berths can be fitted to increase the overnight capacity to four.
Gym-dodgers may find the enclosed head a bit of a squeeze, but the reality is you shouldn't be spending a lot of time in there anyway, and that space is better utilised in the cockpit and cabin. Both electric and porta-potty toilet options are available, or it can also be converted into an extra wet locker.
Sands describes the SE725 as the best boat Haines Hunter has ever designed, which is a big call when you've got a stable of hugely-popular models to your credit. Recognising the importance of balance and aesthetics to a boat's success, he refused to design the SE725 around a standard windscreen, so had the curved glass screens tailor-made in the UK, requiring an upfront order of fifty units — certainly a substantial investment and somewhat of a gamble in challenging financial times, but one that's paid dividends. As Sands says: "A boat's not only got to look good, it's also got to do good." And good the SE725 does — but perhaps 'good' isn't a strong enough word — in my opinion, 'superb' is a more fitting description.
The last word
Haines Hunter utilises true craftsmanship, hand-laid fibreglass techniques, a temperature controlled factory and an absolute devotion to quality to produce the SE725 — a classy boat that takes no prisoners yet bestows a superb ride, clever versatility, a comfortable getaway and an exceptional finish.
Boat supplied by Seacraft Miller Moyes. For more information contact Bob Mirabito on (09) 579 9661, sales@mmsc.co.nz or visit haineshunter.co.nz.
For the latest reviews, subscribe to our Trade-A-Boat magazine here.
Keep up to date with news from Trade-A-boat or like us on Facebook!