Image 6.4 Elite Open
---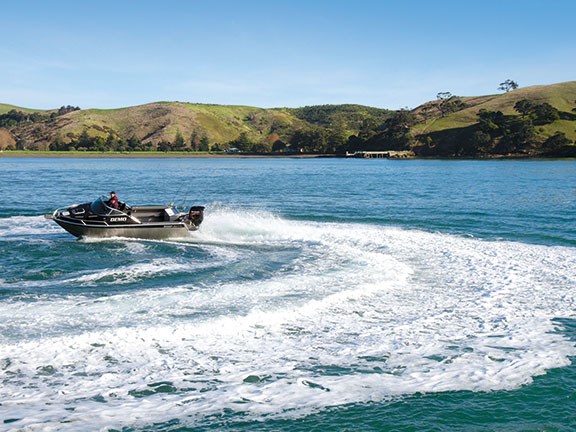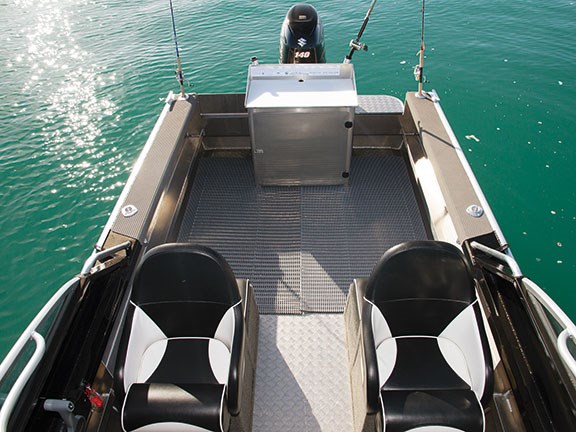 Design leaves maximum uncluttered cockpit space; will comfortably fish four. Wide thigh-height gunwales with rubber non-skid. Good gear storage; big, solid bait station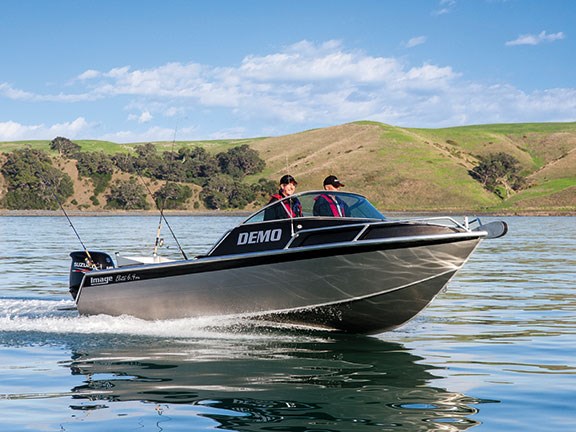 Elite boats are scaled-down versions of Image's well-proven Fishfinder and Fishmaster range — same build processes and engineering wisdom but less costly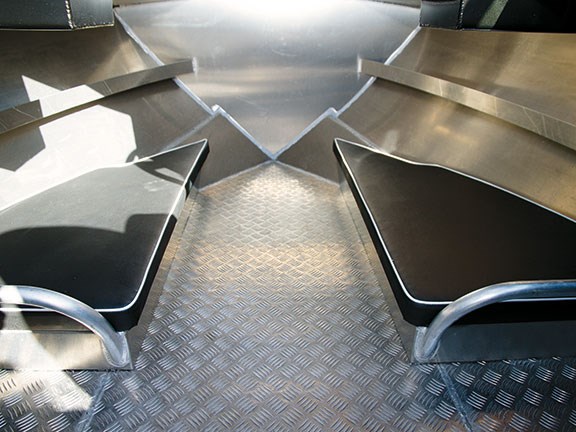 Enough headroom to provide respite from the elements; plenty of stowage space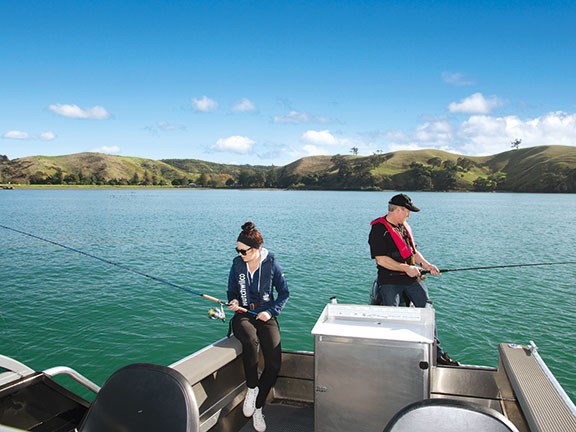 Taking time out on the Hauraki Gulf, a fair old way from Image Boats' treacherous Foveaux stomping ground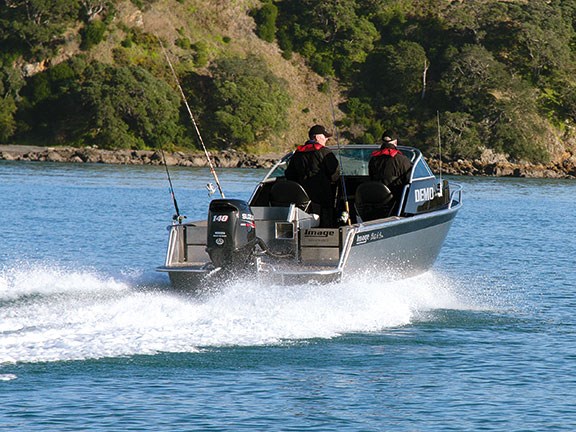 A great value day fishing boat that's built tough to get you out and back with confidence

Want a good quality, low-maintenance, mid-size fisher with a four-stroke and plenty of cockpit space but don't want to sell any body organs in the process? Image Boats may have just the ticket…
So often in life, simple pleasures become fancier or more complicated than they need to be. With your precious leisure time and wallet in mind, Image Boats' Elite range offers simple yet capable trailer boats specifically designed to be bank-manager friendly without compromising on any of the safety or quality aspects one expects from an Image boat.
Based in Invercargill, Dean Wilkes and his team are well known for building big custom aluminium weapons (see Petrol Hill in our June issue), and the Elite offerings are basically scaled-down versions of Image Boats' well-proven Fishfinder and Fishmaster range. While smaller in size, you still get the same build processes and engineering wisdom, but in a more compact and less costly package — kind of like Fumiaki Tanaka, the Highlanders' pint-sized powerhouse halfback.
When it came to the design brief, functionality, practicality, low-maintenance and drama-free towing were high on the priorities list, with simplicity the key factor. "We wanted to create a sturdy open boat suitable for fishing, waterskiing and as a general purpose runabout," says Wilkes. "We've kept it basic, with a focus on value for money so you don't need a hundred grand to go boating."
Despite the price-point focus, build quality hasn't been compromised and, with the sealed underfloor buoyancy and sealed outboard pod, Wilkes says the 6.4m Elite Open offers twice the amount of buoyancy of some of the competition. If you've ever been boating in Image Boats' home waters of Foveaux Strait, you'll understand why.
Being predominantly a bespoke boatbuilder, expert customisation is available, but Wilkes has designed the Elite range to favour a package deal. Our demo boat was kitted out to minimum spec, as Wilkes likes to give maximum choice to his customers — including their taste in outboard — and the 6.4 Elite is also available in a hardtop version. The beauty of dealing with a well established and experienced team like Image Boats is they've been there and done that, so if you want something made specifically to suit, they'll do it — and they'll do it well.
By using a 4mm hull, 4mm topsides and a 3mm treadplate floor, weight has been kept to a minimum to allow the boat to be powered by 115hp (maximum 200hp). If more grunt is required, the hull and treadplate floor can be beefed up to 5mm and 4mm respectively. Image will supply a completely unpainted boat on request.
Fishing without fuss
With its big, solid bait station and fully-welded treadplate floor, the Image 6.4 Elite provides a user-friendly fish/dive platform. I'd add a few more rod holders on the back of the bait board and have them all angled further aft, which Image will happily customise. The bait board itself gets two thumbs up, as it's big, workable, made of good quality food-grade plastic and is self-draining.
While unashamedly a day boat, the cuddy cabin design leaves maximum uncluttered cockpit space for its available hull length and will comfortably fish four anglers without fuss. Wide thigh-height gunwales, with rubber non-skid, provide additional relaxation stations to complement the king/queen seating options. Good gear storage is available beneath the king/queen seats and within the cuddy cabin. Transom seats can also be optioned if required.
The cockpit drains into a bilge well in the bait station where the battery is housed off the floor. There's space for a second battery plus some bonus storage space. Removable transom doors allow good access to the large Portofino-style boarding platform with its fully-welded handrails, which would make it ideal for diving with the optional boarding ladder fitted. The catch can be placed up on the bait board for sorting/shelling.
Inside the cabin there's enough headroom to provide some respite from the elements or store gear on the squabs up off the floor. As our test boat was the prototype, Wilkes is planning to raise the dash, cabin top and cuddy cabin seat bases by a further 50mm, while adding a lip around the top of the dash to stop items sliding off. A lockable glovebox is also an option.
Access to the anchor is through either the front hatch or by climbing around the sides. As tested, the anchor and warp can be neatly stowed beneath a plastic hatch, but I wonder how much of a nuisance the lid will be with the anchor deployed. Of course, you can have an open anchor well or option in an automatic capstan if you prefer the easy option.
As expected, almost every fitting (bar the rod holders, which are riveted) is fully welded, so there's no risk of corrosion from incompatible metals or those heavy-handed mates breaking anything off.
Taking the helm
Comfortable bolster seats offer either a secure seat or stand-up support, and there's good visibility and ergonomics behind the wheel. With the optional hydraulic steering fitted and 140hp four-stroke Suzuki dishing out silky-smooth, quiet and powerful propulsion it's an easy-riding package that's effortless to drive.
Trim the outboard in and give the throttle a good nudge and it will spin on a dime, while the wrap-around grab rail, bolster seats and footrests will help keep you in the right place. There's also 150 litres of fuel under the floor, which should provide plenty of range.
While it was nothing short of glassy on our test day, we had some serious wake pumping out the back of a 10m photo boat with twin Contrapel drives, and we put this to good use as a ride tester/launch pad. The Image 6.4 Elite lapped it up, with the strakeless hull providing a smooth ride with good stability at rest from its 17-degree deadrise. The full-length downturned chine did its job well, providing lift and turning spray downwards — although we couldn't assess dryness of ride on the test day as conditions were way too pleasant.
Our test boat didn't have any electronics fitted, but by rearranging the gauges you'd be able to flush-mount a five- or possibly seven-inch screen. Speak to Wilkes and his team if you want anything bigger — there's plenty of space on offer above the dash.
Image also builds its own aluminium trailers, and our test boat came with a matching chariot complete with mag wheels. Weighing in at only 1250kg (dry) on the trailer, the 6.4 Elite should prove a straight forward tow with a modest vehicle.
The last word
If you like to spend less time maintaining your boat and more time on the water, the Image 6.4 Elite Open presents a strong case for consideration. It's basic yet functional and offers value for money without scrimping on safety or quality. You also get a well-mannered ride complemented by good stability at rest, an excellent Suzuki four-stroke outboard and, at 1250kg, you won't need shares in an oil company own it.
For more information contact Dean Wilkes at Image Boats on (03) 214 4573, dean@imageboats.co.nz or visit imageboats.co.nz.
For the latest reviews, subscribe to our Trade-A-Boat magazine here.
Keep up to date with news from Trade-A-boat or like us on Facebook!