Test: Euro 470 Sportsman
---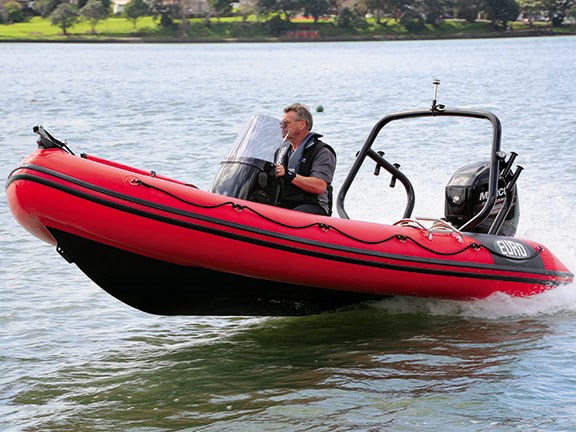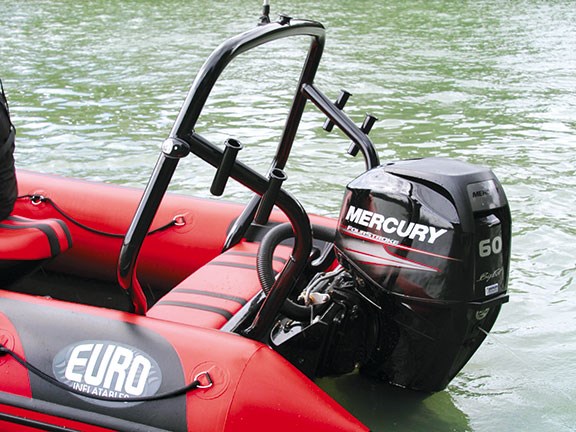 Powder-coated ski arch with rod holders; 60hp Mercury BigFoot easily pushes boat onto plane to quickly hit 34mph (30 knots)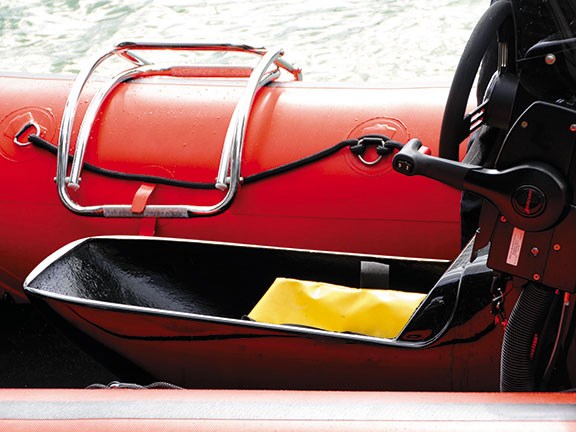 Dry storage beneath seat; boarding ladder folds neatly over pontoon; sealed storage inside console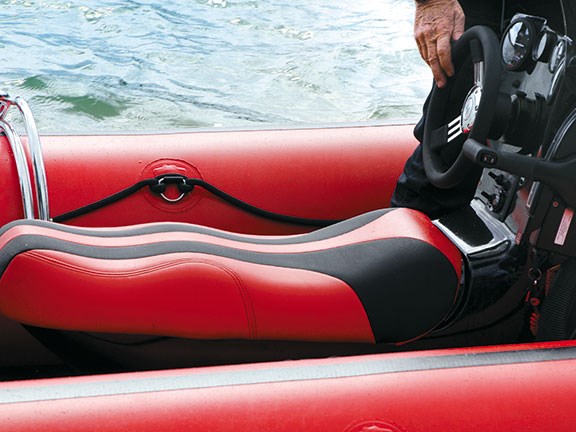 Console has space for two on motorcycle-type seat — keeps weight central for maximum manoeuvrability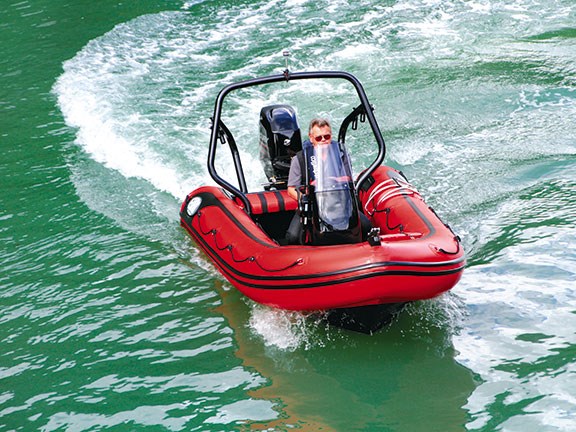 Smart, powder-coated aluminium hull gives strength and durability with lower weight than fibreglass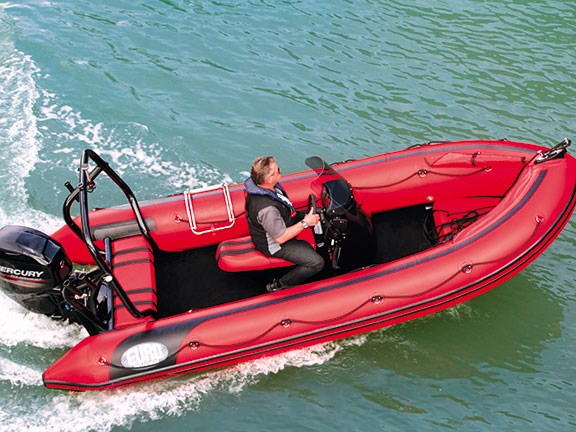 Internal beam just over a metre but plenty of space to move around. Wide, 500mm diameter tubes very comfortable and right height to sit on.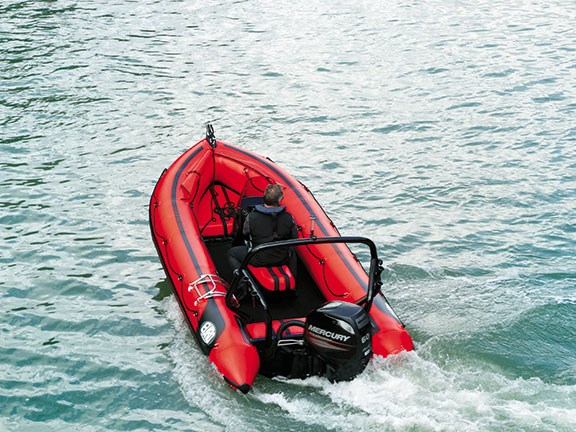 Triangular squab provides seating in bow. Cover can be zipped right across bow for sheltered storage.

Kiwi-made Euro inflatables have re-emerged to provide a range of light, easy-to-tow, robust sports boats that can be launched off the beach and are capable of handling the rough. Easy to operate and loads of fun, this is a great option for the beginner or serious water-sports enthusiast.
We slipped the new Euro 470 Sportsman off its DMW galvanised trailer into Auckland's Tamaki River and headed to Panmure basin for a play. Since this 470 is configured as a ski boat, we thought we'd take a few runs through the lanes, but unfortunately there was a cold southerly blast and we had no luck getting a volunteer skier for the photos. Still, we had great fun in a high quality sports boat that's well worth trying for yourself if you're looking for a RIB.
Thanks to the torque of the 60hp Mercury BigFoot motor, the boat leaps out of the hole and onto the plane in no time and there's power to spare. With the motor correctly trimmed and with two occupants on board we were hitting 34mph (55kph) by the end of short ski lane. This boat is undoubtedly capable of pulling a skier or wakeboarder, and the big prop will help lift them up out of the water. Although other engine options are available, the 60hp BigFoot seems a perfect match and, unless budget is severely restricted, I would suggest this is the package to choose.
The large pontoons do an excellent job of keeping spray well away from the boat, and also act as a chine to help pull the boat through tight manoeuvres — we had a bit of fun doing turns at full lock and almost full throttle. The small-diameter padded steering wheel adds to the sports car feel and provides good control. The seating position means the throttle action is up and down rather than forward and back, but it was easy to adjust to the slightly different action.
We were completely dry, no matter how much we spun her around — it was clear it would take a fair bit of wind-driven spray before any water came aboard. The pontoons act as big shock absorbers, making this a boat that can be driven hard over waves without worrying too much about the landing.
Back in action
Euro inflatables were launched in New Zealand in 2001 after a period of extensive research and development in hull and tube design. At that stage, they had a range including both alloy and fibreglass hulls, all with polyurethane tubes. The brand was taken over by Aquatx a few years later and under that name continued to make inroads into the New Zealand market. Last year a re-positioning saw the brand, designs and tooling bought out and relaunched under the Euro branding once again. Currently they're available from Auckland Marine Centre in Pakuranga and Terminator Boats on Auckland's North Shore.
One of the key aspects of the Euro range is that they're 100 percent New Zealand made. They've also focused on aluminium hulls, while many of the imported models have an underlying fiberglass structure — the alloy gives greater strength and durability with a lower overall weight. Euro has chosen to powder-coat the entire hull, which gives excellent resilience and a smart finish.
The hulls are combined with UV-stabilised polyurethane tubes. One of the advantages of polyurethane is that it's available in a range of vibrant colours, as well as the more usual white or grey. The 470 Sportsman we tested is highly visible on the water, and one has to wonder why most boats are painted white or blue. The red Euro, with its black trim and carpet, is a pretty stylish little craft.
There are currently two models available in the new range: the 420 and 470 Sportsman. As the manufacturing facility gets up to full production, other models will be added into the mix.
Fast and easy
The Euro range has always been aimed at the sports market and has found favour with divers, waterskiers, wakeboarders and anyone wanting a boat that's fast but easy to operate. The new models continue this tradition, and both are capable of towing water toys. A custom powder-coated ski arch is available for either model, or conventional stainless steel ski units can also be fitted. Of course, fishing has not been forgotten, and the 470's custom ski arch includes four rod holders.
The jockey-style console has space for two people seated on the motorcycle-type seat. This keeps the weight central and allows for maximum manoeuvrability, and also provides both occupants with a limited amount of shelter behind the narrow console and windscreen. The downside of this arrangement is that you probably only want to sit this close to someone you're really friendly with. There's also no back support, which could be a problem in rough seas or on an extended voyage. On the other hand, when towing a waterskier the observer can comfortably sit facing aft. Alternative side-by-side seating is available, with a movable backrest. At rest, the bolster swings forward to allow the occupants to sit facing the rear for a relaxed fish — the centre console in this seating arrangement retains the same narrow pod and windscreen, offset slightly to the starboard side, but adds a second seat on the port side of the console.
The 470 has a bench seat across the transom, providing space for two further passengers. The review boat had the optional 64-litre underfloor fuel tank, meaning the space under the bench was available as storage. If the purchaser chose the standard option of 25-litre tote tanks they'd be stored in this space. The bench also forms the mounting point for the ski arch/rod holders, and wakeboard racks could also be fitted.
A triangular squab provides further seating in the bow. When not in use, a cover can be zipped right across the bow area of the 470 to provide a sheltered storage space. Both styles of console provide a limited sealed storage area inside the console itself, and the skipper's seat lifts up to reveal a reasonable dry storage space underneath.
Somewhat unusually for an RIB, the interior of the boat is fully carpeted — in this case it's black and waterproof. While this is seems a bit over the top, it undoubtedly provides a secure footing even when wet, and can be easily hosed clean.
Taming BigFoot
The large-diameter polyurethane tubes are extremely comfortable to sit on and at 500mm in diameter, are just the right height for a seat. Although the internal beam is just over a metre, there's plenty of space to move around. A stainless bowsprit with locking pin allows an anchor to be securely deployed over the bow, and a curved stainless steel boarding ladder on the port side neatly folds over the pontoon.
The Mercury 60hp BigFoot four-stroke features a lower gear ratio and higher torque than a standard unit. The BigFoot swings a bigger prop, giving better acceleration and power for lifting a skier out the water. This model is fuel-injected and provides the latest in low emissions and fantastic fuel economy. The new Mercurys now come standard with digital engine management technology and the handy direct hose connection for freshwater flushing without requiring a flush muff.
A fishfinder or GPS could be mounted on a bracket on the top of the small dash area. There were no navigation lights or VHF radio fitted, although there is space on the console for both options.
After a good play, it was a simple matter to pull the inflatable back onto its trailer. This is an extremely light towing proposition, and this reminded me just how much fun and how easy to operate a medium-sized RIB can be. Safe and easy to operate, this is the perfect craft for a beginner to boating. On the other hand, it has the performance and looks to suit the serious water-toy enthusiast.For more information contact Matt or Paul at Auckland Marine Centre on (09) 272 3097 or at aucklandmarine.co.nz.
For the latest reviews, subscribe to our Trade-A-Boat magazine here.
Keep up to date with news from Trade-A-boat or like us on Facebook!