Test: Nereyda 500 Sport
---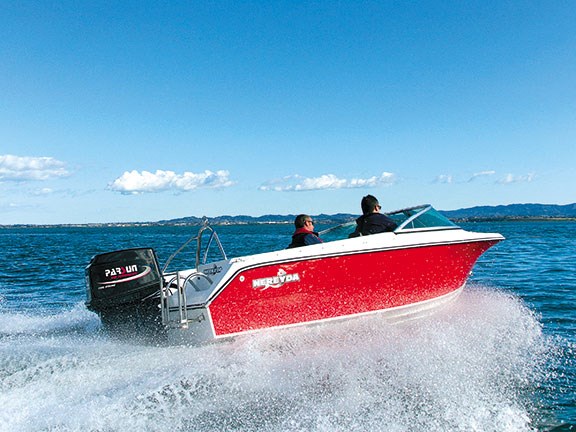 Classic sports car on water: she copes well with tight turns — a true seat-of-the-pants driving experience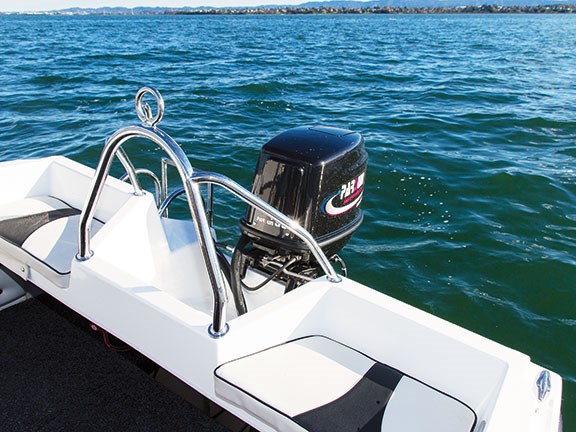 Padded transom seats with low backrest mean occupants will hold sturdy ski arch during fast hole shot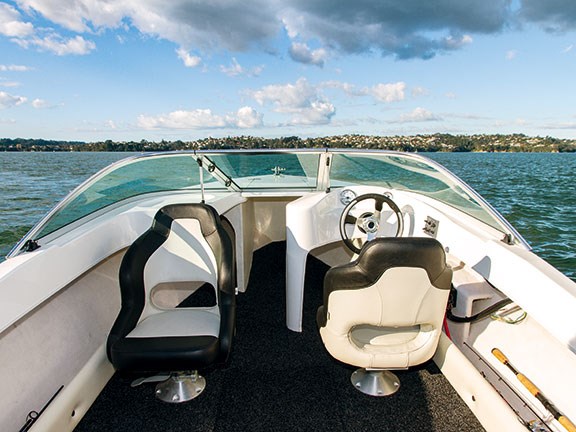 Simple but effective, the 500 Sport is a no-frills package that will excite any skipper and passengers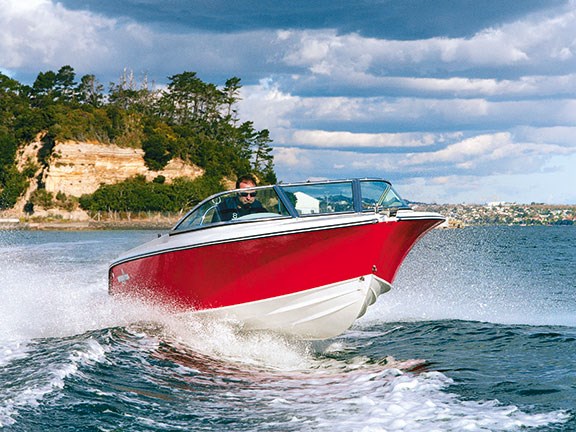 Following in the wake of the Sea Nymph photo boat, the 500 Sport tracks well and copes with sharp 'chop'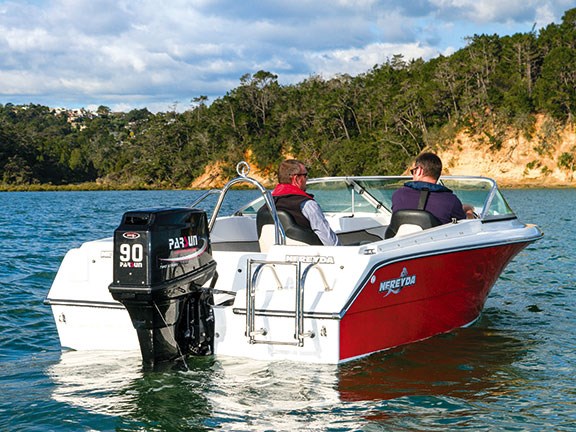 Parsun 90 has good torque and runs smoothly at WOT for 35 knots; solid boarding ladder and ski arch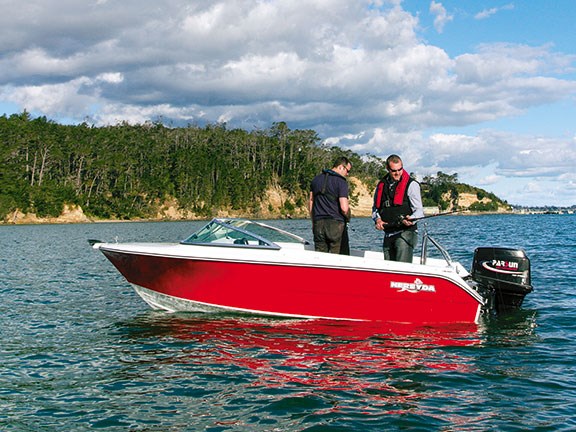 This is the new incarnation of the iconic Kiwi Sea Nymph. If you're after a simple but effective family leisure boat, the Nereyda 500 Sport is definitely worth thinking about — it really is a hell of a lot of fun and you won't have the bank manager banging down your door.
Some things in this world are unashamedly made for a good time, and this boat is one of them. If I owned one of these I'd take it out on a regular basis just to race around with wild abandon like a complete idiot. I'd throw in some waterskiing and a spot of fishing, of course, but essentially I'd treat it like a big jet ski or pretend I was James Bond.
At first sight, the Nereyda 500 Sport's low profile topsides, short swept-back windscreen and flared bow excited me with its kind of retro '70s ski-boat attitude. Sure that's a personal and superficial response, but the boat lived up to my expectations out on the water, where it provided the satisfying open road, wind in your hair freedom of a rag top sports car. A bimini is available if rain is a factor, but the fully open nature of the boat is definitely part of its charm.
Our chase boat was a classic: a 1987 Sea Nymph Stinger 506, one of the iconic precursors of the Nereyda range. Nereyda hulls are all made from Kiwi-designed Sea Nymph moulds — tried and tested in New Zealand conditions — with the exception of the 500 Sport, which shares an equally iconic and equally Kiwi Steadecraft mould.
With Brokerage Marine owner Rodney Wallace at the helm of the Nereyda, we followed regular contributor Matt Jones out of Auckland's West Park Marina and into a calm upper harbour. The two boats exuded a sense of freedom and I couldn't wait for my turn at the wheel. A brand new Parsun 90 burbled away happily behind us and I was anticipating a great afternoon — though I was a little annoyed with myself for forgetting to bring a wetsuit and a wakeboard, but the boat itself would give me more than enough of a good time to make up for my disappointing lack of foresight.
The helm and passenger seats are very comfortable — soft, adjustable and with a secure, rounded back that helps absorb any hard landings. They swivel to face aft so you can keep an eye on skiers or put your feet up for a sneaky fish, and the low seating position just adds to the sports car feel — you're close to the water, so even if you're not doing 50 knots you feel like you're flying, which emphasises this boat's core purpose as an excitement machine.
A bit of grief
Once we'd left the restricted speed zone of the marina Rodney nudged her up to about 4500rpm and the slight (but kind of pleasing) roughness of the two-stroke very quickly smoothed itself out to a steady, balanced hum that would satisfy the sensibilities of any devoted petrol head. It was more refined than I'd expected and I was looking forward to seeing how it would respond when I gave it a bit of grief later on.
With a very light southerly, the water was flat enough to ski on and I wouldn't exactly be able to throw it around in angry white-foamed chop to see how she'd cope. The first opportunity to test the rough ride and handling came in the form of a passing catamaran ferry doing about 30 knots and helpfully throwing up about half a metre of wake, which Rodney hit at an angle doing about 25 knots. We skipped across without too much drama, the carpet-lined hull interior deadening some of the noise as we hit flat water, and the little speedster pretty much took it in its stride. There are softer boats out there, but it was comfortable enough and she wasn't particularly bothered by the sharp wake. This emphasised the satisfying, seat-of-the-pants nature of the driving experience.
I then managed to convince Rodney it was my turn, and he relinquished the steering wheel with the reluctant look of a kid who'd just had his favourite toy taken away. Now, I'm not one for getting behind the wheel of an unfamiliar boat or vehicle and immediately putting the hammer down — I prefer to get to know a machine before I let loose. I eased the throttle forward, which is stiff in a reassuring way, and the Parsun responded enthusiastically — with only a rev counter and trim gauge fitted I couldn't be sure of the speed we were soon doing, but it had to be well over 30 knots (it's capable of 35) and the boat seemed happier the faster she went. As did the engine, and after a few lazy test manoeuvres it was time to give her some gas. The torque from the two-stroke got us quickly up to speed and my first tight turn at close to WOT was encouraging: the hull was slippery enough to go where it was pointed, but gripped to keep me feeling firmly connected to the water. That might sound like a contradiction, but the Steadecraft hull design offers a balanced ride that suits most styles of operation and most sea states. She has a wide beam relative to her length, a fine entry, two planing strakes and a narrow, flat chine and she appreciated a bit of rough handling.
Into its work
I managed to sneak off for a slightly reckless play while Matt and Rodney watched from the safety of the Sea Nymph. The boat comes off the plane nicely and, with a 16 degree transom deadrise, feels stable at rest. Hole shot is great, which is exactly what you'd expect considering her destined purpose as a ski boat. At the top end of the recommended horsepower range for the hull, the Parsun 90, full of torque, rips into its work and gets the boat on the plane in seconds, and I reckon she'd even enjoy hauling massive Chiefs prop Ben Tameifuna out of the water. The engine only had two hours on it, but Rodney told me we had the go-ahead from Nereyda/Parsun importer Jeff Strampel to do whatever we needed. Very nice.
The boat has firm, positive, directional steering. I threw her into some tight turns, enjoying a hull that's responsive and forgiving enough to handle deliberately wild manoeuvres and inspire confidence. Given it's a small, light craft (unladen and unbalanced without a passenger beside me), I found myself pretending I was at the wheel of a jet sprint boat, throwing her around and wondering what the people on a distant yacht must be thinking. Driven in anger, she's a forgiving beast and the hull coped well under the pressure. Again, my overwhelming impression was one of unadulterated fun.
Before heading for home, we dropped a sneaky line in the water and, while this boat isn't built as an angler's tool, it will accommodate three or four fishers who aren't out for a massive bin-filling session. The gunwales aren't high, so most of your fishing will likely be done from the comfort of either the helm or passenger seats facing aft, or from the padded transom seats (these have a low backrest so could be a bit precarious during hole shot, but occupants can always hang on to the sturdy ski arch). If there are only two anglers on board and they stand on the same side, the boat thinks about leaning — you wouldn't want a third person on that side — but all in all she's pretty stable and the marine carpet-lined cockpit's big enough to fish four. This package didn't have any rod holders or a bait board but they can easily be fitted, and there's a bit of room for sectional rods, gaffs and nets in the cockpit storage shelves or in the underfloor bin. Waterskis and wakeboards can also be stored under there, but Rodney reckons, if he owned the boat, he'd just attach an arch and clip them on.
The bow area forward of the cabin has dry storage space for bags and other gear, while the windscreen and bow fold open to provide access to the anchor. If you are keen on a dive, there's a sturdy boarding ladder— there's no swim platform, but the transom seats and relatively-spacious cockpit mean you could get the scuba gear on and off without drama. Dive tank mounts can easily be fitted (see p80), again making the most of the space.
In the rough
We had to make our own rough seas to see what this boat could handle. I followed the Sea Nymph back to the marina, spending a very enjoyable ten minutes charging as hard as I could in and out of the older boat's wake at various speeds up to about 25 knots. The sharp wake thrown out by the Stinger provided a decent test for the Nereyda, and she loved it. The hull seems to find its way through and requires a firm grip on the wheel, but I can highly recommend its ability to handle 'rogue' waves. We couldn't replicate running into a choppy head sea, but I got the impression that if conditions were to deteriorate while you're out, you could turn and run for home with confidence — provided you weren't hit by a force-ten gale.
The low, tinted acrylic windscreen deflects the wind and any spray, but I found its top edge just impeded my view ahead, forcing me to peer under or over it. This isn't too much of an issue, and will depend on the height of the helmsperson. I found it easiest to sit up a bit and look over the top. The swooping, flared bow does more than just look good, helping to make this a very dry boat — even passengers sitting on the transom would escape a soaking in most situations.
Value boating
Boating on a budget is key to this model's appeal. It's a great little family day boat, where playtime is the main item on the menu and water sports will keep friends and kids entertained all summer long for many years — with a five-year warranty on the hull and three on the outboard, plus a good dealer network throughout New Zealand offering quality servicing, you can be confident in the purchase. The Parsun 90 is frugal enough to justify regular use and a good blast across the water whenever the mood strikes the skipper, and I reckon that will be quite often.
If you're looking to have loads of fun while keeping the bank manager at bay, you really need to consider one of these. There are no airs and graces about it, it simply puts a smile on your face as you spin her round at will and hit the chop or wake with reckless abandon. Good times.
For more information contact Rodney Wallace at Brokerage Marine on (09) 417 0240 or visit brokeragemarine.co.nz. Alternatively, contact Jeff Strampel at Hurricane Products on (06) 759 1990 or visit nereydaboats.co.nz.
For the latest reviews, subscribe to our Trade-A-Boat magazine here.
Keep up to date with news from Trade-A-boat or like us on Facebook!