Picton boat buying: 2003 Paul Priebe 35 - Idle Time
---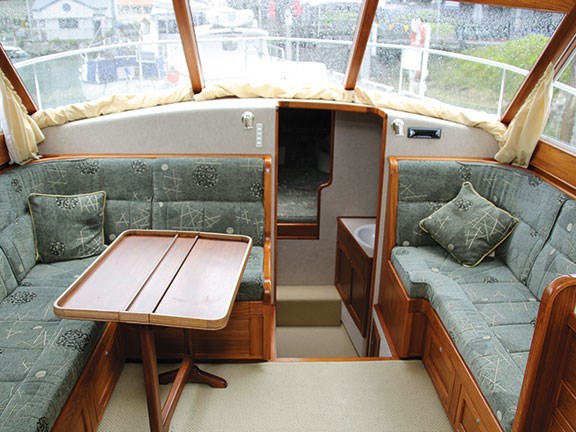 Comfortable, roomy saloon looking forward to main berth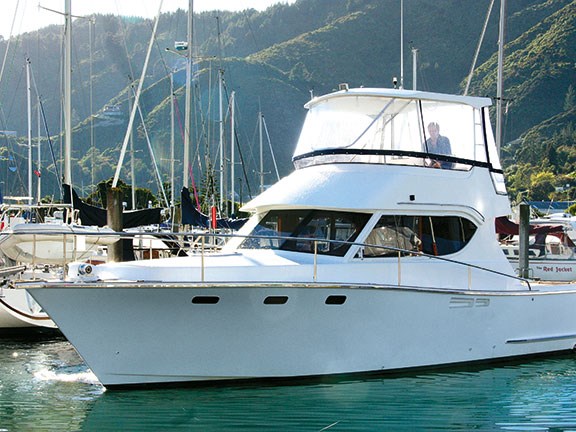 The ideal boat for someone wanting a flybridge capable of handling big seas and extended trips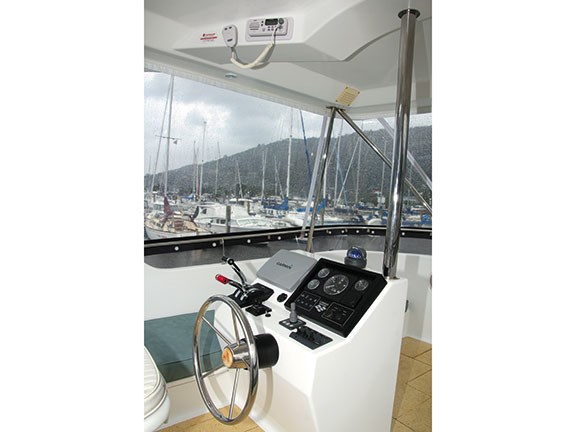 Flybridge provides 360-degree view, well protected with clears all round. Helm station layout simple

Although Paul Priebe is not a well-known boatbuilder, this is nevertheless a solid and modern boat. The double-diagonal ply hull is fully glassed over, with the decks, cabin top and flybridge similarly glassed. The biggest of the three launches we looked at in Picton, and the only one with an enclosed flybridge, it could be set up as a fantastic game boat.
Power is provided by a reliable Cummins six-cylinder turbo diesel, producing 270hp, propelling the vessel at an economical 15-knot cruise and 20 knots top speed. The 535-litre fuel capacity in two tanks fits the game fishing role, allowing extended trips. A bow thruster helps to simplify manoeuvring around the marina.
There are seven berths on board, with the main cabin boasting a huge double. Somewhat unusually there is no door to the front cabin, although a privacy screen could easily be fitted. The galley has a four-burner stove, grill and oven, while hot and cold pressurised water is available in the sink and both showers. A 12V fridge and freezer completes the galley equipment.
The flybridge, accessed via a stainless steel ladder, provides a great 360-degree view and is well protected with clears all round. The helm station layout is simple, with a modest but comfortable skipper's chair. A Garmin colour touchscreen plotter and sounder does the business, with the rest of the space taken by the controls for the Cummins diesel, electrics and VHF radio.
The rear cockpit is where this boat really comes into its own, with enough space to fight a marlin. A huge transom door would make it easy to bring a big one on board, and in the absence of a boarding platform serves equally well for anglers, swimmers and scuba divers. The teak deck hides a couple of lockers as well as access to the gearbox and shaft drive. There's also a large combined toilet and shower on the port side.
Although the engine compartment is a tight squeeze, it's spotlessly clean and the engine is well maintained. This is the ideal boat for someone wanting a flybridge capable of handling big seas and extended trips but with only a modest budget, and is well priced at $190,000. Vining Shipbrokers can be contacted on (03) 573 7457.
About the Broker: Ian Michel
Vining Shipbrokers Ltd has been selling yachts, launches and marina berths in Picton for the last 33 years. Owners Mike Vining and Ian Michel have expanded the business in recent times to provide New Zealand-wide coverage from five offices — plus they have 21 dedicated professional marine brokers happy to talk boats all day!
For the latest reviews, subscribe to our Trade-A-Boat magazine here.
Keep up to date with news from Trade-A-boat or like us on Facebook!