Test: Fish City FC580
---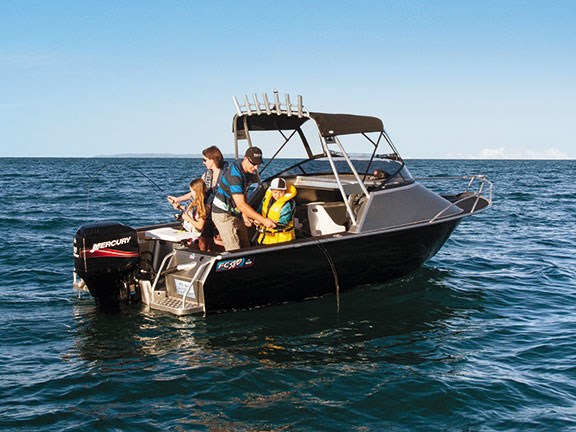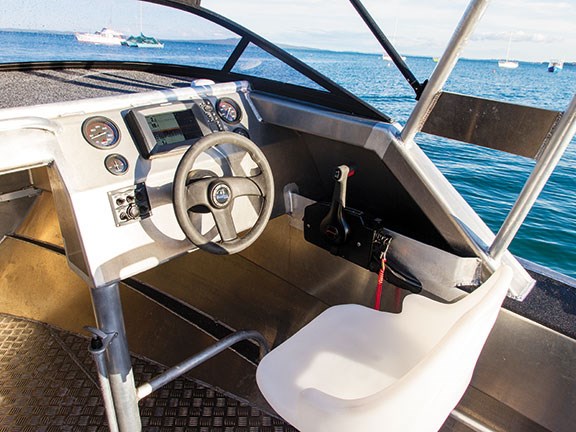 Front ballast operated by simple but effective floor-mounted lever to left of helm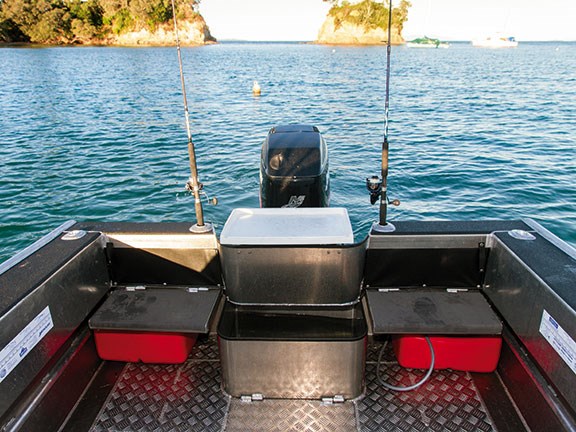 Large passive live-bait tank; fold-up transom seats; wide gunwales provide fishing perch and flotation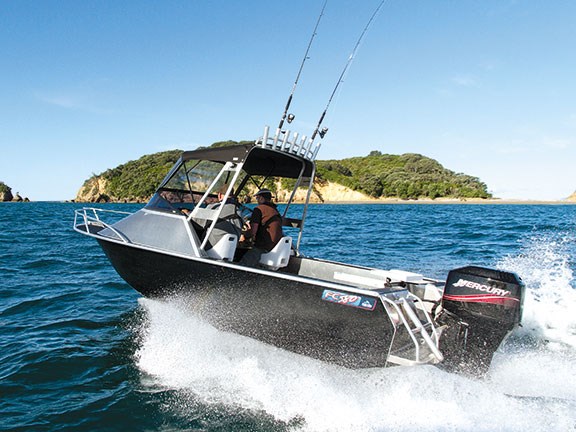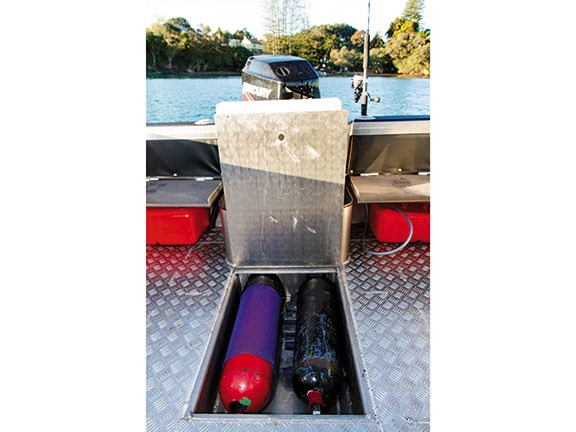 Plenty of space for gear/catch; swallowed three seats of dive equipment with room to spare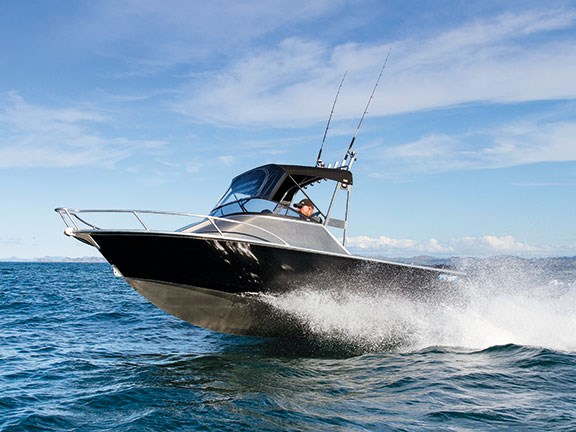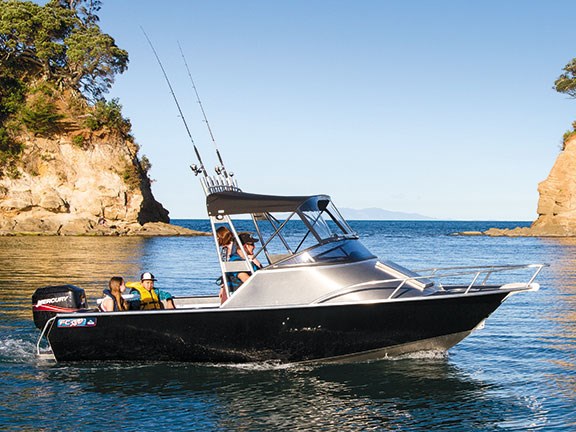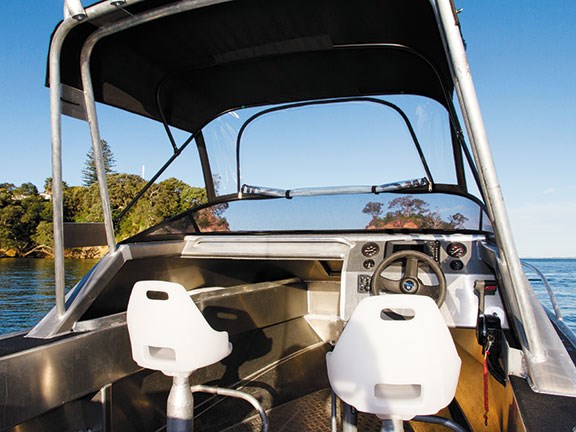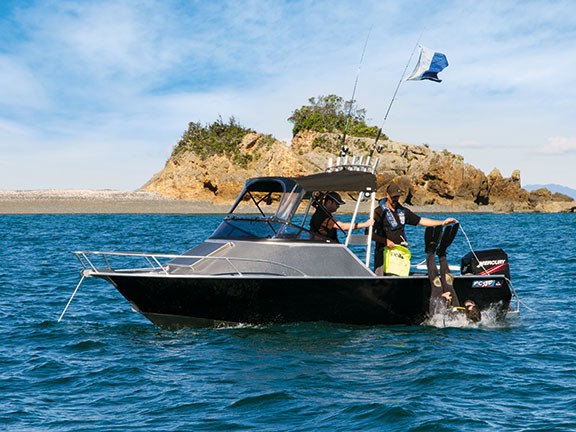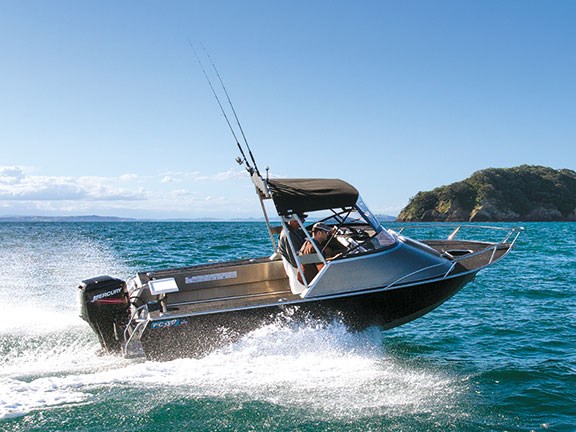 The clever new FC580 represents a great opportunity to get out on the water without robbing a bank, and is the perfect craft for a mission whenever the mood strikes.
Just like a sneaky lunchtime pint down the local or a quick service station steak and cheese after you've met your wife for a Weight Watchers weigh-in, a rushed trip out on the boat is sometimes all you've got to work with. But you make do: when the opportunity knocks you answer it — and on this particular occasion we had two knocks…
The first was fairly simple: we had two hours to cross the Hauraki Gulf, dive for scallops, take plenty of photos, test the boat and get back in time to hand over to a family using it for an evening fish. It was a great test of the new offering from Ross Christensen and the team at Fish City, the kind of thing a new owner would do given half a chance.
The second opportunity was the all-new FC580 itself, which is a superb little craft, offering the chance to get out on the water in a brand new, well-equipped boat for 40 grand. At just short of six metres but with loads of usable cockpit space and the fighting attitude of a much bigger boat, this is a clever, capable and solid craft that will see you through fishing, diving and family adventures for ages.
Years of designing, modifying and racing boats, plus hundreds of fishing and diving trips, have taught Christensen a few things, all of which have been incorporated into the design and careful manufacture of a great range of affordable boats. "We're trying to do things properly," he says. "We wanted to produce a range of quality boats that would sell in volume and provide New Zealanders with craft they could rely on. We wanted to build a better boat for the same value."
A quick mission
We met Christensen at Auckland's Waiake Beach at 3pm, and the plan was to head across to The Noises, about 10 nautical miles away, and be back by 5.30. No worries (I thought), but it would mean ditching the planned cray dive — we all have to make sacrifices.
As soon as we left the shelter of the picturesque little bay we encountered decent chop, which soon grew to almost a metre as we headed across the Gulf. This was the roughest Christensen had yet encountered in the new boat, and was happy to test the hull in these conditions — if nothing else it was a good chance to see what the front flooding ballast could offer. With the bow chamber empty the boat felt fine and you'd cope well enough on your way to or from your favourite fishing, diving or picnic spot. But we had the advantage of introducing an extra 100 litres of sea water up front to help nose us through the waves, so why the heck wouldn't we? Christensen stopped the boat for three minutes, and while the ballast tank filled I noticed she was impressively stable despite the surging sea. The system is very effective, with a floor-mounted valve within easy reach of the helm — pull the handle and the water rushes in, and there's a handy little viewing window so the skipper knows when it's full. Pull the handle to empty it when you're on the plane and conditions have flattened out.
Once on our way again, the difference the front ballast made was instantly noticeable, with the now heavier bow easily pushing through the head sea and parting the waves cleanly. It was like we'd suddenly jumped on board a bigger boat — which is kind of how this boat seemed to me overall — and this sort of adaptability is a real asset in our changeable conditions. Christensen leaned on the throttle and the 580 quickly hit 29 knots in tricky water. The ride was comfortable and balanced, and I could see the skipper was enjoying himself as he assessed the boat with the critical eye of a perfectionist. I could tell he was pleased with the way the little battler soaked up the conditions: we were heading into some respectable water and 15-20kt nor'easter and never felt pressed.
The efficient hull was well matched to a Mercury 90 two-stroke, which provided smooth power and muscular torque across the rev range, with good hole shot for water-skiing. Sure you could go bigger than 90hp but there's probably no need, as this boat and motor package inspires confidence and will easily cope with the rigours of Kiwi weekend boating.
The gathering
We skipped past Rakino Island and were soon sitting in the shelter of The Noises with the tantalising proposition of scallops for dinner. The boat swallowed up three sets of dive gear, including the 15-litre steel dive tanks, all stored in the dry and spacious front cabin area and cockpit under-floor bin. There was ample room in the cockpit for the boys to gear up before entering about eight metres of water, the extra-wide, non-slip gunwales providing an easy entry point.
While waiting for the divers I had a good chance to assess the boat further, with superb stability one of the most noticeable characteristics of a beamy vessel that will spend a lot of its time anchored in fishing spots. The flooding keel fills automatically once you stop, and the stability this provides is but one example of this boat's inherent value. The keel will automatically drain as soon as you move off, and Christensen has incorporated a clever system to accelerate this process: the pedestals are more than just seat posts — they're hollow, tapered tubes with breather holes and a ball valve. With the water in the keel, the valve rises up the pedestal to stop the sea from entering the boat; then, when you're moving off, the ball drops and the breather holes let air into the tubes to force the ballast out. Inspired.
Even with two blokes on one side of the boat (together we were over 200kg) it barely moved at rest, and I reckon a third or fourth person could have joined us to fish that side. The large gunwales are at a user-friendly height, and are so wide they make for a decent seat if you're waiting for a bite or kicking back with a cuppa. They're foam-filled, providing an extra 400 litres of flotation to complement the sealed floor. With no automatic anchor capstan fitted to this prototype (a custom option), one of us would head forward to the bow roller when it was time to move — an easy process on such a stable platform (if there had been less gear in the cabin area we could have accessed the anchor through the large front hatch). One more handrail up top would be useful when skirting around the cabin if you don't fancy hanging on to the canopy, but that's really the only petty quibble I had with what is arguably one of the best value and most well considered alloy boats to hit the market for a while.
We upped anchor to pick up the boys when they surfaced about a hundred metres away. They were smiling, which made me wish I'd brought some gear along. The fin-friendly ladder made boarding easy, and all they had to do was step over the transom onto the fold-down rear seats and into that big cockpit. They'd claimed their legal share of scallops, which were duly stowed for later.
A decent spin
Despite running out of time I was determined to get in a decent spin to see how she coped in tight turns and all that kind of fun stuff. As I mentioned earlier, hole shot is good from that torquey Mercury, while handling was decisive and inspired confidence even when I pushed it a bit.
The boat shoots where you point it, gripping and manoeuvring nicely, while its wide chines and overhanging gunwales keep spray down. It's solid and stable, with tight turns under power guaranteed to put a smile on your face.
I was having such a good afternoon I forgot we had to cover the 10 miles back to Waiake to meet the waiting family. Now considerably late, we left The Noises in our wake to once again fight the chop in the Gulf. With the hammer down, we took on the sea with the front ballast full. The boat parted the waves easily and even Christensen was genuinely impressed with the way she coped, particularly when we started playing in the sharp wake of the FC640 photo boat we were following. He was, I think, surprised at how well the hull dealt with what can be tricky water for some boats. While I was driving, Christensen dropped back to try the transom seats and reported that it was the place to be for a very smooth, relaxed ride in the rough. He then decided to empty the front ballast to see what difference it would make, and we soon increased our speed by about four knots. We bounced a bit more, proving that the system works as it should, but it was far from uncomfortable — despite my increased grip on the sturdy passenger hand rail up front.
Time for a fish
We were almost an hour late to meet the family, who didn't mind as they still had plenty of daylight in which to take their kids out for a fish. Last I saw them they were smiling and laughing, and there was more than enough room for the four of them to fish together and have a lot of fun. I don't know what they caught but it looked like they might have been doing OK in this versatile and innovative boat.
The boat's well set up for fishing, with a large passive live-bait tank in the transom, six through-gunwale welded alloy rod holders, a rocket launcher with seven rod holders (which can fold down for easy storage). Side shelves will easily hold gaffs, nets and rods, and the under-floor bin is big enough to hold your daily limit. The plastic bait board is of a respectable size, and the fold-up seats adjacent mean fishing from at the stern is easy. But the best fishing-friendly features, worth reiterating, are the large cockpit and the stability at rest — you'll be filling the bins in no time providing the fish are hungry.
The last word
Not everyone has endless piles of discretionary cash, so when a brand new boat with this much to offer comes along people usually sit up and take notice. We certainly did. Any boat that can get you out there for this sort of money has to be worth a look, especially when its sister craft are proving themselves to be so capable and popular. The FC centre consoles we've tested this year are pretty impressive, and this new cuddy offering from Christensen is no different. It's packed with practical features and there's plenty of scope to set it up to suit your needs. It really is a lot of boat for the money and, with five year hull and engine warranties, it really is an opportunity worth considering.
For more information contact Fish City Albany on (09) 476 4282 or Hamilton on (07) 846 6675 or visit fishcity.co.nz.
For the latest reviews, subscribe to our Trade-A-Boat magazine here.
Keep up to date with news from Trade-A-boat or like us on Facebook!