Test: Lagoon 39
---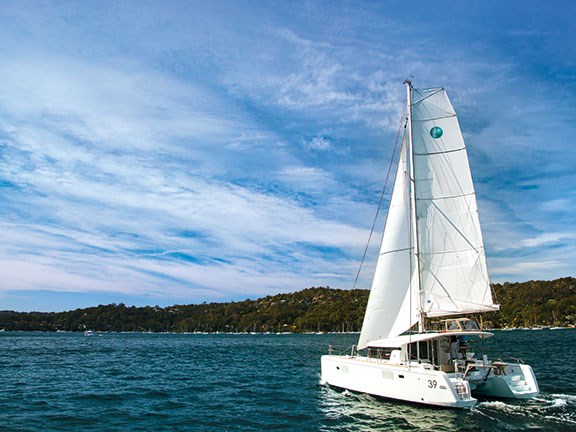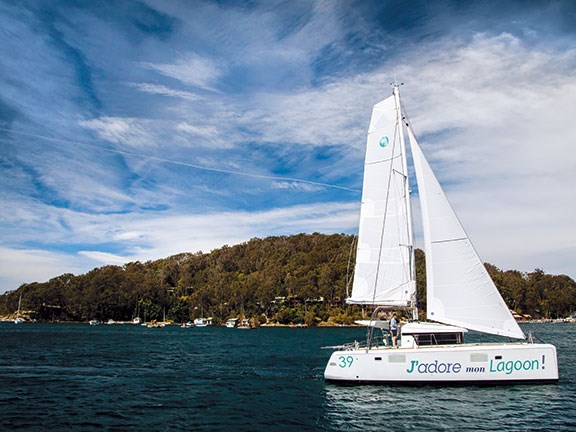 Sailplan moves centre of effort and buoyancy aft — bow sections finer, giving better wave-piercing power and less inclination to pitch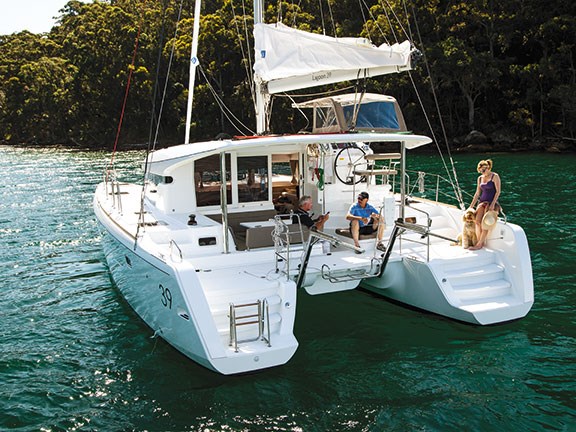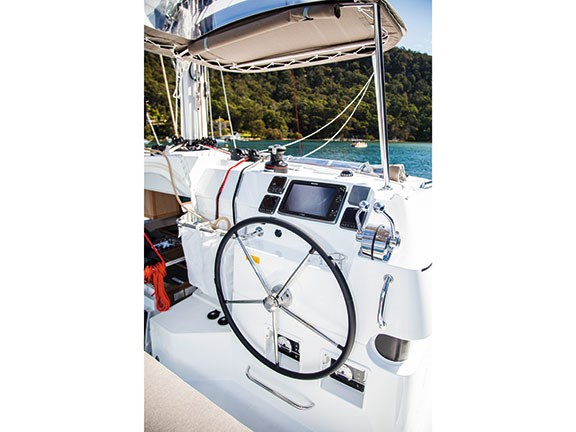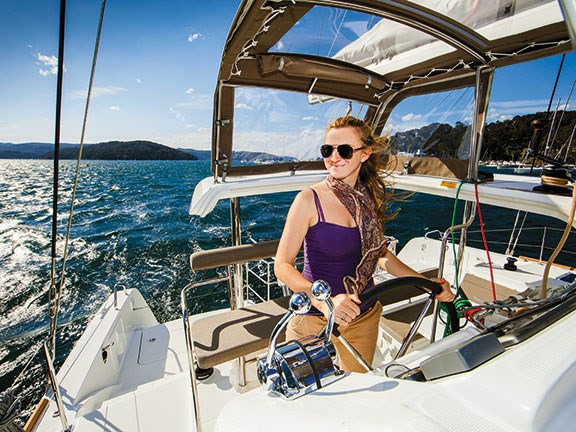 All sail controls lead to two-winch helm position for easy singlehanded sailing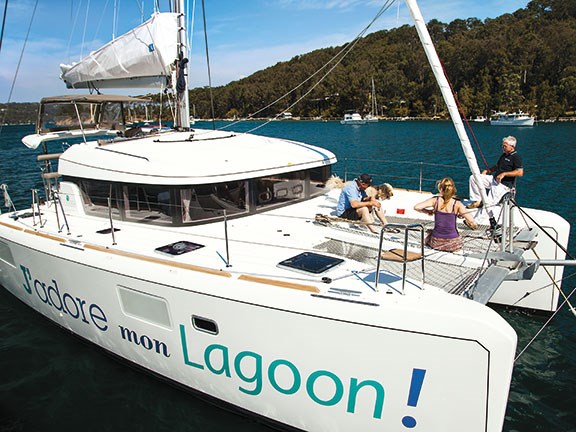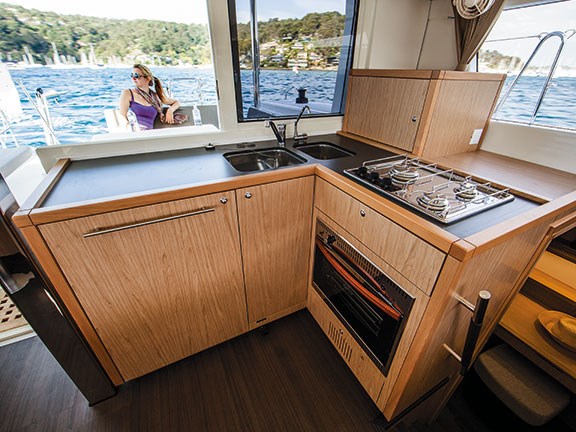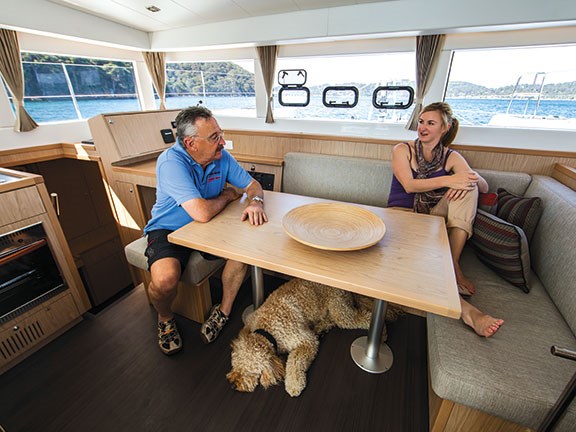 Dinette seats six; folding/sliding seat at one end for use with chart table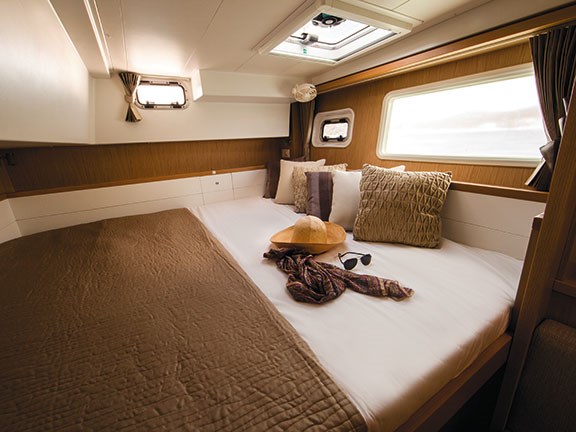 Owner's suite: desk and seat, lounge, king-size bed, ample storage, good ventilation and natural light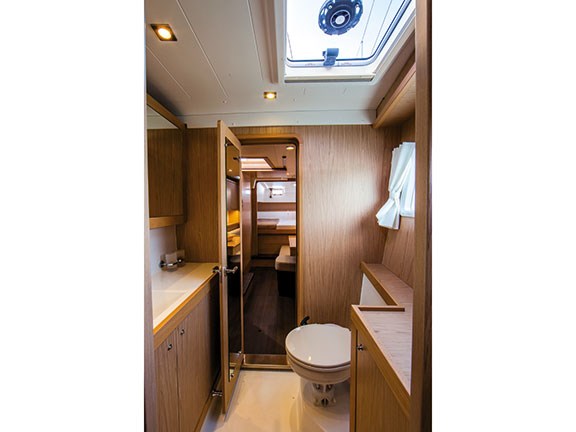 Maximum of two heads, even in four-cabin versions; all have separate shower cubicles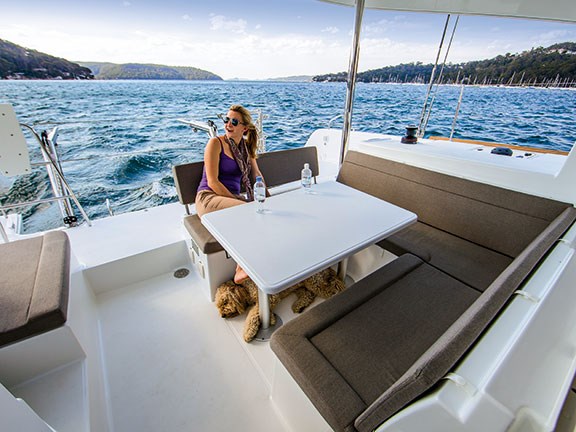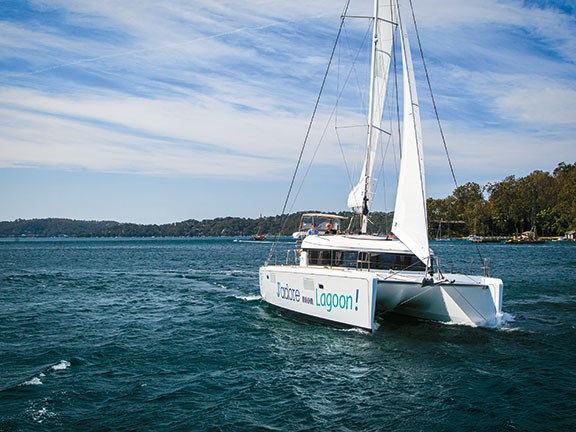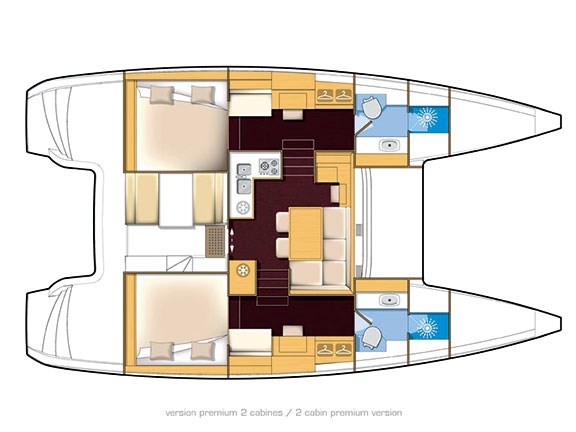 Lagoon's new 39 is a departure from tradition for this globally-renowned multihull manufacturer. The changes promised ease-of-sail handling and that's exactly what Allan Whiting discovered during a gale-force comparison test against the well-established 400S2.
Mention Lagoon Catamarans to a cruising multihull aficionado and a mental picture is transferred: an upright, pugnacious design; a conservative rig; almost-plumb stem and vertical cabin windows; quality fit and finish; stylish interior with a variety of cabin options.
In the case of the new Lagoon 39, that image would be correct (except for the 'conservative rig' part). The vessel is a cat of a different colour for Lagoon, featuring an aft-set mast with a short boom and high-aspect-ratio square-top mainsail and a large fore-triangle.
The 39's rig is in line with current design trends that see most new performance multihulls sporting large fore-triangles, mostly double-headed for ease of sail handling. The sailplan moves the centre of effort aft, and the transfer of mast and rig weight toward the stern means the centre of buoyancy has also moved rearwards. Because there's not the need for as much buoyancy forward, the bow sections can be finer, giving better wave-piercing power and less inclination to pitch in choppy conditions.
Mast loads on the 39 are absorbed through an aft crossbeam and a rectangular compression post, situated just inside the saloon-cockpit doorway. The post is polished to a mirror finish, making it reflect the galley and saloon ambience.
Living room

The new 39 has a very similar ambience to the brand's 400S2, sharing that model's Alpi woodwork, low-gloss gelcoat and white vinyl ceiling interior design. However, a raised steering station, galley and dinette are a mirror-image of the 400S2, while the cockpit lounge is copied from the 400S2's starboard side to the 39's port.
The buyer has the choice of a two, three or four-cabin layout, with a maximum of two heads, even in four-cabin versions, although all have separate shower cubicles. Our review model was a three-cabin version in which the port hull was a dedicated owner's suite, shut off from the saloon by a lockable sliding door. The owner's hull incorporated a long desk and seat, two-seat lounge, king-size bed, two deck hatches (with electric fans, fly screens and block-out blinds), two rectangular hull ports, two smaller opening ports, an ample wardrobe, cupboard and shelf space, plus a full-length mirror.
The starboard hull was laid out with a tapered double bed in the forward cabin and a queen-size aft. Both cabins shared a central head/shower, similar to the owner's one but without a fan on the deck hatch. The two cabins had cupboard, drawer and shelf space, plus fixed and opening hull ports and roof hatches with fans, screens and blinds.
Lagoon's 39 has a similar saloon to the 400S2's, but the new boat is slightly narrower in beam so the latter has more space.
That said, the 39 can seat six at its U-shaped dinette and another six can lounge around the cockpit table, so it's not exactly cramped.
The galley is arranged so that the bench top with twin sinks butts to a sliding window that opens onto the cockpit. Thoughtfully, a front-opening fridge fits under this bench with a top-opening freezer opposite. The dinette is designed with a folding/sliding seat at one end so it can double as a chart table seat. In its open position the seat reveals an electrical system control panel.
The cockpit is separated from the saloon by an aluminium/glass door that slides into a void forward of the steering station, but the two areas combine into one space when this door and the saloon window are open. If the weather is inclement these can be closed, with a teak grate and sump at the door entrance in place to stop water invading the cosy saloon.
As befits a 39-footer, the cockpit space is generous and wide side decks give easy access to a large foredeck with twin trampolines separated by a spine that carries the anchor chain from one of two vast lockers to the bowroller. A separate roller fairlead is provided to ease the job of picking up a mooring float.
Getting aboard the 39 is easier in the case of a starboard berthing, as a folding swim ladder partially blocks access on the port hull. Boarding alternatives are a pair of gunwale gates and a clip-on boarding ladder is provided.
Construction and rig
Cruising catamarans generally carry a lot of equipment, so Lagoons are built with weight-saving in mind. Hull, deck and bulkheads are constructed in a mould, using infusion. The process uses less resin than traditional wet layups, saving money and weight. An anti-osmosis barrier is created by the use of vinylester resin. Like the 400S2, the 39's Alpi woodwork is reconstituted, lightweight composite material. The vessel has shallow-draft stub keels that are isolated from the hull skin, so a punctured keel doesn't mean water in the hull.
The bridge deck is high-set to reduce wave slap and impact stress on the structure, and buoyancy is designed into all Lagoon catamarans. The forward and aft compartments of each hull are sealed by watertight bulkheads.
The Lagoon 39's twin-spreader, diamond-stayed rig is well triangulated, with cap shrouds to plates that align with the aft crossbeams. Because the mast is stepped well aft, this shroud placement doesn't restrict boom swing.
Twin Yanmars sit in spacious engine rooms that provide great all-round access via large cockpit hatches, and the engine legs are well aft of the rudders giving an unrestricted flow over the blades when the boat is going forward. I like the fact Lagoons have separate fuel tanks and starting batteries for the two engines.
Gale force
Test day dawned bright and clear with a fiercely building northwesterly stirring up Sydney's Pittwater. This harbour is a perfect test site in a big blow because it's possible to vary wind strength by sailing closer to or farther away from sheltering hills. By virtue of this manoeuvring we were able to vary wind strength between 10 and 42kts.
As a testament to the strength of these boats, we ran full rigs — albeit briefly — on both the 400S2 and the 39. Making sail on the 39 was easy enough: unfurl a big self-tacking headsail, undo clips on a cavernous boom bag to release the square-topped main and step on a powered halyard winch button to haul it up. The job took three minutes.
Lagoon has a clever top-batten line that tensions as the sail ascends, cocking the batten into place, while most other square-tops need the batten to be inserted as the sail is readied for hoisting. All sail controls led to the two-winch helm position, making singlehanded sailing easy.
Whenever two boats are headed in the same direction it's a race and that's what happened between the Lagoon 400S2 and the 39. It was soon obvious that the 400S2 had the legs in wind strengths above 25kts thanks to its lighter weight and larger sailplan. When we steered under the hills into breezes around 15kts there was very little performance difference. Both boats made just over six knots to windward. I noticed that the 400S2's large main and forward-set mast gave it a tendency to push its bows down in gale-force gusts, but the 39's rig actually took pressure off the forward sections in the same conditions. Neither boat is a great windward pointer, but 50 degrees true is easy enough and 60 degrees is more comfortable.
In a manoeuvring battle the 39 had it all over the 400S2 — crash-gybing the 400S2 in 30kts-plus was out of the question given its much longer boom and overlapping headsail. In contrast, the 39 could be spun through tacks and gybes without anybody doing anything and therein, I think, lies its inherent appeal.
The last word
Many large powerboat owners — large boats, not large owners — are feeling the fuel-cost pinch and are looking at the sailboat alternative but are wary of getting into strife as they learn the ropes. The Lagoon 39's simple sail handling eradicates that issue and these owners are already comfortable with manoeuvring high-windage, twin-engined craft into and out of tight marina berths.
For the latest reviews, subscribe to our Trade-A-Boat magazine here.
Keep up to date with news from Trade-A-boat or like us on Facebook!