Test: Northcape 34
---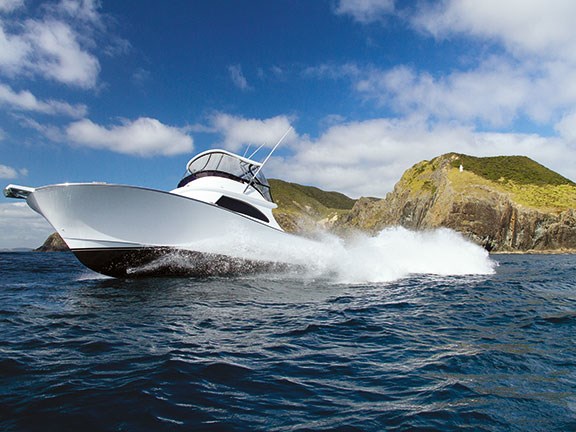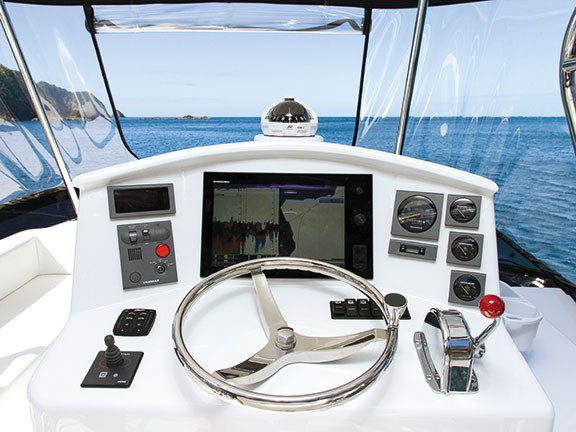 Well-laid-out helm station with Furuno TZ Touch 14" featuring CHIRP transducer, GPS and auto pilot. Three-zone Fusion entertainment system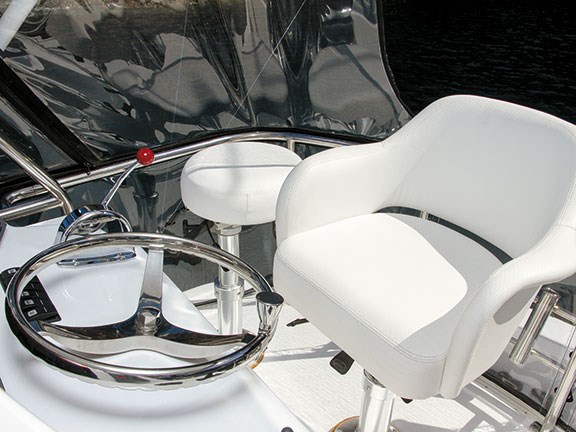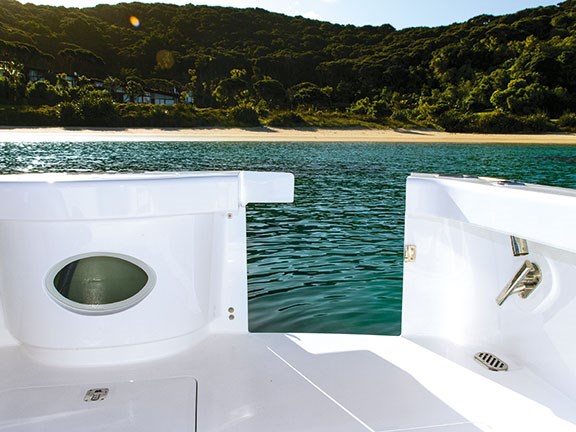 Inner gunwale cleats help provide snag-free fishing; 180L live-bait tank; wide transom door with compression seal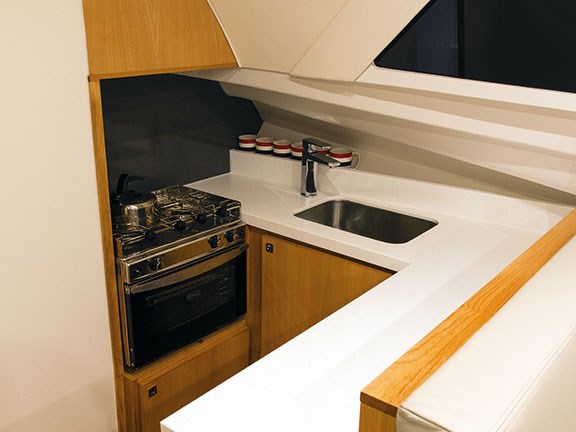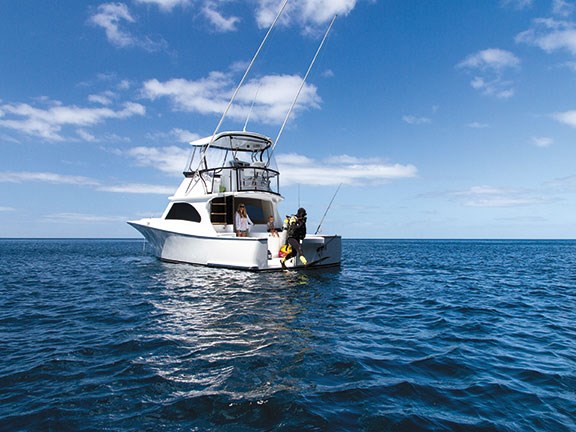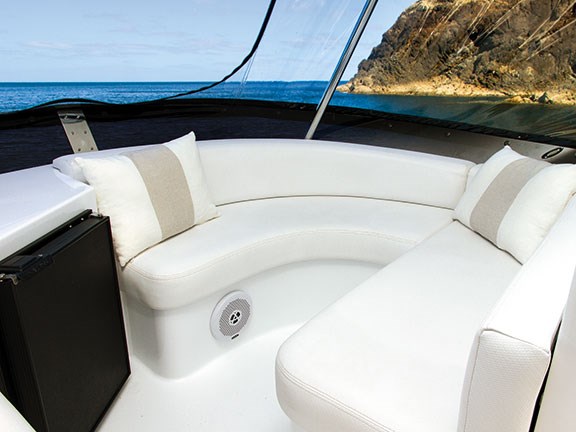 Comfortable, sociable upstairs lounge area; clears open for ventilation to suit conditions; well-placed fridge…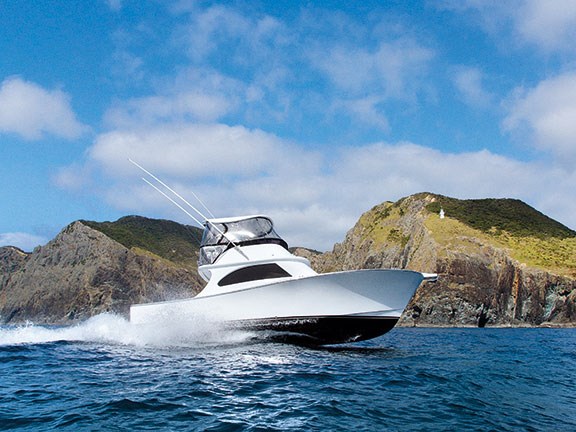 Fine entry fluently parts metre of messy sea on front quarter; flared bow keeps cockpit dry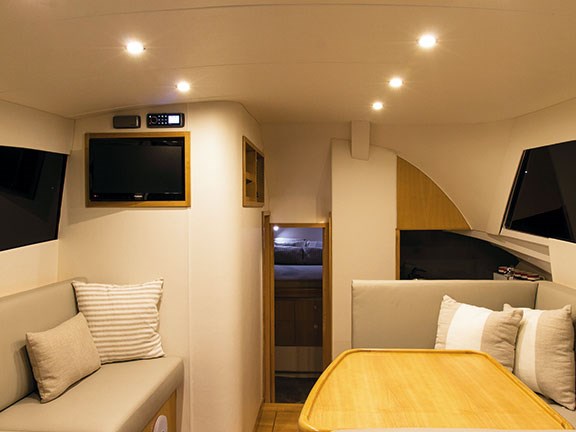 Classy, high quality interior. Removing leather backrest cushions on port-side couch reveals comfortable double berth; bunks forward to starboard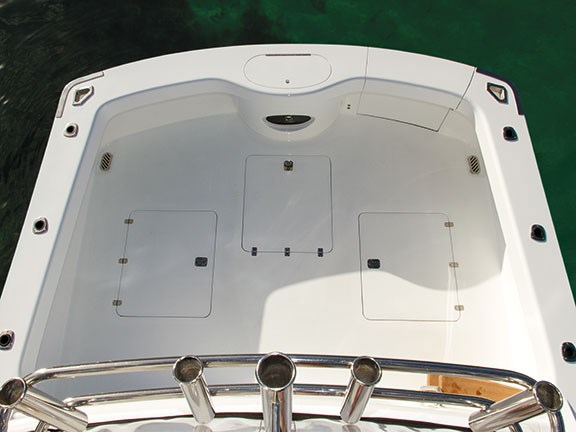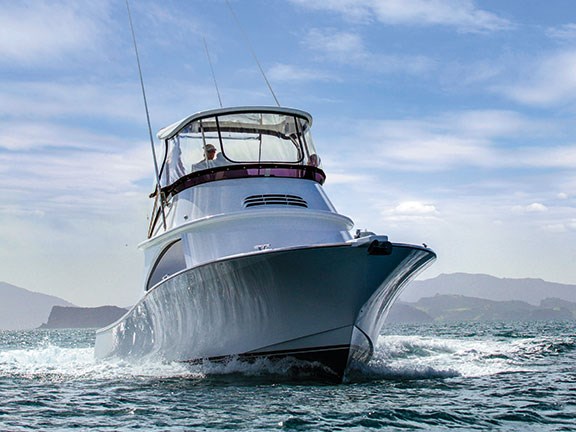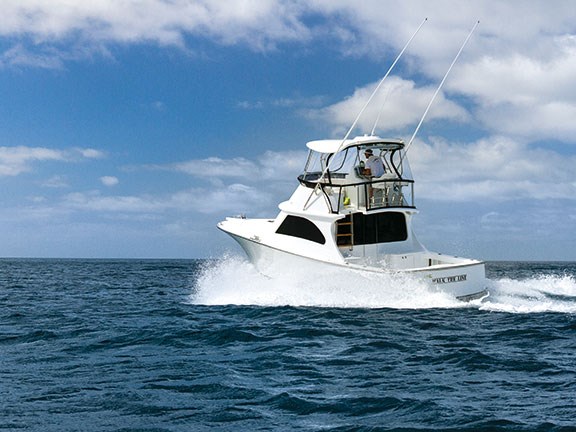 Hand-crafted with the utmost care and attention, the NorthCape 34 custom sports fisher is synonymous with serious game fishing, enjoyable diving, relaxed entertaining and living the family lifestyle dream. We're confident she'll capture your heart, soothe your senses and blow your mind.
Sure, it would have been easier for Brad Rowe to craft his stunning new NorthCape 34 using moulds and other production-based processes, but precisely sculpted curves and clean, flowing lines don't come easy. Nothing worthwhile ever does. The NorthCape 34's sultry curves are the result of a devotion to quality, a passion for perfection and the skills of talented, dedicated craftsmen.
Shortcut isn't a word in Brad's vocabulary, and he and his wife Charlotte spent over a year perfecting the design with a naval architect before construction commenced. The curvaceous hull with its large, flared bow, raised sheerline and tumblehome stern are
the only features they'd rather you didn't change, the rest is yours to create and customise to suit your personal tastes and lifestyle requirements.
A master class
Brad's an experienced master craftsman whose utmost devotion to quality has seen him build numerous boats for the extremely rich and famous, none of whom would feel out of place enjoying a glass or two while savouring the NorthCape 34's comfortable, luxurious ambience.
But just because the vessel possesses supermodel looks doesn't mean she's high maintenance. "By having cleaner lines and a cleaner look you end up with fewer fittings so the whole boat is easier to maintain," says Brad.
Refined touches of master class feature throughout: the 50mm polished stainless steel belting with no exterior fastenings for superior aesthetics and durability, the tumblehome stern for classic styling, exceptional New Zealand tawa woodwork, soft-closing drawers and cupboards, a gloss finish to die for and beautiful big radiuses on every curve.
The grille along the flybridge face provides more than a point of difference — it's also the intake for an innovative air flow system that feeds the engine bay while providing an external vent for the shower and galley extractor fans.
Upstairs lounge bar
No space on the NorthCape 34 has been underutilised, as evidenced by the excellent freezer access afforded by the split flybridge ladder. Up a few steps lies the helm station and upstairs lounge bar, which is equipped with a sociable layout, day-dream-inducing comfort and a well-positioned fridge. Relaxation is guaranteed while putting your feet up and enjoying the panoramic views. The clears open front and rear to provide an excellent viewpoint and adjustable ventilation to suit the conditions.
While family and friends enjoy quality time in front, the skipper can take pleasure in the comfort of the fully-adjustable wraparound leather helm seat and complementary first mate pedestal. The curvaceous and well-laid-out helm station is enhanced by a Furuno TZ Touch 14" multi-function screen featuring a CHIRP transducer, GPS and auto pilot. A three-zone Fusion entertainment system allows the soundtrack to be fine-tuned to suit the occasion.
Comfortable ambience
Down below, the large rear drop-down window and bi-fold door provide a seamless flow between the main cabin and the cockpit for effortless entertaining. The layout's been customised to suit the Rowe's young family, with a small forward bunk room maximising entertainment space in the well-appointed galley and cabin. By removing the leather backrest cushions on the port-side couch, a comfortable double berth is revealed. It's been designed so you can simply replace the cushions in the morning, with your bags and bedding stowed behind to quickly restore the cabin to its pristine state.
In the master cabin a spacious double awaits, which has been raised to allow space for four drawers below. Behind a wooden wall panel a discreet wardrobe is neatly concealed. As in the galley, all cabinetry is stunning in tawa with soft-closing drawers and doors.
Classy curves carry through to the bathroom, which features an electric flush toilet and glass shower cubicle. It's beautifully finished and spacious, with just the right amount of timber, stainless steel and glass.
A pleasing ambience is created after sunset with a high quality LED lighting system throughout, controlled through an integrated BEP switch panel. On display are water, fuel, battery life and current rate of discharge so you shouldn't get caught short.
No escape
Brad's first boat — a NorthCape 24 called Bluefix, which he built and launched in 2003 — has caught over 65 marlin. It took out Trade-A-Boat's Fishing Boat of the Decade in 2010 and is the six-time winner of the hotly-contested Bay of Islands Swordfish Club trophy for the most billfish caught on a non-commercial boat. All that winning knowledge has been taken to the next level in creating the NorthCape 34.
Precise positioning of the rod holders allows both light and heavy tackle to be fished, and the Reelax outriggers can be operated from both the lower deck and the flybridge. The curvaceous 180-litre live-bait tank has been seamlessly integrated mid-transom and allows uninhibited access to the baits within. All-round toe space, combined with 900mm-high gunwales, helps provide the upper hand when the drag is set to sunset.
A completely snag-free environment has been achieved using inner gunwale cleats, an internally fastened solid stainless steel belting strip, down blade trim tabs and no boarding platform or ladder, so there's little chance of escape once the hook is set. The tackle can be kept dry and safely out of the way in the watertight storage unit, which also doubles as a serving table. A secondary throttle and bowthruster control are neatly concealed beneath an integrated flap — safely tucked away but ready to go at a moment's notice.
To preserve the clean lines there are no bow rail or exterior handrails on Brad and Charlotte's personal NorthCape 34, which can be unnerving when venturing forward, but with the automatic capstan fitted they find there's little need. There's also no bait board or game chair as yet but, being a custom build, all of the above can be fitted if desired.
Due to rising fuel and servicing costs, the boat is powered by a single turbocharged Yanmar 440hp diesel, driven through a shaft drive and complemented by a 9hp bowthruster for enhanced manoeuvrability. The shaft drive is housed in a tunnel to increase efficiency, reduce the shaft angle and allow the big propeller to pull the boat backwards across the top of the water rather than pulling the stern downwards. This allows the NorthCape 34 to rapidly accelerate to seven knots in reverse when required to run down a fish.
We backed up at full throttle, in relatively calm conditions, and couldn't get the water to come any higher than three quarters of the way up the transom. To keep the bilges and cabin completely dry when conditions aren't so pleasant, the cabin, storage unit, transom doors and hatches are fitted with compression seals. The cockpit floor and hatches drain through an integrated Venturi-operated deck drain and scupper system to quickly clear any water that makes it over the transom in the heat of battle.
The grand tour
I arrived at Bluefix Boatworks' Kerikeri premises a few months too early to experience the NorthCape 34 in its element — backing down on a rampaging marlin — so we loaded up the dive tanks (and a few DVDs for the kids) and cast off to savour a day on board a fantastic lifestyle vessel in a stunning boating destination — the Bay of Islands.
After casting the lines at Doves Bay Marina, we plotted a course for Whangamumu Harbour for lunch. The throttle was set at 2800rpm, which provided a cruising speed of 23 knots as we headed out through the choppy bay. The tender was deployed at a few scenic and sheltered spots to shoot the photos along the way, while the NorthCape 34's soothing diesel reverberations appealed to a pod of dolphins who stopped by for a look.
After rounding Cape Brett we dropped the anchor to check out one of Brad's secret dive spots. Three sets of scuba gear were easily stowed beneath the cockpit floor with plenty of cockpit space on offer for gearing up. With the wide transom door and sole just above water level, entering and leaving the underwater realm was as easy as it gets. The first dive was stunning and successful, the second just stunning. A couple of respectable crays were placed in the 180-litre live well for safe keeping on the trip home and we later reminisced about the ones that got away.
Rounding Cape Brett, we had a metre of messy sea on the front quarter that the fine entry fluently parted, while the flared bow kept the cockpit dry. The large chines, wide beam and low centre of gravity combined to provide a comfortable and stable ride.
The last word
Brad and Charlotte Rowe have created a sultry blend of quality, class, comfort and functionality in their latest creation. Being designed and built by a game fishing guru with a devotion to excellence, it's a potent sports fisher that strikes an impressive balance between all-round functionality and first-class finish.
In a feat often attempted but rarely achieved, the NorthCape 34 looks good from every angle and you can customise her to live out your lifestyle dreams. For more information contact Bluefix Boatworks on (09) 407 3021 or 021 410 322, email info@bluefixboatworks.co.nz or visit bluefixboatworks.co.nz.
For the latest reviews, subscribe to our Trade-A-Boat magazine here.
Keep up to date with news from Trade-A-boat or like us on Facebook!