Test: Campion Allante 545i
---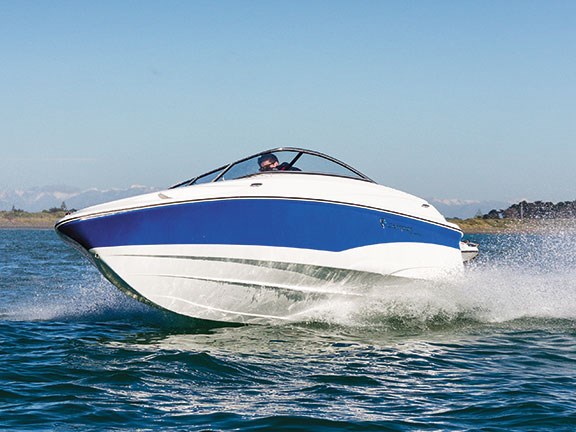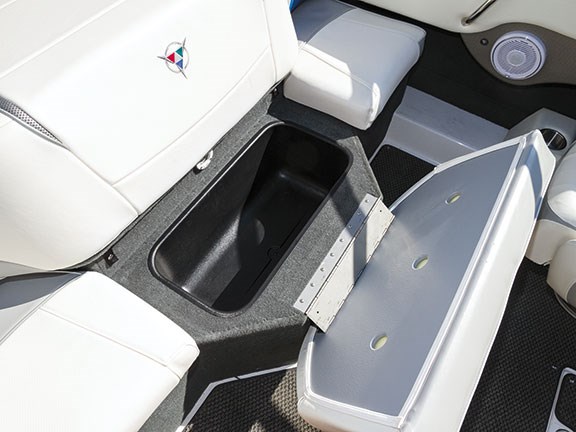 Hatches abound - plenty of room for drinks and gear.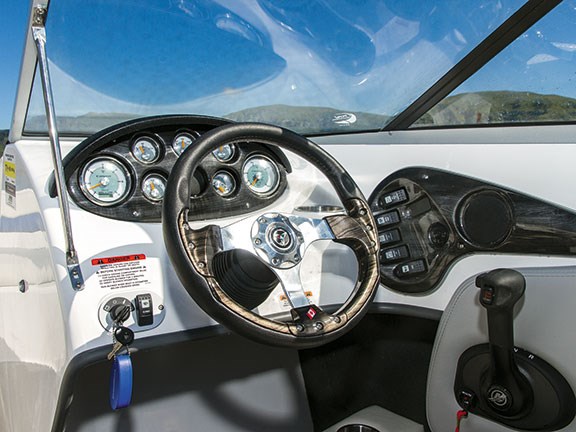 The smart helm has everything to hand and the seats hold the skipper in firmly.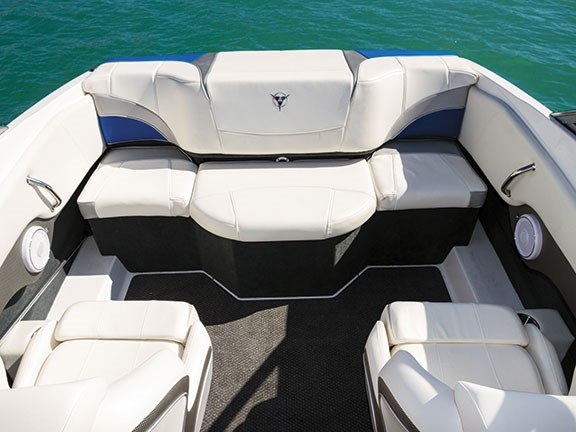 Aft seating is plush with more handles and drink holders than most people could ever require.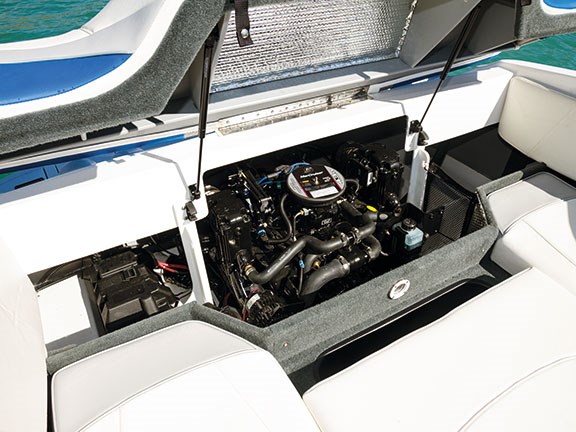 Engine access is a simple affair with hydraulic rams to hold hatches in place.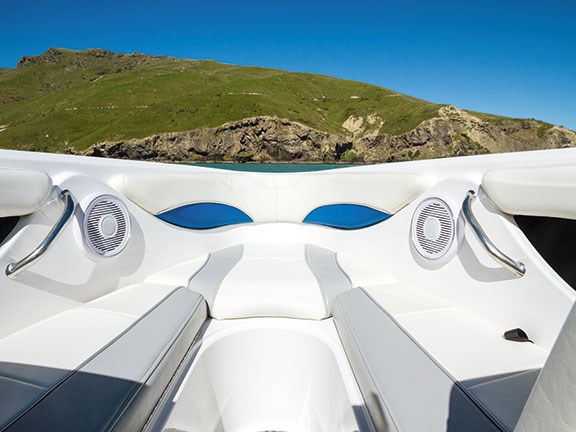 The Campion's bow is extremely conducive to serious relaxation.

Until you slide into the luxurious helm seat and throw down the throttle on Campion's 545i Allante, you'll probably never know true inner peace.
Bowriders are the ultimate for on-water fun, designed to provide good times, good tunes and stress-busting freedom. Of course, with a throbbing V6 petrol inboard under the bonnet, the Campion 545i Allante is also capable of whipping you and your chosen friends away to secluded bays, ski lanes or anywhere the view is agreeable. Onboard, the 545i Allante boasts a social and relaxing layout with an impeccable finish. The flawlessly moulded gelcoat even extends into the underseat storage lockers and underfloor ski/wakeboard storage areas.
Clip-in carpets offer versatility with comfort and the caressing Razor Ultra-suspension bolster seats offer more "Aaaah" factor than a Swedish massage. The bolster means you can either kick back and enjoy the view through a curved glass windscreen or flip the cushion to sit atop for that windblown look.
While this boat's a helluva lot of fun to drive, I'd also quite happily be chauffeur-driven around while occupying one of the transom seats — especially with cup holders and a removable underseat ice bin within easy reach. Of course, I could also opt to lounge about in the bow where there's ample laidback legroom, handrails, more cup holders and waterproof speakers but that spot's probably best reserved for a couple of bikini-clad companions.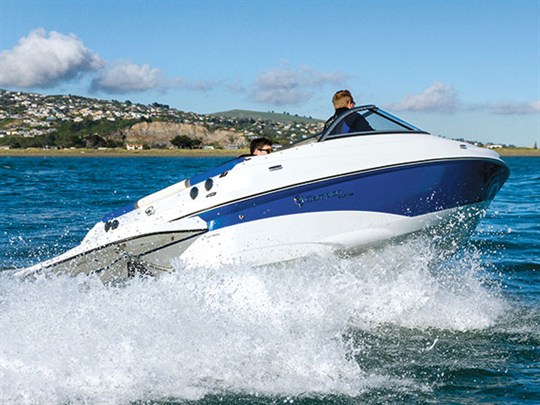 The day's soundtrack can be selected via the crisp Clarion sound system which features both a USB charger and auxiliary input inside the passenger glove box — very handy for keeping the iPod charged and safe. Wherever you choose to lounge about, there's always a quality stainless steel cup holder and hand rail never too far away. If the good times go on beyond sunset, the Campion 545i Allante is also equipped with nav lights and headlights for docking (or dancing) in the dark.
The test
Upon hearing that the Christchurch branch of Sports Marine had taken delivery of two shiny new Campion bowriders, it seemed like a good excuse to collect some air miles while having a blast. After a hassle-free tow to escape the city, we launched into a glassy Lyttleton Harbour on a stunning spring morning, taking in the surrounds and soothing salt air before the throttle was set to cruise for a quick 25nm round trip to New Brighton beach. Once outside the sheltered harbour a slight swell and building wind chop proved little bother for the strong and soft-riding hull while we coasted along at 30kts. Once on location, the stunning Southern Alps provided a complimentary backdrop to the classy Canadian's two-tone gelcoat and svelte looks. But a building Nor' Easter meant it would be unwise to stay in open water too long, so we darted back inside the harbour to finish the photo shoot and test the performance.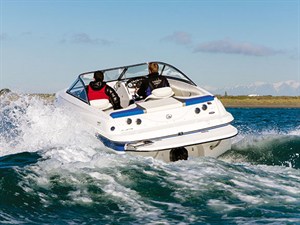 MerCruiser's 4.3L TKS 190hp V6 provided plenty of grunt with just a few people onboard, rocketing us onto the plane and up to a top speed of 39ks in quick fasion. Boasting a sporty steering wheel and an even sportier dash layout, I found it impossible to drive this boat responsibly. You could, but that seems somehow … irresponsible, by not allowing you to experience this hull's full potential. The innovative Apex hull design expands the high-pressure zones beneath the hull to increase the planing surface for swifter acceleration and enhanced stability at speed — or in bloke-speak: "Nail the throttle, hang on and the hull will do the rest". The rewarding hull combined with an adjustable steering height, a sliding helm seat and a good throttle position mean you really can enjoy the journey as much as the destination.
While sitting on the rear sun lounger making notes, even the frigid waters of Lyttleton Harbour looked inviting. Had it been at least 15C warmer, a refreshing dip would only be two steps away across the Portofino transom and extended swim platform. The classy stainless steel towing eye begged for action, but I couldn't convince any of the crew to strap on a wakeboard and carve it up for the camera, so you'll just have to use your imagination this time.
By home time the easterly trade winds had turned Lyttleton Harbour from glassy to a frothy chop. The Campion 545i Allante easily lapped it up providing a comfortable and relatively dry ride even though conditions were less than conducive to blasting about in an open bowrider.
Sports Marine supply the Campion 545i Allante on a well-made Profile 2000 braked trailer imported from US manufacturer Shoreland'r. As standard they come with carpeted skids for a secure cradle with rollers as an option. Depending on the ramp a bit of effort can be required to push the boat off, but we had no issues driving off and back onto the skids later on at the boat ramp.
Background
Campion Marine is Canada's largest independent boat builder. Founded in 1974 in Kelowna, British Columbia the company now produces over 37 models (with 48 variations) and have established 89 dealerships in over 30 countries worldwide. They have a strong environmental conscience, are 100% carbon-neutral and are also the first boat manufacturer in the world to switch to Envirez resin which utilises substantial amounts of renewably sourced soybean oil and corn-derived ethanol in its formulation. The high quality upholstery foams are also 12% soy based.

Campion say their Apex hull and FIST (Fibreglass Integrated Stringer Technology) stringer system "enhance performance and help reduce fuel consumption by up to 10%" — which obviously has benefits for both the marine environment and the wallet. Safety is also a priority and the 545i's hull is completely foam filled utilising environmentally friendly floatation foams. Full composite construction utilising 3-D fibreglass weave (requiring less resin for saturation) and Kevlar reinforcement in high-impact areas creates a lightweight and incredibly strong family fun machine. The Campion 545i Allante carries both USCG and CE approval and is rated to thrill up to 7 people at a time.
Verdict
Campion's 545i Allante is a high-quality package, with a stunning finish, luxurious comfort, a great ride and impeccable manners. It's been designed and built to provide all the bliss, happiness and contentment any watersports enthusiast could ask for. So if it's inner peace you seek simply grab a cold drink from the ice bin, slip back into any of the luxuriously comfortable seats, enjoy the view and let the happy thoughts begin.
Positives
Enjoy life in luxury
Fantastic finish
Socialise in style and comfort
Sporty performance and ride
Negatives
No factory options for fishos – but it would be a shame to spill blood on the stunning upholstery anyway
No depth gauge (optional)
Anchor package is extra
Boat supplied by Sports Marine, 507 Moorhouse Avenue, Christchurch. For more info on the Campion 545i Allante visit sportsmarine.co.nz.
For the latest reviews, subscribe to our Trade-A-Boat magazine here.
Keep up to date with news from Trade-A-boat or like us on Facebook!