Test: Haines Signature 580BR
---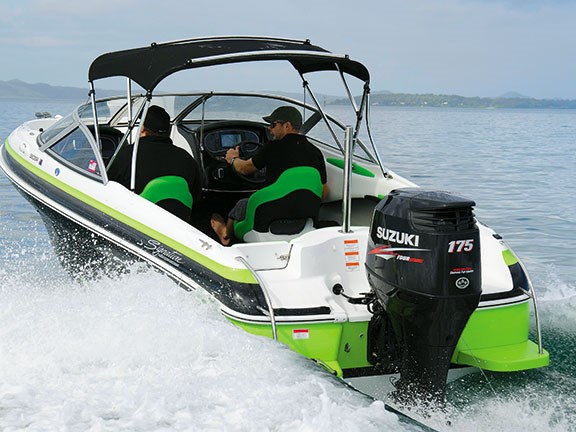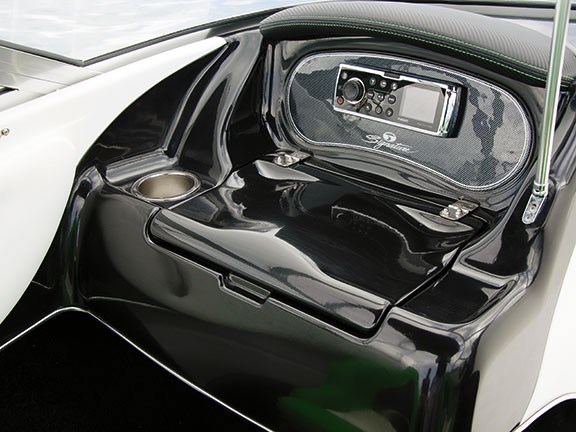 A clean uncluttered dash highlights the current trend towards functional minimalism.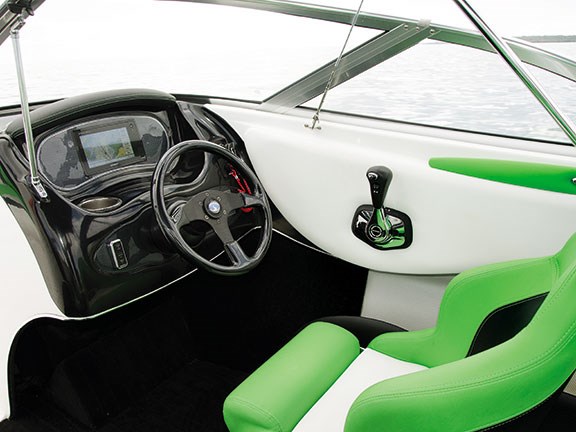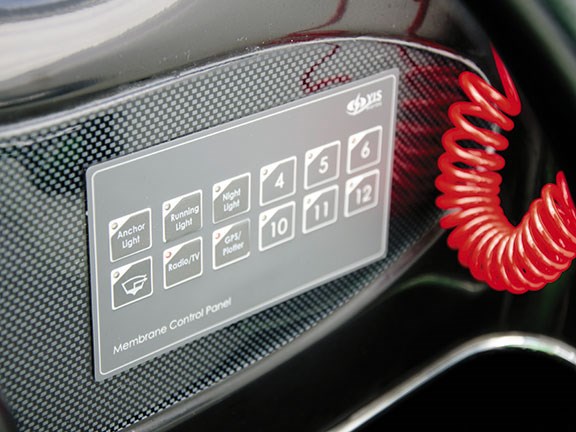 Garmin's low profile GPS Map 751XS and paper-thin membrane switch system are highlights.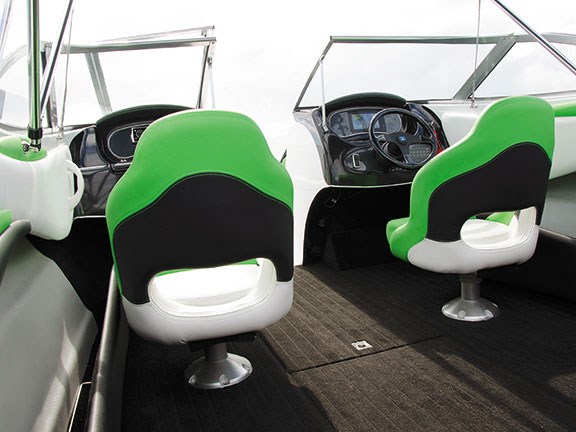 The inviting interior echoes the drama promised by the jawdropping exterior. Best of all, it delivers.Fly-by-wire throttle, push button start and engine vital stats displayed on a touch screen. Pure techno bliss.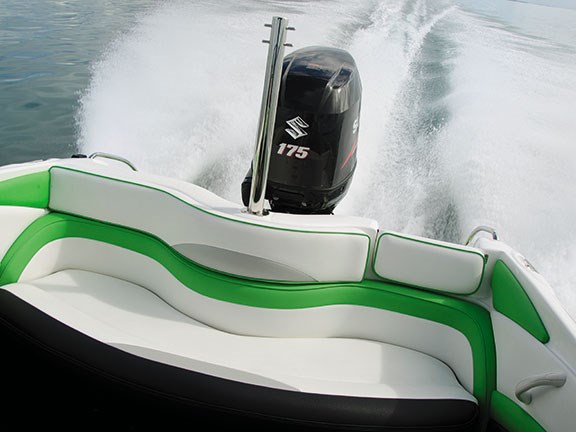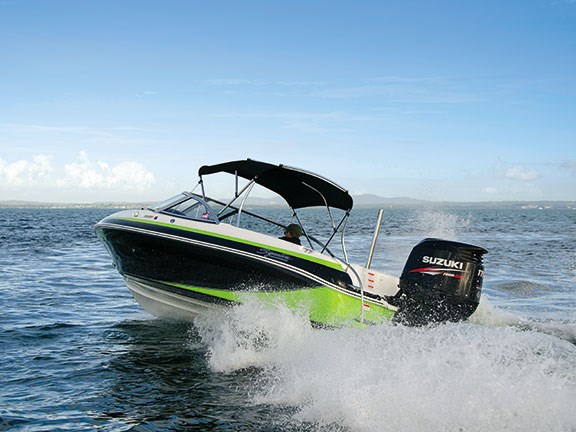 The hull is built to handle speed and comfortably cuts through the chop.

With summer now in full force, it's not surprising bow-riders are starting to raise the interest of new boat buyers again. Kevin Smith checks out Haines Signature's new 580BR and finds it hard to let go…
The Haines Signature 580BR has undergone a major facelift. I must say it looks pretty damn impressive and puts on one hell of a show thanks to its variable deadrise hull and the latest Suzuki 175hp strapped to the blunt end.
On first impression, the vivid green over black colour scheme was so loud it had me reaching for the earplugs. Not for shy retiring types, the Green Lantern costume does complement the 580's sleek lines and helps onlookers keep track of it when it's scooting along the horizon. It's contemporary even by sports boat standards and with the soft touch carbon-fibre-look dash and seat inserts, it presents a rather upmarket look. It's a head turner for sure and once my retinas adjusted to the visual assault I found it hard to imagine the 580BR in any other colour combo.
Interior
Entry to the 580BR's cockpit is via the open bow or the transom's dual boarding platforms. The portside step is serviced by a compact transom gate and stainless steel drop down ladder and is aided by integrated stainless grabrails. Once onboard the crew are treated to a world of Signature class, where six decades of boat building experience is distilled into a tasteful yet sporty environment.
The Signature bowrider's interior mimics the exterior colour pallet. Shiny new gelcoat is complemented by vivid green and carbon-fibre look vinyl accented with chrome highlights.
The stern has been set up with a comfortable full width removable rear lounge that traces the engine-well. It's cosy enough with one person each side, but able to accommodate more (small) bums if need be. Lifting the seat squab revealed a large moulded bin ideal for soft coolers or dry bags. I was impressed with the quality of the materials and the tight, even stitching but truth be told, we've come to expect this level of refinement from the Haines Group.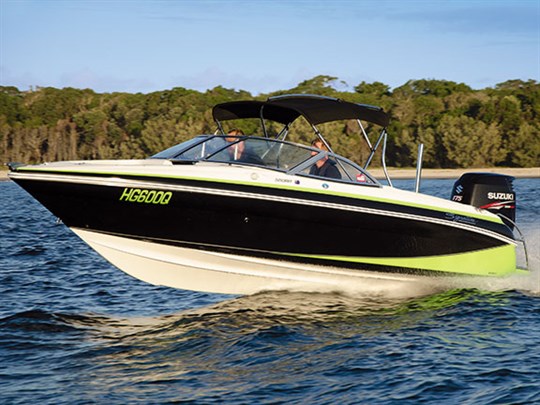 The plush ribbed carpet that lined the deck felt so good I would have been satisfied with sitting on the floor — a clip out version with moulded non-skid liner is optional. The cockpit sole also houses the optional underfloor ski locker and the standard bolstered side pockets were of ample volume to accommodate even more gear.
The new contoured bucket seats include integrated bolsters which enable you to raise your derriere another six inches to peer over the windscreen. These work a treat and lock you in nicely when under way. The dash boasts partial black gel coat capped with a carbon fibre-look brow reminiscent of a modern sports car. This arrangement is replicated for the co-pilot.
The helm is a pleasant place to be with good ergonomics and techno treats. Replacing the common marine rocker switch assembly is a new flush mounted membrane switch panel with indicator lights that illuminate when activated. Also welcome is the slick new Suzuki digital throttle with push button start up and selector. Garmin's low-profile GPS Map 751XS resides in the dash binnacle and adds to the driving experience.The walk-through armour- glass windscreen complements the hull's silhouette nicely and provides a clear and uncluttered vista when seated.
With a carrying capacity of up to eight, which is more than usual, this bowrider is blessed with plenty of internal freeboard making it a safer option, especially for the kids.
Engine
A 950kg hull fitted up with a torquey 175hp outboard is going to have some legs and this rig didn't disappoint. Propped for swift acceleration and solid all round performance rather than outright top end, I found the compromise bang on. What works for you ultimately depends on what you are doing with the boat and how you are going to load it up at the end of the day. For those with a mob of family and followers that ski or wakeboard this combo would be perfect, however if you regularly run your boat light, a 150 would be more than ample motivation.
As tested the new 175hp Suzuki literally blows your hair back as the responsive digital throttle is knocked down. Holeshot is brisk off the mark with minimal bow lift when urged. The transition to WOT and maximum revs is smooth, but still bloody quick. The 580BR achieves a healthy 78kmh at 6100rpm, but unfortunately you're going to chew a little more juice than usual on any motor if you consistently hoon at these speeds – 96L/hr to be precise on the 175 Suzuki.
The ride

The hull is bred to handle speed and produces a quality ride cutting through chop comfortably. It holds on in tight and turns like nobody's business, without wanting to chuck you out. Easing the throttle back a little to around 4500 revs rewards you with a refined and muted snarl and a significant reduction in fuel burn. The ride is quiet and reassuring, ideal for chasing faraway horizons.
But this is not just a fair weather prospect. To test its credentials in the rough, we employed the 580BR as a camera boat to film Signature's equally impressive 575F – TrailerBoat Issue #297, in serious slop on the inside section of South Passage bar (Stradbroke Island). It was rough as guts with waves breaking all over the show and at the end of it I came away with no grazes or bruises, as well as a dry camera and a grin from ear to ear. That says a helluva lot for the hull's inherent capabilities.
Verdict
As a dedicated general skiing and family runabout I reckon the 580BR is an absolute winner. It's equally well suited to cruising and might not be a bad option for fishing from either. Add a few piscatorial trinkets and you have a solid multi-purpose boat, although spilling a bit of bait blood on the upholstery and carpets could produce a foul tongue and thick ear from the wife.
The Signature 580BR is a well-appointed rig with a fit and finish that sets the benchmark in its class. As tested you can get into one of these machines for around 75K, or resist ticking all the option boxes and walk away with one for around 56K or so with a 150hp four-stroke. Not bad at all considering the abundance of standard features included and overall quality of the whole package. It'd be an interesting exercise running it against a similarly sized American bowrider. Bets anyone?
Positives
Quality and overall finishes
High performance characteristics
New colour scheme
Plenty packed into the package
Load rating of 8 persons
Negatives
Not much, It's an awesome boat
For the latest reviews, subscribe to our Trade-A-Boat magazine here.
Keep up to date with news from Trade-A-boat or like us on Facebook!