Test: Innovision 616 Hardtop
---
Simon Minoprio was basically born on a boat, having been introduced to boating since he was all of three weeks old. He's been addicted ever since. He's also a professional sailor with an impressive resume (including winning the Sydney to Hobart Yacht Race IRCB Division), is a self-professed perfectionist and works as a marine electrician on super yachts.
During his time sailing professionally in Europe and America, Minoprio memory-banked a huge range of styles and ideas which eventually culminated in the creation of the Innovision 616 Hardtop. He personally penned the design and styling before employing Brett Bakewell-White to expertly engineer the design and cut files.
Being surrounded by the highest standards all day long meant he wouldn't settle for anything less when it came to the contract-build of the first of his new range of alloy boats. In fact Simon's so devoted to build quality that he's prepared to back it up with a 10 year structural warranty.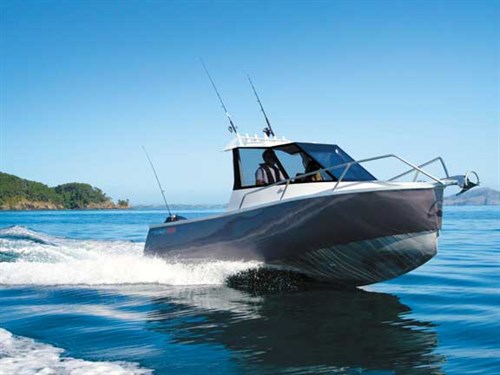 Good balance
As far as the layout on the Innovision 616 is concerned everything is definitely good. For a six metre boat it excels in versatility and would be equally at home taking the boys out fishing as it would treating the family to a day out to remember or loading up the dive gear to hunt for crays.
Thanks to the plumb bow, excellent Portofino transom layout and open-backed hardtop, it certainly feels roomier on board than its dimensions suggest – especially when you consider the front cabin is 2.4 metres long.
The ride
As Innovision Boats is based in Auckland, initial discussions regarding the test revolved around the Hauraki Gulf. That is until Minoprio mentioned that the test boat was currently located in the stunning boating paradise that is the Bay Of Islands...
A few frantic phone calls, a three hour drive and a last minute hotel booking later, I found myself undoing the safety chain while Minoprio backed the Innovision 616 off the trailer at Opua Marina. We made good use of the many stunning backdrops for the photo shoot before dropping the anchor in Waewaetorea Bay for lunch.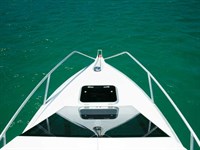 With happy stomachs we left the shelter of the bay behind and ventured into a 20 knot SE, stopping off at a pin to indulge Minoprio's other passion – jigging for Kingfish. In just over three months since the Innovision 616's launch, Minoprio and his mates have caught more kings than most people will in a lifetime – I'm told close to two hundred – with most of them easily released thanks to the low-level boarding platform. Two extra self-draining underfloor bins are specially designed to bleed and ice-down the one's destined for dinner.
Thigh height gunnels with large foot holds under each side allow for a secure stance when hooked up or a seat when waiting for the bite. Minoprio initially opted for a removable suction cup bait board but in hindsight admits it doesn't quite do the job. Future versions will still be removable but with solid rod holder mounts for security. The easy-clean treadplate floor and underfloor bins drain into a large sump which houses the bilge pump to clear it out.
The building wind and swell made fishing challenging but proved no issue for the boat with the tumblehome stern, flooding keel and large down-turned chines combining to produce a stable fishing platform. The Portofino transom increases the fishing space by allowing two anglers to fish off the stern when conditions allow.

As is usual with boat tests, as soon as you get the camera out the sounder goes blank so we headed back inside the bay to see if there were any scallops still about so late in the season – but not before backing down into the slop to see if the low level transom and walk-through would be detrimental in reverse. Thanks to the full water length hull it held its own with only a few drops coming onboard.
Engine

I seized the opportunity to have a play before we headed for shelter and was impressed with how solid, responsive and well balanced this boat was to helm. The plumb bow with its razor blade entry simply dissected the chop and the Volvo Boat Trim System (BTS) enabled fine-tuning to counter the hard top's windage .
With Yamaha's outstanding 150 four-stroke on the back performance was admirable and Minoprio says he's squeezed 38 knots out of this rig in calmer waters. The twin air feeds allow the flooding keel to empty quickly for a smooth transition to plane.
Once back inside we anchored, before dropping over the side for a quick dive. The transom design once again proved its worth making going for a splash almost graceful.
VERDICT
The Innovision 616 offers the year-round protection of a hardtop combined with impressive build quality, solid stability and a versatile layout. This equates to equilibrium on the water which is always a good thing. It also manufactures its own multi-roller aluminium trailer which at 300kg, helps keep the tow weight down. Despite being lightweight Minoprio says they're actually over-engineered, but he prefers to go overboard for peace of mind – can't argue with that logic.
All up, it's an impressive first effort which lends itself to living the Kiwi dream. But after spending a bit of time with Simon Minoprio, the perfectionist in him wont let him rest and I believe several tweaks have already been programmed for the next build.
For the latest reviews, subscribe to our Trade-A-Boat magazine here.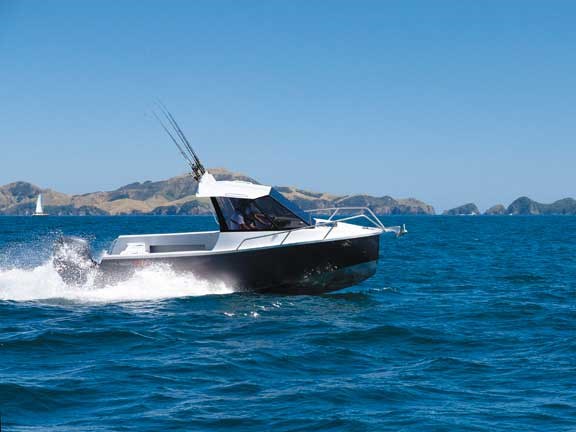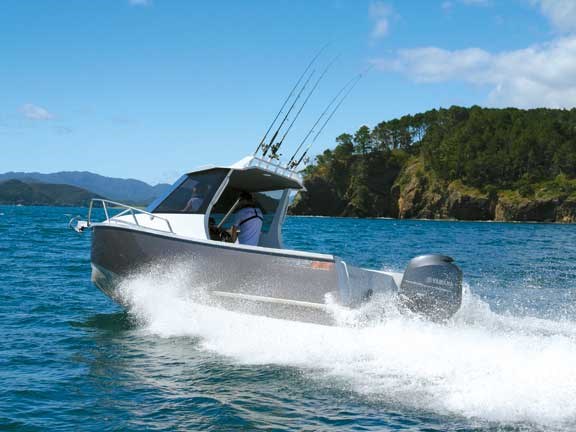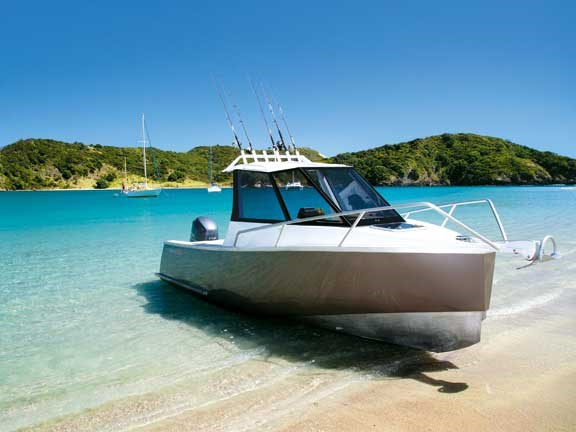 Plump bow and yacht-inspired lines endows the new Innovision 616 Hardtop with an elegant profile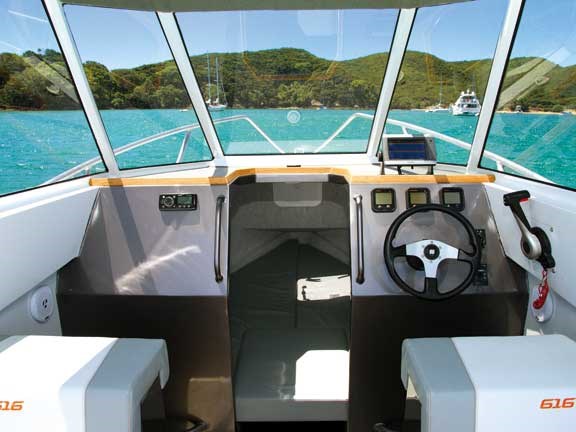 Clean practical helm echoes the external lines and hues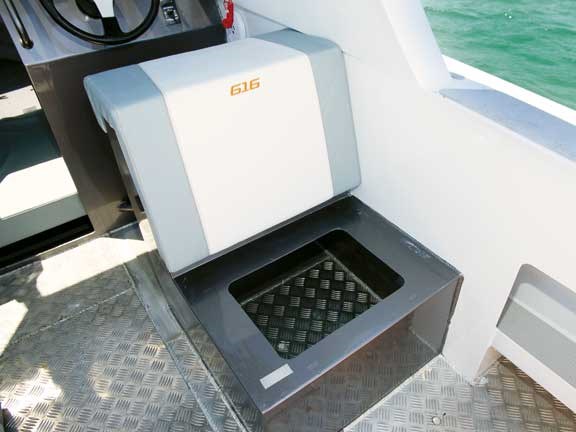 Simple padded seat boxes with storage under are functional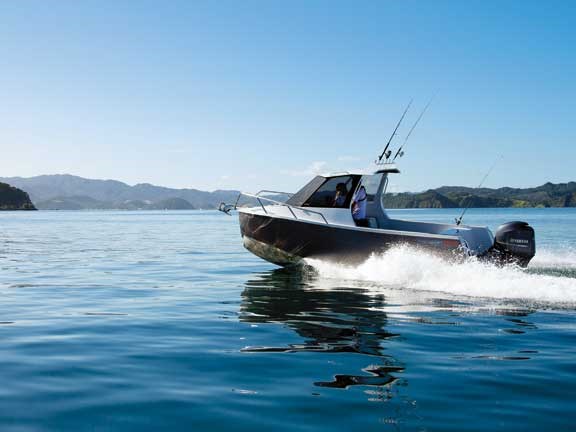 As far as the layout on the Innovision is concerned - everything is definitely good.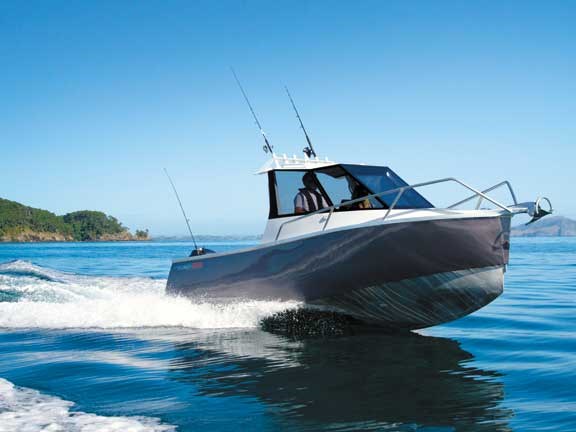 Keep up to date with news from Trade-A-boat or like us on Facebook!