Test: Riviera 75 Enclosed Flybridge
---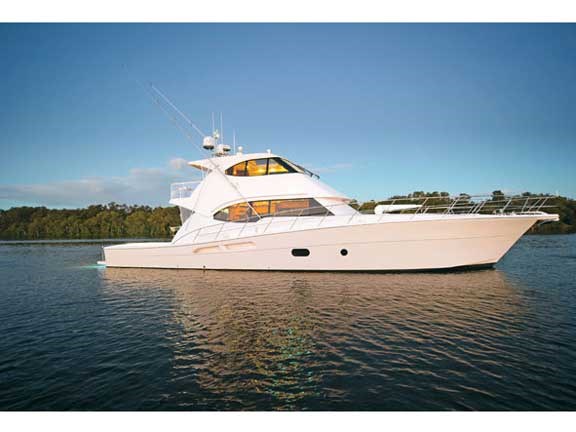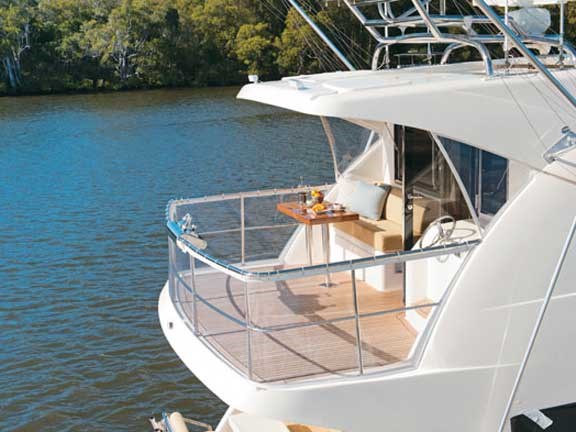 Flybridge deck provides more viewing plus an aft helm station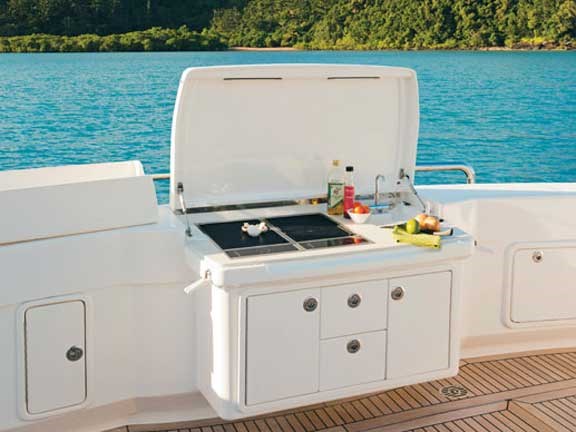 Seafood will get the best possible treatment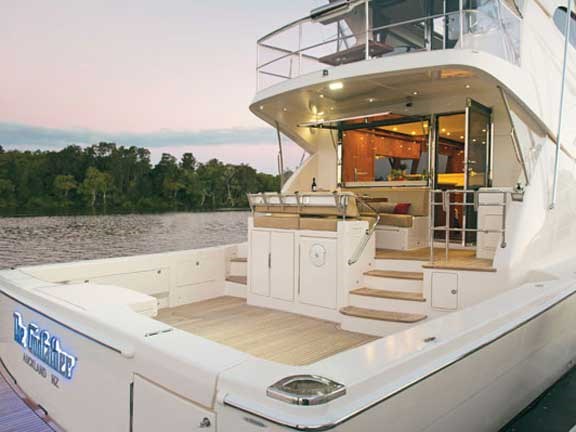 Massive cockpit will make superb fishing stage when setup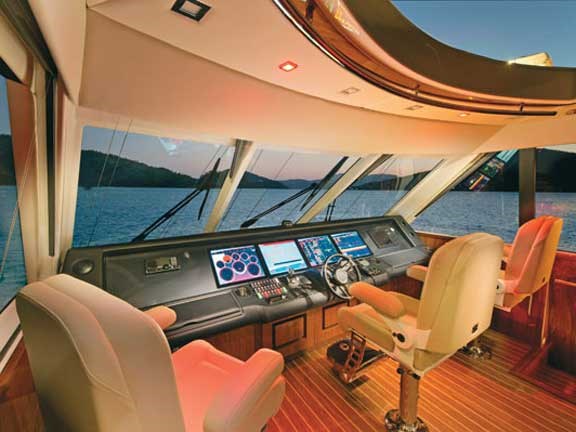 Simrad electronics feature heavily on the dash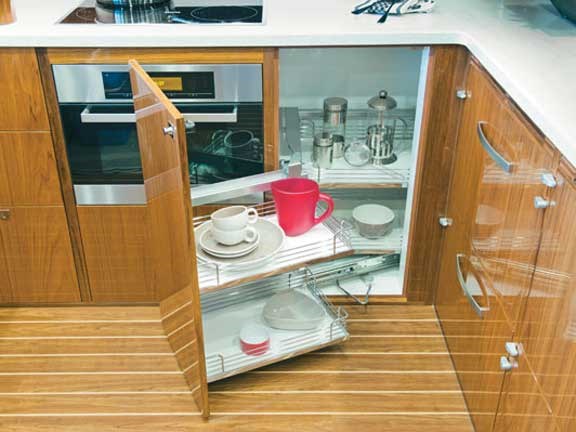 Ingenious space-saving features will keep the cook happy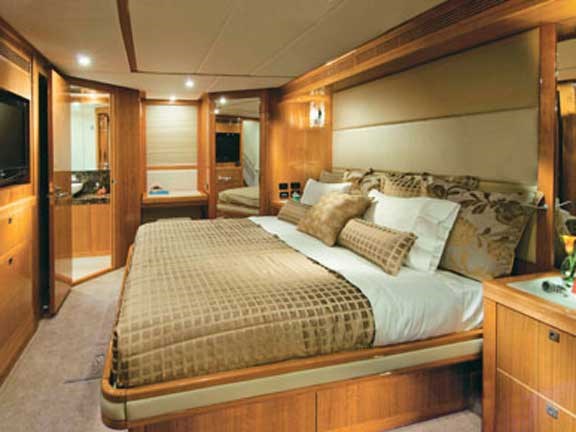 Space, comfort, style - the full beam master cabin is much more than "a room with a view'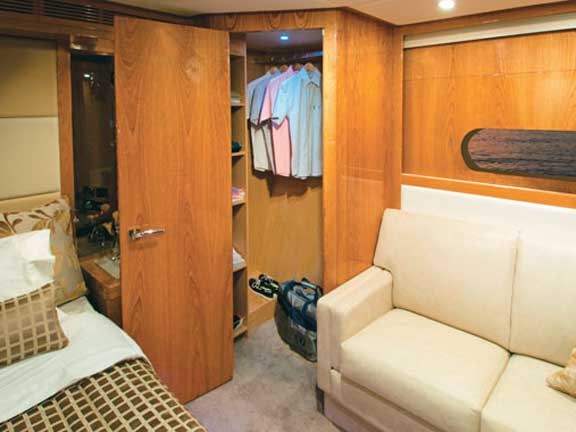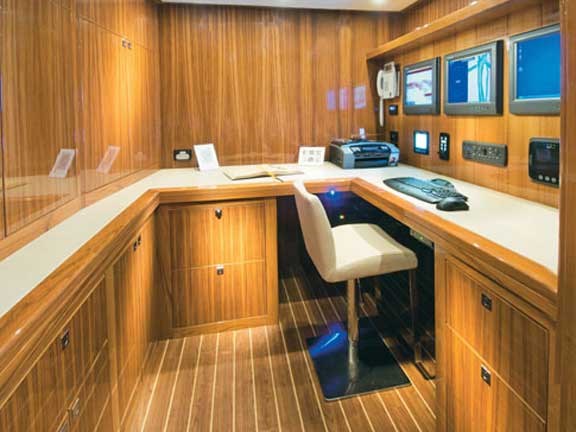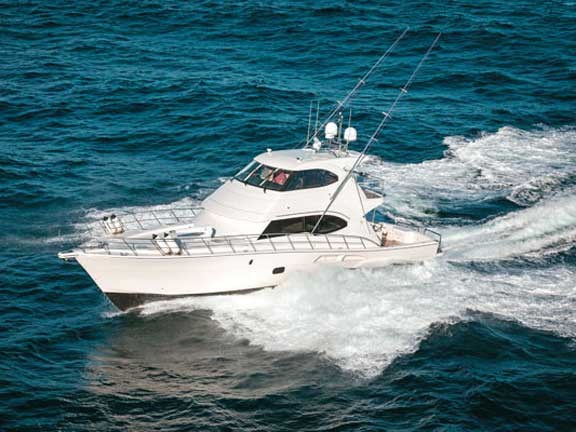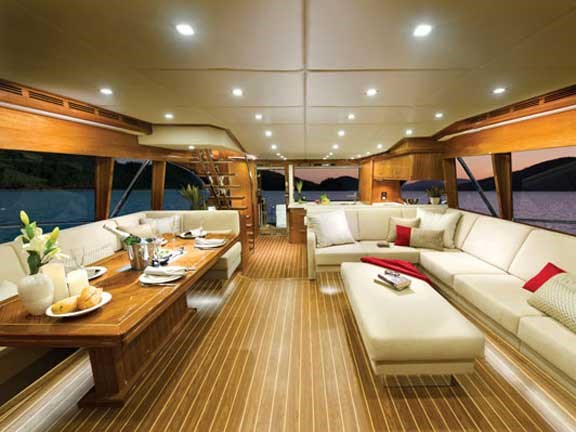 We liked the less formal approach in the saloon

For more than 20 years the Coomera-based yard has set the standard for production boatbuilding in Australia, yet it was unfair to describe the Riviera 75 Flybridge as a production vessel
Like the previous five or so 70-foot vessels out of the stable, the 75 project was managed from start to finish by a single shipwright. Career boatbuilding craftsman Paul Wrench's obsession with creating the best possible vessels within the scope of his resources is apparent to anyone engaged in conversation with the man. His focus and attention to detail is much like that one would experience in the company of a professional sportsman. There is passion in his presence and it is expressed in the vessels he builds.
Officially unveiled at the Riviera Festival in May, the 75 Flybridge is the largest hull ever produced at the Coomera yard. I felt privileged to be offered a prelaunch trial of this magnitude. Although we have tested the hulls predecessor, the 70 Enclosed Flybridge, this vessel is more than just an extension of the old mould and it was important to experience the features that set this boat apart from its peers firsthand.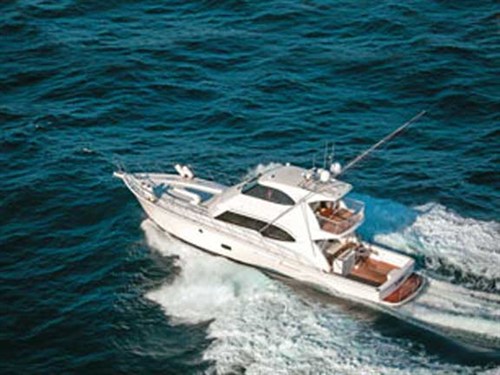 As it happens there is a 75 in Exmouth, Western Australia. Originally a 70, the extra five feet was added to the cockpit post-production, whereas the vessel we were onboard today was built from a brand-new mould. If we understand Riviera correctly there will be no more 70s, just 75s from here on in.
The Ride
It's an appropriate name for an impressive boat but not the first Riviera with this moniker the proud new owners have possessed. If I have my facts right it is the third. There has been a 48 Flybridge, a 60 Flybridge, and now this massive 75. At an age when many dedicated seafarers look to downsize, this adventurous couple has plans to range even farther on greater adventures than ever before. And that is what makes this new Riviera 75 Flybridge particularly interesting.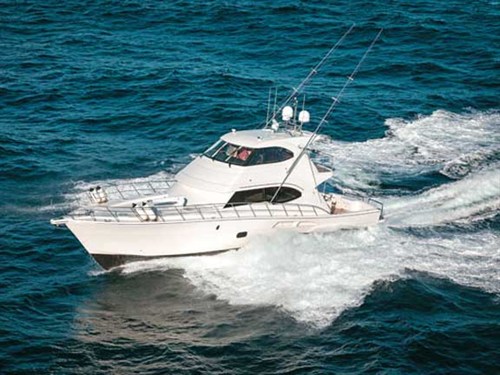 Clearly a vessel of this size and complexity has the potential to be a monumental nightmare in the wrong hands. One has to ask oneself if it's reasonable to expect a recreational boater, even, as is the case with The Godfather, a particularly experienced one, to come to terms with the vast array of electronic systems onboard, not to mention the intimidating inertia produced by 3600hp driving 52 tonnes of gleaming gelcoat and sparkling stainless steel?
Such was the question posed to Riviera as part of the original brief. The answer, it believed, would come from a rare combination of brawn and brains, the execution of which would require a conversation with two well-trusted suppliers, Twin Disc and BEP Marine.
CZONE
For many years as a professional skipper and later as a journalist I have been outspoken about the direction marine technology was progressing. As consumers demanded more functionality and performance out of their boats — aiming to transform them into floating houses — the complexity of the systems became increasingly unmanageable.
To my mind many onboard systems became so convoluted they became more of a hindrance than a help. In my own experience I began to notice the turnaround time between trips became a race to fix an endless array of problems.
Leading electrical design company BEP Marine, also aware of the issue, toiled diligently behind-the-scenes to come up with a user-friendly solution it calls CZone. By aiming to deliver on what it views as the four cornerstones of its development philosophy — bulletproof reliability, scalability, ease of installation and reduced complexity — great progress was made over time.
In summary, today's iteration of CZone is a centralised digital switching and monitoring system that is NMEA 2000-compliant and runs every facet of the vessel's electrical system via a single network cable backbone.
The product is vastly customisable and has a high level of inbuilt redundancy by virtue of multiple independent hard drives — any one of which is capable of running the entire system on its own. A selection of modes is developed in consultation with the owner to suit the various states the vessel is likely to be utilised in. With options like Quiet Ship, Fishing, Night-Running and Entertaining to choose from, a unique configuration can be selected at the touch of a button.
While yet to be as intuitive as an iPad, the system has similarities of functionality to the ubiquitous Apple product via a scalable number of touchscreen panels, and user-friendliness is improving with every new release.
The Engine
If BEP Marine with CZone has delivered the genius then industry-leading transmission manufacturer Twin Disc has most certainly provided the muscle. Where many would find managing a craft of this volume (almost 25m long and displacing 42 tonnes dry) a daunting prospect, even fully-crewed, two can easily handle The Godfather.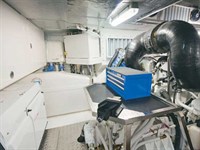 How is this extraordinary handling achieved? Twin Disc's contender in the joystick-control market, dubbed EJS, delivers the muscle behind the smarts. When many other transmission manufacturers raced to develop a pod- or stern-drive joystick control system Twin Disc took its time and watched the space develop before investing in what is known as the Twin Disc Express Joystick System.
Recognising that many lifelong boaters are diehard shaftdrive fans Twin Disc opted to stick with the simplicity and proven reliability of conventional shaftdrives.
The company's much vaunted Quick-Shift electronic transmission system, with its huge fan base and a reputation for unequalled performance, is utilised as the foundation for the new system — after all, if it ain't broke why fix it? This allows for the utilisation of greater horsepower powerplants than is currently available through pod systems. On The Godfather a pair of 1800hp CAT C32 ACERTs are combined with twin 45hp hydraulic bow and stern thrusters — hydraulic thrusters allow for continuous operation where electric thrusters do not — all tied together by a single joystick.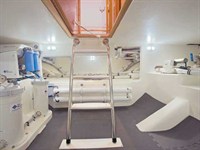 As with most drive systems multiple modes are made available to the operator. The boat can be controlled conventionally through the twin EC300 electronic lever control in a variety of speed modes or via the joystick for docking or slow-speed maneuvering. The real beauty of the EJS system is that it delivers very real power in a completely intuitive manner by virtue of a series of seamless actuators. I have heard anecdotally that Twin Disc use phrases "like cradling a baby bird" in its instructional discussions but such care really is not necessary. Take it from me, we crushed the "baby bird" and if you want to get angry you can throw this 52t-loaded vessel around like a kid's toy on the joystick controller alone.
The Galley
Naturally there is more to the Riviera 75 Enclosed Flybridge than a clever brain and an excellent piloting system. Like all vessels from the marque this boat is beautifully finished and laid out with the ultimate offshore cruising lifestyle in mind. Although we have reviewed a very similar model before when covering its predecessor the 70, it is worth a quick stroll through a few features of particular note.
Those yet to experience the jaw-dropping opulence of a full-beam master cabin, the 75 presents one of the finest examples on offer. As a feature this cabin-style has become a must-have on a recreational cruising vessel. Who would have thought a boat built to be handled by two could feature a bedroom with the king-size bed, dual walk-in wardrobes, a couch, a makeup cabinet and an en suite large enough to host company.
And there can be few experiences in life that better waking up in that sumptuous cabin to throw on a robe and lazily wander up to the smell of fresh coffee wafting from the expansive galley opened fully to make the most of an idyllic Queensland anchorage.
Moving the galley aft has allowed the designers to reconfigure the saloon. The formal dining table is gone and has been replaced by a more relaxed and spacious layout to accommodate at least 10 laid-back guests.
It should come as no surprise that the cockpit of the 75 with its excellent mezzanine floor for alfresco dining, is the largest in class. The extra five feet make the difference here, although during the sea trial it was fairly bare, other than the custom refrigeration and cooking facilities. I look forward to seeing it in all its glory after a makeover with long-range fishing in mind.
Everywhere you look — on the bridge under the dash, behind the appliances and television sets — there is ample space to work. I spent an embarrassing amount of time soaking in the detail of the engineroom (accessed from the cockpit via a multipoint sealing sea-door), and in the completely separate utilities room with its dedicated ladder-serviced hatch in the forward hallway.
It's a joy to see systems like the watermaker and pumping mechanisms given plenty of separation to ensure routine servicing is as straightforward and gentle on the body as possible. Full marks to the designer in this aspect.
The Verdict
There are no unpleasant surprises out of the Riviera yard. The company has reinforced its reputation through the toughest of times as a builder of top-quality production vessels. And in circumstances where many would have looked at major overhead reductions in aftermarket service, Riviera has recognised the value of its long-term relationships and built-up a level of customer loyalty that is the envy of all.
While the vessel is as refined in its detailing as it is impressive in stature those factors are not where the X-factor lies. For me it is the simplicity of ownership that sets this vessel apart. That unique combination of brains and brawn, CZone and Twin Disc EJS, is the quality sure to get the attention of a boating public keen for grander adventures independent of a professional crew.
In this vessel Riviera has blurred lines between the liveaboard boat capable of extended cruising and a serious expedition vessel requiring a complement of experienced crew. I suspect the company has hit a bull's-eye in a local market full of highly-capable recreational boaters looking for an opportunity to take the next step — it will be interesting to see if it strikes a chord overseas.
Highs
Buit to custom-boat specifications
Two-person handling in a 25m vessel by virtue of EJS
Complex electronics simplified by CZone digital switching
Laid-out to suit a relaxed and adverturous lifestyle
Ocean-cleaving performance
Industry-leading service and support
Lows
Access to air-conditioning units needs considering
Would like to see a few more seals around the engineroom cupboards
For the latest reviews, subscribe to our Trade-A-Boat magazine here.
Keep up to date with news from Trade-A-boat or like us on Facebook!