Test: Bancroft Bay 30 Express Launch
---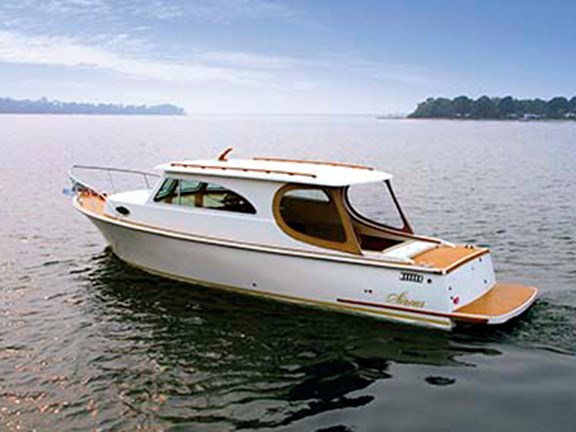 The Bancroft Bay 30 Express is an old-school charmer with modern powerplant.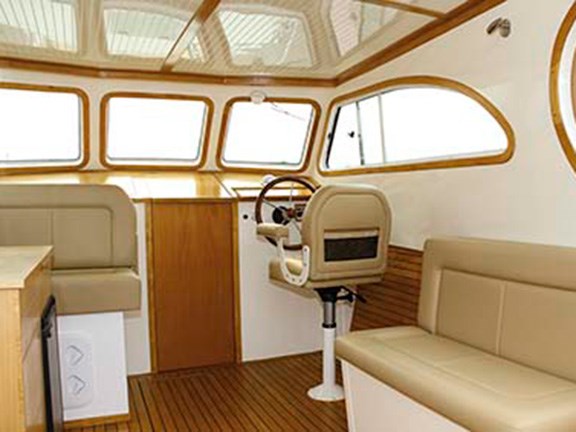 She's a beautifully appointed day boat.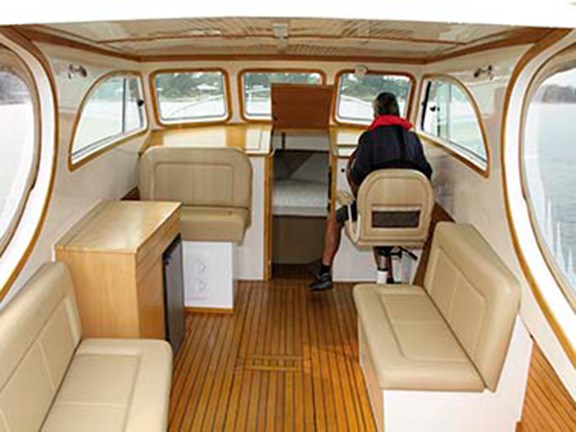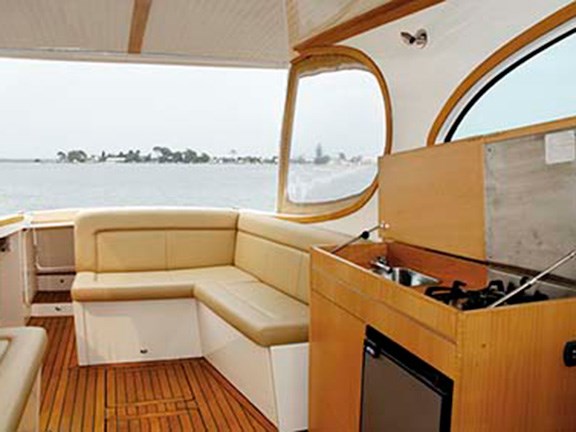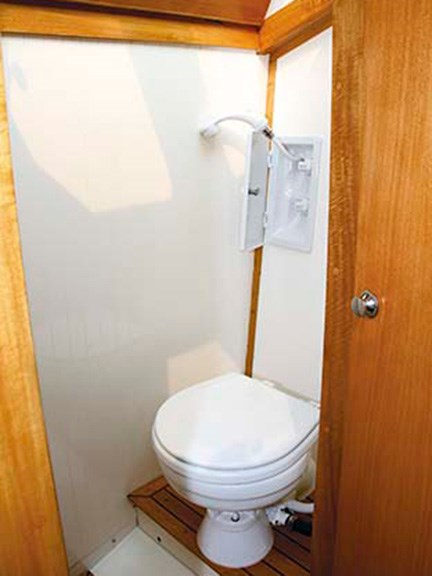 The bathroom is a bit small for our liking.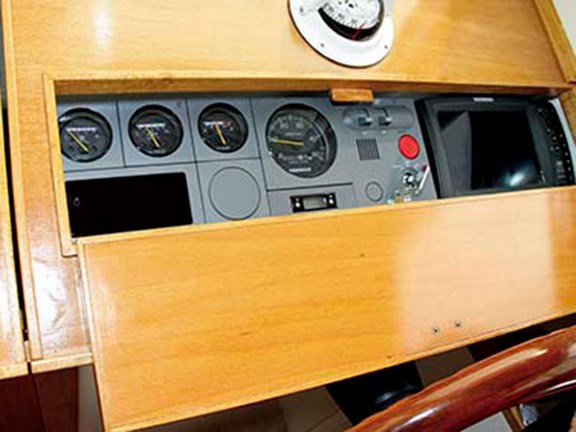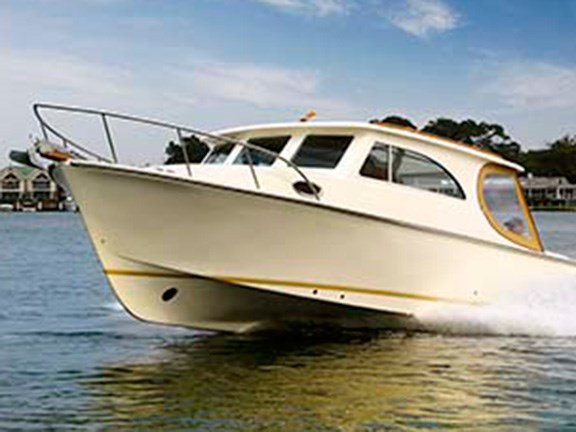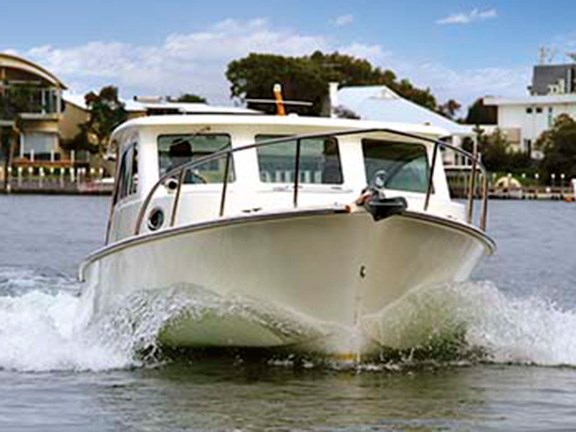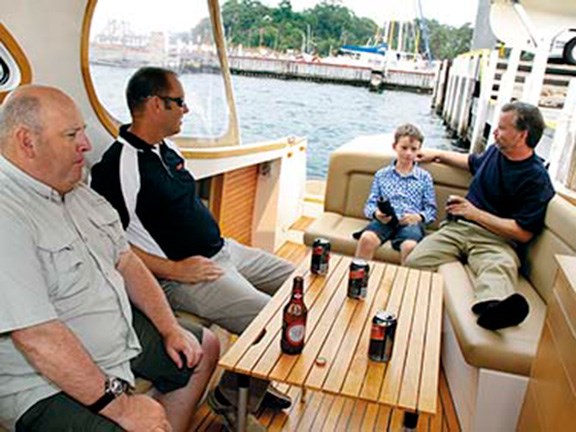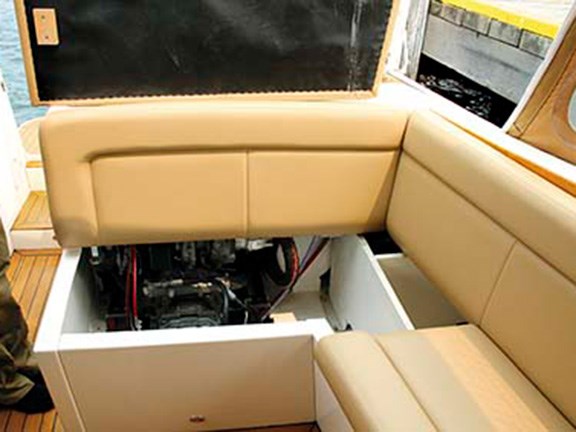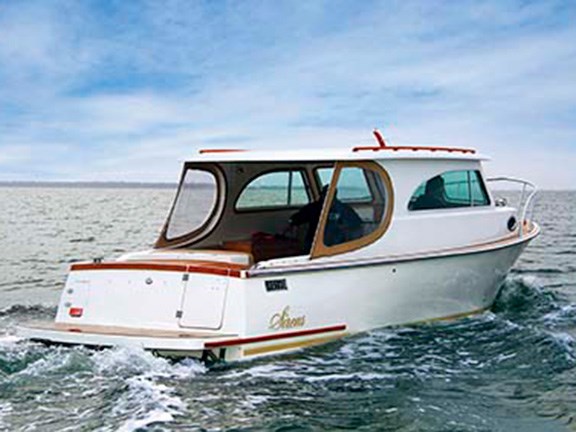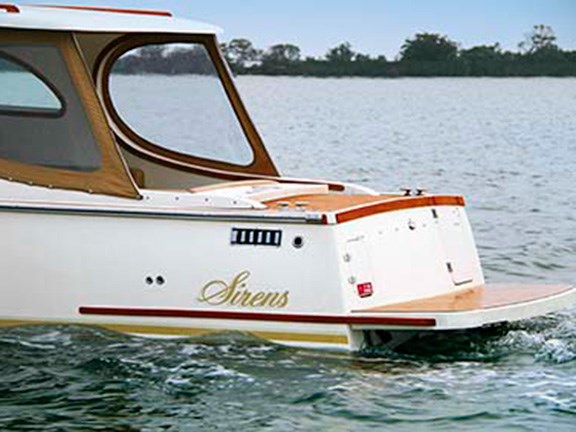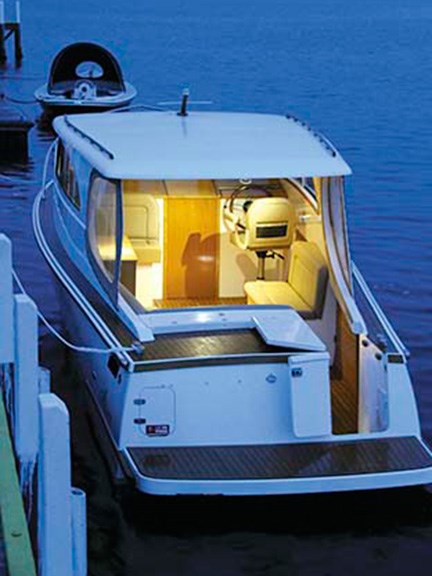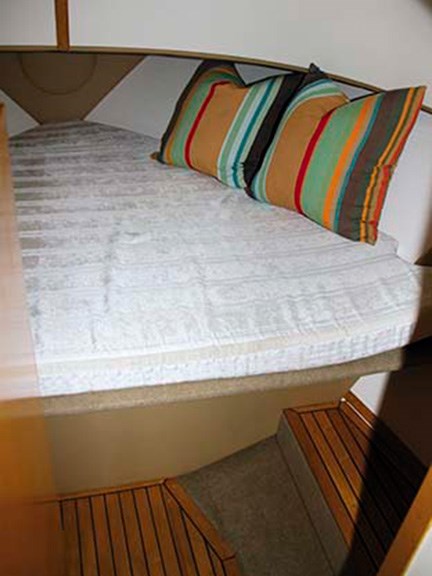 At first glance, the Bancroft Bay 30 Express Launch looks like a stylish, if slow-moving launch – but beneath that smart exterior lies a powerful heart that left John Willis smitten.
The stately presence of a Bancroft Bay Boat Company vessel turns heads upon arrival at any coastal scene.
At 8.73m, the Bancroft Bay 30 Express Launch is just a touch under 30ft from end to end, but that doesn't include the well-proportioned rear platform, nor the short bowsprit. These in fact, make her similar in length to many packages rated at 32 to 34ft.
Form and features
On the water, the Bancroft Bay 30 Express Launch sits just right with her 3m beam and 0.9 metre draft. The weight distribution seems near perfect with a rear mounted V-drive configuration and a very flat, even attitude.
Boasting a snappy freshwater cooled Yanmar 6LPA-STP2 turbocharged and intercooled diesel that throws down a gutsy 315hp at 3800rpm, this is a fuel efficient boat. It drives through a Yanmar KMH50V 2.47:1 V-drive and a 38mm stainless shaft with PPS dripless stern gland, and five-blade bronze propeller.
The traditional hull proudly bears an Alaskan-styled extended express cabin, albeit with a splash of modern flair. There are beautiful timber trims, beech decks and accents throughout, including the foredeck where we find a bowsprit, plough anchor and a Muir anchorwinch.
The sidedecks are minimal, yet easy to walk around, particularly with the security of full-length beech handles on the cabin roof. A strong, single-piece stainless steel rail defines the bow enclosure.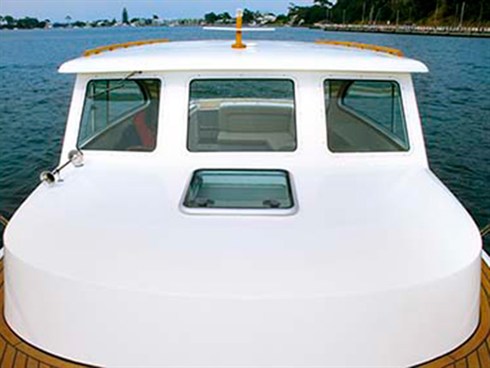 The design
The Bancroft Bay 30 Express is wonderfully proportioned and easy to live with. Boarding is simple, via the transom platform and rear doorway but the most striking aspect is the beautiful beech flooring and inlays.
As it is a rear V-drive configuration, the stern coaming, icebox and lounge take up most of the transom space but it's in no way restrictive. Access to the engine bay is quick and simple with fibreglass internal frames and hatches for the supporting structure.
The rear lounge extends to an L-shape up the port side. It's trimmed with plush marine leather-look upholstery and enclosed by the roof overhang and detachable side clears. All of the seating is fairly upright but very comfortable.
The starboard side coamings in front of the rear door are beech trimmed, too, and feature a neat pull-out table for entertaining. This is a great idea; however, the fold-out legs need a little rethink as they aren't entirely stable.
Further forward to port is the solid timber galley. It's a relatively simple affair with a bar fridge/freezer, single burner gas cooktop and a stainless sink with hot/cold mixer tap. If it were mine, I'd probably select a more comprehensive galley for extended living.
Still on the starboard side, we arrive at the passenger helm with a one-and-a-half sized upholstered seat with flip-up back, atop a fibreglass storage module. There is a lack of side pocket storage for your bits 'n' pieces, but there is plenty of under-seat storage and compartments under the floor.
In the driver's seat
The vision around the Bancroft Bay 30 Express Launch from the helm is very good with three beech trimmed windows framing the scene forward and large curved glass sliding windows on the sides. It's comfortable and workable - but I wouldn't mind a footrest.
The dash folds open to reveal the standard Yanmar gauge panel and a Humminbird GPS/plotter/sounder. This locks away precious instruments from prying eyes while on your mooring. There is also a central lift-up hatch in the centre of the helm, revealing the lockable companionway to the accommodation and facilities.
Designed as a custom day boat, the accommodation is fairly simple – but in saying that, I could very easily see myself spending a week on board with a loved one, just cruising along the waterways. Up forward is a largish V-berth in the lockable cabin. It could use a bit more storage but it is well presented, warm and inviting.
There is a very small bathroom to the port side with a pump out toilet and a hot/cold shower providing the necessities, but you will need to pop the hatch in the passenger dash if you want to get anywhere near an upright position while showering. I think I'll stick with the hot/cold pull-out shower on the rear deck.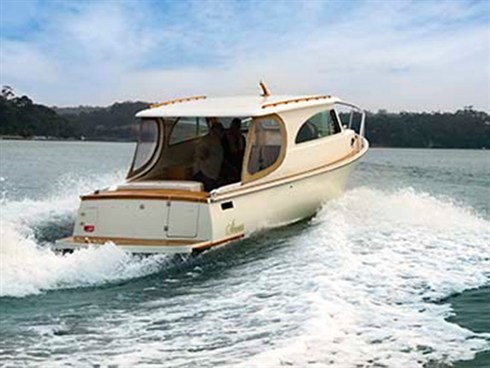 The engine
Given the boat's profile, style and 4500kg weight, I certainly didn't expect the speedy top end of 27kts at 3750rpm.
The boat is suitably quiet with almost no turbo or V-drive scream, nor any aspiration, vibration, drive or harmonic noise. It should perform well in heavy weather with the fine-entry bow. Using trim tabs is essential to attain premium trim for balanced performance. Bow and sternthrusters make for ease of docking.
Boats of this nature with all of the design advantages of a full keel and hard chines are never nimble, yet the Bancroft Bay turns well and cruises in a manner that I could quite easily grow accustomed to.
The verdict
The Bancroft Bay is the epitome of a modern classic, blending old-school handcrafted assembly techniques with the very latest diesel technology. This is a terrific day boat that will boogie you along on her planing hull, covering ocean miles quickly and surely. She's a very classy lady, to be sure.
Highs
Mouldings (all fibreglass construction)
Aesthetically beautiful
Gentleman's cruiser with grunt
Premium hand-built construction
Rear platform
Entertaining, liveable layout
Power selection
Lows
Cockpit table legs
Small bathroom
No small item storage
Fuel capacity
For more boat reviews, subscribe to Trade-A-Boat magazine here.
Keep up to date with news from Trade-A-boat or like us on Facebook!