REVIEW: STABICRAFT 2050 SUPERCAB
---
Trade-a-Boat tests some of the best trailerable fishing boats in New Zealand, including the Stabicraft 2050 Supercab.
The old saying, "If it ain't broke, don't fix it," is rarely muttered at the Stabicraft Marine state-of-the-art manufacturing facility in New Zealand's deep south. It's true this innovative and quality focussed manufacturer enjoys a cult-like following of adventure seekers in a growing number of countries, but instead of resting on its laurels, Stabicraft is constantly striving to enhance its designs.
This constant evolution has seen a complete redesign of the popular 2050 Supercab to incorporate the softer ride of Stabicraft's new Arrow Pontoons and the sportfishing performance of the Game Chaser Transom. Fancy names they may be, but these two enhancements are the real deal. By moving the pontoon shoulder, reshaping and beefing up the pontoons to 4mm, and increasing the buoyancy and waterline length aft, these innovations have revolutionised the ride of earlier models.
STABICRAFT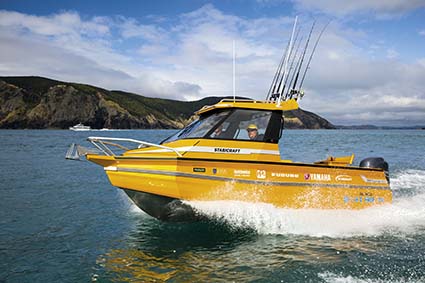 Another stroke of design brilliance is the transom bait station, which puts the large and solid baitboard at a comfortable working height and the lack of a front lip allows for easier filleting of the day's catch. Beneath the generous cutting surface, a 65lt livebait aquarium awaits sacrificial occupants.
Safety is always at the forefront of any Stabicraft design, so the batteries are housed well up off the floor and, in this case, there is no transom door. Instead, the fold down transom seats (with non-skid) allow a safe step down into the secure cockpit. Those same transom seats also fold up out of the way so anglers can get right into the corners, where drink/tackle cups and rod holders fall close to hand.
Underfoot, the treadplate floor drains into a bilge well with a saltwater washdown system on hand for easy cleaning.
FISHABILITY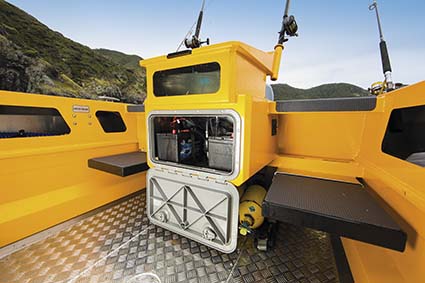 Stabicraft kindly entrusted us with the gate prize from New Zealand's 2014 Hutchwilco Boat Show for our upcoming Kiwi Kings feature, shot on location in the stunning Bay of Islands. And the 2050 certainly proved deserving of the invite.
We put the brightly coloured battleship to good use casting soft baits into the wash around the Hole in the Rock, jigging for kingies, and stray-lining for snapper. Across multiple angling pursuits, the uncluttered cockpit with its high gunwales and great stability proved a pleasure to fish from. Wide coamings featured plenty of non-skid to rest your bum on, whilst the transom seats doubled as footrests as we waited for the action to start.
The livebait tank worked well, keeping our various offerings fresh, although at planing speeds it required a slight closing of the valve to avoid working too well and overflowing.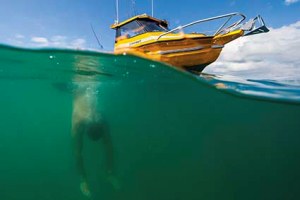 Not content with just fishing, we threw local dive instructor Craig Johnston from Paihia Dive over the side to take a few pics and grab a cray or two. After using the excellent transom boarding ladder he wanted one for his own boat. It's so solid that it acts as a staircase into the water and extends far enough down that divers don't have to be double jointed gymnasts to use it.
At the opposite end, the upright dash layout provides ample room for the 7in Furuno GP1870F unit with room to go even bigger if required. The full-length dash pod above puts the Yamaha digital gauges, Uniden VHF and volume knob on the pumping Fusion stereo all in easy reach.
HANDLING AND RIDE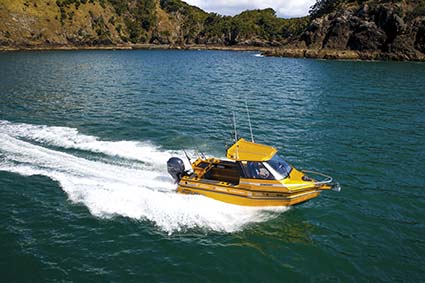 With its Tangerine Scream paintjob, the 2050 Supercab certainly makes a bold statement, but it had the ride and handling to match. Conditions over the two days ranged from slight to moderate which wasn't ever going to challenge Stabicraft's pedigree, yet it proved a good testing ground for assessing the ride in slop, swell and chop.
When pushed, the landings were cushioned and with the excellent Elite bolster seats, hydraulic steering, one-piece windscreen and the maximum rated Yamaha 150hp four-stroke on the back it was red hot to helm.
With reverse engaged, the Game Chaser transom completely changes this class of vessel from a sportfishing point of view. Charging around in reasonable slop even impressed die-hard game captain Jeff Strang. The boat was surprisingly quick in reverse too, and we stayed remarkably dry.
Yamaha's F150 four-stroke is popular for good reason. Having experienced this super reliable power-plant on numerous hulls around the 6m mark (both fibreglass and aluminium) I've only ever had good things to say about its performance and audibly pleasing qualities – this test was certainly no different.
THE VERDICT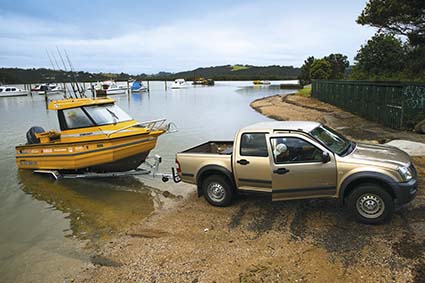 Here at Trade-A-Boat we're no stranger to Stabicraft's inherent safety, stability, fishability and innovative approach to problem solving, yet with each new model they just keep getting better. The 2050 Supercab is a shining example of the brand's dedication to consistent evolution and certainly gets the thumbs up from the team.
While aluminium pontoon boats have been criticised for possessing a hard ride in certain conditions – and some rightly so – Stabicraft's new breed of trailerable offshore battleships seem destined to change that perception.
HIGHS
• Ergonomics, ride and features just keep getting better
• Handles like a sports car and fishes like a pro
• Safe and stable
• Excellent transom design with plus-sized livebait tank
• Cup/tackle holders in convenient locations
LOWS
• Blokes can get sweaty inside the cabin without side windows (optional)
• Boat reviewers can't win one
STABICRAFT 2050 SUPERCAB SPECIFICATIONS
PRICE AS TESTED
$100,000 (approx)
OPTIONS FITTED
Rear boarding ladder, windscreen wiper, cabin lining, washdown kit, Kids Zone (three-piece squabs), Elite bolster seat upgrade, battery compartment hatch, hydraulic steering, Furuno GP1870F, Uniden VHF, Fusion IP700 with Bluetooth module, SARCA anchor, chain and warp.
PRICED FROM
$80,000 with Yamaha F115hp 4-stroke
GENERAL
TYPE Pontoon mono-hull
MATERIAL Marine grade alloy
LENGTH 6.2m
BEAM 2.25m external (1.65m internal)
WEIGHT Tow weight 1500kg (approx.)
DEADRISE 17.5˚
CAPACITIES
PEOPLE 7
BERTHS None as tested (two optional)
REC. HP 130hp
MAX. HP 150hp
FUEL 150lt
ENGINE
MAKE/MODEL Yamaha F150A
TYPE Four-stroke outboard
WEIGHT 228 kg
DISPLACEMENT 2670 cc
GEAR RATIO 2.00:1
PROPELLER Yamaha Reliance 17x14 1/4
MANUFACTURED AND SUPPLIED BY
Stabicraft Marine,
345 Bluff Road, Invercargill,
New Zealand
Phone +64 3 211 1828
Web stabicraft.com
THE OTHER KIWI KINGS CONTENDERS
What were the other New Zealand boats showcased in the Kiwi Kings feature? Check out these top trailerable fishing boats.
See the full feature in Trade-A-Boat #241, on sale June 5, 2014. Why not subscribe today.
Find Stabicraft boats for sale.
Keep up to date with news from Trade-A-boat or like us on Facebook!