REVIEW: SURTEES 5.5 WORKMATE HARDTOP
---
Trade-a-Boat tests some of the best trailerable fishing boats in New Zealand, including the Surtees 5.5 Workmate.
Hot on the heels of taking the Surtees 5.5's little brother, the Surtees 485, for a well-documented long weekend, I recently had the opportunity to test the Surtees 5.5 Workmate Hardtop in its home waters. What a wonderland it is, and what a great little fishing boat to explore it with.
SURTEES BOATS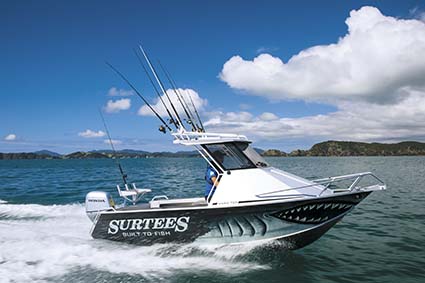 I had my first glimpse of the Surtees sportsfishing machine on the road north and was mesmerised by the striking wrap that binds its sides. I've seen plenty of wraps lately, some good and some not so good, but the imaginative man-eating shark with its fiery red eyes is striking yet tastefully achieved.
I was truly excited as I backed her off the trailer, all loaded for a fishing and visual extravaganza. As we travelled out to the "Hole in the Rock" I marvelled with angling anticipation as we weaved our way seawards.
The wrap on our Workmate was designed and presented by Sam Allen (himself a Surtees owner) and founder of Onfire Design, the advertising and creative supplier for Surtees. Sam was keen to not only show us his handiwork, but also show-off the new Honda BF 100hp four-stroke on its tail.
Cuddy cabins provide an ideal layout but they never allow much dashboard space. The Workmate has a basic sports steering wheel with a six-gang switch panel and 12V accessory outlet. The dropdown seating is very basic but it works!
LAYOUT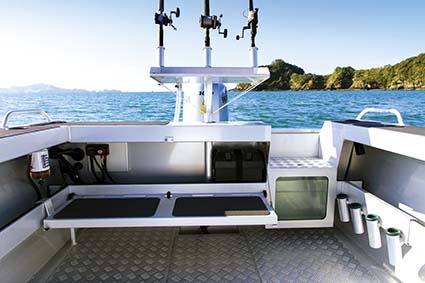 Surtees fitted a Garmin GPS Map 750 multifunction unit as a removable dash mount and I thought it ideal. I also liked the twin Garmin GMI10 digital marine instruments on the dashboard. They have bright yet compact 3.5in QVGA screens in sleek 4in flush-mount bezels.
Out on the pointy end we find a strong and attractive split bowrail that feeds down into the fully-welded bow fitting and roller. The short bowsprit will retain an anchor such as a SARCA or plough out front and there's plenty of depth to the open anchor hatch, although I would personally like to see a locking cross bollard or similar. Other than that, it is a terrific bow setup. An optional anchor winch would make it perfect, should the budget allow.
I must admit that I really like enclosed hard tops. I was initially a bit concerned that the 5.5m deep-vee hull may be a little small to handle the extra weight up top but, in reality, it does so really well. It's compact, yet very well proportioned with terrific visibility through the single-section windscreen as well as the two sealed side windows. Some hardtops can feel a little confining with limited ventilation, but not our little Workmate. The demo boat had a wiper/washer on the toughened glass tinted windscreen, and frankly, I believe it should be illegal to sell hardtops without one.
HARDTOP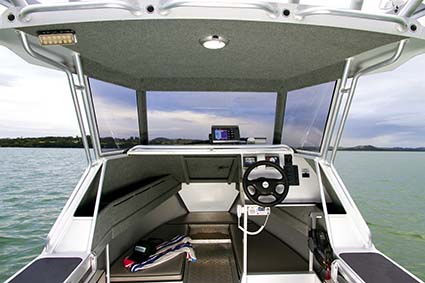 The hardtop is neatly carpet-lined and has an internal LED light as well as an optional Hella Sea Hawk LED rear worklight. There's an enclosed dashboard with a "Jesus!" bar right across the front as well as a ton of grab handles.
The cuddy layout is terrific, with a big fore hatch easily accessible between twin cuddy bunks. The internal roof is fully lined and for extra storage there's two more large side pockets and room under the bunks. The helm and seating position is very basic, as you would expect, but again it works well. I've just realised why they call it a Workmate!
Even without the wrap, Surtees boats look terrific with their combination white/grey side paint, Nyalic finishes and simple but effective custom graphics. The Workmate has a 2.05m beam and a nice high 760mm of freeboard for security. A full six-year hull warranty is provided for extra peace of mind through a wide dealer base throughout Australasia. The ex-factory packaging includes all of the goodies that many companies count as options, with necessities such as a battery with box and isolation switch, navigation lights, the dash switch panel, bilge pump and anchor, rope and chain.
HANDLING AND RIDE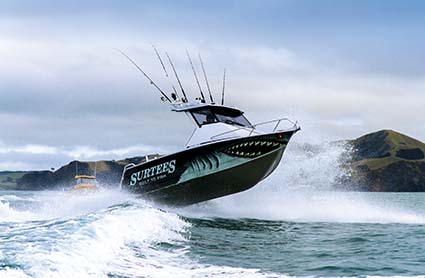 We planted the throttles and the 17in stainless steel prop jumped us up onto the plane effortlessly. We rocketed straight up to a speedy, yet efficient 28kts at 5200rpm where the bow sat nice and high with plenty of trim range and a very high degree of manoeuvrability. She's a little tender with shifting weight, especially when our lovable (but often clumsy) cameraman decided to do one of his unintentional acrobatics at high speed, but the hull handled it (as did our not so lightweight mate).
The deep-vee hull excels on the plane and riding high at speed, with the forward chines deflecting any spray. However, should you want to back off to sensible speeds in big seas, she sits really well at around 22kts at 4200rpm and will probably be using just half the fuel. If the going gets really tough, she will still hold plane with two people on board at 3500rpm, cruising at 16kts.
This is a nice boat to drive, especially for a tinny. Aluminium fishing boats have come a long way in recent years and Surtees is a trendsetter among the NZ leaders of the pack. It has 4mm plate under and 3mm sides with six fully-welded underfloor stringers and a fully-welded checkerplate floor. It also features the famous Surtees water ballast for versatility and extra stability. Personally I like weight on the water and generally travel with the ballast full no matter the conditions. Emptying the water out for trailering reduces towing weight by around 200kg. Also under the floor is a 100lt fuel tank, as well as a flooding killtank. Add that to 200lts of water in the flooding bilge and you can load her up and keep the weight right where it should be – down low.
The new 100hp Honda handled the load very well. It's a four-cylinder overhead cam, fuel-injected engine with terrific torque figures and a quiet, yet confident acoustic note, tipping the scales at 166kg, a little lighter than some major four stroke competitors. It features BLAST (boosted low speed torque), VTEC and programmed fuel-injection for real efficiency, whether pulling top speed across the flat, punching into a hard hitting sea or silent low speed trolling.
FISHABILITY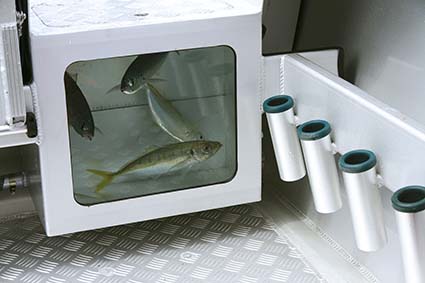 Sam and I filled the fully plumbed live bait tank in the step under the rear door with nice-sized slimeys and barreled toward the seaward side of the Hole in the Rock in search of kingfish or any other gamefish that would take our liveys.
The boat handled the action really well. There were rod holders where you needed them in a hurry and the well-proportioned cutting board was a strong leaning post for fighting the fish in the washing machine. The livebait tank is easy to access and rigging was simple with the large removable cutting board surface.
There are grab handles and handholds where you need them, good freeboard and the large flat coamings with their non-skid surface are a treat. The rocket launcher with its seven-rod capacity allowed us to rotate rods easily. The drop-down rear seat folds well out of the way when the action starts and it has the battery and switch gear secured well out of the way behind it. There's plenty of storage in the full-length side pockets and a proper bilge recess in the centre rear with a 50lt/min bilge pump as standard.
From a fishing, diving and general boating perspective, the whole working area performs really well. It is very easily cleaned and feels comfortable and secure when the action starts. There are twin boarding platforms with handles on the transom, a swing down fin-friendly ladder on one side and a berley bucket on the other. This defines what I meant in my opening statement about simple complexity – all of the components may seem simple, but the design and construction is the product of many years of experience.
THE VERDICT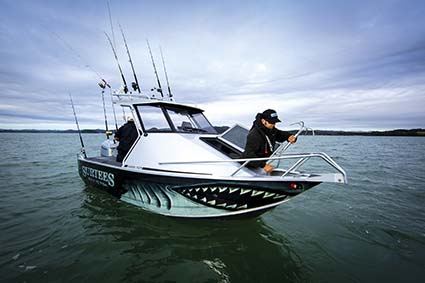 I gave its little brother a glowing report, and I can't say any less for the Surtees 5.5 Workmate Hardtop. Surtees has got it right all round, in a boat that suits me down to the ground.
The packaging with the terrific new 100hp Honda is virtually ideal. It does a top speed of 32.5kts with two on board, a full fuel tank, full ballast and plenty of gear. That's enough for me, and the 115hp maximum hull rating should only be a consideration to those carrying large payloads.
Surtees Workmates have proven themselves as tough reliable partners that make the job easy through the rough and tumble. They have the workmanship of experienced craftsmen, but with the handling simplicity you would be happy to entrust to the apprentice. They are easy to get on with and don't cost you a fortune to run.
The enclosed hardtop gives an extra element of security and comfort to this entrusted partner. And I've had a few bad partnerships over the years, but maybe that serves me right – I should have chosen a Surtees!
HIGHS
• Loved the wrap
• Complete package
• Workable design
• Easily cleaned
• Loves to boogie
• Great fishing or diving boat
LOWS
• Sensitive to weight change underway
SURTEES 5.5 WORKMATE HARDTOP SPECIFICATIONS
PRICE AS TESTED
$55,500
OPTIONS FITTED
LED rear work light, windscreen washer/wiper, transom walkthrough, livebait tank and water pump, hardtop with rocket launcher, two Garmin GMI20 gauges interfaced, Garmin GPS MAP750s Touchscreen GPS plotter/sounder, cabin carpet, cabin seating, two foldaway side seats, rear bench seat, two clip-on shelf seats, bait station with three rodholders, interior LED lighting, VHF GME GX600, and more
PRICED FROM
$45,000
GENERAL
MATERIAL Plate aluminium
TYPE Monohull
LENGTH 5.58m
BEAM 2.15m
WEIGHT 930kg
DEADRISE 18°
CAPACITIES
PEOPLE 5
FUEL 100lt
REC. HP 90
REC. MAX HP 115
ENGINE
MAKE/MODEL Honda BF100
TYPE Four-cylinder overhead cam outboard motor
DISPLACEMENT 1496cc
WEIGHT 172kg
GEAR RATIO 2.33:1
PROPELLER 17in Solas stainless steel
MANUFACTURED & SUPPLIED BY
SURTEES BOATS
2909 State Highway 30, RD2 Whakatane, NZ
PHONE +64 7 322 8461
WEB surteesboats.com
THE OTHER KIWI KINGS CONTENDERS
What were the other New Zealand boats showcased in the Kiwi Kings feature? Check out these top trailerable fishing boats.
See the full feature in Trade-A-Boat #241, on sale June 5, 2014. Why not subscribe today.
Keep up to date with news from Trade-A-boat or like us on Facebook!