Test: White Pointer 9.40 Pro Sportsman
---
The search for the perfect boat led one Australian couple to seek out custom boatbuilder White Pointer Boats in Gisborne. The 9.40m Pro Sportsman impressed the new owners so much, they drove it back home across the Tasman.
Grant and Margaret Devine wanted a dayboat of around 30 feet long for their charter business on Lord Howe Island, some 600km off the East Coast of Australia.
The boat had to be versatile and comfortable enough to keep the punters happy, but also capable of commercial fishing to supply the locals in between bookings. It needed to be extremely reliable and fuel economy was essential. Their dream boat didn't exist, so they would have to get their dreamboat built from scratch.
So they sought out White Pointer Boats in Gisborne, after reading about the custom boat builder within the pages of Trade-A-Boat. Grant liked what he read and then jumped on a plane.
"I came over to look at the factory and everything was spot on," he enthused. "I couldn't see a rubbish weld anywhere on the White Pointer yard. They showed us half a dozen boats and they all looked good, so we ordered one without even going for a ride."
The end result is Fin; a 9.4m highly customised Pro Sportsman model.
Boat customisation experts
To date, White Pointer has 460 custom-built boats in 30 models to its credit – so it's fair to say they're experts in the field. This build, however, would test their customisation credentials to the limit.
Due to their home's remote location, a shaftdrive was a must for reliability – as was a trailer to pull the boat out of the water in cyclone season. Grant also wanted a large marlin door on the starboard side, which required the hull structure to be re-engineered. Then there was the fact that he wanted to drive Fin home some 830nm across the Tasman Sea from the Bay of Islands.
To make his epic voyage possible, White Pointer custom-built a removable 1200lt deck-mounted fuel tank which also has its own trailer for refuelling.
With so many features on the to-do list the White Pointer team's knowledge was crucial in creating a functional, user-friendly boat that exceeded expectations: "We'd say 'I wouldn't mind this' and then let them think about it for a little while – they'd often come up with a better idea than what we originally had in mind," recalled Grant.
A dual-purpose boat
For sightseeing tours around Lord Howe Island and neighbouring Ball's Pyramid, the engine cover has been turned into a large cushy seat with full walk-around access. The 750mm high gunwales and an enclosed transom create a safe cockpit environment for guests, while the lockable front cabin and its considerate electric toilet setup provides privacy and secure storage.
When it's time to drop a line, half the squab removes allowing a large eight-shot rod stand with cup/tackle holders to assume its place. A custom-built 1.5m x 0.5m baitboard also mounts on either gunwale for filleting XOS kingfish. Handy items like the saltwater washdown and tackle trays are neatly housed beneath hatches in the gunwales.
To hunt down the monsters of the deep, Fin's large dash is equipped with a Furuno FCV295NT dual-frequency sounder. A through-hull transducer sits in a customised mount (offering both 2kW 200Hz and 3kW 50Hz frequencies) and means Grant can target fish down to 1000m and below. Raymarine's multi-talented HybridTouch system allows an easy all-in-one display for radar, chartplotter, trip data and the shaft-seal camera. With a CHIRP transducer fitted, it's also an impressive sounder in its own right.
Grant often fishes alone, so the Raymarine autopilot will prove invaluable; as will the second bowthruster/throttle control station in the cockpit. Should Grant take an unexpected swim a Virtual Lifeline man overboard system will cut the engine, as given Grant's office – the alternative doesn't bear thinking about.
As we've come to expect, White Pointer doesn't do things by halves and the large free-draining deck scuppers and twin freezers are testament to that.
Bulletproof ride
Taking the helm instills feelings of being bulletproof and with the ultra-reliable Yanmar diesel (adapted from a Toyota LandCruiser) and the 8mm thick hull plate, it probably is. Fuel economy is staggering for such a large, heavily-built package, which is something Grant is very pleased about. His personal helm seat is even heated for year-round comfort, while enjoying the view and the ride.
With the wheelhouse well forward and a V-drive connecting the Yanmar to a shaftdrive in a tunnel; Fin possesses exceptional balance and seakeeping. The only drawback is she requires a skilled helmsman around a marina berth – which is where the Lewmar bowthruster comes into play.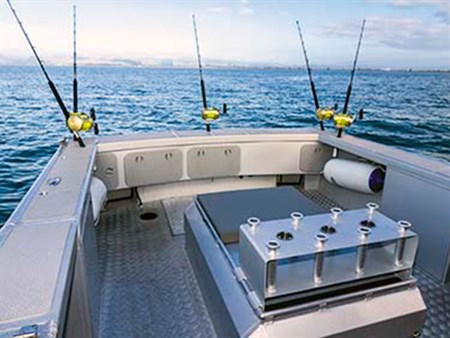 The trailer required almost as much customisation as the boat to accommodate the shaftdrive. White Pointer managing director Rex Briant proved it's also a success by casually driving Fin on (with an audience and the camera rolling) until the snub-block catch-system locked into place.
The verdict
In the wild only the strong survive and the White Pointer 9.40 Pro Sportsman shows no signs of
weakness. The Tasman Sea is no place to play for the unworthy and Fin has truly proved her pedigree by successfully completing the crossing in 69 hours – check out her log hereabouts for the details.
She's also sleek, stylish and possesses refined, yet menacing lines. Curves are a big part of any White Pointer Boat design – not only facilitating the impressive ride the brand is renowned for, but also adding a touch of distinction that's hard to imitate.
Highs
Built to survive the apocalypse
Wave-defying ride
Takes customisation to a whole new level
Shaftdrive on a trailer
Multi-talented
Successfully conquered the Tasman Sea from NZ to Australia
Lows
Shaftdrive and rudder require a skilled helmsman around the dock (bowthruster fitted)
Like Crowded House and pavlova, the Aussies have claimed her as theirs
For the latest boat reviews, subscribe to our Trade-A-Boat magazine here.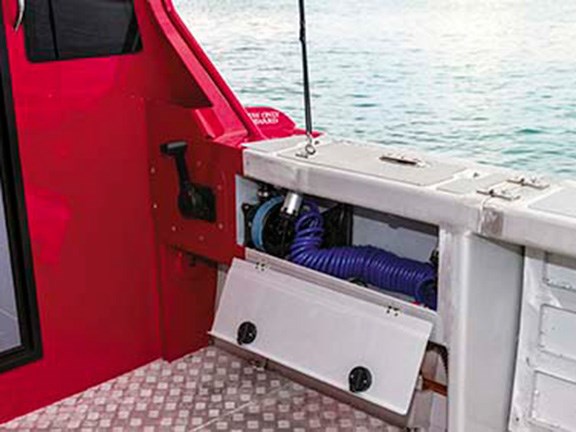 Manual bilge pump is within quick reach.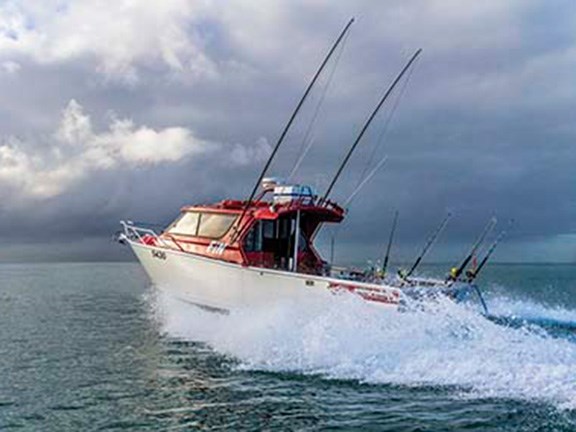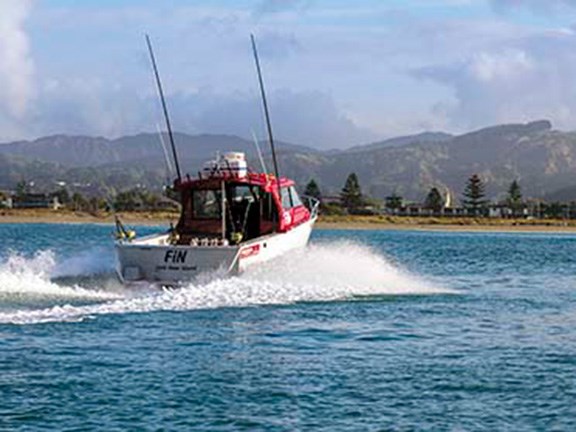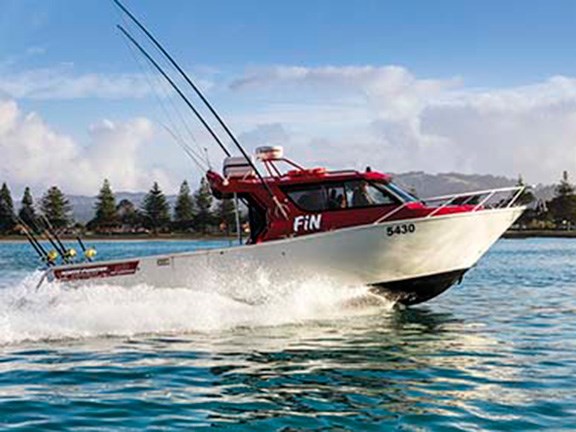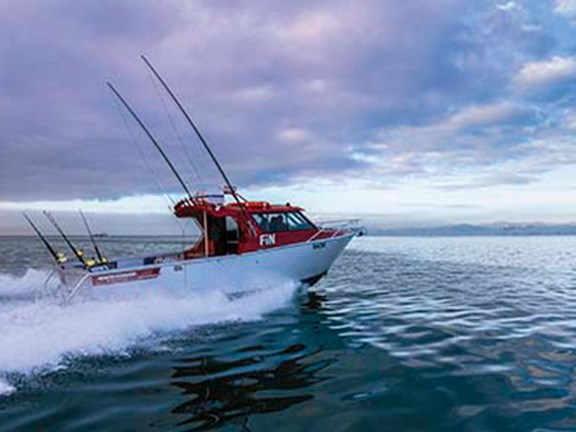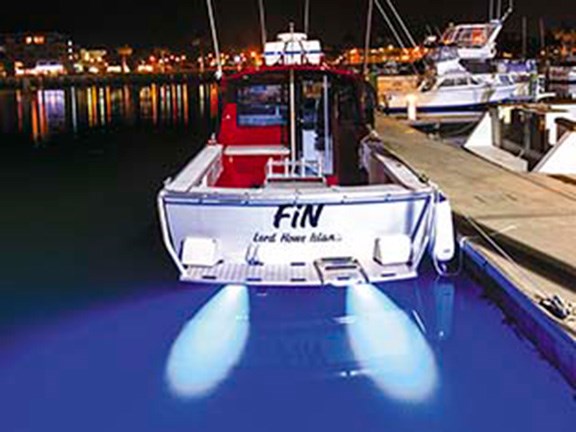 The blue underwater spotlights add to Gisborne's harbour light show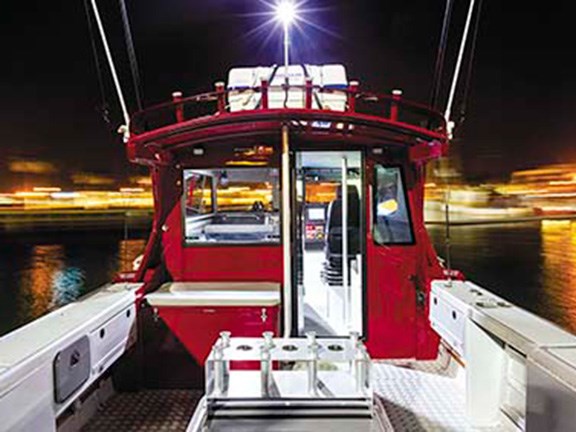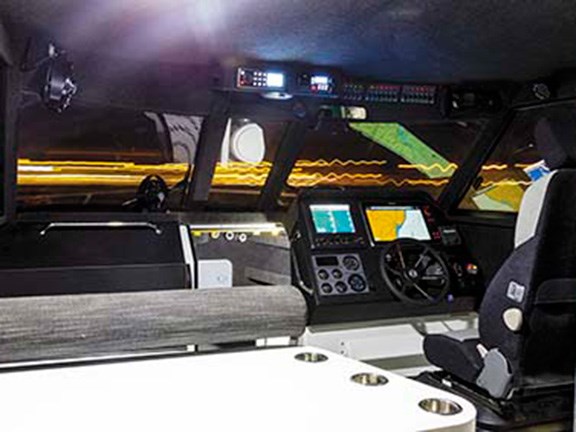 The navigator seat doubles as a chilly bin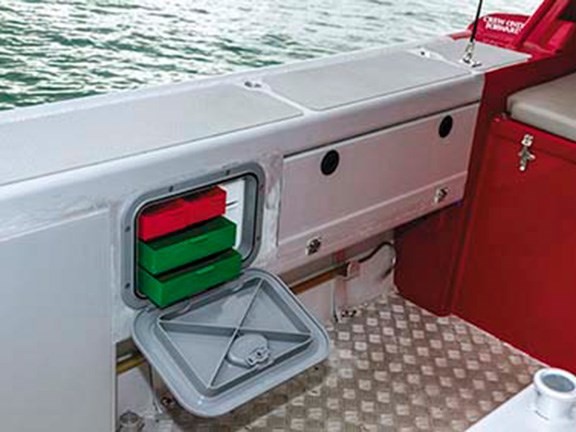 More under-gunwale lockers in the cockpit - this one housing tackle drawers.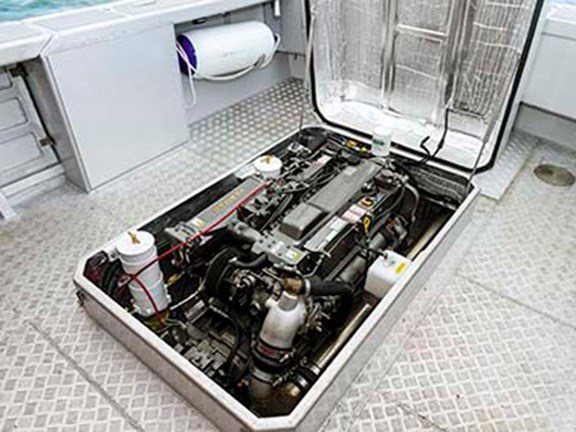 The enginebox/seat tilts back for easy servicing of the 315hp Yanmar diesel.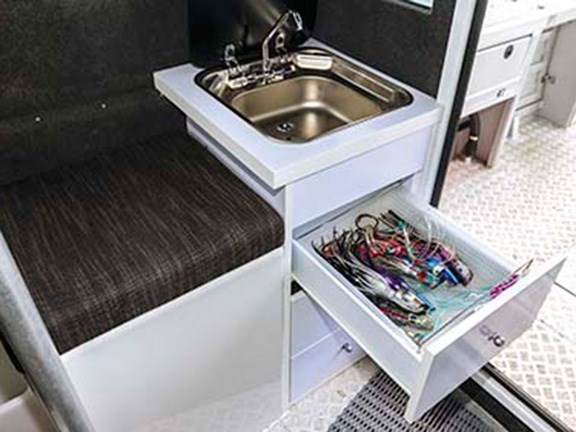 More storage for more tackle.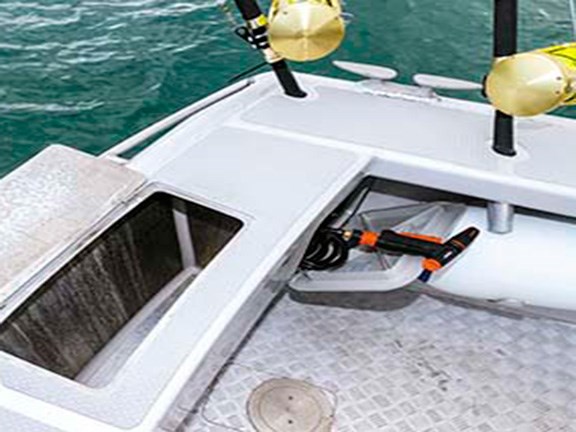 Flush hatches abound, revealing the transom bait tank and washdwn kit.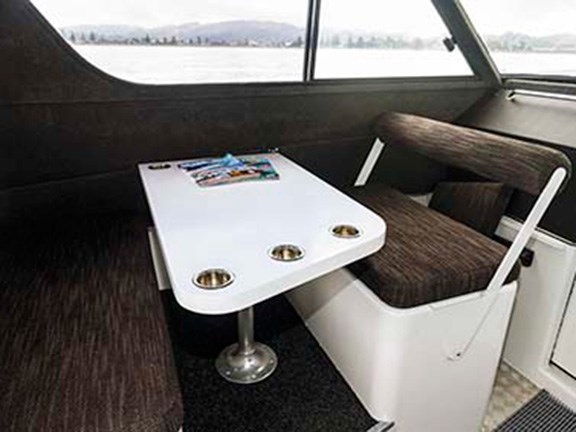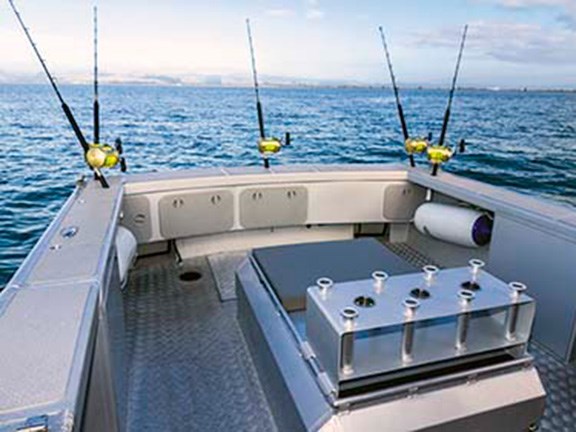 Chater and commercial fishing is this boat's main purpose.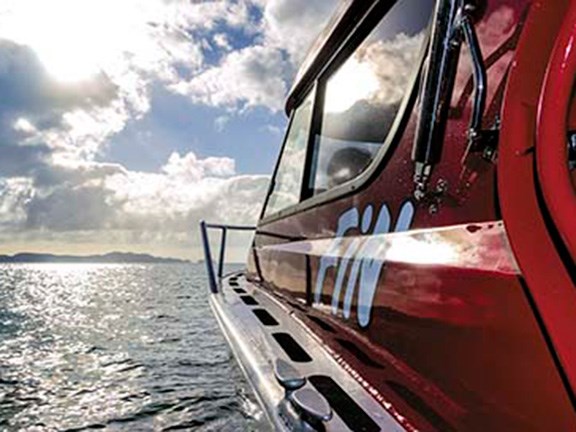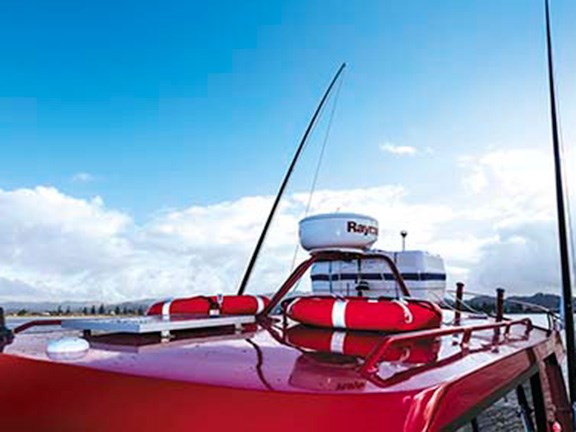 The cabin roof is an ideal spot to store the safety gear and the impressive Raymarine radome on a dedicated stand.
Keep up to date with news from Trade-A-boat or like us on Facebook!