Powerboat test: Bavaria Virtess 420 Fly
---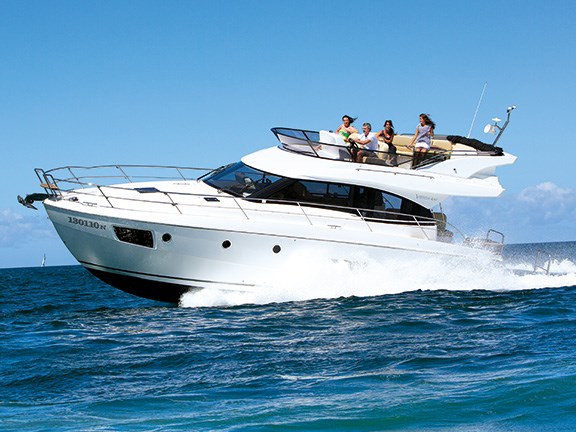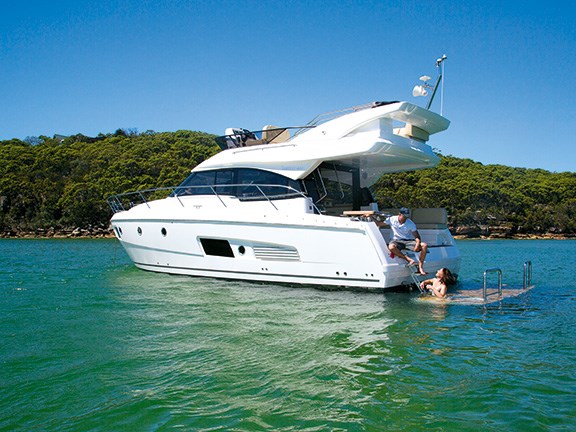 The submersible swim platform adds a new dimension to taking a dip off the back of the boat.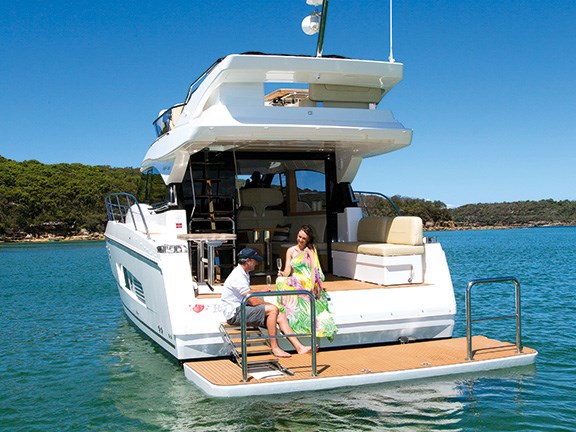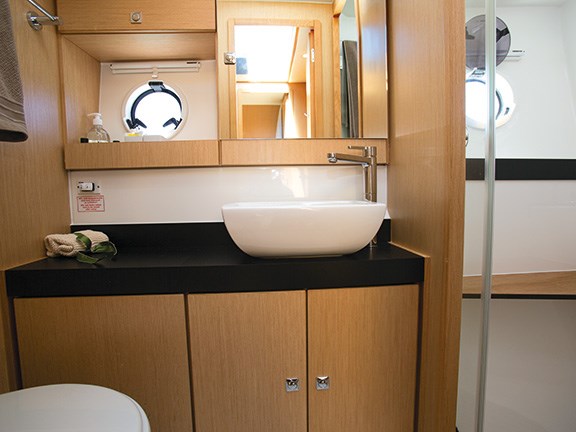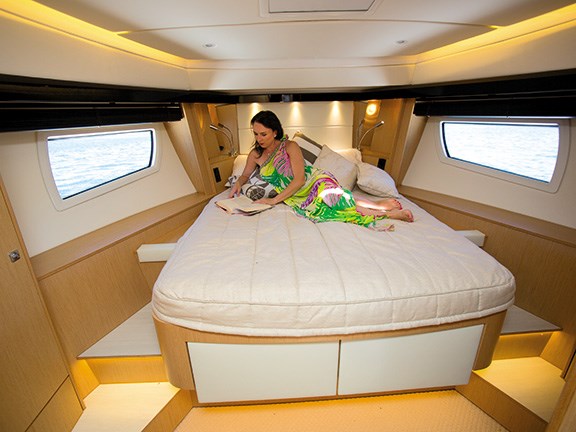 The master cabin forward boasts an en suite and heavy blinds for those mornings when a sleep-in is necessary.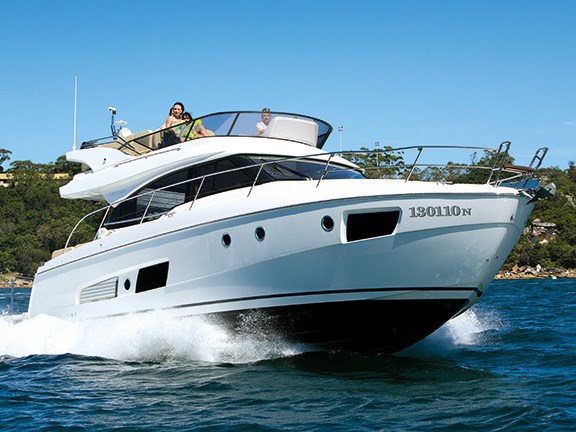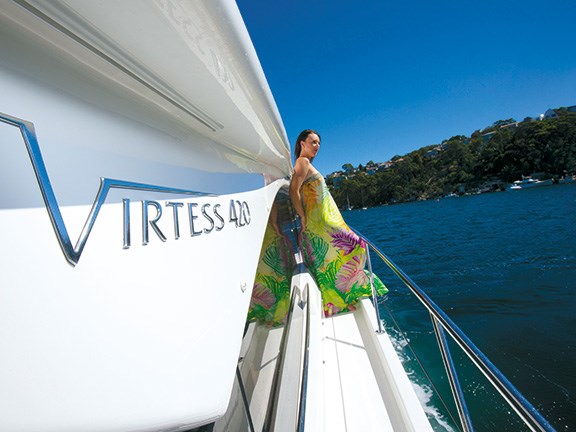 Style is at the heart of the Bavaria Virtess 420 Fly's design.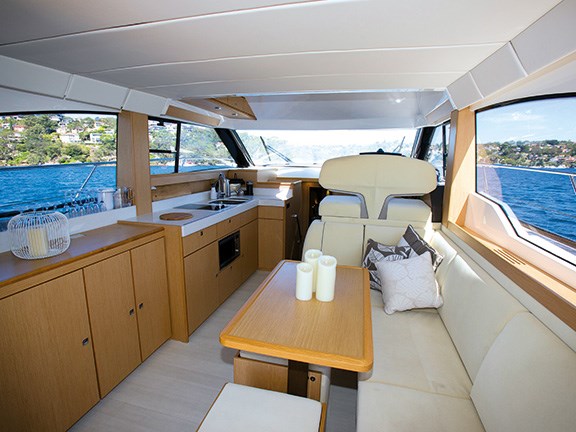 Generous window volume translates directly into a light filled space with great views.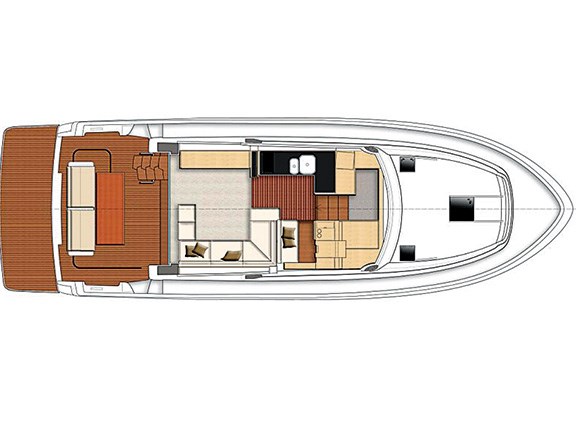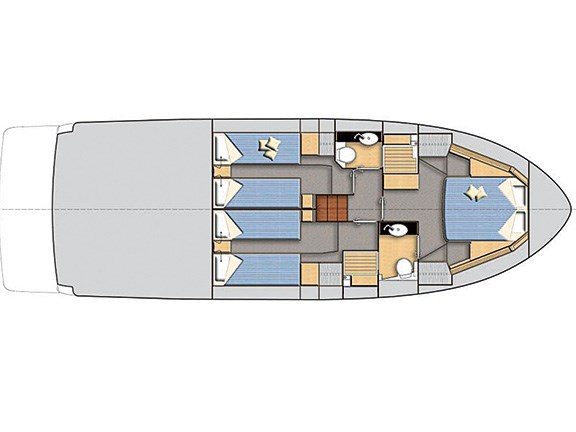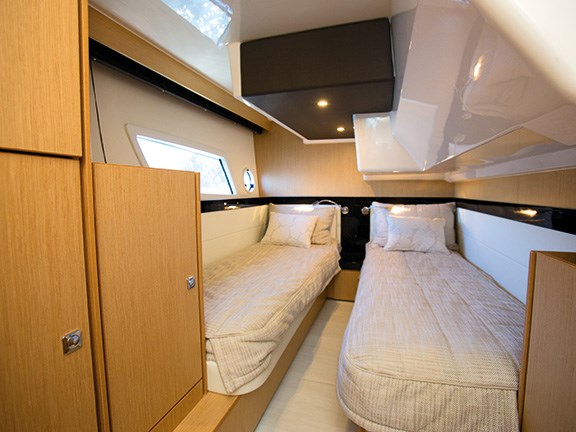 Two twin single cabins offer accommodation for many with a classy bathroom to share.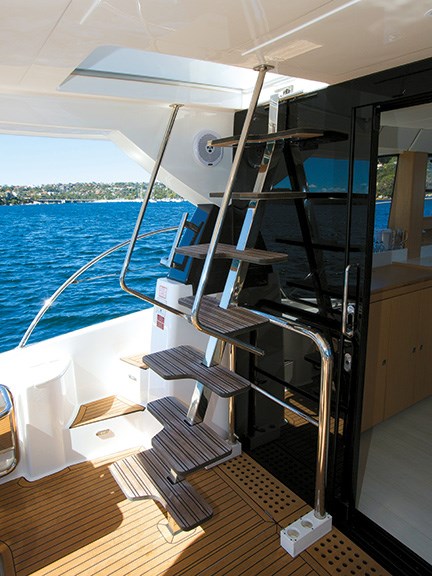 Flybridge ladder has left and right steps so make sure you get the order correct.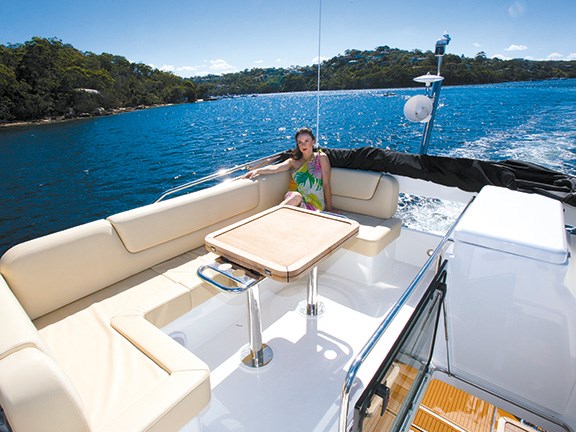 Bavaria has been building boats for 40 years but the Virtess 420 Fly is its first to feature a flying bridge.

Bavaria's new Virtess 420 Fly won a number of awards upon release last year. John Ford got his hands on the first model to arrive in a Trade-a-Boat exclusive.
Although in operation for 40 years, the Virtess 420 Fly is Bavaria's first flybridge model. At its release in Europe last year the new boat scored prestigious accolades including the Nautical Design Award, Motor Boat of the Year in England and European Power Boat of the Year.
New ideas
The Virtess is a very striking boat with pleasing lines and, as was soon revealed, a lot of new ideas. But the name? Apparently it's a mix of Latin and French to denote its virtuous and fast nature. Let's see.
Boarding is simple, across the wide swimplatform and a step up to the cockpit where the first surprise awaited. All the furniture is on rails so it can be moved into a seemingly endless arrangement around the cockpit.
A twin lounge formed a barrier to the rear, and side gates can close off the cockpit for safety. The lounge opens to a sun pad or a rear-facing seat and can slide around to the sides to open the space. Similarly, a table can be reconfigured into various positions and it can fold out to double its area.
There is room for eight around the table with the addition of pouffes from the saloon that have a lift-and-flip function converting them to dining chairs. They have inbuilt storage and the lounges lift to reveal lined fibreglass bins that can be used as coolers. More coolers are built into the sidedecks of the cockpit, and with four fridges and an icemaker located in strategic places around the boat there always seems to be a cooling drink at hand.
A set of three additional rails is stored under the stairs to enclose the swimplatform and provide a location for a barbecue. As we saw later, the swimplatform can be lowered about 40cm into the water creating the boat's own saltwater Jacuzzi, with the access ladder automatically adjusting to height as the platform lowers.
A hatch in the cockpit sole reveals a wide stainless steel ladder and I had no difficulty gaining access to or moving around the neat engineroom. Twin 370hp Volvo Penta diesels are connected to sterndrives and there's an 8kW diesel generator for electrical power.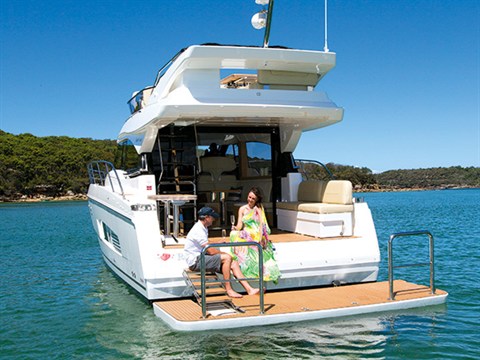 Seamless flow
Large sliding doors open wide to the saloon, which is set at the same level as the cockpit for an unbroken transition between these areas. Windows all-round the interior provide ample light and panoramic views even when seated.
Unlike the limited choice from Bavaria in the past, there is a range of upholstery colours and timber finishes available for a new boat. Our Virtess 420 test boat had a pleasing mixture of oak timber joinery and Champagne cockpit upholstery blended with Sand ceiling panels and white-wood floors.
A buffet to port has a pop-up television, while below is a fridge, storage cupboards and drawers. Ahead is the galley where a white synthetic-stone benchtop incorporates a two-burner electric cooktop and twin stainless steel sinks with hot and cold water from a stylish mixer.
There are more drawers and storage cupboards below the bench, as well as a convection microwave set at a safe height. An overhead timber storage feature houses LED downlights for illuminating cooking space and adequate ventilation.
A long U-shaped lounge runs along the starboard side of the saloon and there is room for ten to dine in comfort at the stylish timber table.
The main helm station has a well-equipped, compact display of instruments and a comfortable twin seat set well above the floor. It's funky and modern with analogue dials either side of a central 10in Garmin 4010 GPS-sounder.
The helm's settee is on a raised deck allowing great vision all-round, especially through the stylish single-piece windscreen. A pair of large wipers with freshwater washers keeps the majority of the screen clear in rough conditions.
Spacious layout
The owner's cabin has a walk-around queen bed and a stylish en suite with a full-size shower compartment. I noted good storage space under the bed, as well as a hanging wardrobe and a dressing table with vanity mirror.
Located under the raised helm, the starboard twin cabin has good headroom but the other has limited height over the foot of the bed. In practice, the beds are easy to access and there is good headroom in the rest of the cabin. Both cabins have large windows and opening ports.
Stairs to the flybridge are a funky combination of treads for left and right feet, meaning the first step needs to be sorted to avoid being caught out halfway up or down. Our crew decided the flybridge was the place to be and it's easy to see why. There's a monster U- shaped lounge around a generous foldout table that is only inches from a refrigerated wetbar.
The upstairs helm is set to port and the main helm to starboard, offering a choice of sides for docking. The flybridge's moulded dash has all controls and instruments duplicated and all are easy to read, even in the bright sunlight.
I was warned that the boat was due to be slipped to remove growth on the hull, and performance would be short of optimum. As it transpired, I think the Virtess 420 did pretty well with a top speed of 34kts at 100 revs short of its specified 3500 limit.
Recommended maximum continuous revs are 2800 where 25kts showed on the GPS, so the Virtess has no trouble covering ground while the 108lt/h usage from both engines pointed to a fairly slippery hull. At a 16kts cruising speed we saw 75lt/h giving a safe range of around 270nm although this extended to 450nm at 9kts if you wanted to take in the view.
Through harbour chop and some swell around the heads the boat felt smooth and tight at all speeds. It's a pleasure to drive and at the upper helm the level of lean is exaggerated for an exhilarating but predictably safe experience.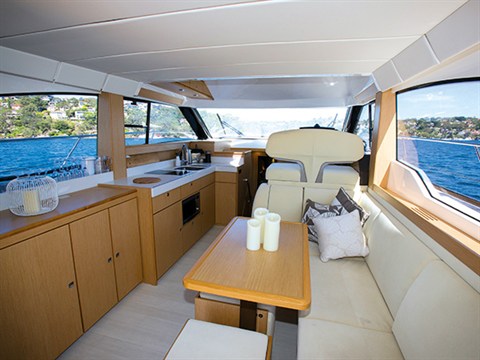 Verdict
It's difficult to pigeonhole the Virtess into a particular category, being more than an entertainer and not a hard-core cruiser. It has attributes of both, with a touch of sporty style thrown into the mix, making it a capable all-rounder and very likable.
In other words, as much as the Bavaria Virtess 420 Fly shines as a dayboat hosting for up to 12 guests, it will also be a great overnighter capable of extended coastal cruising. It was pleasing to see so many innovative features and a number of separate entertaining areas that give the boat a wonderful feeling of space.
Highs
• Stylish lines and well-finished interior
• Sporty performance and soft ride
• Innovative furniture design
• Good feeling of space
• Adapts well to entertaining or cruising
Lows
• Headroom in third cabin is limited
For the latest boat news, reviews and features, subscribe to Trade-A-Boat magazine here.
Keep up to date with news from Trade-A-boat or like us on Facebook!