Review: White Pointer 8m Sports Cruiser
---
This customised 8m Sports Cruiser fishing boat from White Pointer Boats combines looks, finish, strength and function into one solid package.
Sitting curbside at the Gisborne boat ramp inhaling a coffee, something shiny caught my eye. Could it be the new boat White Pointer Boats promised to deliver? I certainly hoped so, as its mesmerising silver and gunmetal grey painted curves undoubtedly had my attention. Closer inspection revealed it was in fact the new White Pointer Boats 8m Sports Cruiser— aptly named Make My Day.
---
Find White Pointer boats for sale.
---
WHITE POINTER BOATS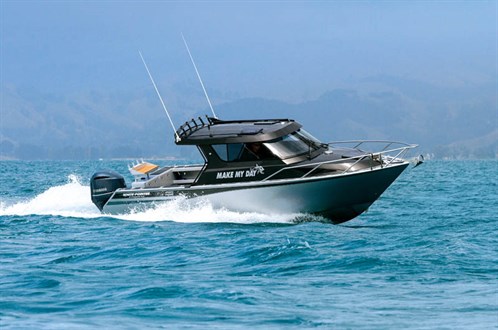 As the 8m White Pointer boat was backed down the ramp, suddenly my cappuccino had lost all appeal. The 250hp Yammie four-stroke outboard motor was fired up and Make My Day was driven forward to unlock the trailer snub catch, then dropped out of gear and allowed to gently coast backwards off the custom-made aluminium trailer. 
We cruised past the port and headed into the open waters of Gisborne's coastline, with a building onshore breeze and ominous grey clouds bearing down. Thankfully we were tucked up inside the large open-backed hardtop, so no further thought was given to Huey's desires.
I wasted no time talking my way into a turn on the helm on this White Pointer and promptly gave the smooth fly-by-wire throttle on the big V6 Yamaha outboard motor a nudge. My previous White Pointer experiences meant I was expecting good performance, but I wasn't quite prepared for just how responsive and adrenaline inducing it would be this time around. 
We were lightly fuelled at the time and certain unprintable words escaped my mouth as I watched the Yamaha digital speedo zip round to just under 40kts – downright impressive for an offshore fishing rig that tips the scales at 2.2 tonnes off the trailer. The view was also impressive thanks to the large, curved safety glass windscreens and generous sliding side windows.
LAYOUT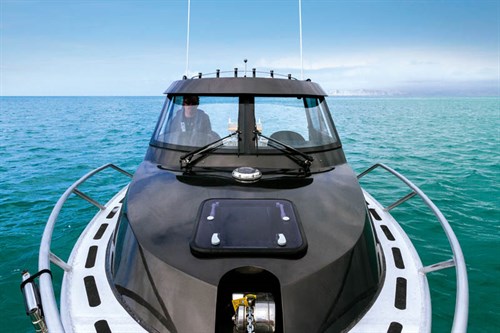 At first glance the helm looks rather barren but that's because Simrad's NSS12 chartplotter/multifunction display and Yamaha's digital gauge provide all the info required by the owner in compact, yet informative easy-to-read displays.
Ergonomics are all the more important when trolling for days on end but Make My Day's owner shouldn't have any back complaints.  The fully adjustable bolster seats are seriously comfortable and leather clad to boot. In fact, a good deal of the cockpit is actually finished in black leather and with the dark carpet and polarised windows provides a comfortable hideaway from the elements and glare.
Like most things in life there's a logical reason behind the performance and impressive ride. It starts with White Pointer Boat's approach to building its staunch range of offshore fishing boats from the inside out on jigs. This allows the 6mm thick plate-aluminium armour to be curvaceously wrapped, creating an immensely strong and wave-defying structure. Apart from being pleasant on the eye the curves also serve another purpose, they gently turn rising water away to create the dry and soft ride White Pointers are renowned for. Perusing the spec sheet afterwards revealed White Pointer stating this muscle-bound hull will also handle a 350hp outboard – stop it!
OPTIONS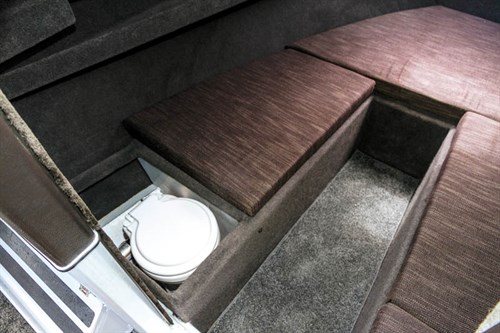 Like all the other 400-odd custom-built White Pointer Boats, the owner of Make My Day had his expertly customised to suit his needs and wants – namely fishing, overnighting at Great Barrier Island and weekends spent on the water with his wife. He wanted something with a bit more room over his previous trailerboat and his wife was angling for a launch, because she didn't like having to move the bedding in the night when nature calls. With the XL lockable cabin design on the 8m Sports Cruiser she doesn't have to, plus the 1.95m front berth becomes 2.35m overall when the electric toilet is not in use.
An electric Engel fridge/freezer is neatly housed beneath the king/queen helm seat to keep the bacon and eggs fresh, while the passenger's version houses the twin-burner gas hob with a drawer below to stash the utensils. Twin gas bottles are safely housed in the self-draining lockers on either side of the duck board – one for the barbecue which mounts on the baitboard and the other for the califont and gas hobs.
FISHABILITY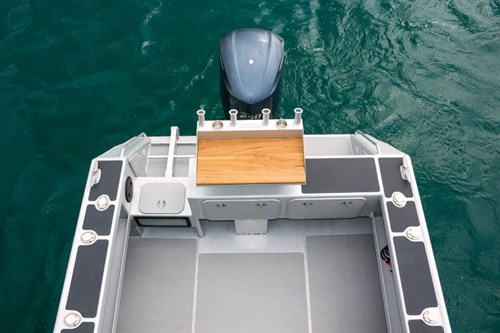 The beautiful wooden jarrah baitboard has no front lip for easy filleting of the day's catch but looks almost too good to fillet on. Knife, cup and rod holders are all laid out for ease of use. A reserve supply of lead can also be stored beneath the helm footrests, which include sinker storage compartments.
While you compromise a bit of cockpit space with the extended cabin option, you can still fish at least four comfortably. The business end is uncluttered, the batteries, switches and fuel filter all housed well up off the floor and neatly concealed behind hatches. Fish TV brings the livies to a screen near you, while the saltwater washdown and self-draining cockpit should make light work of the mess. 
If you prefer the view underwater, the foldout dive ladder will make getting back aboard with scuba gear on almost graceful. A hot shower can be enjoyed thanks to the gas califont and 85lt freshwater tank onboard. The 12V electric reel sockets are located beneath the precisely-positioned heavy-duty rodholders to make light work of hauling in a tasty feed from the deep.
THE VERDICT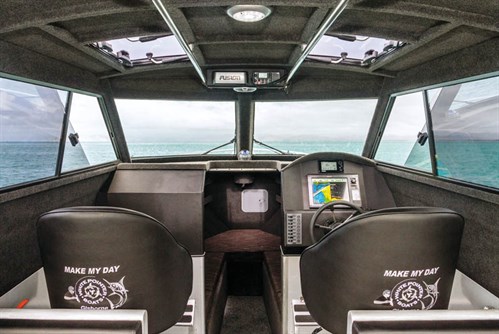 Make My Day is yet another shining example of White Pointer Boat's ability to turn its customer's dream fishing boats into reality – in this case effectively providing a trailerable offshore-capable White Pointer fishing boat that's also got enough comfort to enjoy a romantic getaway, keeping both sides of the marriage happy. 
Does it work? I certainly think so and the lines are nothing short of irresistible in a menacing way. The multifunctional layout increases versatility, which equals more opportunities to take the boat out and enjoy it. A happy compromise indeed. Of course, like all White Pointer's models, it's also fully customisable to suit your needs, wants and desires.
WHITE POINTER 8M SPORTS CRUISER SEA TRIALS
Single 250hp Yamaha F250D outboard motor with Mirage 15P prop and 25% fuel
| | | |
| --- | --- | --- |
| RPM | SPEED (KTS) FUEL BURN (LT/H) | RANGE (LT/NM) |
| 1000 | 4.9 | 4.7 / 0.96 |
| 1500 | 6.1 | 7.9 / 1.3 |
| 3000 | 18.2 | 23.5 / 1.29 |
| 3500 | 23.8 | 28.7 / 1.21 |
| 4000 | 27.7 | 39.5 / 1.43 |
| 4500 | 29.8 | 49.8 / 1.67 |
| 5000 | 34.1 | 64.9 / 1.9 |
| 5500 | 37.8 | 80 / 2.12 |
| 6000 | 39.5 | 92.5 / 2.34 |
*Sea-trial data supplied by White Pointer Boats.
See the full version of this review in Trade-A-Boat #243, July / August 20104. Why not subscribe today?
WHITE POINTER 8m SPORTS CRUISER SPECIFICATIONS
White Pointer Boats 8m Sports Cruiser price: $205,000
OPTIONS FITTED
Endless
GENERAL
TYPE Monohull
MATERIAL Marine grade aluminium
LENGTH 7.6m; 8.2m overall
BEAM 2.5m
WEIGHT 2680kg (BMT)
DEADRISE 18-degree variable
CAPACITIES
PEOPLE (NIGHT) 3
REC. HP 250
REC. MAX HP 350
FUEL 300lt
WATER 85lt
ENGINE
MAKE/MODEL Yamaha F250D
TYPE Four-stroke V6 outboard motor
RATED HP 250
WEIGHT 253kg
DISPLACEMENT 4169cc
GEAR RATIO 1.75:1
PROPELLER Mirage 15
FOR MORE INFORMATION
Visit whitepointerboats.co.nz
Keep up to date with news from Trade-A-boat or like us on Facebook!