REVIEW: YAMAHA FX SVHO WAVERUNNER
---
Our reviewer ran out of superlatives (and adrenalin) after trying the Yamaha FX SVHO WaveRunner PWC.
The Yamaha FX SVHO WaveRunner is by far Yamaha's top-performing recreational PWC and while Yamaha is renowned for producing quality high-performance products, this time round it has exceeded expectation.
NEW YAMAHA WAVERUNNER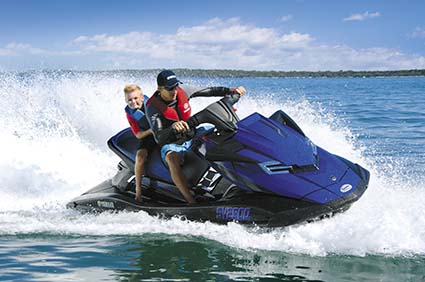 The 2014 Yamaha WaveRunner FX SVHO is the latest addition to the line-up and it is without doubt its best-ever performing PWC to date.
The business end of this updated machine is within the mechanical side of the PWC. Additions and changes include larger fuel injectors for more fuel flow and higher performance, as well as a new design for the supercharger that has a seven-blade impeller compared to the Yamaha WaveRunner's FX SHO's five-blade. This change alone increases the boost by a claimed 22 per cent.
On top of that, the pistons are now forged for strength and high performance. As well, the main cooling system has been upgraded to increase cooling efficiency by 25 per cent, along with a larger intercooler and new oil cooler to improve other cooling-required areas as well.
The Yamaha FX SVHO also has a new 160mm eight-vane race-inspired high-pressure jet pump, new top-loader intake grate, new ride plate design, and plenty more to get maximum performance and efficiency out of the increased engine performance.
DESIGN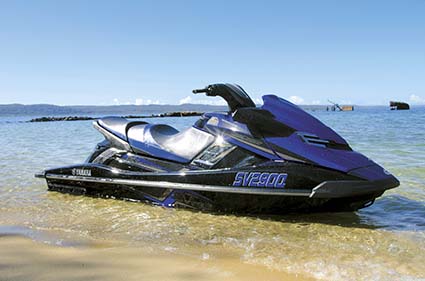 The Yamaha FX SVHO in striking blue looks fantastic. As with the other WaveRunners the finishes are faultless. For novice riders, getting onboard is a simple task as these hulls are super stable. This is easily done via the large re-boarding rear step or side steps.
The new triple-seating is another bonus as two people can now come along for the ride – that's if you want to share. As the driver, your section of seat is the lowest and shaped to keep you comfortable and locked in when its playtime. I must say that I do prefer the new seat designs, especially when it comes to taking passengers for a joyride. The slightly raised section for each passenger seat gives them more visibility, as well as keeping them nicely locked into their own section of the seat.
PERFORMANCE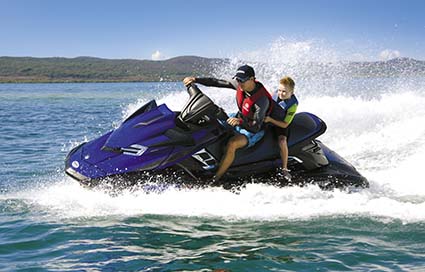 I had a standard Yamaha FX SHO on hand at the test as a comparison and I spent a fair amount of time on that before giving the FX SVHO its spanking.
Straight up, you can clearly feel the massive difference in holeshot, especially when you compare it to the standard FX SHO. The Yamaha FX SVHO literally wraps your cheek flaps around your ears if you give it full horns, and it's definitely not a PWC designed for pussies. You really need to hold on tight to this beast as it rocket-launches itself out of the hole and up to WOT (listed at 66.5mph) in far less than 20 seconds – probably closer to 10 seconds to be precise. This machine is gutsy and one hell of an adrenalin rush.
When it comes down to rideability the hull maintains excellent stability both at rest and under way. Where you really notice it is when you have passengers, as the natural direction for an inexperienced passenger to go is completely the opposite of turn and lean. The nice thing is that a PWC is not as bad as a motorbike when a passenger does that. Regardless, it took a good half hour to get my son to lean in with the turns.
As your confidence grows on the fast and furious SV FXHO, so does your clownability. Hooking it into violent turns and power blasts is quite exhilarating, and what really impresses me is how new-age hulls carve at an angle into turns, rather than run flat – similar to riding a bike but with much more control.
With throttle-by-wire features like Cruise Assist which helps reduce fatigue on long-distance runs, No Wake mode and Reverse Traction Control, the FX SVHO is really an easy PWC to handle both on and off the throttle. If I had to find an issue, I might prefer a smoother quick-shift trim system.
With top-class performance and handling, can it get any better?
Well, yes it can. The FX SVHO is one of Yamaha's top-of-the-range and boasts many other features in the layout: the new triple seating, as already mentioned; adjustable steering; extended swimplatform; remote-controlled security system; integrated cupholder; plenty of waterproof storage; deeper reboard step and dual grabhandles for easy boarding; easy access and viewing of instrumentation; awesome colour combos; and much more – too much to mention. The list goes on and on. And it all comes with Yamaha's unlimited hours, three-year recreational warranty.
THE VERDICT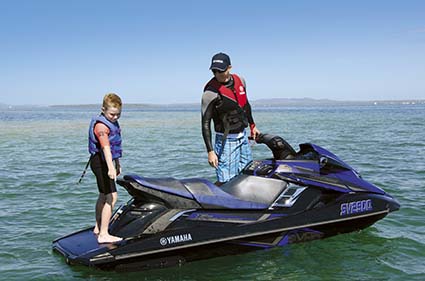 Yamaha is renowned for producing quality high-performance products, but this time round it has exceeded expectation with the latest release of the FX SVHO.
This is by far Yamaha's top-performing recreational PWC in my opinion and one that's suitable for those looking for quality in a PWC as well as those chasing more torque and speed… and of course massive adrenalin hits.
YAMAHA FX SVHO WAVERUNNER SPECIFICATIONS
PRICE AS TESTED
$20,680
GENERAL
MATERIAL NanoXcel hull, hull liner, deck
TYPE PWC
LENGTH 3.56m
BEAM 1.23m
WEIGHT 396kg
CAPACITIES
PEOPLE 3
FUEL 70lt
STORAGE 126lt
ENGINE
MAKE/MODEL Yamaha SVHO marine engine
TYPE  Supercharged four-cylinder petrol
DISPLACEMENT 1812cc
TOP SPEED 66.5mph
FOR MORE INFORMATION
Yamaha Motor NZ
See the full version of this review in Trade-A-Boat #242, July 2014. Why not subscribe today?
Find jetskis and PWCs for sale.
Keep up to date with news from Trade-A-boat or like us on Facebook!