REVIEW: BLACKDOG CAT 4.5 CENTRE CONSOLE
---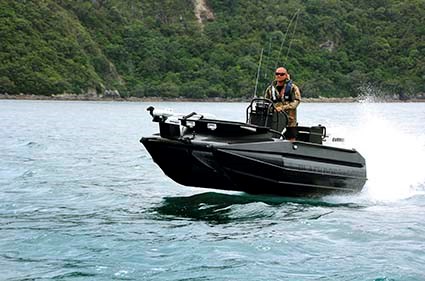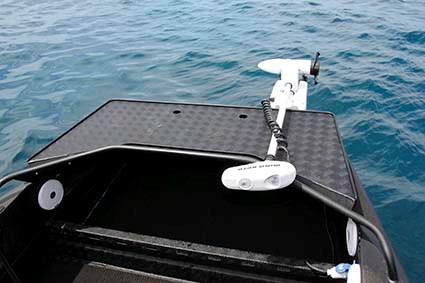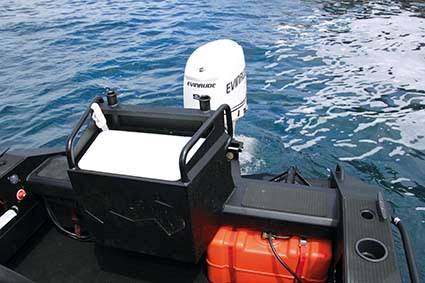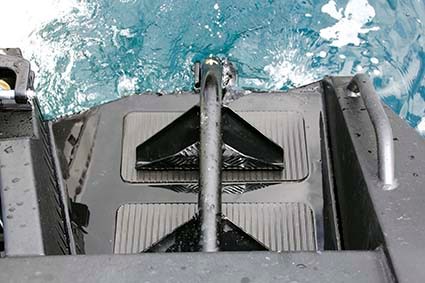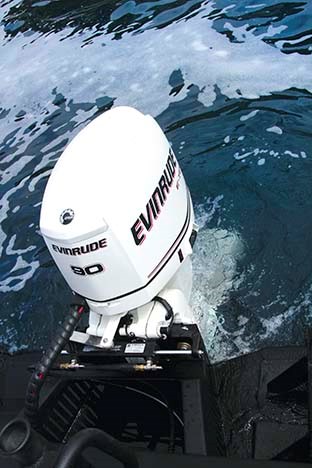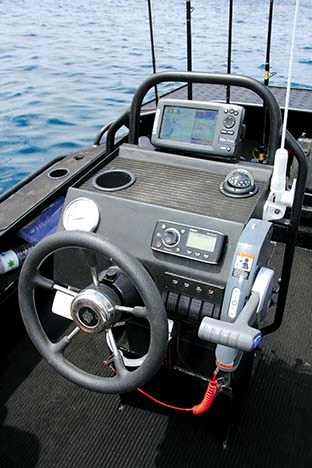 The menacing Blackdog Cat 4.5 Centre Console is a go-anywhere sportsfisher that also adds a new dimension to duck hunting.
Blackdog Cat started building its range of super-stable 'pencil' aluminum cats in 2009. Run by Blackdog Cats owner and designer Luke Seuren, the company's first model was a modest, tiller-steered 4m craft. Since then the company has steadily grown its range.
For Blackdog this 4.5m Centre Console boat is a return to its roots. The extra half-metre of hull length over its smallest model provides more cockpit space and this has enabled a centre console unit to be installed. This instantly transforms a hardcore, wave-jumping but bone-thumping, adrenaline machine into something that can be safely and comfortably driven over big seas for extended periods of time.
BLACK DOG CATS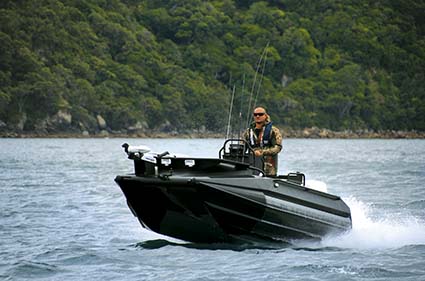 All Blackdog Cat boats feature enough separate watertight compartments in the twin hulls to give the boat more than 300 per cent reserve buoyancy. This is no idle statistic – the Blackdog Cat 4.5CC has around 1700lt of floatation in seven sealed chambers, compared to the hull and engine's combined weight of more than 500kg.
An all-round hunting and fishing man, Seuren has customised this model to suit a range of his favourite activities. The front deck of the boat has a raised non-slip platform that sits parallel to the water. This enables a solitary angler to stand on the platform in sheltered waters and sight-fish with fly rod or spinning lures.
Seuren has also taken a leaf from US bass boats and fitted a Minn Kota steerable electric trolling motor to this front platform. Using foot controls the boat can be silently glided to within casting distance of the prey.
Tucked under the bow is a handy storage area for gear which is carpeted to reduce the noise of loose stuff banging around. There is no hatch to the fairlead but it is easy to reach over the platform to set the anchor. The main cockpit is also lined with a removable carpet, to further assist the stealth mode.
STEALTH BOAT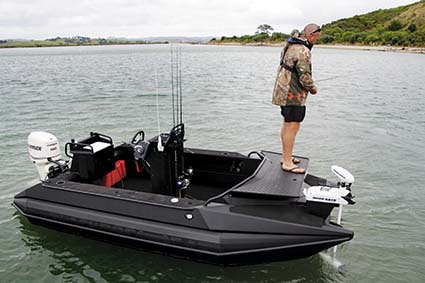 The matt black finish of the boat prevents reflections into the water and, as mentioned earlier, Sueren has plans to use the boat for hunting as well. Indeed, he has previously supplied camouflage versions for duck hunters.
The centre console unit houses the usual steering and electronics but Seuren has chosen a somewhat different approach by not fitting a seat behind the console. If the sea is calm enough to sit, then a chilly bin with squab on the lid does double-duty as a seat. The console, though, is set at a comfortable height for steering while standing. In a rough sea the standing position is preferable, allowing your legs to act as shock absorbers and also to assist in steering into the waves. The livebait tank and baitboard are securely attached to the transom.
The console does not have a windscreen, so running at speed is definitely wind-in-your-hair stuff. Grab-handles abound on the boat, providing plenty of options for passengers to hold onto. The transom on either side of the livebait tank has a broad surface to act as a seat but in big seas, passengers are likely to be standing alongside the skipper.
The pontoons are capped off with a wide gunwale with non-slip pads and these form comfortable seats for fishing.  Although a little lower than the gunwales on some boats, the extra stability of the cat hull means they are not often needed for support. A number of rodholders are set into the gunwales and a sturdy grabrail on the outside of the boat provides handholds, while not impinging on the comfort of the seating.
HANDLING AND RIDE
Hanging off the transom is a 90hp Evinrude E-TEC two-stroke outboard. This direct-injection three-cylinder motor provides plenty of grunt for the hull and is economical to run.
We rolled the boat off its custom-made galvanised trailer, also made by Blackdog, and headed out the port of Whangarei into a stiff breeze to a sheltered area to try out the stealth mode. Seuren swivelled the Minn Kota electric motor down into the water, connected it up and got his saltwater fly rod out. Thanks to the renowned stability of the twin-hull configuration he was able to stand on the bow platform and cast his fly out in any direction. Using the electric motor he could counteract the wind to stay in one spot or slowly move along to cover more water. Since we could not find any fish on this occasion, Seuren demonstrated one more use of the platform – having a quick nap while we sorted out some gear on the photo boat!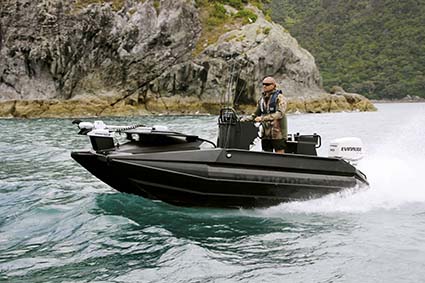 Then it was out to find some big water and the reef off Frenchman Island near the Whangarei Heads was happy to oblige. Heading out in a swell that tended towards a metre in height was no problem for the cat – even at speeds around 25kts the black boat happily skipped from wave crest to wave crest.
The air trapped between the hulls gives catamaran hulls a softer landing than most monohulls and the fact that the Blackdog got a fair bit of airtime did not make the ride an endurance feat. In fact it was smoother at higher speed, whereas slowing down meant it rode up and down on each swell. We did get wet though – the wind was whipping up spray and the lack of a windscreen plus the relatively low position relative to the water meant there was no way to stay dry on a day like this.
 Once at the reef, where there were some significant standing waves, we could give the boat a real thrashing. We jumped waves, scooted at speed through channels and tried high-speed turns. What a blast! This is real seat-of-the-pants boating, where you learn to evaluate every wave and power up or down continuously. It was great fun and we never felt out of control.
Interestingly, even in fast turns the boat tracks well exhibiting none of the reverse-heel that some cats suffer from. Also the wide, flat hull lands squarely and we were never tipped to either side as tends to happen in many other 14-foot tinnies.
THE VERDICT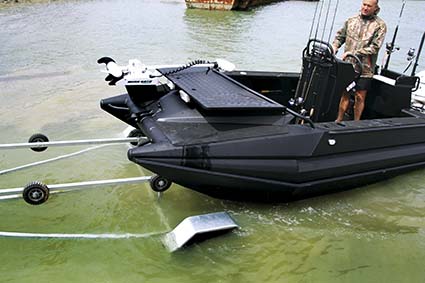 While this smaller Blackdog Cat won't appeal to everyone, it definitely has its niche. You won't get better if you are after a light, fun and safe boat for one person to handle. As well, its size and weight means it can be towed and launched from anywhere, even off a beach without a boat ramp.
Rivers, lakes and estuaries are a definite habitat for this model and, as mentioned, the ease of launching and handling are a plus. I suspect that even if you owned a bigger boat you would find yourself using the Blackdog Cat 4.5CC more often because it is simply so much fun.
HIGHS
• The stability
• Mean-as looks!
LOWS
• Small boats get wet in the chop
BLACKDOG CAT 4.5 CENTRE CONSOLE SPECIFICATIONS
PRICE AS TESTED
$44,500
PRICED FROM
$37,000 w/ 90hp outboard
GENERAL
MATERIAL Aluminium alloy (4mm hull; 2.5mm pontoons)
TYPE Catamaran
LENGTH 4.5m
BEAM 2.15m
WEIGHT 340kg (dry hull)
CAPACITY
PEOPLE 4
REC. HP 70 to 115
FUEL Tote tanks
ENGINE
MAKE/MODEL Evinrude E-TEC 90hp
TYPE Direct-injection three-cylinder two-stroke outboard
RATED HP 90
SUPPLIED BY
BLACKDOG STEELWORKS
14 Okara Drive,
Whangarei, 0110
PHONE 0800 262 876; 027 276 4506
FAX (09) 438 8087
See the full version of this review in Trade-A-Boat #241, June / July 2014. Why not subscribe today?
Keep up to date with news from Trade-A-boat or like us on Facebook!