REVIEW: BOX BOAT 8.5 OD
---
For pure sailing boat pleasure with wide appeal look no farther than the affordable Box Boat 28ft One Design.
Competitive yacht racing — unlike the America's Cup — has two primary methods of determining the class a yacht competes in. These are either One Design, or handicap racing within a broader class. One Design refers to racing a single model of sailboat, where all are equal and the first boat over the line wins. In handicap racing, time is either added or subtracted from finishing times, based on complicated formulae relating to the differing design factors, sizes and shapes of competing yachts to determine the winner.
BOX BOAT ONE DESIGN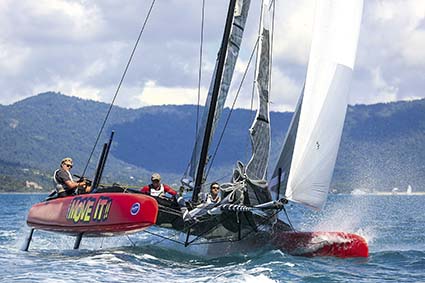 The One Design concept was introduced in 1887 but it didn't see a big increase in popularity until the 1970s. Laminate construction and mould-building technology enabled mass production of yachts that were identical, at a much lower price. One Design specifications level the playing field by having a class of boat that is identical in design, allowing the variables to be determined by the skill of the crew rather than by designers or the depth of the owner's pockets.
Inspired by the AC45s and borne out of frustration with the logistics and excessive costs associated with racing multihulls, Dave Bigger approached Matt Johns to discuss a plan to fill a void in the multihull scene. Dave and Matt saw the need for an affordable One Design class yacht for competitive multihull sailing. They wanted to produce a yacht that was affordable and logistically easy to own, that would provide high-performance sailing and also be manageable by more than just the racing elite.
The result was the Box Boat 8.5 OD racing yacht: a lightweight and trailerable design, capable of being towed by your average vehicle. Packed up, it requires no special permits to tow as the width is only 1.8m. On a standard trailer the widest point is the trailer's wheel arches, measuring 2.5m across. The total towing weight, including trailer, sails and outboard is only 1000kg.
PERFORMANCE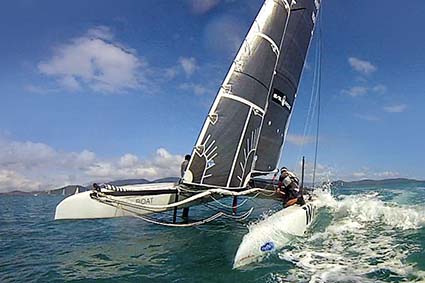 Once you arrive at your destination the boat is ready for launching in just over two hours. Then it's just a matter of launching, retrieving and relaunching as many times as you want – no need to pack it up unless you are hitting the road again.
Performance was one of the major design briefs but it was equally important to design a yacht that was able to be sailed by experienced as well as 'gaining experience' sailors. Matt says that safety is enhanced by increasing the reserve buoyancy to dramatically reduce the pitch polling effect. While this feature sacrifices a little performance, it enhances safety exponentially.
According to Matt, not that much was sacrificed as the Box Boat 8.5 One Design easily achieves speeds of 12 to 13kts upwind. Downwind, 20kts is attainable in breezes more than 12kts. Matt reckons it is really enjoyable to sail in 15kts of breeze and it comes with a single reef to make it more manageable in stronger breezes, particularly during training and less competitive sailing.
For casual sailing the yacht can be handled comfortably by two people. A novice can relatively quickly gain competency from a more proficient sailor and the two of them can sail off and enjoy the enlivening feeling the yacht's performance gives.
For racing, a crew of three is better but it can handle up to four adults, hence lending itself to more uses.
DESIGN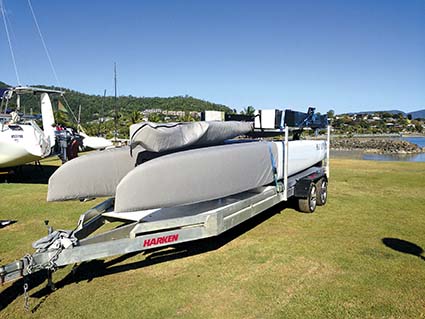 Strength and lightness have been achieved with a hull that is of carbon-fibre 'honeycomb' composite construction. The medium has channels that allow the flow of resin through a honeycomb network. The inside of the honeycomb is made up of pressure-resistant cells that also resist the absorption of resin. The resin fills the walls of the honeycomb and forms excellent mechanical bonds between the layers, all the while utilising less resin.
The steric medium, bonding the outer carbon laminate to the inner e-glass, creates excellent strength and also sees a 30 per cent weight reduction over solid 'glass laminates.
The Box Boat's lightweight carbon-fibre spars and crossbeams help keep weight down and make it more manageable to set-up and break down. The carbon-fibre, 13m-high rotating mast is made up of two pieces – the bottom piece is sleeved allowing simple connection to the top piece. Once joined the mast can be easily raised with the aid of the winch. The crossbeams have tapered sockets, adding to torsional strength, and the bulkheads placed at this and other load points help maintain rigidity.
The mainsail is 35m² and reefable. There is a class-enforced minimum weight to eliminate single regatta sails and any subsequent over-spending. The hank on jib comes in at a fraction under 14m² and the spinnaker is 45m². That's plenty of sail area for a variety of conditions and considering Boat Box is aiming at the corporate as well as personal market, this sail area is a big canvas for brand awareness.
PRICE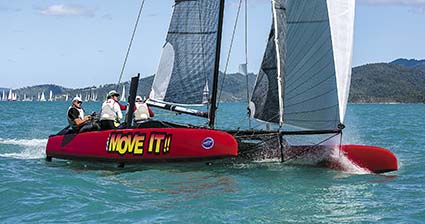 Where did the name Box Boat come from? Matt tells me that it came about because it is available in kit form and arrives in a box! It is available in various stages of completion, depending on your level of assembly ability. The basic kit form costs a mere $33,000 dollars. If you have some time or skill to dedicate to building your own yacht, it really is a very affordable proposition (Boat Box can supply jigs to assist in assembly). If you prefer to buy a completed yacht, $82,500 is a lot less commitment than the next level of production catamaran with performance capabilities.
That $82,500 price tag is not inclusive of the sails and trailer but if you want a complete package, ready to tow away from the factory, then $105,000 for a brand-new 28ft performance catamaran that you can take anywhere, makes these yachts very appealing.
In terms of international transport/delivery, three Box Boat 8.5s, including disassembled 13m masts, can fit into a 40ft container.
THE VERDICT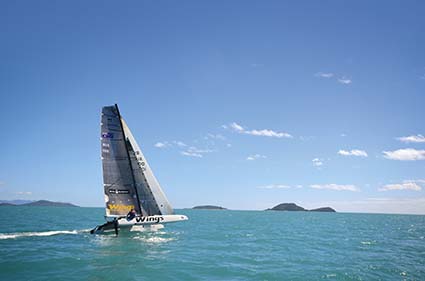 The future of Box Boats looks interesting. When you get comfortable sailing the Box Boat 8.5 OD and the thrillseeker in you desires more speed, you'll want to keep an eye on Box Boats' next incarnation. The company continues to push the technological boundaries and has already developed a design for its 8.5m lifting-foil catamaran. The beauty of this design is that it's possible to retrofit the foils to the current Box Boat, making it the perfect platform for budding America's Cup sailors.
HIGHS
• You can take it with you and tow it with a regular car
• Light and easy to set-up
• A lot of fun to sail
LOWS
• Limited application being a One Design raceboat
BOX BOAT 8.5 OD SPECIFICATIONS
PRICED FROM
$A105,000 complete
$A33,000 (kit, less sails and trailer)
$A82,500 (assembled, less sails and trailer)
GENERAL
MATERIAL Moulded carbon-fibre/e-glass hulls with foam core
TYPE Catamaran
LENGTH 8.5m
WEIGHT 550kg
SAILS
AREA 35m² mainsail, 13.9m² jib, 45m² spinnaker
MAST 13m carbon-fibre
FOR MORE INFORMATION
BOX BOATS
25 Junction Drive,
Coolum Beach, QLD, 4573
PHONE +61 415 538 445
See the full version of this review in Trade-A-Boat #241, June / July 2014. Why not subscribe today?
Keep up to date with news from Trade-A-boat or like us on Facebook!