REVIEW: DIBLEY 7.7 WEEKENDER
---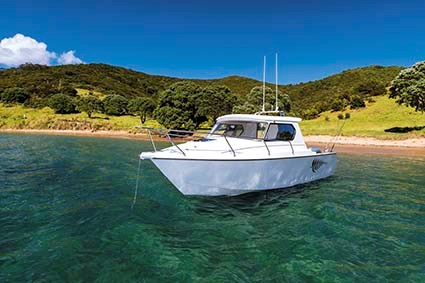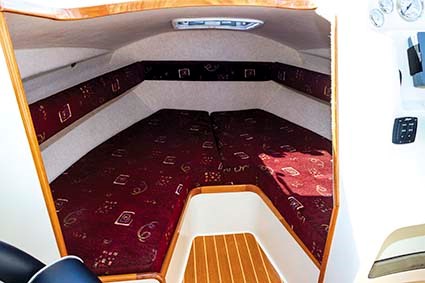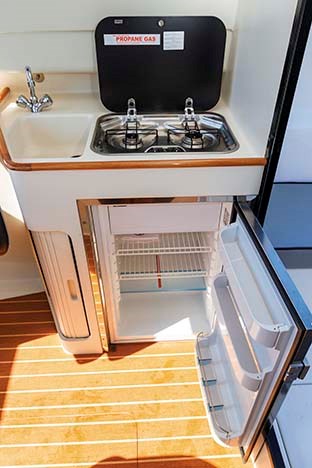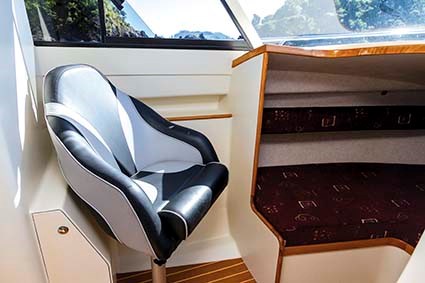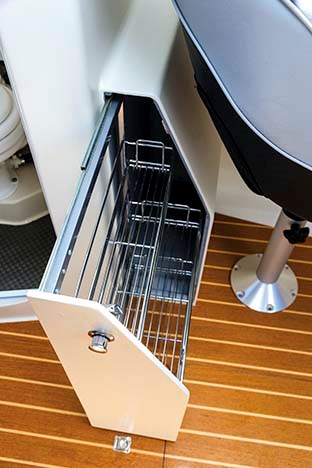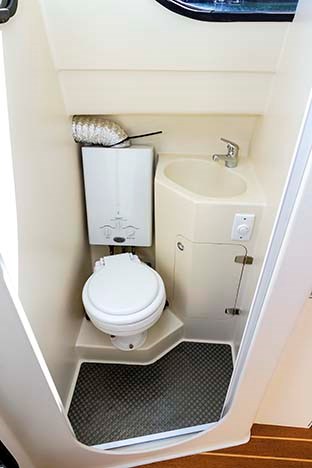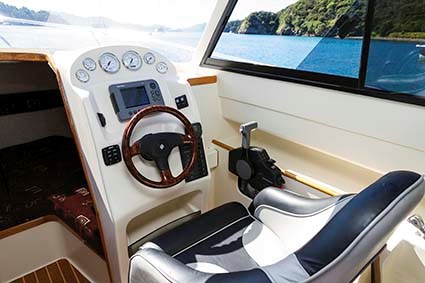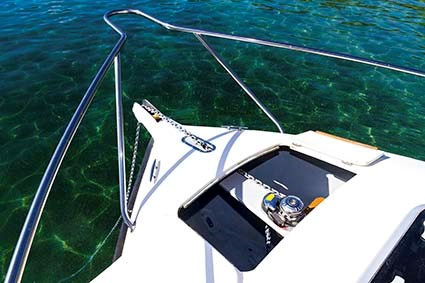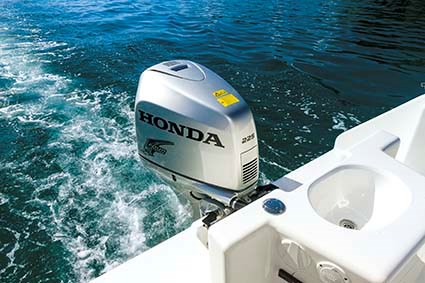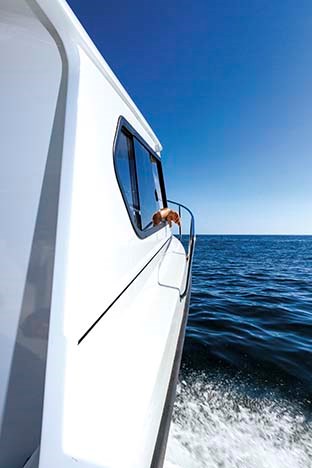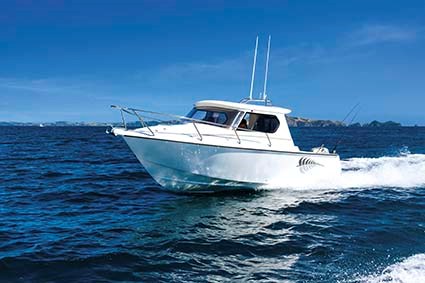 The opportunity to review a beautifully finished and versatile Dibley 7.7 Weekender proved too much for our senior boat tester to pass up.
I met owner Ian Harvey and his partner Tracey on a stunning Sunday morning at Opua Marina in the picturesque Bay of Islands. Given this the design of the Dibley 7.7 Weekender it seemed fitting to load up a few fishing rods before releasing the boat from its trailer to explore a slice of boating paradise.
DIBLEY BOATS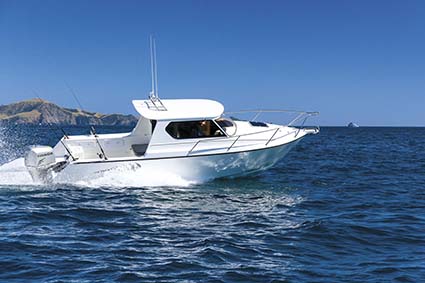 Once clear of the 5kt zone the throttle was put down and we watched the GPS speed readout climb quickly to a staggering 47kts! The driving force of all that speed was the smooth and quiet 225hp Honda V6 four-stroke outboard purring out the back, with Dibley's light and fuel efficient hull design providing a soft and well mannered ride. 
There was a slight chop on top which the fine entry flowing to an 18˚ deadrise comfortably dissected at speed and without any hint of wanting to take flight. After our blistering WOT run the go-stick was eased back to a relaxing, quiet and fuel-efficient 3000rpm at 20kts which will still get you to your destination in plenty of time. While we didn't have any fuel-flow figures, owner Ian reckons average fuel use is around 20lt/h at cruising speeds.
HULL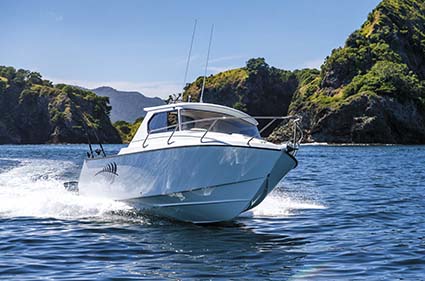 The hull is constructed from marine ply encapsulated in 600gm double bias fibreglass for strength and rigidity, while the hardtop features a foam core to keep the weight down on top. It's been lavishly painted inside and out (International Interspray 900 exterior and reaction lacquer semi-gloss interior) and nicely finished with a vinyl roof liner, LED lighting, classy wood trimmings and a wood-look vinyl floor.
DESIGN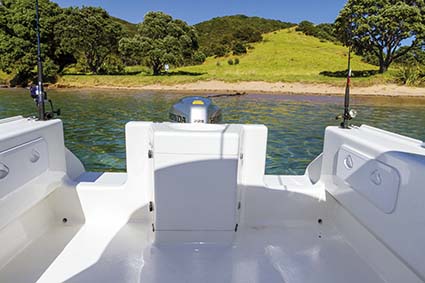 Successful overnighting requires comfort and the Dibley 7.7 Weekender has all that's needed for two. A separate toilet and shower offers personal space, although privacy is somewhat compromised by the thin screen door. 
The lockable cabin has a light and airy feel, the large, sliding side windows providing good ventilation. While the six-foot vee-berth won't suit taller individuals, although an extended infill can be added to cater for long legs. However, there's plenty of headroom while seated or standing, with ample under-berth and underfloor storage to stow the gear. 
If romance is on the cards, all the ingredients for fine dining can be kept in the 90lt fridge, clever slide-out pantry, or the corner cupboard with a twin gas burner above. Leave the dishes in the sink till morning and relax back into the comfortable his-and-hers helm seats to watch the sunset with a glass or two through the expansive windows.
Or, if you're not that way inclined (and you're still reading), another option is to load up the rods and go fishing instead.
COCKPIT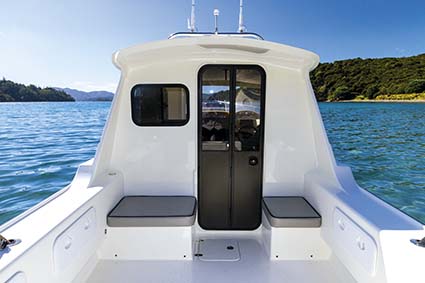 The cockpit is clean with ample rodholders (there's space for plenty more) and a rocket launcher to boot.  The side storage pockets will also safely house a few rods each side.
Anchoring on your favourite spots is at the flick of a switch, thanks to the Lofrans windlass and massive anchor locker. The two cushioned rear-facing cockpit seats provide plenty of comfort while dropping a line.
With a bit of shade afforded by the hardtop overhang above, it's also a good spot to kick back while trolling lures. She slops a bit of water through the transom doors in reverse (and the batteries have been fitted below the floor), but it wouldn't be hard to fit a couple of drop-in doors or a pressure seal if you wanted to casually chase a marlin – the cockpit's certainly big enough to drag one aboard!
The Portofino transom provides easy access to the water for a dip or dive, and what could be better than climbing onboard after a refreshing splash? A hot shower, of course. The transom module houses a pull-out shower and another sink/hand basin. 
THE VERDICT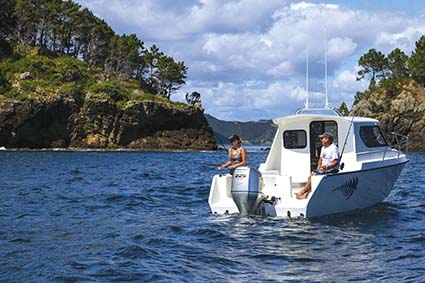 When it's time to retreat, the Dibley 7.7 Weekender will get you away from it all in a hurry or at a relaxed pace – whatever suits your mood. It's been beautifully finished by its owner and possesses enough comforts for plenty of on-water enjoyment and relaxing weekends. But throw on a rocket launcher, baitboard, a few extra rodholders and an icebox and you'll also have a comfortable fisher capable of blasting out to catch a quick feed after work or an extended fishing adventure with a mate.
HIGHS
• Comfortable ride through chop
• Goes like the clappers
• Classy finish
• Lockable hardtop
• Versatile weekender or comfortable fisher
• Year-round usability
LOWS
• Chine slap under forward berth may annoy light sleepers
• Owner's choice of bathroom door material doesn't offer a lot of privacy
DIBLEY 7.7 WEEKENDER SEA TRIALS
Single 225hp Honda four-stroke outboard
| | |
| --- | --- |
| RPM | SPEED (Kts) |
| 2000 | 9.5 |
| 3000 | 20 |
| 3500 | 27.5 |
| 4000 | 31.5 |
| 5000 | 38.7 |
| 6000 | 47.7 |
* Sea-trial data supplied by the author.
DIBLEY 7.7 WEEKENDER SPECIFICATIONS
PRICE AS TESTED
$129,000
GENERAL
MATERIAL Glass over plywood
TYPE Planing monohull
LENGTH 7.65m
BEAM 1.92m
WEIGHT 1800kg
DEADRISE 18˚
CAPACITIES
PEOPLE (NIGHT) 2
FUEL 200lt
WATER 60lt
ENGINE
MAKE/MODEL Honda BF225
TYPE Four-stroke outboard
RATED HP 225hp
DISPLACEMENT 3471cc
WEIGHT 267kg
GEAR RATIO 1.87:1
PROPELLER Stainless steel Solas 14¼ x 17in
SUPPLIED BY
BAY OF ISLANDS MARINE CENTRE
Opua Commercial Estate,
931 Paihia Road (SH11),
Opua, 0200
PHONE (09) 402 7876
FAX (09) 402 7887
EMAIL sales@marinecentre.co.nz
See the full version of this review in Trade-A-Boat #241, June / July 2014. Why not subscribe today?
Keep up to date with news from Trade-A-boat or like us on Facebook!