REVIEW: DICKEY BOATS CUSTOM 950
---
See why this Custom 950 model from Dickey Boats has won multiple awards.
Like all Dickey Boats, this new Custom 950 fishing boat has been personalised from the keel up to form nothing less than the owner's bespoke dream boat. When this boat made its debut at the 2014 Hutchwilco Boat Show, no one was surprised when this superbly finished, innovative vessel took out the Aluminium Fishing Boat Open, Best New Model and the coveted 2014 Boat of the Show – Overall Winner awards.
DICKEY BOATS
Dickey Boats is based in Napier and is led by boatbuilders Jason and Tristin Dickey. On the Dickey Boats Custom range, the finish level has been enhanced to rival that of the company's Semifly range of launches, while retaining the fully customisable layout that Dickey Boats do so well. 
Low-maintenance is a design priority. As an example, all soft-closing drawers are constructed from plastic, eliminating rot, rust or smell issues. Dickey Boats fabricate as many parts in-house as possible to maintain quality control. Each boat's design files are then electronically archived to ensure the availability of parts in the future.
---
---
LAYOUT AND FINISH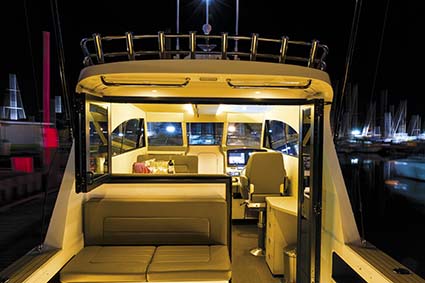 On board this Dickey Custom 950,called Matamua, pleasing interior tones blend to a stunning, luxurious finish. Elegant leather upholstery is enhanced with classy topstitch detailing to complement the striking vinyl-lined interior.
The Corian dining table slides out from the wall to allow full elbow room for four, while performing double-duty after dinner as a second double berth with infill. Down a few steps into the galley, another Corian benchtop folds in half to offer a further 2m single berth below. To starboard, the lower bunk slides out on an angle to create one more double. 
Large expansive windows allow plenty of natural light to reach the galley, where a dual-opening hatch above allows ventilation depending on the prevailing weather. Matamua is designed for extended stays of up to two weeks, so there's an abundance of storage too, including a service area underfloor that's accessed by lifting up the stairs.
All around are further clever touches that some other manufacturers overlook: for example, offset ceiling grab rails so that travel through the boat permits an easy grip rather than a headache. The bathroom itself is also located in the bow of the boat (due to the plumb bow design) for increased privacy and maximum use of space. There are even footholds throughout the cabin for safety and comfort while exploring offshore and USB/12V charging sockets located wherever you might need to plug in.
ELECTRONICS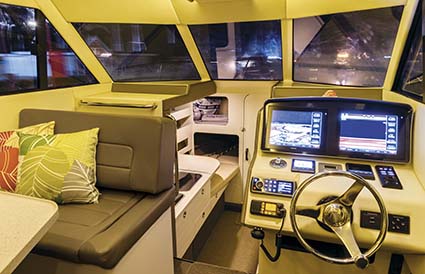 The clever CZone marine electronics system (standard on the Dickey Custom 950) can be programmed to do all the thinking for you. Individual switches and full control are still accessed via the Garmin screens or iPad app, but the system is intuitively setup to require minimum effort.
Individual presets installed for the owner cover everything from gamefishing to bottom fishing and docking to cruising.
The vessel's electrical systems, fuel, water and even the brightness of the lights can all be monitored or adjusted from the clever CZone app.
Twin Garmin 8015 screens sit flush-mounted below a striking custom-made hood and a separate joystick-style controller means you don't have to get fingerprints all over your screens if you don't want to. While leaning back into the comfortable helm seat, the skipper can also slide the side window back and rest an elbow while enjoying the fresh air and abundant views.
COCKPIT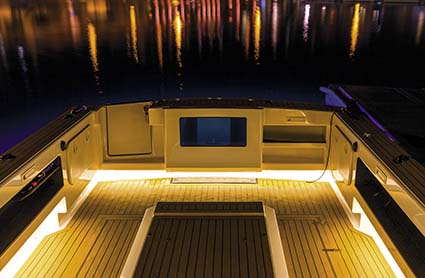 If you're entertaining, just throw open the bi-fold door and aft window to create a seamless flow between the capable cockpit and comfortable cabin. The rear-facing seat converts to a lift-up servery for entertaining or feeding the crew.
The sportsfisher transom increases buoyancy aft for backing down on a stroppy marlin. It also maximises the internal cockpit volume, while fold-down cleats, an all-round solid aluminium rub rail and the recessed sterndrive create a snag-free environment.
The easy-access livebait tank and tuna tubes have been integrated to confine the wet area to just one spot, with any overflow directed back into the briny. The tubes recirculate and only turn on once there is sufficient water to eliminate any noise while they prime.
At the press of a button, an electric actuator raises the cockpit floor to reveal the engine bay. Finally, keeping the deck and yourself clean is no chore. "We've still got the same hand-wash system that we've always had, but the beauty of CZone is that anytime you want to use it, the boat will automatically turn the pump on, run it and then shut it all down again," said Jason Dickey.
THE VERDICT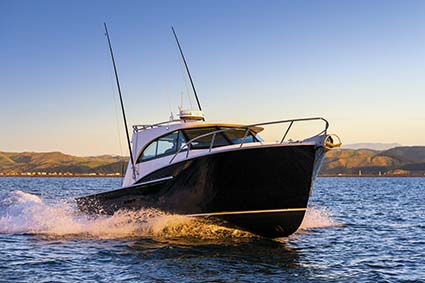 The new Dickey Boats Custom 950 has been blessed with the stunning looks, superstar finish and the graceful ride we've come to expect from this talented team. But even Dickey has managed to raise the bar once again with new innovations and the integration of the clever CZone system.
The end result is an exceptional vessel that impresses in terms of ride, function and finish and ultimately works in ways that only a devoted, knowledgeable and gifted team can deliver.   
HIGHS
• Practical, yet star-studded finish
• Seamless flow through cockpit and cabin
• Abundant, easy-access storage
• Dreamlike ride with excellent visibility
• Ergonomically gifted
• Innovation and CZone make boating bliss
LOWS
• Once onboard you may never want to return to dry land
DICKEY BOATS CUSTOM 950 SEA TRIALS
Single Volvo Penta D6-370 DPH sterndrive and G4 Nibral duoprop
| | | | |
| --- | --- | --- | --- |
| RPM | SPEED (kts) | FUEL BURN (lt/h) | ECONOMY (lt/nm) |
| 700 | 3.8 | 1.06 | 0.28 |
| 1000 | 6 | 4 | 0.67 |
| 1500 | 8.1 | 11.4 | 1.41 |
| 2000 | 13.9 | 23.1 | 1.66 |
| 2400 | 19.4 | 31.9 | 1.64 |
| 2800 | 25.9 | 44.4 | 1.71 |
| 3000 | 28.4 | 47.3 | 1.67 |
| 3200 | 31.2 | 56.84 | 1.82 |
| 3400 | 32.2 | 70.3 | 2.18 |
| 3548 | 35 | 78.6 | 2.25 |
*Performance figures supplied by Volvo Penta.
DICKEY BOATS CUSTOM 950 SPECIFICATIONS
PRICE AS TESTED
Each Dickey Boat is fully custom designed and built to the owners requirements
GENERAL
MATERIAL Aluminium
TYPE Hardtop monohull
LENGTH 10m overall
BEAM 2.83m
WEIGHT Approx 4000kg
DEADRISE 18°
CAPACITIES
PEOPLE (NIGHT) 6
REC. HP 320 to 370
FUEL 900lt (600lt as standard)
WATER 60lt (customisable)
ENGINE
MAKE/MODEL Volvo Penta D6-370 engine
TYPE Inline six-cylinder inboard diesel
WEIGHT 770kg
DISPLACEMENT5.5lt
GEAR RATIO 1.63:1
PROPELLERS G4 Nibral Duo propellers
MANUFACTURED & SUPPLIED BY
Dickey Boats
28 Mersey Street, Pandora, Napier
New Zealand
PHONE (+64) 6 834 1310
WEB dickeyboats.com
See the full version of this review in Trade-A-Boat #242, July 2014. Why not subscribe today?
Keep up to date with news from Trade-A-boat or like us on Facebook!