REVIEW: IMAGE CRUISEMASTER 10m
---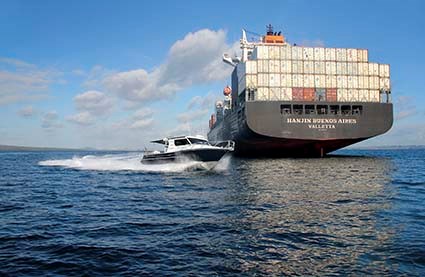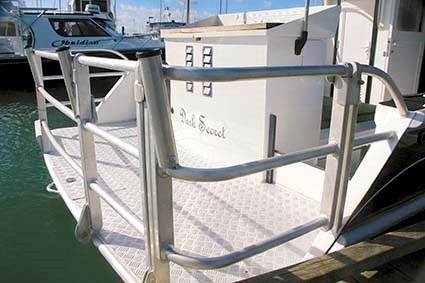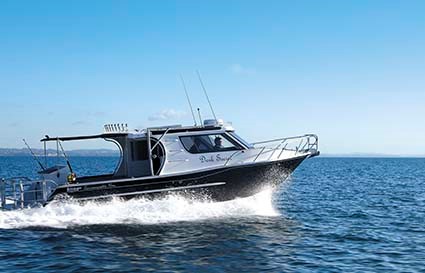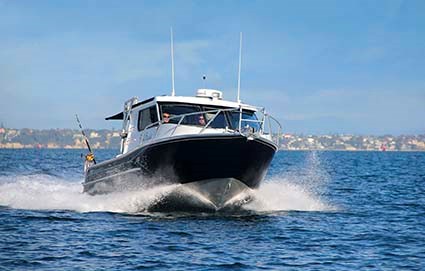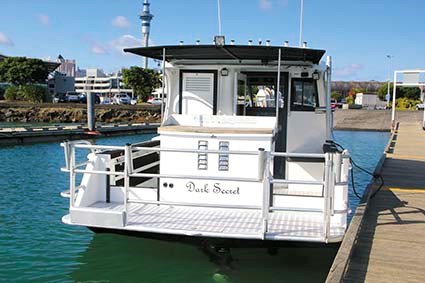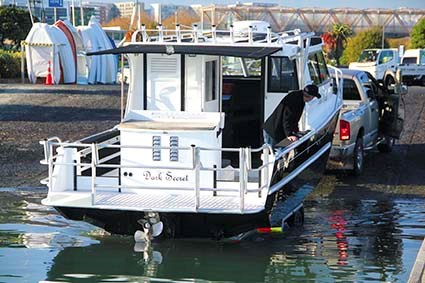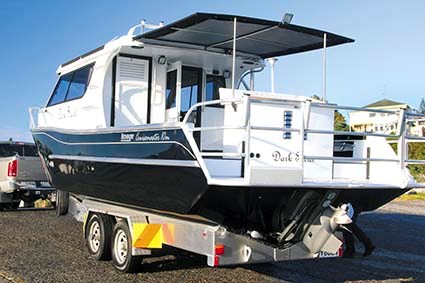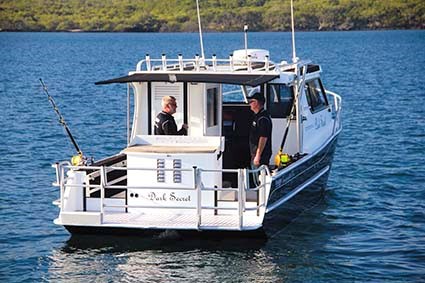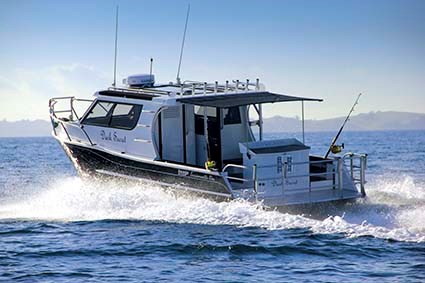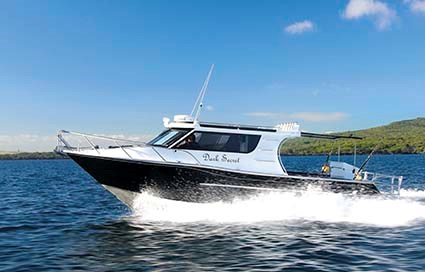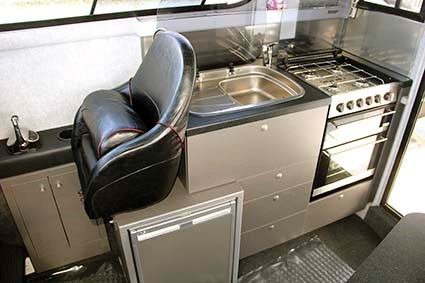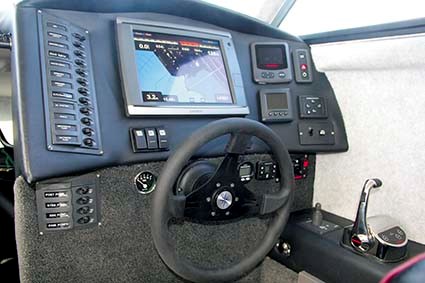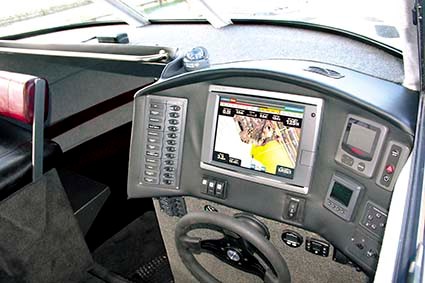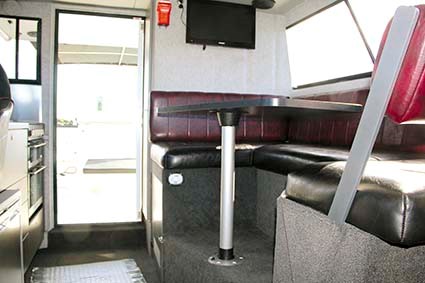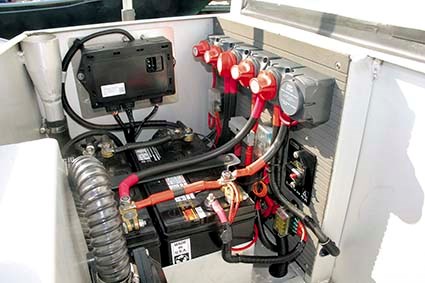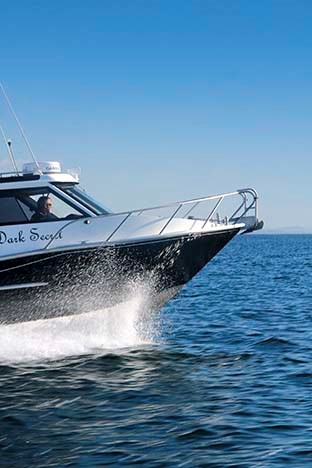 A 10m overall and weighing in at over 4000kg, is the new Image Cruisemaster pushing the envelope a bit too far?
Dark Secret is the second largest boat to emerge from the Image Boats Invercargill workshop. Released at this year's Hutchwilco New Zealand Boat Show, at 10m overall it is certainly a foreboding package.
Describing is as a trailerboat might in fact be gilding the lily because at something close to 4025kg (light ship) on trailer you'll require an equally big rig to pull it and steely nerves to thread your way through traffic.
But it's not impossible, as Image Boats' Dean Wilkes proved, hauling Dark Secret from Invercargill to Auckland for the Hutchwilco boat show, behind the wheel of his Dodge Ram.
IMAGE BOATS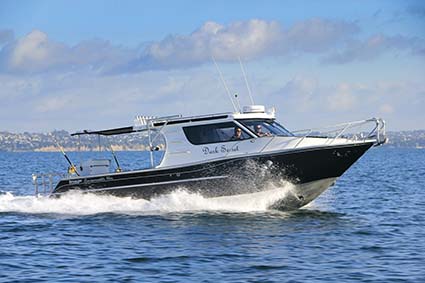 While Wilkes' describes Dark Secret as a new design – which is technically correct – with a new moniker (Cruisemaster), the boat takes its design cues from the proven Image Fishmaster series and features the same hull and superstructure design characteristics.
The hull measures 8.8m overall, but everything built on top of it has been lengthened, including the coachroof and cockpit and it is here that the extra real estate is most noticeable.
This increase in size has had little impact on the boat's overall look and feel and Wilkes has done a good job of retaining a hull and topsides in fair proportion. Dark colours accentuate imperfections in fabrication and there's no hiding from black. But Dark Secret is as straight as they come.
CUSTOM BUILT BOAT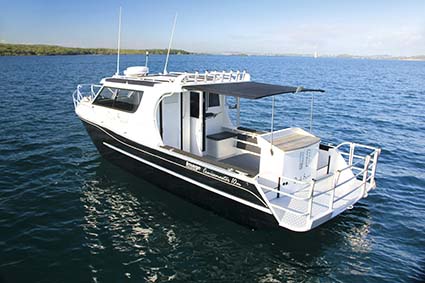 Dark Secret was custom built for a client from the Deep South who apparently kept the project a secret, even from his wife – hence the name. The boat is destined to serve as a recreational fishing and diving platform and a weekend getaway, operating predominantly between Stewart Island and Invercargill.
This purpose of such craft, says Wilkes, is offshore fishing in safety and an inherent capability to get out wide and to stay out wide. This necessitates a level of liveaboard facilities and comfort which Dark Secret delivers in spades.
HULL DESIGN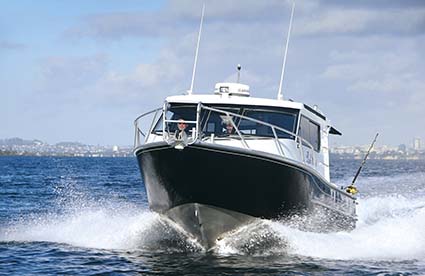 The Image Boats hull shape has changed little over the past 13 years. Key features include a single variable chine rail, strake-less hull form and a moderate 18˚ transom deadrise.
Image boats feature big shoulders to muscle through awkward seas but they're also relatively fine and deep in the bow. This helps promote predictable handling and tracking in steep following seas.
The heart of an Image hull is the fabricated triangular cross-section formed by a fully-welded internal keel bar and seam-welded transverse stringers. These in turn are capped with a seam-welded alloy plate for additional stiffness and rigidity.
All metal work is from 5083 marine-grade aluminium and Dark Secret's construction utilises 6mm plate from the keel to the waterline, 4mm plate for the topsides and 3mm plate for the cabin sides and cabin top. The cockpit sole and boarding platform is fabricated from 4mm aluminium checkerplate.
COCKPIT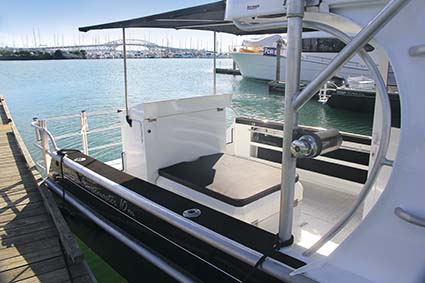 The boat's fuel tank is fixed into the bilge below the hardtop sole to keep weight low and centred. This in turn creates underfloor cockpit space for the boat's full-length cockpit locker which spans the length of the cockpit from bridge deck to transom.
Moving aft, the transom has a single starboard-side walkthrough to an oversize boarding platform that wraps the stern, fully enclosed by farm-gate-strength aluminium railings. Dark Secret's offshore credentials are clearly evident in the transom setup which includes a useful bridge step to prevent wash spilling in filling the cockpit when backing down hard on a catch.
The cockpit itself is large, solid, practical and simply fitted and equipped to reflect its primary purpose – fishing. The bait station is placed well aft in the cockpit and doubles as the boat's nerve centre – batteries, isolators, livebait tank plumbing twin automatic bilge pumps are within, all neatly secured and labelled.
The boat's head, holding tank, shower unit and a small vanity is fully enclosed on the port side of the cockpit, while opposite is a simple double bench seat set atop of an aluminium stowage locker. This could be utilised for a built-in cockpit freezer if required, but will accommodate a chilly bin as is.
CABINS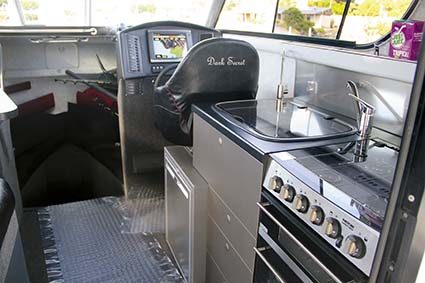 Dark Secret's interior fitout has been specified to provide an above average level of self-sufficiency with a full service galley, raised port dinette and a generous double vee-berth up front with optional overhead pipe cots.
The galley is fitted with a sink, hot and cold water and full-size domestic oven with four-burner LPG hob. A small 12V fridge is tucked into the galley unit base and opposite is a fully enclosed shallow pantry unit.
The raised port saloon provides comfortable seating for four with a small timber table that drops onto cleats to provide an additional double sea berth if required. The forward seat back hinges aft to provide a comfortable bench seat when underway and there's plenty of natural light and ventilation with overhead cabin deck hatch and sliding windows in the hardtop and rear bulkhead.
HANDLING AND RIDE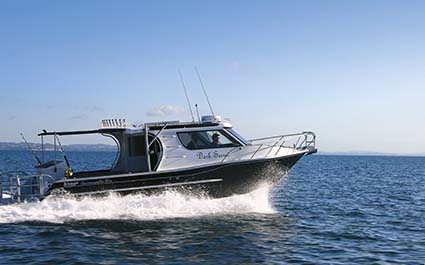 Launching from Auckland's Westhaven Marina immediately after the Hutchwilco Boat Show, our at-sea-test was anything but a trial, given glassy conditions and a pale sun that failed to penetrate the winter chill.
On the water, the big boat felt like…well, a big boat – comfortable and purposeful, effortlessly pushing aside ferry wakes without a hint of pounding. The fly-by-wire throttle response was silky smooth and in harmony with the boat's hydraulic steering which was both firm and positive.
Engine noise and vibration is certainly accentuated with a diesel inboard mounted low in the boat compared to the silent hum of modern four-stroke outboards, but overall noise was not excessive and certainly not uncomfortable.
Visibility for both driver and passenger through 270-degrees is excellent but there is always a trade off fitting an enclosed head and shower in the cockpit.
Liveability was a key criteria for Dark Secret's owner and Wilkes has achieved it with a level of spec that meets the brief but does not compromise the boat's ability to fish, dive, dredge and play hard.
Wilkes' boats have proven most comfortable cruising between 22 and 28kts so they're not speed demons. Fuel economy is an important consideration, given that many of the Fishmaster series are built to commercial spec.
The big girl is powered by a single 370hp 4.5lt V8 Yanmar diesel coupled to Yanmar's proprietary sternleg swinging a Yanmar dual propeller. Wilkes says that while the Yanmar doesn't deliver the same holeshot and initial acceleration of the counter-rotating Suzuki 250hp four-stroke outboards, the diesel still delivers a spirited top-end performance tapping out at 32kts.
Even at more than 4000kg, Dark Secret's fuel economy at 22kts is around 42lt/h, and given the boat's 750lt fuel tank, range isn't going to be much of an issue.
THE VERDICT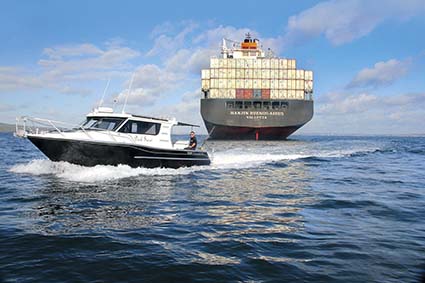 Image boats are built for a purpose and they serve it well. They're tough, dependable, robust and ideally suited to recreational fishing and diving and commercial applications. Dark Secret is a big roomy and comfortable boat on the water – but it is something of behemoth sitting on its trailer and this could be its Achilles heel, but only where a permanent berth is not an option.
Wilkes says two buyers have put pen to paper for similar boats since the launch of Dark Secret – both buyers residing south of Gore, where Wilkes tells us Image Boats is world famous.
Built to survey, the Image Fishmaster and the new Cruisemaster range have proven themselves in some of our toughest conditions and the operators and owners I've dealt with over the years hold their investments in very high regard. So really, this is the only recommendation that really matters 
HIGHS
• Robust construction
• Diesel economy
• Extended range
• Large cockpit fit for purpose
LOWS
• Limited range of suitable tow vehicles
• Size and weight on trailer
IMAGE CRUISEMASTER 10M SPECIFICATIONS
PRICE AS TESTED
$390,000
OPTIONS FITTED
Full custom build, too numerous to mention
PRICED FROM
$350,000
GENERAL
MATERIAL Aluminium
TYPE monohull fishing
LENGTH 10m (LOA)
BEAM 3.05m
DEADRISE 18˚
WEIGHT 4025kg (dry ship)
TRAILER Image Boats hydraulic brake-away fitted with skids (rated 5.4 tonnes)
CAPACITIES
PEOPLE (NIGHT) 6
FUEL 750lt
WATER 200lt
ENGINE
MAKE/MODEL Yanmar 370hp 4.5lt V8 diesel
PROPELLER Yanmar dual prop
MANUFACTURED & SUPPLIED BY
Image Boats
24 Bay Road, Invercargill, NZ
PHONE 03 214 4573
EMAIL dean@imageboats.co.nz
WEB imageboats.co.nz
See the full version of this review in Trade-A-Boat #242, July 2014. Why not subscribe today?
Keep up to date with news from Trade-A-boat or like us on Facebook!