REVIEW: INTEGRITY 380 FLYBRIDGE
---
Integrity Yachts are made for life's simple pleasures, like leisurely coastal cruising. The new Integrity 380 Flybridge model has more room on board than ever.
Integrity Motor Yachts Australia unashamedly produces motor cruisers for people who just love being afloat. The vessels are comfortable, well-appointed, simple to use and don't pretend to be anything they're not.
A cliché though it may be, these are motor yachts for people for whom the journey is just as important as the destination. The newest release from Integrity – the Integrity 380 Flybridge – features the company's standard displacement design with a jaunty bridge deck set atop its 11.6m hull.
INTEGRITY YACHTS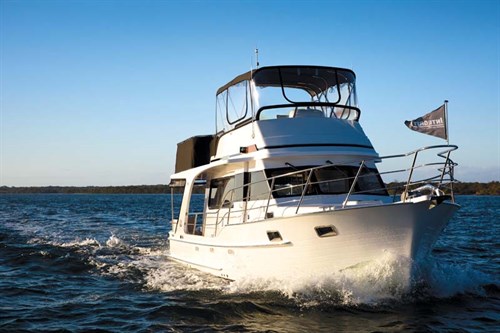 In recent years, Integrity Yachts has seen its order books filled with sedan models, popular for their single-deck entertaining aspects. It's two years since Managing director Brett Flanagan had an Integrity flybridge model built at the company's China factory. But it's what the public now demands.
The resulting 380 Integrity is currently the largest in Integrity's Flybridge range, although an Integrity 440 is on the cards, possibly to launch later this year. The hull is based on the popular Integrity 380 Sedan shape and our review boat was hull #41, so the designers have clearly hit on a winning formula.
That involves an expansive 4.1m beam and solid glass below the waterline to produce a hull shape that simply shrugs off the bumps and gets on with the job. A dry weight of 10 tonnes means this is a ship with serious purpose (not to mention credible seagoing ability) and that wide beam provides terrific stability at rest as well.
As befits the trawler-style heritage of Integrity Motor Yachts' design, these boats are equally at home taking on ocean swells are they are pottering about the coast.  Recent voyages by Integrity owners have included Tasmania, Lizard Island on the Barrier reef and even Papua New Guinea.
LAYOUT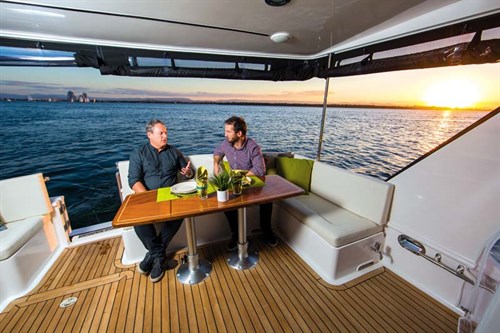 The aft deck will be the centre of attention at anchor, one would suspect, with the flybridge more suited to relaxing and entertaining underway. Innovative 'hopper' windows ensure the flow between the saloon, galley and aft deck is seamless, with the chef just a single step from either the helm position or those guests seated on the aft lounges.
Across the rear of aft deck stretches a huge U-shaped lounge with a teak table at the centre that can be height-adjusted.
Drop it down, throw on an infill and you've got a spare double bed at the stern.
This idea might seem uninviting, until you consider the covers can completely enclose this area. According to Brett, it's the best bed on the boat.
The saloon table also drops down to create another double berth, so the 380 can sleep eight in comfort when the family or friends come to stay.
Walkway screens can quickly be unrolled to prevent wind from the bow funnelling down the side decks, too. Underneath those aft lounges, there's storage on port and a handy insulated icebox on starboard, which could easily be converted to a wired fridge/freezer or used as a killtank if the fishing's on.
Beneath the teak deck there's a cavernous lazarette which extends each side of the 500lt water tank.
FLYBRIDGE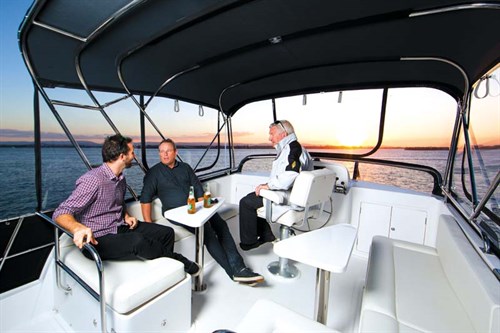 The flybridge on the Integrity 380 is divided into two parts – the forward, covered helm area and the aft sun deck. Up front, there's a single comfy helm chair for the skipper and this is flanked on both sides by sizeable L-shaped lounges with small triangular drinks tables.
The basic instrumentation of the downstairs helm is mirrored up here and there's room for a 12in multifunction plotter. Beneath the helm, there's also an enormous storage void, stretching the width of the flybridge deck.
Panoramic clears surround the helm on three sides and a further panel can be added aft to enclose this section, which apparently makes a great spot for extra child-sized guests to host their slumber parties. Vision is unparalleled on all sides and zippered windows provide ventilation if it all gets a bit toasty.
Outside, to the rear of the helm area, there's an open space enclosed by waist-high safety rails, fitted in this case with smart-looking black canvas panels to enclose this aft sun deck, with room for a small tender and davit.
HELM
The galley and helm area is neatly arranged, with everything falling to hand. Items like the microwave, Westinghouse cooktop and the 140lt Waeco fridge/freezer are fitted locally for ease of servicing and the aft cupboard has been wired to take a second fridge if required.
The 12V DC panel is tucked to port of the twin sinks next to the doorway and it was impressive to see all the wiring numbered. It's attention to detail like that which makes all the difference, especially for owners who might tackle problems themselves.
The 240V switch panel is located beneath the helm bench and all the switches are double-poled here in keeping with the survey spec build.
At the helm itself, it's a case of less is more. A minimum of analogue gauges are all that's required to monitor the John Deere, although some modern captains might suffer information withdrawal. A widescreen plotter would soon see to this.
The steering was incredibly light as we rolled through the Broadwater at 8 or 9kts and in the fading light, it was useful to be able to step out through the side door to check the position of lit marks.This side door will also prove useful during shorthanded docking procedures.
ENGINE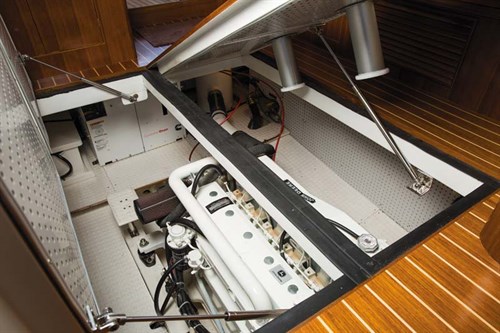 In the saloon, the 225hp turbocharged John Deere diesel engine is hidden beneath a series of heavily insulated and soundproofed hatches. The six-cylinder powerplant is essentially a marinised tractor engine and the only diesel of its size available on the market without any electronic components.
The all-mechanical John Deere allows owners with even a basic knowledge of engines to get their hands dirty with simple maintenance and it also ensures that troubleshooting far from home is done with a minimum of fuss.
Parts can be bought off the shelf, even in areas where locals might not know what a chandlery is, and for the typical Integrity owner who likes a bit of tinkering in the engine bay, the systems are simple enough that they can't get into trouble. This back-to-basics approach is reflected in the layout of the engineroom itself, where all inlets and outlets are clearly labelled and even the fuel filter manifold with its myriad copper pipes is laid out in stark contrast against a spotless white wall.
Underfoot, there's white rubber matting to quickly highlight any oil spills or engine leaks and much of the equipment looks to be over-engineered in a way that imparts confidence.
THE VERDICT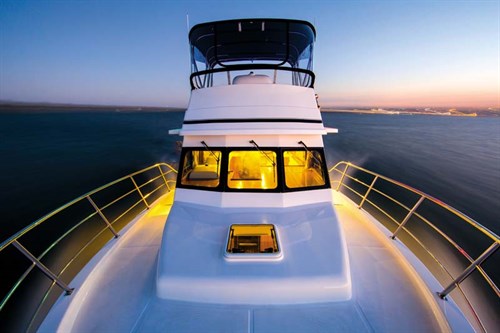 While performance figures weren't available from our test day, Integrity tells us the 380 will comfortably travel more than 500nm at 7.5kts, so trips between the Gold Coast and Sydney are within reach.
It's numbers like this that form the appeal of Integrity Motor Yachts. The 380 Flybridge is a leisurely coastal cruiser perfectly suited to relaxing trips along the coast.
She's simple enough and set up cleverly for just a husband-wife team to handle, but when guests come to stay, there's ample room. So by adding an additional level for helming and entertaining on, to what was already a successful design, the flybridge is just the icing on the cake.  
INTEGRITY 380 FLYBRIDGE SPECIFICATIONS
PRICE AS TESTED
As tested, Integrity 380 Flybridge price: $POA
Priced from: $635,000
OPTIONS FITTED
4kW generator, air-con, rear camper covers, Fusion stereo, one additional flatscreen TV/DVD, bow and stern thruster upgrade, teak to aft
GENERAL
MATERIAL  GRP
TYPE Displacement cruiser
LENGTH 11.58m
BEAM 4.11m
DRAFT 1.12m
WEIGHT 10,000kg
CAPACITIES
PEOPLE (night) 8
FUEL 1135lt        
WATER 800lt
ENGINE
MAKE/MODEL John Deere 6068 TFM 50 diesel engine
TYPE Six-cylinder turbo-diesel
RATED HP 225
DISPLACEMENT 6.8lt
PROPELLER Bronze, five-blade
FOR MORE INFORMATION
Laurie Collins Marine
K Pier, 103-115 Westhaven Drive, Westhaven
PHONE 09 376 6331
WEB: lauriecollins.co.nz
See the full version of this review in Trade-A-Boat #243 July / August 2014. Why not subscribe today?
Find Integrity boats for sale.
Keep up to date with news from Trade-A-boat or like us on Facebook!