REVIEW: MARITIMO S58
---
Can a luxury boat function as a long-range cruiser but also provide the performance of a sportscruiser? The answer is yes, if it's the new Maritimo S58.
The new Maritimo S58 uses the company's philosophy of simplicity and efficiency, resulting in a smooth ride, lower noise levels, space and a quality finish. But it begs the question: how do you get the best of both worlds – range and efficiency combined with speed and offshore capability?
MARITIMO S58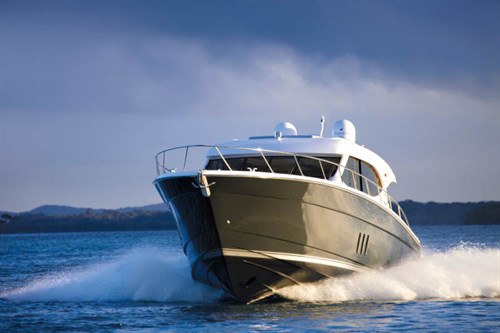 For some manufactures the solution is pod drives because they offer significantly reduced fuel consumption on existing hull designs. Maritimo, on the other hand, prefers simplicity and has tackled efficiency with a more holistic approach.
Hull design efficiency has also been improved with a reduction in beam over the model it replaces. Weight distribution has been carefully planned, with water and fuel tank placement providing better balance. The dependability of shaftdrive has in recent times been overshadowed by the efficiency and ease of manoeuvring given by pod drives, but when it comes to simplicity and reliability, a shaftdrive has much more to offer.
ENGINE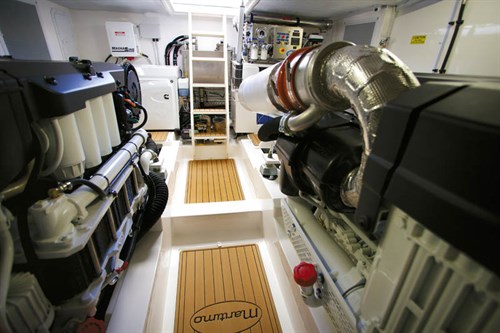 The Volvo D13 engines are a case in point. Over the past 10 years the folks at Volvo Penta have been hard at work with research and development, and the leaps and bounds they have made in efficiency and torque range are notable. One way that's been achieved is by delivering the fuel to the cylinders via a high pressure unit injection system. Pressurising the fuel up to 2000bar completely atomises the fuel, making for extremely efficient combustion. To give you a real-world example of pressure, a dive cylinder is filled between 200 and 300bar, so pressure at up to 2000 bar is staggering.
Combined with the electronic engine management system, four valves per cylinder and "twin entry" wastegate turbo with aftercooler, the result is a very smooth running engine.
Notably quieter than your average vessel of similar size and power, I took some decibel readings while underway with the saloon doors closed. In the middle of the saloon, which is right over the engine room, the first reading at 13 to 14kts was 65dB, which is in the range of a normal conversation three feet away. Nearing the top end, at 30kts in the open water the reading was 86dB, the equivalent of being inside a car in city traffic.
HANDLING AND RIDE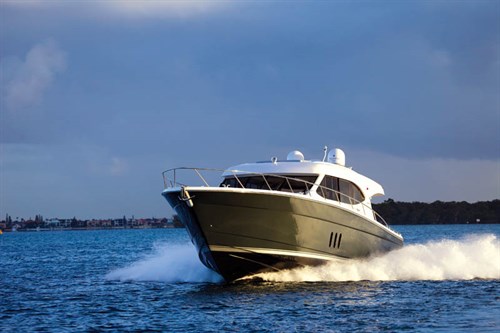 Race-bred steering gives this vessel a very confident helm feel. Trimmed right and seated in the commanding helm chairs the vision is excellent, the electrically adjustable Pompenette helm chairs allow optimal viewing no matter your stature. In fact, viewing from the helm was better than expected.
Engine information is comprehensive but easy to understand and it's simple to cycle through the screens for the information you require.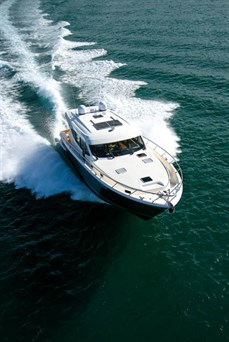 The conditions weren't trying when we were in open water, however I did test the ride by pointing straight into the breeze and the variable deadrise hull makes the ride very comfortable and stable. Putting the boat through 25kt tight turns, it feels agile and very surefooted. So much so, that after dropping the lid of my pen in the cockpit at the start of the boat test, it was still perched on the swim platform for me to retrieve when we returned to the (Gold Coast) Broadwater.
Returning to Maritimo's base reinforced the broad range of manageability this vessel has. It was sure-footed at speeds over 30kts in open water and is well-configured for confined space manoeuvring. Opening the helm door to the walkaround decks provides the best position from which to view the bow and stern and widest part of the boat and still enables good access to the engine controls and the variable speed bow and stern thrusters.
Its carefully pitched props, paired with low shaft angle maximise the torque delivered by the installed Volvo D13 powerplants. These engines balance the other painstakingly measured efficiency ingredients and result in a boat that Greg Haines of Maritimo Australia says is more fuel-efficient than a Nordhavn at displacement speeds, and 17 per cent more fuel-efficient on the plane than an equally sized European sedan cruiser fitted with pod drives.
At 600rpm the boat travels at 6.35kts and uses a miserly 1.06lt per nautical mile. At a more realistic speed of 10kts the range is still over 1500nm, making Fiji possible on one tank. If you prefer doing your cruising in the daylight it's pretty easy to knock off 300nm passages in a day at 25kts, thus making the Gold Coast to the Whitsundays a two-day hop, with plenty of fuel in reserve for exploring when you get there.
LAYOUT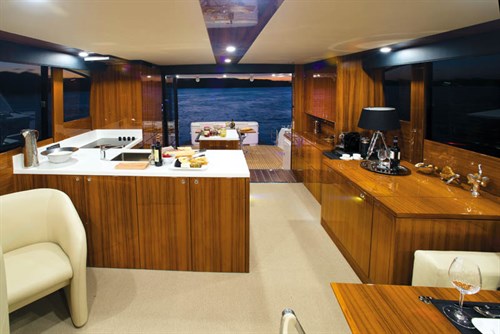 High railings, wide and safe walkaround decks, indoor-outdoor flow and one-level living has broad appeal to older couples as well as families with kids. This Maritimo S58 features the standard cockpit and transom with a fixed cockpit table, inbuilt barbeque and refrigeration unit. The optional Euro-style transom offers a different dynamic, with an inbuilt cockpit lounge and swimplatform access to the lazarette via a watertight door. This space is ample for stowage and retrieval of watersports equipment or it can also be optioned as a crew cabin if required.
Whichever cockpit option you choose, the wide-opening bi-fold doors connect the indoor and outdoor living spaces. In temperate climates, the expansive cockpit space with extended hard top can be enclosed with clears and kept warm using reverse-cycle air-conditioning.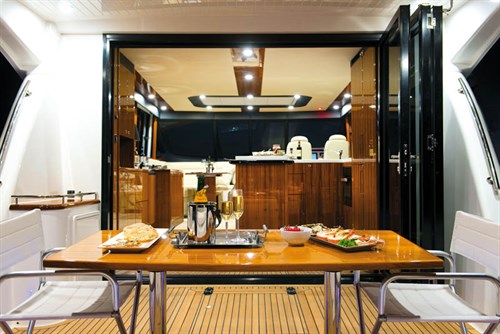 The galley is beautifully finished in teak and appointed with high quality Miele appliances. Working space is enhanced by the island bench which conceals a dishwasher and separates the galley from the amenities area opposite. This area has convenient access to all the battery isolators and electrical panels as well as all the amenities for refreshments – a cocktail cabinet equipped with plenty of storage, a dedicated icemaker and a multi-purpose refrigerator drawer that can be set to meet your needs.
Light is abundant in the saloon with four sides of windows and a sunroof above the helm area. The L-shaped saloon settee and folding dining table are positioned forward on the port side, and combined with the convivial noise levels allow for normal volume conversation with the helm. The interior, designed by David Stewart, offers functionality and flow between the zones, and is fresh, modern and purposeful.
CABINS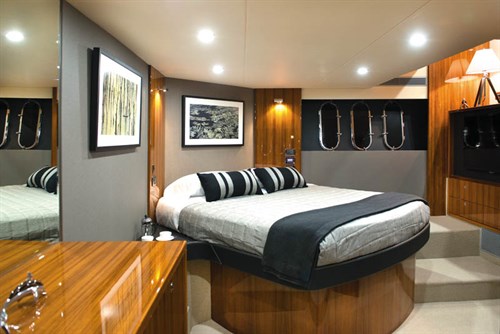 The term "master cabin" doesn't really do justice to the space that awaits the owner. The multi-level layout separates transition from relaxation. The transition area is the level at which you enter; it has a desk that doubles as a vanity unit. Whether it's to prepare notes for work or dress for dinner, this area is very functional.
Descending three steps to the lower level of the cabin you immediately encounter the expanse of this full-beam master cabin. With the sumptuous island bed positioned at 45-degrees from the port side, the traditional layout has been freed of its design constrictions and an enticing space to seek comfort has been created. Even more space for moving about has been achieved and the daybed area is filled with natural light from the three vertical portlights that can open up to scoop in the fresh air.
A nice little touch is the fact that the fore and aft portlights open in opposing directions to catch either the fore or aft breeze when tied up. 
THE VERDICT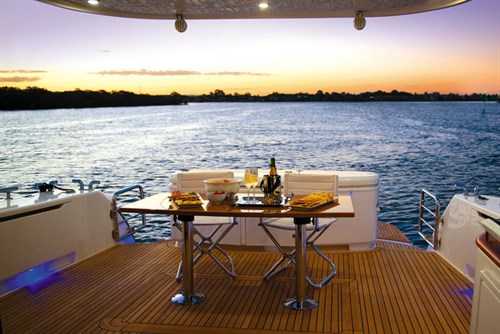 The smooth ride, lower noise levels, space and quality finish fully support Greg Haines' assertion that this is a luxurious limousine on the water. But it's the styling, equipment and duality of this vessel which ends the analogies with land-based transport.
The ingredients, each with their own subtle flavour, combine into a top result which tastes sublime. In the Maritimo S58, the company has delivered.
MARITIMO S58 SEA TRIALS
Volvo Penta D6-370 DPH sterndrive and G4 Nibral Duo prop.
| | | |
| --- | --- | --- |
| RPM | SPEED (kts) | FUEL BURN (lt/h) |
| 600 | 6.35 | 6.7 |
| 900 | 8.85 | 22 |
| 1100 | 10.2 | 40 |
| 1300 | 11.6 | 69 |
| 1500 | 13.7 | 97 |
| 1700 | 17.6 | 122 |
| 1900 | 21.1 | 152 |
| 2100 | 24.95 | 194 |
| 2300 | 28.65 | 272 |
| WOT | 30.05 | 274 |
*Sea-trial data supplied by Maritimo.
HIGHS
• Shaftdriven reliability.
• High fuel-efficiency at a range of speeds.
• Long-range capabilities.
• Dynamic master cabin design.
LOWS
• Small step up from aft deck to the saloon – but it is an offshore boat, so it makes sense.
MARITIMO S58 SPECIFICATIONS
PRICE AS TESTED
$2,140,000
OPTIONS FITTED
Upgraded anchor winch, hydraulic swim platform, Simrad electronics platform, cockpit barbecue, LED floor lighting package, and watermaker
PRICED FROM
$2,070,000
GENERAL
TYPE Monohull
MATERIAL Fibreglass with cored topsides
LENGTH 18.7m
BEAM 5.2m
DRAFT 1.35m
WEIGHT 29,000kg
CAPACITIES
PEOPLE (NIGHT) 5
FUEL 5000lt
WATER 800lt
ENGINE
MAKE/MODEL 2 x Volvo Penta D13-800
TYPE Six-cylinder inline diesel
RATED HP 800 (each)
WEIGHT 408kg  
DISPLACEMENT 12.78lt (each)
MORE INFORMATION
ORAMS MARINE
142 Beaumont Street,
Westhaven, Auckland
PHONE + 64 9 308 4800
WEB orams.co.nz

See the full version of this review in Trade-A-Boat #242, July 2014. Why not subscribe today?
Keep up to date with news from Trade-A-boat or like us on Facebook!