REVIEW: NEREYDA 580 REGAL
---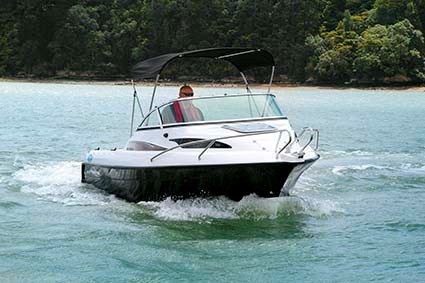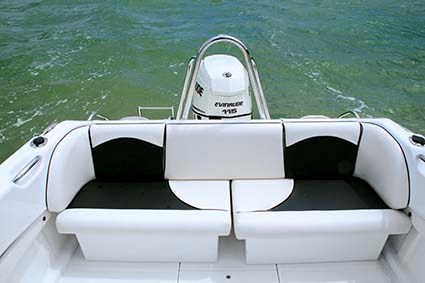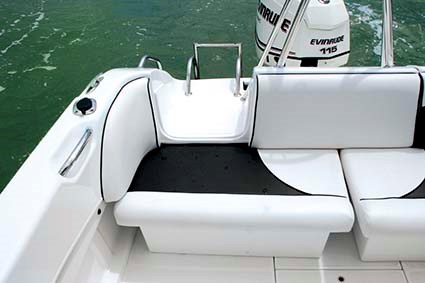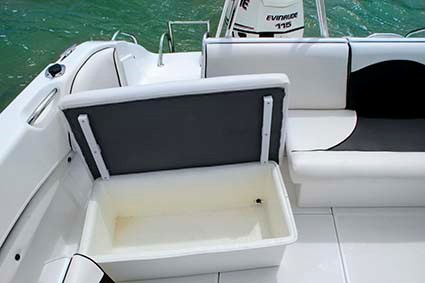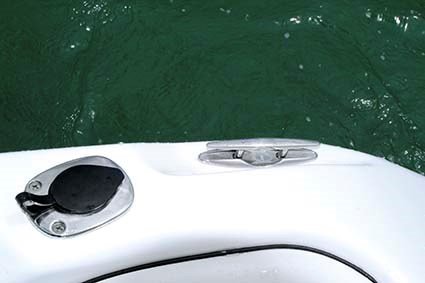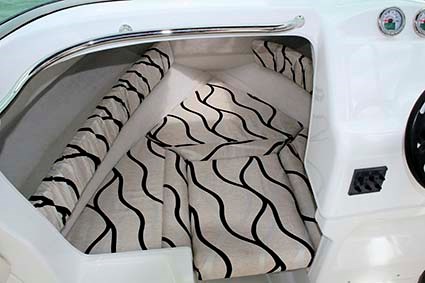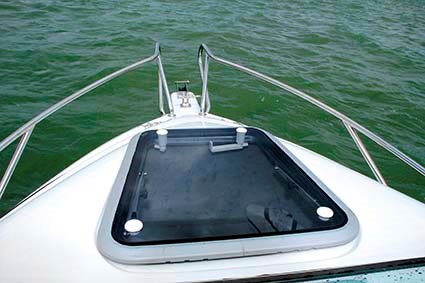 The Nereyda 580 Regal is an economical, all-purpose runaround boat.
Previously known as Sea Nymph, the Nereyda boat brand was launched in 2011. Since then the new owners have refreshed each of the designs as they set-up a new production facility. The Nereyda 580 Regal, launched last year, includes a raft of changes including a new split bowrail, new-style screens and windows, seats and floor.
Nereyda Boats has gained a loyal following in New Zealand, both in its original guise and under the new branding. The 580 Regal represents the middle of the range and is the builder's only hull between five and six metres in overall length. Our test boat was the black hull version, in this case fitted with an 115hp Evinrude E-TEC motor but also available in an all-white hull and with the 100hp Honda four-stroke powerplant.
SEA NYMPH / NEREYDA BOATS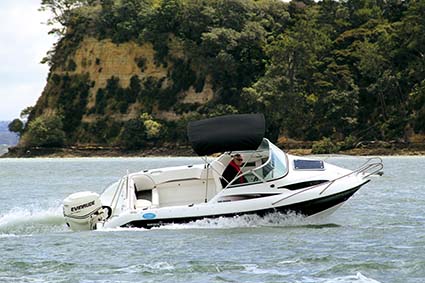 The Nereyda 580 features a cuddy cabin layout that nevertheless has two full-length bunks. An infill turns this into a double and dry storage lockers under the side squabs are available for gear. A wide side-shelf running down either side of the cabin, again finished in the patterned upholstery, holds loose items. A tinted polycarbonate hatch provides access to the bow area.
The test boat did not have an anchor winch fitted but the large anchor locker with hatch could easily hold a drum winch. The split bowrail makes it easy to get the anchor over the bow and a removable pin in the bollard enables the rode to be secured.
COCKPIT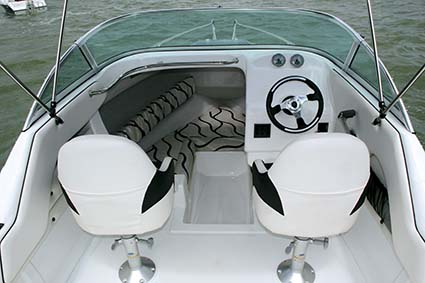 Back in the main cockpit a pair of fully-upholstered bucket seats with height and fore-and-aft adjustment, make things comfortable for the skipper and passenger. The dashboard is fairly low, even providing good visibility to those who lack in the height department. The curved glass windscreen is also fairly low and without clears, the skipper gets a face full of air when standing. While seated, however, there is good wind protection.
This 580 Regal has no electronics fitted, apart from the Evinrude gauges and the standard navigation lights. The dash area is ready for the purchaser's choice of displays and it can accommodate up to an 8in chartplotter or fishfinder, or possibly a pair of smaller screens. Steering is by a conventional mechanical system but it proved to be completely adequate.
A bimini is installed and in black to match the hull colour scheme. Clears could be fitted between the top and the edge of the windscreen, although these were not present on the test boat. Deep storage pockets in the hull alongside the skipper and passenger seats provide a convenient place to store items which may be needed during the trip.
Upholstered pads along the transom and rear part of the gunwale combine with the squabs on the bins to provide a triple bench seat along the rear of the boat. These removable bins have been a standard feature of Sea Nymph for many years.
A reinforced, curved ski-arch is permanently fitted, with an ingenious baitboard fitting snugly over that when required.
HANDLING AND RIDE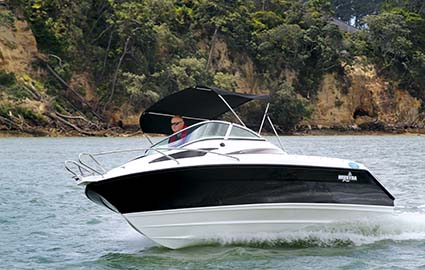 We took the boat out on the Auckland harbour in some typical blustery weather. In the slop we pushed the boat hard and the hull quickly got up onto its planing strakes. Conditions did not let us go anywhere near top speed but the deep-vee hull cut easily through the rough stuff. The lined hull was reasonably quiet, as would be expected from a fibreglass boat, and comfortable despite being bounced around by the waves.
Hanging off the back of our test boat was an 115hp Evinrude E-TEC direct-injection two-stroke, although the boat is available with other power plants including a brand-new Honda BF100 four-stroke.
Although the hull is rated for a maximum of 130hp, the 115hp E-TEC had plenty of grunt. The underfloor fuel tank is a relatively modest 85lt, befitting its obvious use as a dayboat rather than a serious offshore fisher.
A 100hp Honda four-stroke would also be a good choice. More horses would only really be justified if the boat was going to be used for skiing or pulling large watertoys.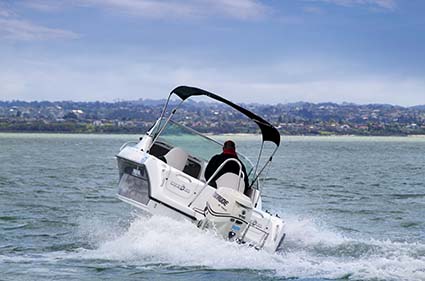 The boat turns beautifully thanks to those generous planing strakes. There is not much in the way of chine on this hull but the top planing strake is located just below the chine and so, between them, they do an adequate job of keeping the spray away.
We had little problem during our test, although there is little shelter from the wind when standing. Given that this is likely to be largely a fine-weather boat, this is not likely to be an issue for most owners.
THE VERDICT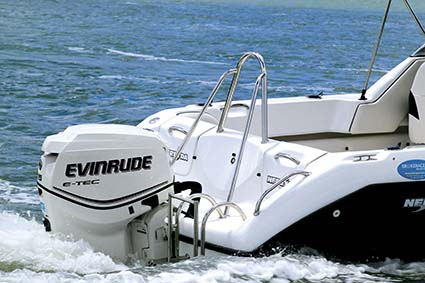 Testing over, we pulled the boat back onto its Challenger single-axle multi-roller trailer. This is a reasonable towing proposition and brakes are not required.
Nereyda has done a good job of producing a reasonable quality boat at a price that is considerably less than many of its competitors. If you are after smart family boat that won't break the bank but will keep the 'significant other' and the kids happy, consider a Nereyda 580 Regal.
NEREYDA 580 REGAL SPECIFICATIONS
PRICE AS TESTED
$49,570   
PRICED FROM
$44,995 w/ 90hp two-stroke
GENERAL
MATERIAL Fibreglass with foam-filled voids
TYPE Monohull
LENGTH 5.8m
BEAM 2.28m
DEADRISE 20°
CAPACITIES
PEOPLE 6
REC. HP 90 to 130
FUEL 85lt
ENGINE
MAKE/MODEL 115hp Evinrude E-TEC
TYPE V4 two-stroke
RATED HP 115
WEIGHT 170kg
DISPLACEMENT 1727cc
GEAR RATIO 2:1
MANUFACTURED BY
NEREYDA BOATS
13/477 Devon Street East,
New Plymouth
PHONE +64 6 759 1990
EMAIL info@hurricaneproducts.co.nz
SUPPLIED BY
BROKERAGE MARINE
PHONE +64 9 417 0240
See the full version of this review in Trade-A-Boat #241, June / July 2014. Why not subscribe today?
Keep up to date with news from Trade-A-boat or like us on Facebook!